BlAre you stumbling to carry cameras for outdoor photography? It's tiresome to hold a camera for a long time, and carrying it in a bag is not always convenient. Whether you are a professional or a newbie photographer, it's wise to invest in suitable gear to make the job easier. In this case, 3 Point Slinger for Camera is the best option as a hands-free body mount that will secure the camera during movement. 
Do you know about 3 Point Slinger for Camera? Keep reading about it because Cut Out Image will share all the possible details of 3 Point Slinger for Camera in this blog.
Table of Content: This blog will contain the basic idea of 3 Point Slinger for Camera and how it works for best photography. It will also contain 20 Best 3 Point Slinger for Camera in 2023 that will help you decide on the perfect one for your next photography.
What Is a 3-Point Slinger?
3 Point Slinger for Camera is a trendy special belt used for a secured camera attachment to the body while moving or driving. As the name suggests, it holds 3 connection points to place the camera properly and securely. 
It is a torso-linked cross-shoulder strap connected by a metal band and fastened crosswise over the chest or shoulder or wrapped around the neck to connect the body to the camera. It is developed for DSLR and video cameras to shoot smoothly from any angle without any obstacles. 
20 Best 3 Point Slinger for Camera in 2023
A wide collection of 3 Point Slinger for Camera is available in the market nowadays. Each comes with different features, styles, colors, and prices. Therefore, in this part of the blog, I am sharing the 20 Best 3-Point Slinger for Camera in 2023, from which you can select the suitable one for your photography. Let's dive deep into the details: 
01. BlackRapid Original:
As the name suggests, BlackRapid comes in black in color and left-hand in configuration. It is made of quality materials, making it the most expensive 3-point slinger for a camera. The plate on the locking carabiner prevents irritating movement, and the padded shoulder adds comfort to the shoulder. However, the drawback is that it has no safety leash, and you need to remove the screw-in eyelet if you want to use a tripod. 
Blackrapid is mostly preferable to action sports photographers. There are 3 models available from BlackRapid 3-point slinger as below:  
BlackRapid Breathe Sport:

BlackRapid Breathe Sport is an elastic and nylon-made 3-point slinger that makes the strap sturdy. It is the best suit for any camera because you can adjust the strap according to your need. It holds a shoulder pad to ensure comfort. Moreover, the metal clasps with FR-5 FastenR, CR-3 ConnectR Locking Carabiner; LockStar ConnectR secure the camera, and the waterproof lining makes it imperative for outdoor shoots in any environment.
BlackRapid Curve Breathe:

Alike BlackRapid regular and BlackRapid Breathe Sport, the BlackRapid Curve Breatheholds Locking Swivel Carabiner and a Lock-Star to  provide a secure grip for your camera, preventing you from accidentally falling. The BlackRapid Curve Breathe camera sling comes with pad on shoulder with integrated underarm stabilizer to keep the shoulder pad in

place while shooting.

You can use it for any DSLR or smaller digital camera versatile. The padded shoulder lets you wear it for a long time comfortably.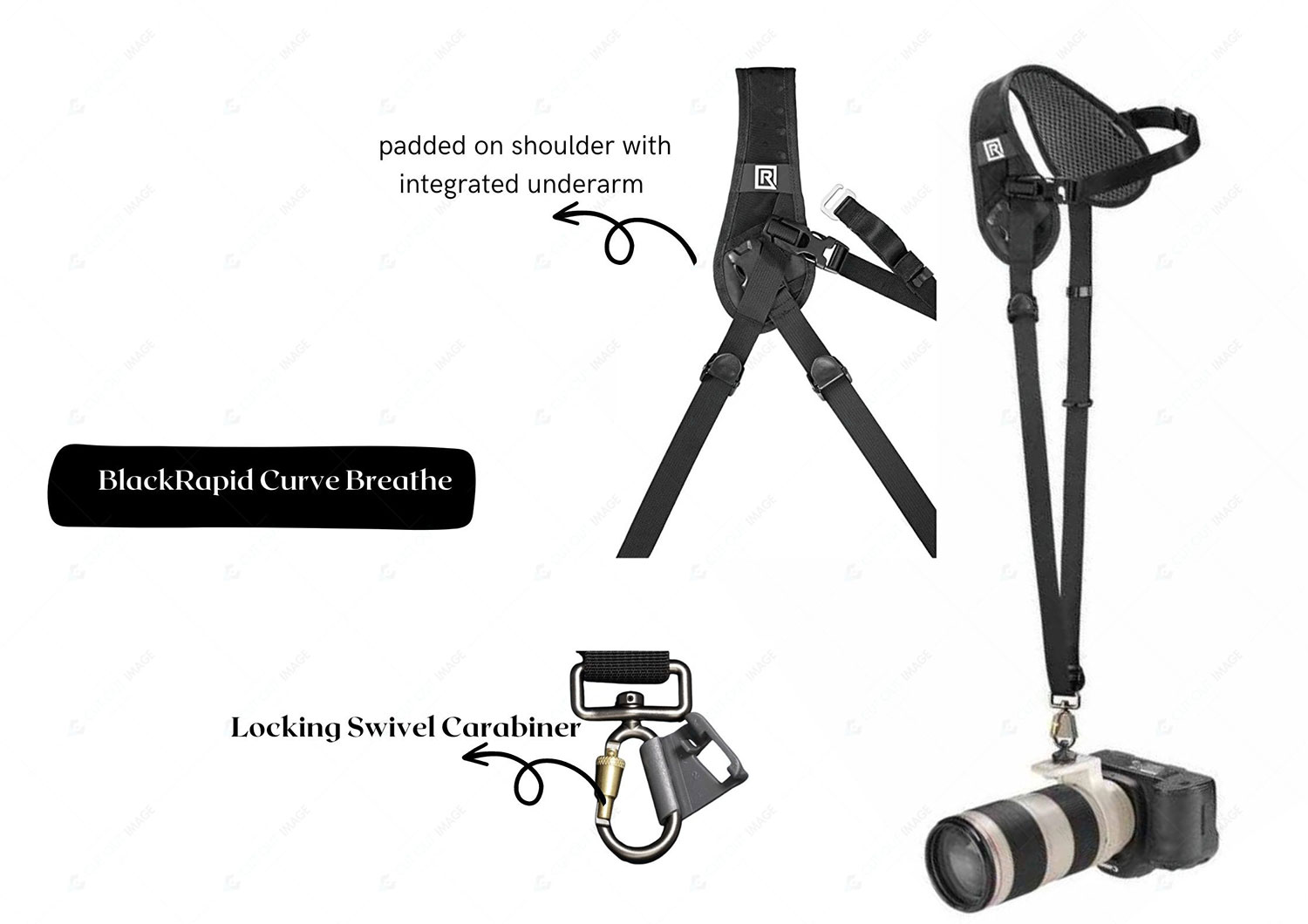 BlackRapid Double Breathe:

It is imperative 3 Point Slinger for carrying two cameras. BlackRapid Double Breathe is made of breathable, high-performance materials and is lightweight to carry dual cameras without hardship.

Nylon Webbed Non-Slip Rear Stabilizing Straps are adjustable to fit anybody. It holds Spring-Loaded Bumper Locks, 2 CR-3 Carabiner, 2 LockStar, 2 FR-5 FastenR, and 2 Camera Safety TetheR to ensure camera security. It is ideal for photographing press, events, and sports reports. A wedding photographer preferring two instant-ready cameras can use this slinger ideally.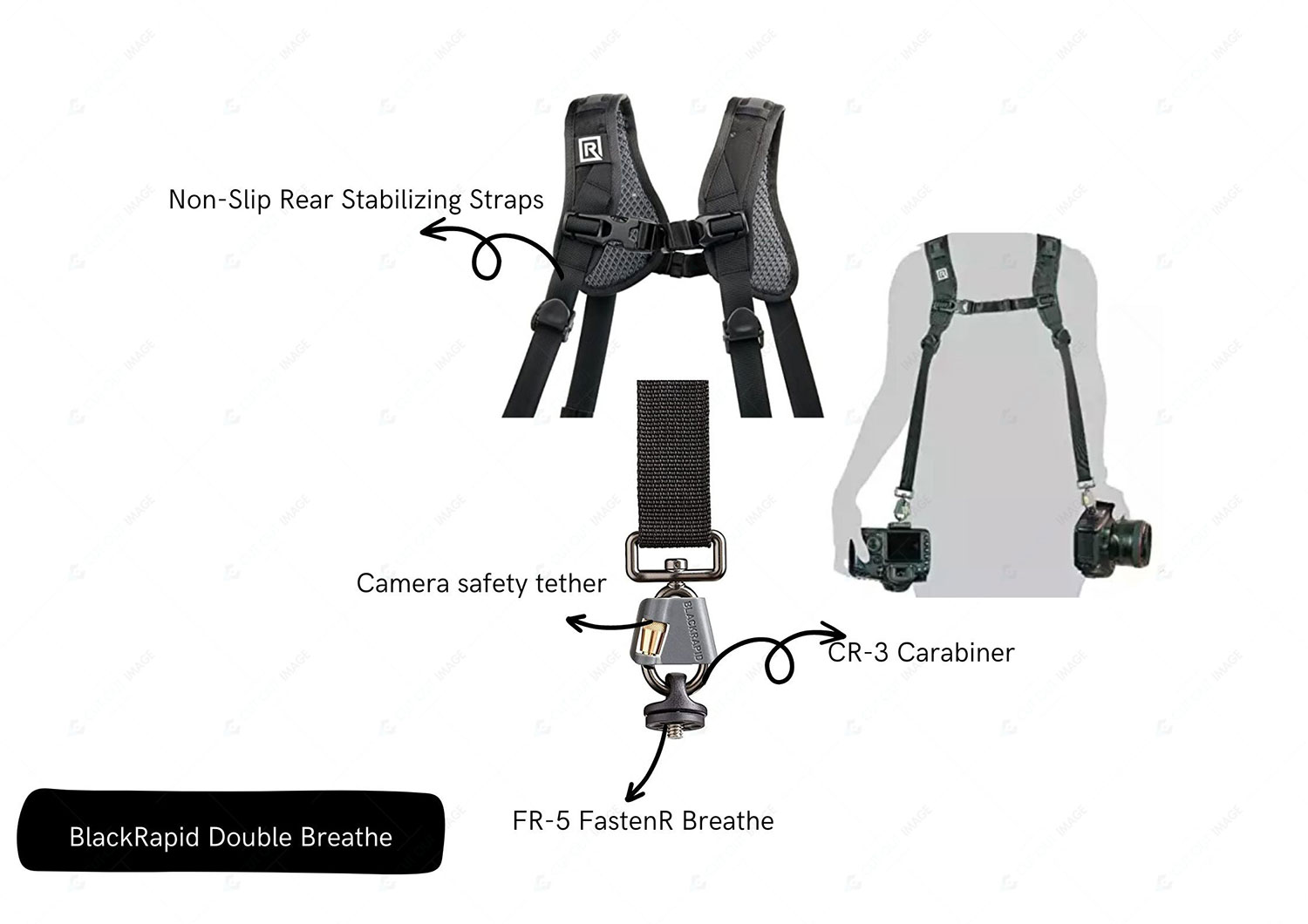 02. BlackRapid Hybrid:
The BlackRapid Hybrid is one of the 20 Best 3 Point Slinger for Camera in 2023, identical to the BlackRapid Original I reviewed. With this you can carry two cameras with a single slinger. 
The BlackRapid Hybrid allows carrying two cameras on each side of the body. You can also keep one camera in one sling and use the second one to keep a spare lens. However, you can also take one camera over the shoulder using this 3 Point Slinger for Camera.
The strap is made of Nylon Webbing that you wear over the shoulder to carry one device and across the body to have 2 devices. It is adjustable and contains a hook-integrated underarm stabilizer. It also holds 2 complete sets of connectors (CR-3), 2 Lock Star, 2 Camera Safety Tethers, and 2 fasteners (FR-5) to ensure camera safety. 
The shoulder pad is 4.3″ in Width, 18″ in length, and 0.3″ in thickness. It is made of nylon, polyester, air mesh, and curved TPE foam, making it non-slip and ensuring shoulder comfort. This strap is for right-handed users because the straps perch on only the left shoulder. It allows easy and fast access to capture. 
03. BlackRapid Sport X Coyote:
Since 2009, the sports camera sling has been across-the-board. Later, it was upgraded with Coyote and converted into BlackRapid Sport X Coyote. It is one of the top 3 Point Slinger for Camera that perfectly combines quality, safety, amenity, and durability. 
Like other versions of BlackRapid, the slinger is nylon webbing with front and back sliding Cam-Locks to secure the camera while moving outside. The strap is 66″ Length and adjustable according to body size. It also includes an under-arm belt connecting directly with an over-the-shoulder strap. 
The lightweight pads are wide enough to make you feel comfortable by distributing the weight evenly. It is designed to secure the camera with Swivel Locking Carabiner, fasteners, Lock Star, Camera Safety Tether, and Mesh Gear Bag. 
The slinger is created for adventurous and sporty activities like hiking, running up and down on the sidelines, etc., because you can get the camera ready instantly by wearing it on your left shoulder. You can use this slinger for your DSLR or mirrorless camera with a short or long lens. 
04. Altura Rapid Fire 3-Point Camera Slings:
It is another affordable excellent 3 Point Slinger for Camera in 2023. You can wear it on any side, left or right shoulders. The shoulders come with back and front anti-slip padding that lets you move without worrying about camera position.  
Like Waka or other slingers, it also contains a small zipped pocket in the shoulder pad. It contains a powerful rubber-backed plate for attaching a tripod with peace of mind. The solid mounting plate ensures durability though it lacks a locking carabiner for the camera attachment. 
The Altura Rapid Fire 3 Point Camera Sling is ideal for photographing during rock climbing, cycling, brisk walking, etc. 
05. Ocim Camera Sling Strap:
The Ocim Camera Sling Strap is one of the top 3 point slingers for cameras. It is a little more expensive but affordable and best suited for those with heavy lenses and cameras. It is worth the investment because it doesn't sacrifice durability while setting the price. This sling strap has a strong metal carabiner and an additional safety rope to secure the camera. 
It has a high-quality, full-bodied adjustable underarm strap with a built-in stout padded shoulder. The strap attaches the camera base via a metal mounting screw that connects the metal locking carabiner. 
06. Cotton Carrier Skout G2:
The Cotton Carrier Skout is an innovative but expensive 3-Point Slinger with a different strategy. It doesn't hook up the camera near the hips only but also lets you clip it to the padded chest piece. Moreover, you can use this 3 Point Slinger to carry your DSLR, drone, or binoculars.
The camera base plate is securely bolted with a hexagonal bolt to the quick-release tripod cable. While taking pictures, you need to wrench and take off the camera from the chest piece. 
Even though the camera has a lock system in the chest pad, it has a security strap. Its padded shoulder is comfortable and made of high-quality material. It has neat traces of the Cotton Carrier design with a lens pocket. It also enfolds a slip-over-weather cover with comfortable suits under the backpack.
07. OP/TECH USA Super Classic Combo Camera Strap Kit:
The OP/TECH USA Super Classic Combo Camera Strap Kit is an outstanding option to keep the camera close to the body. This handy kit is like 'one size fits all' with that you can create neck, wrist or shoulder slings according to your need. 
The strap's Uni-Loop ring point attached instantly lets you switch between strap choices. The non-slippery rubber pads are restful on the shoulder, where the internal control-stretch system forms a durable and supportive strap. You can adjust the strap length according to the body. 
You can use the SLR Wrist Strap when you prefer photography with a wrist strap. It is soft, durable, and has a non-slip pad to protect the camera from accidental dropping from your hands. Even in crowded places, you can safely use your camera with this 3 Point Slinger. 
OP/TECH USA Super Classic Combo Camera Strap Kit is worth considering trouble-free to use for an outdoor photographer constantly exposed to various shooting conditions. 
08. Foto&Tech Camera Strap:
It is a strong 3 Point Slinger for Camera that is made of high-quality material and designed with prioritizing higher security. Its spiral hook, made of heavy 304 stainless steel, is strong enough to bear 300 kg. 
The mounting hook handpicks a blue-ribbon anti-slip rubber pad and a backup safety tether that can protect expensive DSLR cameras from accidentally dropping. Moreover, the underarm stabilizer secures the camera during action shots. 
The softer, breathable, non-slip shoulder pad is comfy for both men and women and distributes weight evenly to the body. The camera straps are adjustable and easily cleanable. You can clean via handwash, air dry or washing machine. 
This well-built 3 Point Slinger for camera is consistent with any DSLR, SLR, mirrorless, and compact system camera 1/4 tripod socket. It is a must for hiking photography. 
09. JEATHA Dual Shoulder Leather Harness:
If you are looking for a stylish slinger capable of holding two cameras, then JEATHA Dual Shoulder Leather Harness is there for you. You can use one sling to hold the camera, whereas the other sling to carry another camera or extra camera lens. You can place the camera at the level of the hips without twisting.
The slinger is made of long-lasting metal and comfortable leather that makes you feel relaxed even if you wear it for the whole day. The Metal hooks are adjustable, crisscrossed with o-rings back, and designed in punk style.
This 3 Point Slinger for Camera is great gear for photographing during traveling, hiking and shooting outside. Unfortunately, you won't find the quick release for the safety strap in this slinger. It is recommended to check the size from the available chart carefully before buying it, even though almost all fit with one size.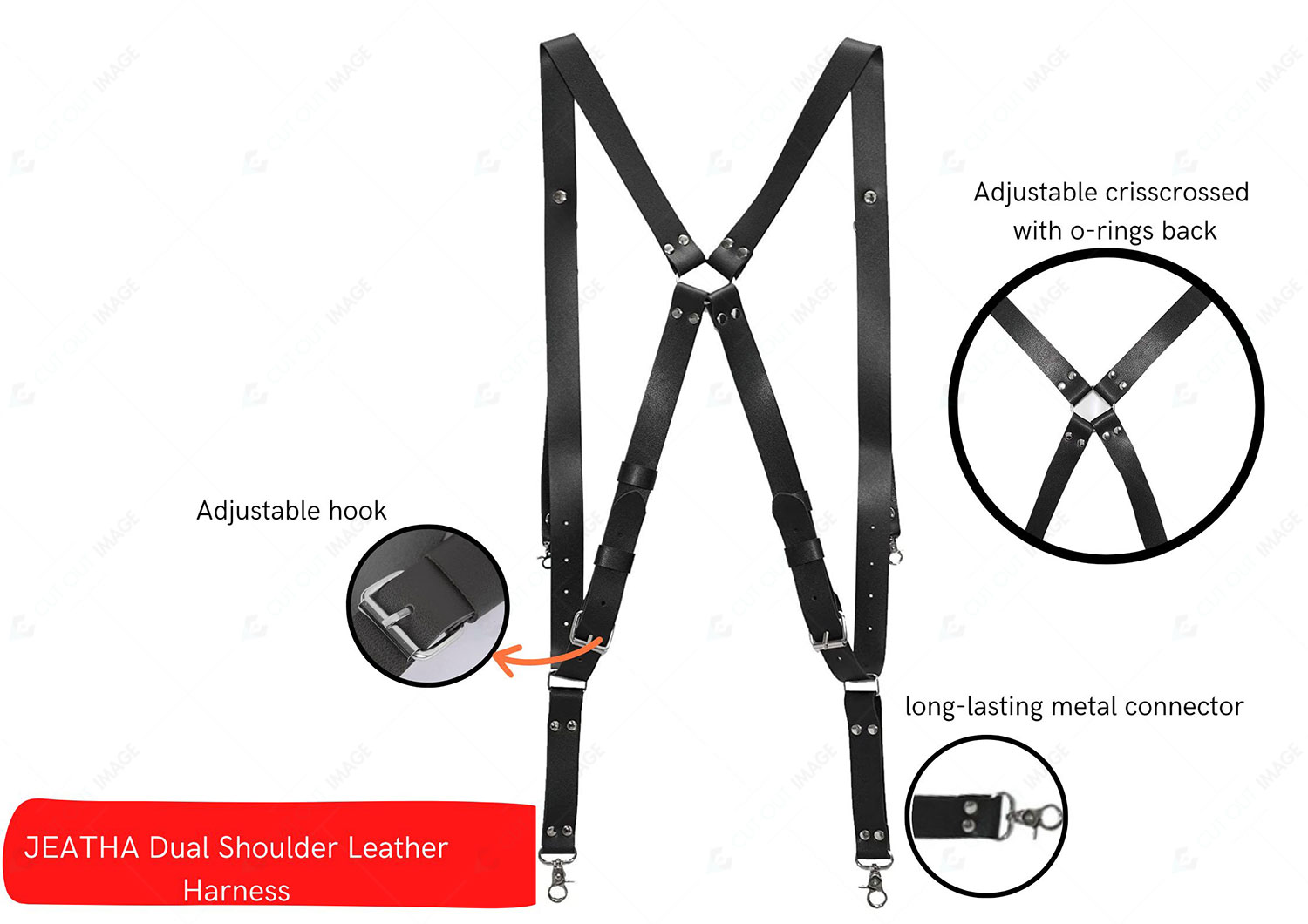 10. USA GEAR TrueSHOT Camera Strap:
Before this time, I have listed ordinary designed and gray or black colored 3 Point Slingers for Camera. Here the USA GEAR TrueSHOT Camera Strap comes with various colored and patterned straps that makes it stylish to carry. 
The adjustable padded system strap distributes the weight evenly across the shoulders and back. Consequently, it ensures comfort in carrying. Its designed padded straps are anti-slip and reinforced stitching that places the camera securely.
To ensure protection for the camera, it holds a fixed plate of a tripod line that attaches to a lockable carabiner. There are two pockets for the storage facility where you can store an extra battery, memory cards, lens caps, etc. 
It also contains a dual quick-release clip that makes the camera instantly ready for photography. This 3 Point Slinger for Camera is great for longtime hiking, sightseeing, or walking.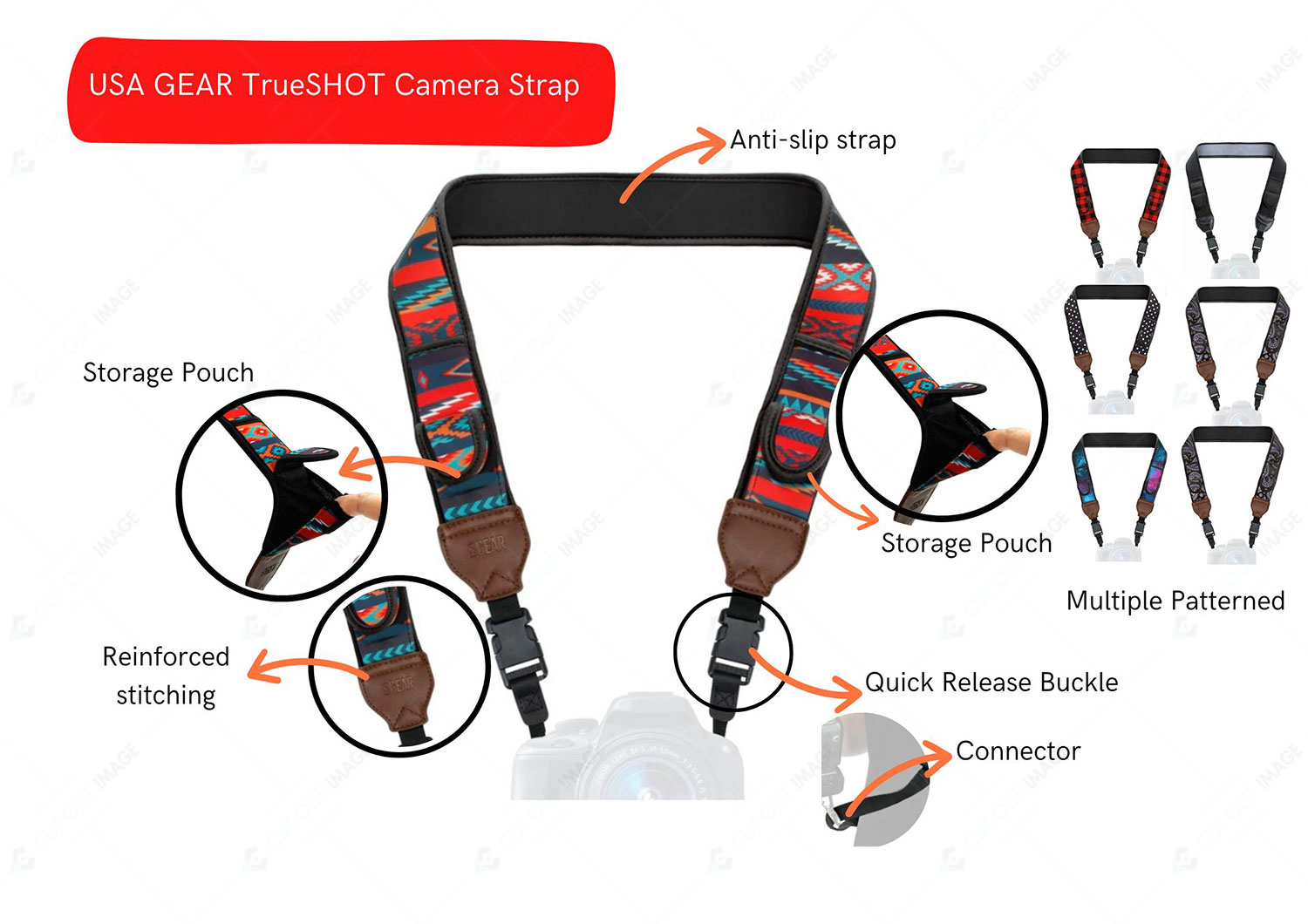 11. Vintage Art Tribute Camera Strap:
Do you want to add a stylish vibe to your 3 Point Slingers for Camera? Vintage Art Tribute Camera Strap is ideal for those self-portrayed, creative, pleased souls. 
The adorable designs blend durability and flexibility with style. You can get many patterned and colored options for straps made of high-quality fabric with careful stitching. Its straps are almost 61 " and easily adjustable according to need. The padded straps are so comfortable that you won't feel the strain on your neck, shoulder or body, even if you do day-long photography with a heavy camera and lenses. You can wear the slinger strap around your neck, shoulder, or body as per your comfort. The slinger holds quick-release connectors and is compatible with all SLR / DSLR Cameras. 
12. Peak Design Slide Camera Strap:
Peak Design Slide Camera Strap is a standard, lightweight, robust, and highly adaptable 3 Point Slinger for heavier DSLR cameras. If you have a mirrorless camera, Peak Design Slide Lite Camera Strap is ideal for you. Whatever strap you pick, they come in a precise and user-friendly design. 
Unlike most Slingers, this Slide Slinger comes with an internal pad in a nylon webbing strap. The strap side contactable to the shoulder or neck is coated with a gripping finish to hold the strap in the position where the other side is smooth. You can easily adjust the strap length to dictate your camera's motion range. Because of having no underarm stabilizing strap, you need to readjust the shoulder strap when the camera slides up for photography. 
Peak Design Slide Camera Strap has an Anchor Link system connecting the camera at three points: sling, neck, or shoulder, making it easy to carry the camera securely. Each of the Anchors bears over 200 lbs (90kg). The dual quick-adjusters provide instant access, where the dual connection points keep the camera more stable.
13. RucPac Slide Camera Strap:
RucPac Slide Camera Strap is a lightweight, durable, and comfortable 3 Point Slinger for Camera that is customizable for all practical component strategies. You can wear it over your neck or shoulder and across your body according to your comfort. It is available in four different colors- Black, Grey-Black, Black-Gold, and Grey-Gold. 
One side of the strap is reversible seat belt material and silicone grips on the other side. The slinger is a 50mm extended belt that is easily adjustable and can hold up to 100 kg in compelling environments, reducing weight. The quick-release pinch clips ensure camera security. Its quick and automatic sliding action lets you change your shooting position instantly. 
It is suited for all cameras with Canon slot strap fixing points and a Nikon eyelet. Without removing the strap, you can easily use a tripod with it. 
14. PiuQ Slinger for Camera:
The PiuQ Slinger for Camera is a budget-friendly good option for the new photographer. It attaches the camera's base to the rubber-based tripod screw in the eyelet that protects the camera. Here the eyelet comes with a lockable carabiner, but you need to remove the eyelet while using a tripod, reducing functionality.
The thick padded shoulder strap is comfortable to wear and about 55cm long to be adjustable. The sturdy material ensures camera protection, and the scratch protection feature adds a nice touch. 
15. Waka Rapid Camera Shoulder Strap:
If the BlackRapid series seems out of budget, you can still get the best one at a relatively reasonable price, which is Waka Rapid Camera Shoulder Strap. 
It comes with a wide anti-slip padded shoulder and storage facility. You can store lens cleaning cloth, batteries, or extra memory cards in the storage pocket. The straps are adjustable and can speedily shorten or lengthen according to your needs. The shoulder pad is connected to strap with a 3 point buckle that ensures safety to carry the camera. The locking elements are safe for the camera. It has plate screws into the tripod mount that help you avoid removing the sling or its mount in case of using a tripod. It also includes metal carabiner and safety tether.  
Though it has thousands of positive reviews, it indeed lacks a locking carabiner. 
16. Custom Air Strap:
Air Strap is an adjustable, comfortable, and lightweight Slinger that is convenient in various situations, even in crowded places keeping your camera secured. It is preferable because of its user-friendly and travel-friendly features.
It is so easy to use that you have to pull the camera strap to extend, slide and capture the picture. The rotatable buckle lets you attach or remove your camera instantly. While carrying weighty materials for a long time, it relieves with a broad strap containing a sensational neoprene pad. 
17. JJC NS-PRO1M 3-point slinger for Camera:
The JJC NS-PRO1M 3-point slinger for camera has most of the expected features. The noteworthy camera plate has a safety leash secured with a lockable carabiner.  
It has a breathable and comfortable padded shoulder strap and stabilizing under-arm strap, which attaches the camera with an Arca Swiss quick-release tripod plate. The straps cross the body, and the camera is adjustable and quickly releasable. 

18. Think Tank Retrospective Shoulder Bag for Camera:
The Retrospective shoulder bag is a lightweight shoulder bag designed as a camera bag. The soft, form-fitting layout bag has a durable water-repellent (DWR) coating. 
Its pockets are suitable for carrying a 13″ Laptop and a 10″ Tablet. Its adjustable shoulder sling includes softened non-slip pads that make it easy to carry the load. A zippered window below the top flap provides top-class security when it is not used.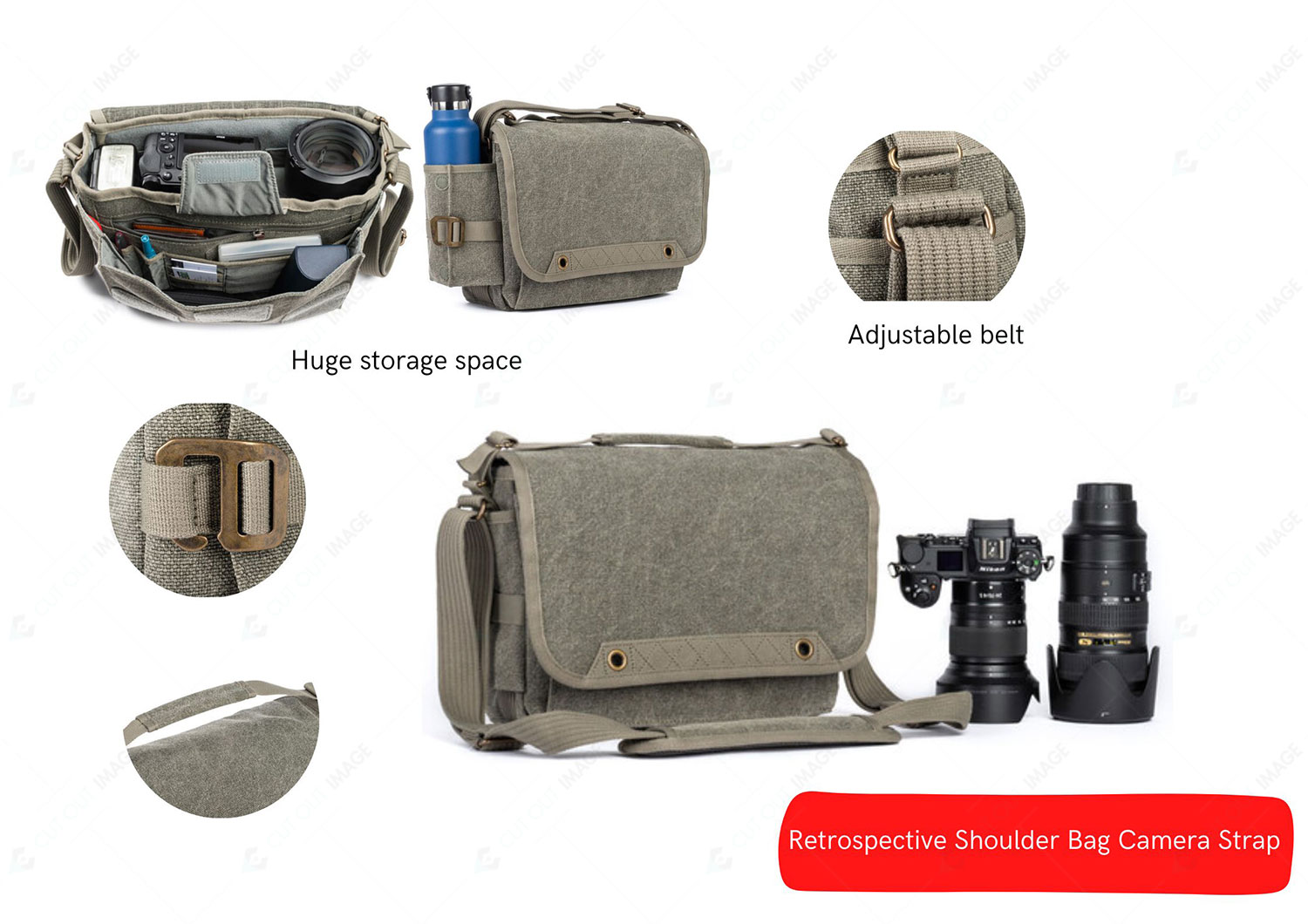 19. PolarPro Belay Camera Strap:
Among the 20 Best 3 Point Slinger for Camera in 2023, you can consider PolarPro Belay Camera Strap worthwhile gear. It has a combined QuickDraw mechanism to attach and remove the camera swiftly. This might be your timesaving 3 Point Slinger if you change from side to side between a tripod and a camera strap. 
The PolarPro Belay Camera Strap enforces the quick-release tool idea differently. It features a robust metal clamp that corresponds to a small, square Arca-Swiss quick-release plate. You need to click on the clamp's notch to attach the camera, whereas you have to spin the camera about 45 degrees after pressing the clamp's side bronze-colored button to release the camera. 
The PolarPro Belay Camera Strap is made of aluminum and industrial nylon, making it robust enough to support heavy professional cameras securely. The strap is available in the market in two sizes- 0.75″ wide & 1.5″ wide. For the best experience, try out the 1.5″ wide version. 

20. TARION Shoulder Neck Strap:
Are you an antiquarian? Then this TARION Shoulder Neck Strap is for your choice though we can't call it wholly a 3 point slinger for camera. However, I have put it on the list because of its strong and simple-featured vintage design. 
The straps are anti-slip that prevent accidental slip of your expensive device. The strap length is easily adjustable for all sizes of photographers. The comfortable and durable strap comprises premium cotton yarn and PU leather with Nylon Ends. 
It is relatively lightweight, roughly 65g, comfortable to wear, and reduces strain on the neck. The latest upgraded version holds a metal triangle which makes the strap safe. This strap will be your best choice if you are a casual photographer looking for a timeless, classy design. It is compatible with all DSLR cameras, although voltage availability in electrical plugs differs internationally. Moreover, you might need an adapter or converter based on the destination. 

Guideline on Selecting a 3-Point Slinger for Camera
A 3 point slinger is like a confidante to a professional photographer, and the suitable one will create a notable difference. Different 3 Point Slingers for Camera are available in the market, but each of them is not suitable for every photographer. Therefore, it's essential to discover a suitable top 3 point slinger for the camera considering different factors. Let's have a glimpse at the considerable factors for choosing a suitable 3 Point Slingers : 
Your Device:
The first and foremost thing to consider before selecting a 3 Point Slinger is the camera you will use. You should select a stronger 3 Point Slinger if your camera is large and heavy. Look for an adaptable option if you have more than one device. Although most cameras usually contain anchor points, you should double-check to ensure your camera has it to connect with 3 Point Slinger. 
Slinger's Size and Weight:
Usually, the slinger strap does not have much weight, but you should consider it when buying a 3-point slinger because you will wear it for a long time with a camera and lens. Here, a tiny proportion of extra weight can impact overall comfort. You should also estimate the strap length by wearing it and check if the shoulder pad fits you. 
Check Comfort Level:
The basic purpose of an ideal 3-point slinger is to ensure comfort for long hours. Check if the straps dispense the camera's weight evenly across the body to ensure it is comfortable. In the case of a heavy DSLR camera, check if the padded slinger is vast enough to fit cozily on your shoulder. 
Examine Security Level:
Before making the buying decision, you should examine the security level of the 3 Point Slinger. A rigid anchor and double-layered belt can ensure good protection for the camera. Therefore, check connection points and safety parts. 
Flexibility:
Before buying a 3 Point Slinger for a Camera, you should check the slinger's flexibility. Check if you can adjust it based on your height and is flexible to carry extra related gear. It will be worth buying if it can carry another camera.
Design:
Who doesn't check the design before buying a product? 3 Point Slingers is not exceptional in the case of design checking. So, before buying, check if it matches your style. You will find various colored and designed slingers available in the market from which you can select suitable ones. Whatever design, color, or material you select, ensure quality, look, and functionality. 
Storage Feature:
One of the facts to consider before buying 3 Point Slinger is the added chambers. Check if it has zippered pockets to carry extra batteries, lens caps, memory cards, etc. It will benefit you to avoid carrying an extra bag. 
Explore the market
:
One of the best things to do before purchasing is to gather ideas by exploring the market. You can test them in person or read reviews of various brands and model users from websites, YouTube videos, or blogs discussing 3 Point Slinger for Camera in 2023. It will help you choose the best suit for your camera. 
Inspect Materials:
Before buying the 3 Point Slinger, you should check the materials carefully. Since the 3 Point Slinger will piggyback on your heavy camera, the material of the strap, connectors, shoulder pad, buckles, etc., should be robust. The material can include nylon or bombproof webbing with heavy sewing. It should be made of durable material to use for a long time. It also should be waterproof to use in wet weather. 
Price Vs. Quality:
Finally, you should consider the budget that you can afford. For this, keep additional choices while market exploring. However, keep quality over the price because cheaper Slingers tend to be made from lower-quality materials that won't last long. 
Advantages of the 3 Point Slinger for Cameras?
Purchasing a 3 Point Slinger is a fruitful investment, and it is a must-have item in a photographer's collection to shoot outside for a longer time. A 3-point slinger encloses numerous advantages that have made it preferable to almost all professional photographers. Here is a glimpse of those benefits: 
Enhance Comfort:

Carrying a heavy camera and lens is problematic and becomes troublesome if you have to carry it for a long time. Using 3 Point Slingers can save you from this trouble and make you feel comfortable. It balances the weight with the body parts by stretching over the shoulder. Besides, its pad protects the neck and shoulders from extreme pressure. Moreover, it keeps your hands free and lets you do other photographic tasks conveniently. 

Ensure Protection:

3 Point Slingers make the camera maneuverable and protected. It protects the camera from dropping by attaching the camera to the body with straps over the shoulder or across the chest. Besides, the slinger bag is specially designed to keep related small gadgets safe.

Convenient for professionals:

3 Point Slingers are convenient for professionals to carry the weighty camera safely and move easily. Thus, they can concentrate on capture without fearing body strain or camera damage. Consequently, it ensures a perfect shot by making their job easy.

Storage Facility:

Some 3 Point Slingers designs with storage facilities are available in the market. It contains multiple pouches that store related small gear in an organized way. In the available pouches, you can store-

1. Important cards
2. Memory cards.
3. The camera's extra battery
4. wallet
5. phone
Worth Investment: The 3 Point Slingers is affordable and fetches a great deal for your money as this essential tool harbors multiple facilities. It acts as a safeguard with an easy movement facility for the camera and photographer while shooting outdoors for a long time. So, buying a 3 Point Slinger is a worthwhile investment and superior to most professional photographers.
Flexible: 3 Point Slingers are flexible to adjust according to your body size and comfort. Because of the good strip length, you can widen or shorten the strip, which ensures the camera is ready by your side anytime.
Light in Weight: 3 Point Slinger for Camera is very light to transport heavy equipment easily and quickly. Because of the weightless attribute, it makes the clicking process hassle-free and painless in any clogged location.
How Do 3 Point Slinger for Camera Work?
The 3-point slinger for cameras is the most pristine and widely used camera gear in the photography world that you can use to carry the DSLR camera over the shoulder, chest, or neck without difficulty. It helps in capturing stable pictures too. You should know how a 3 Point Slinger for Camera works to get the best picture. 
The name 3 Point Slinger for Camera indicates the three connected points bearing the camera's weight. Its 3 connecting points containing two feet and a handgrip, allows you to shoot stable shots even if the ground is rough or unsteady. You can adjust the feet according to the surface and the handgrip according to your needed positions. 
The rubber or plastic made caps securely hold the camera's size by fastening it to the waist or body and distributing the weight in a balanced resting position. Consequently, it lets the photographer use the camera for a long time whenever he needs it without difficulty. It also saves the camera from hits or bumps and helps the photographer to keep his hands free to do other activities. 
Telephoto lenses or long prime lenses are very heavy. In the case of using such a lens, you can attach the slinger to the bottom of the camera mounts instead of the camera. 
Guideline on Using 3 Point Slinger for Camera
The 3 point slinger for cameras is an excellent choice for professional photographers who need to do a photo session for a long time. Reading the blog till now, you got a sufficient idea of 3 Point Slinger for Camera with its benefits. Now it's time to learn how to use it. 
Using a 3 point slinger is relatively manageable, and it's almost the same for dual or single camera sling. Here is a guideline on using the 3 point slinger for the camera.  
Put the slinger over your head and set the padded belt rest on your shoulder.

Tighten the bottom wing to the camera's base. 

 Lock the clip under your shoulder and adjust the belts comfortably to hold the camera firmly but moveable. 

Attach the camera to the 3 Point Slingers using a quick link or a toggle to connect both ends to their correct holes for additional safety. Most profound cameras hold a minimum of 2 different attachment options. You can attach 3 Point Slinger by screwing it into the camera's tripod mount or a special carabiner.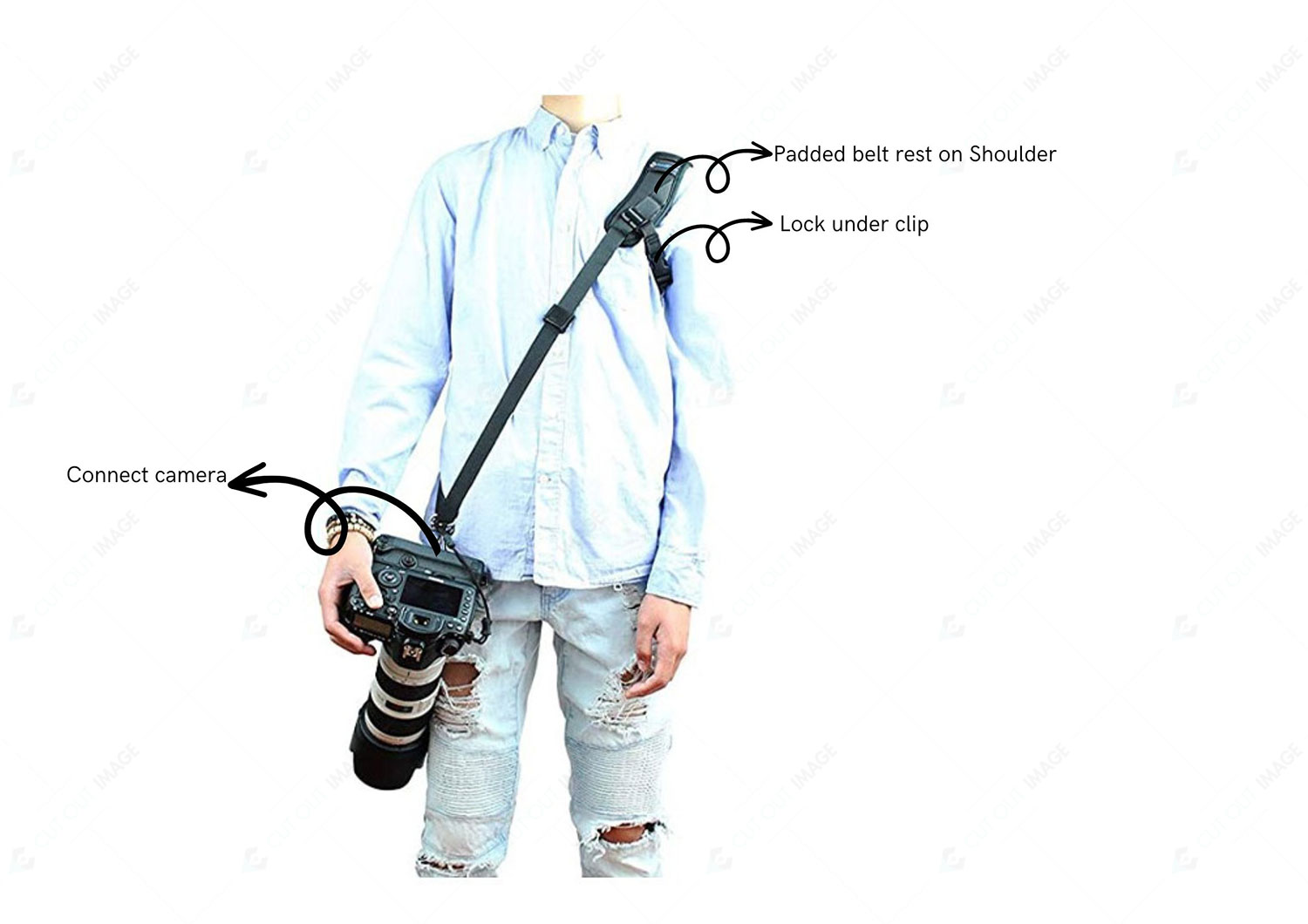 Why Use a 3 Point Slinger For The Camera?
A 3 point slinger is a must for every professional photographer. It is a strap worn over the neck, chest, or shoulder connecting the Camera. You might wonder why you will use a 3 Point slinger instead of a 2-point slinger for the Camera. 
The answer is that there is a noticeable difference between using a 2-point and a 3-point slinger. 2-point Slingers lock the Camera and allow capturing great shots without crystallizing the Camera's position. In contrast, the 3-point slinger locks the Camera more securely and permits capturing outstanding with a long-distance wider angle view.
Here are more reasons for using 3 Point Slingers for the Camera:  
Balances Weight:

Carrying a heavy camera or lens for a long time is tiresome. Using 3 Point Slinger for Camera reduces tiredness by distributing the weight to the body. 

Controls Balance:

  While carrying a camera on his shoulder, a photographer might lose camera balance, and the camera might fall. The 3 Point Slinger for Camera come as the solution for this problem.

Reduces Redness:

A photographer might get redness around the neck or shoulder while carrying a heavy camera for a long period. 3 Point Slingers distribute the weight to the body, which controls the pressure on the body part and reduces redness.  

Avoids Carrying Bag:

Since you can carry the Camera on your body using the 3 Point Slingers, it helps you avoid bearing an extra bag while photographing outside. Moreover, some 3 Point Slingers come with pockets for extra storage. 

Moving-Friendly:

3 Point Slinger for Camera is very useful in every moving situation. It helps you move easily in a crowded place, street, busy public transportation, or tourist attraction without fearing losing the gadget since it is attached to your body. 

Allows Extra Task:

The beauty of having 3 Point Slingers for the Camera is that your hands remain free to do other things during the photo session, like adjusting a lens, reflectors, or lights quickly.

 
How to Get the Best Result From 3 Point Camera Slinger
You should know the function and maintenance of a three-point camera slinger to capture smooth, stable shots over a long duration without any troubles with the camera. Let's know how to get the best result from 3 point slingers for the camera- 
Make sure to use good quality products while choosing a camera, tripod, or mount, and 3 Point Slingers because they work together for filming videos or taking pictures for an extensive time.

To get shaking and vibration-free pictures, you should avoid excessive hand movement during photography, even if the camera is placed with an adjustable strap. 

Adjust the strap based on overhead or downward photography. While photographing downward, wrap the strap around the neck or keep the strap behind the tripod to control it from moving. On the flip side, while capturing overhead, attach the strap hook to the tripod's loop or put it over the shoulder to add stability. 

Take a 3 Point Slingers with a quickly adjustable belt made of high-quality material. It's best to pick a large body mount fitting the tripod to let you slide the camera more easily.

Choose a head that fits your camera's mount to achieve precision shots. 
Frequently Asked Questions about 3 Point Slinger for Camera
Q1: What is a 3-point slinger for camera? 
Ans: A 3 point slinger for camera is a strap with points to securely connect the camera with the body for shooting outside. 
Q2. Why should I buy a 3-point slinger for the camera?
Ans: Carrying a heavy camera daylong to photograph outside is burdensome. A 3 point slinger for camera can solve this hurdle by relieving you from the weighty camera. To ensure comfort in carrying a heavy camera, you should buy a 3 point slinger for camera. 
Q3: How do you attach a camera to your slinger?
Ans: You should wear the slinger over the neck, shoulder, or across the body and keep the pad resting on the shoulder. Then adjust the strap connecting the camera. Usually, almost every slinger has a connection point at the base. You can attach your camera via the plate or loop of the slinger. You also can connect your tripod with the tripod screw hole. 
Q4: How much does a 3 Point Slinger for Camera cost?
Ans: Mostly, a 3 Point Slinger for Camera cost between $30 to $100, which might vary based on brand and location. However, before buying, you should check if the slinger accommodates your camera well. 
Q5: Are all 3 Point Slinger for Camera available in the market?
Ans: A bunch of companies provide various types of 3 Point Slingers for cameras. One or two might be out of stock or appear in upgraded versions. So, while selecting to buy online, check the availability.
Closing [ 3 Point Slinger for Camera ]
A 3-point camera slinger is a helpful gadget for novices and experienced photographers to capture smoothly, steadily, and precisely. Reading the full blog, you have learned about all details of 3 point slinger and got a choice option from the 20 Best 3 Point Slinger for Camera in 2023. 
Now it's your turn to select a suitable one to revolutionize your photography skills. Let us know in the comment box which one you will choose in terms of flexibility, comfort, design, color, and other considerable factors for your next photograph.
Did you love this blog? Don't forget to share it with others. Check out my other blogs if you want: