Women are all about shopping and among their most liked buyable products, Jewelry holds a significant place. For e-retailers, it is immensely imperative to showcase Jewelry products in such a way that it tempts the watcher the very second they have a glance of the product.
The demeanor of your product image do the maximum amount of job for you. Customers really appreciate adept photography and presentation of the product along with comprehensive specifications. Therefore, accurate representation of the product is necessary enough to steal customer's heart and grab a quick sale.
Although, every photographer is very much familiar with the needs and the wants of jewelry photography, yet they attempt some highly common mistakes while the session. Both, the photographer and the designer who is creating the end product must keep few guidelines in mind and avoid basic errors.
Take a sneak-peek in common mistakes in jewelry product photography that can ruin your sales spontaneously:
Careless Presentation: The moment you step in e-business, there is no room for imperfections. You will have to face dropping business if you don't take your work critically. Presentation of products is a major issue, especially when you trading in products like jewelry.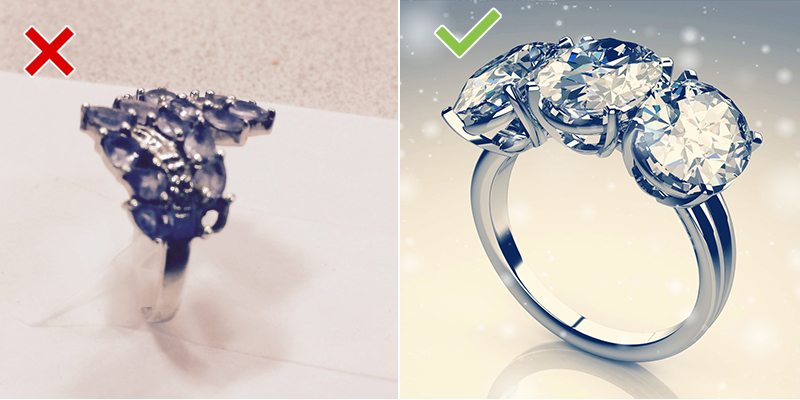 Careless or sloppy presentation of the jewelry is a common mistake to be made. You need to be careful while the session to remove all tags, stickers or strings from the product. People make these mistakes as they don't check their product for any wear and tear, missing gem, faded color, etc. All these must be avoided
Variation in the representation of products: Another common mistake that many photographers make is the inconsistency in the presentation of their products. Dimensions of all the products listed under common niche must be the same. Variation in the presentation will agitate the customer and gives a bad impression of your website. Basic settings, lighting, background, shadow and all other effects should be the same in every product image. This will make your portal look more professional and eye-pleasing.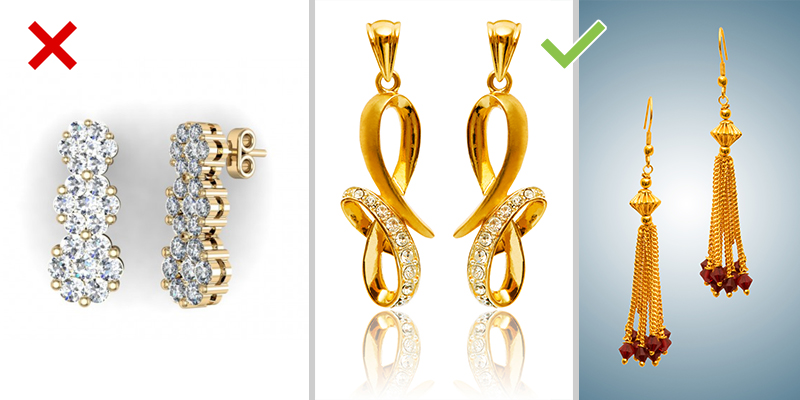 Unwanted Add-ons: Add-ons or props are very common in product images. There are some sites that restrict the usage of mannequin or any other prop in the product image. Non-compliance with the guidelines of such portal can bring maximum loss to your online business. Props are considered as a mere piece of distraction for buyers and they are being abolished from the guidelines. You just have to upload clean and professional images for more sales.
Reflection: While taking pictures of your jewelry, have you ever noticed that you are adding a reflection spot on the product image. Many photographers don't notice this but trust me; it is an essential thing to know. You need to scan your image closely and see if there is a reflection of the camera light on the product image. This is another sign of amateurish product photography.
Multiple Backgrounds: There are various types of jewelry products that have to be included while listing. Every product doesn't look good on busy backgrounds.Maybe that is the only reason for online stores to specify White as the only background that is to be used. Photographers that give extra emphasis on busy backgrounds actually create distractions. This must be avoided as well.