Are you an adventurer? Do you love exploring natural beauty? Then it is imperative having a camera with you to frame the beauty. You often face the challenge of carrying the camera in an adventurous spot. Action Camera Body Mount comes into play here to get thrilling photos and videos while traveling. Adventurers love this tool because they can attach it to the body and accomplish the mission without difficulty. 
Today I will share all the possible details regarding this helpful tool. Keep your eyes on the blog and explore the details.
Topics on the pipeline: I will dig deep to explore the details of the Action Camera Body Mount in this blog. The blog will contain the basics of Action Camera Body Mount and its types. It will also include how to buy the best one, how to use it, and the reason behind using it. All the details will be covered through the following topics:  
What is an Action Camera Body Mount? 
Adventure and photography simultaneously are challenging, especially during hiking, cycling, skydiving, skating, or rock climbing. Hence, adventure fanatics prefer Action Camera Body Mount.
An action camera body mount is a compact gadget that attaches an action camera to the body freeing up your hands and letting you wholly focus on the activity. Body mounts are also called chest straps, as they are usually strapped to the chest. According to your need, you can find multiple Action Camera Body Mounts attachable to different parts of your body.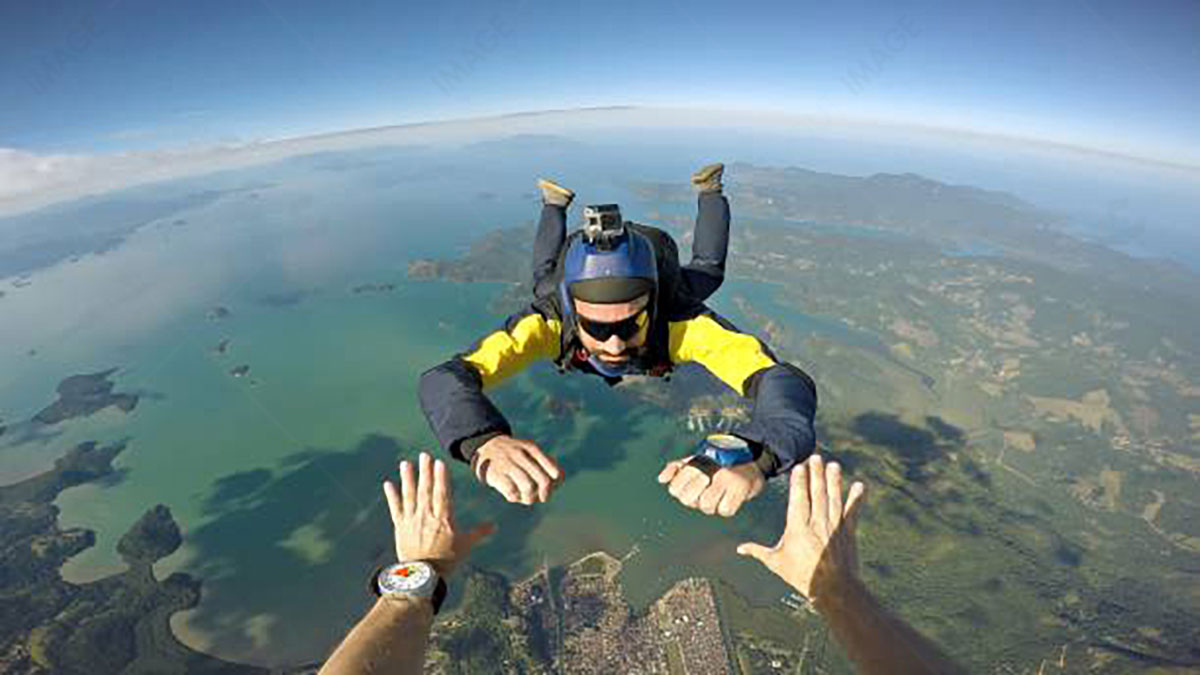 A suitable Action Camera Body Mount lets you capture incredible adventures and POV shots. It is getting popular among thrill seekers, content creators, outdoor lovers, and adventure photographers, as attaching the device to the body lets them effortlessly shoot while engaging in thrilling activities.
Variety of Action Camera Body Mount
Various types of Action Camera Body Mounts are available in the market, which indicates you can install the device on your body according to the filming need. Here is a quick glimpse of Action Camera Body Mount Types:
Head Mount:

The head mount is the best option to capture POV photos or record videos close to your sight line. You can purchase the action camera head mount with adjustable straps for comfort and protection. In the case of extreme sports, you can attach the head mount camera to the helmet differently, like the front face or side mount. It lets you capture the POV footage displaying the same as what you see.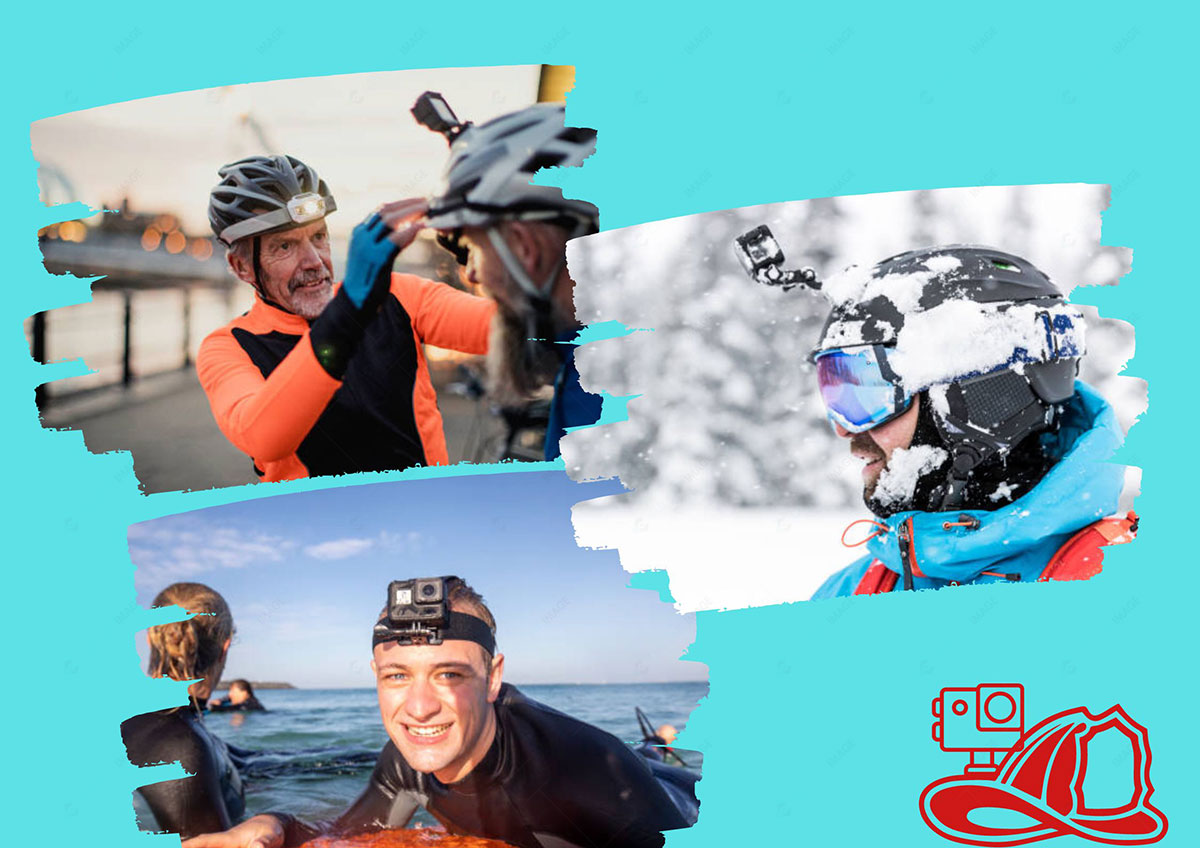 Chest Mount:

When you have to capture from a lower angle than your eye-line, chest mounts are perfect. It is more stable than head mounts for high-speed and high paces sports capture. However, it is not ideal for all sports, especially water sports, where you must wear a life jacket. You should check if the materials are breathable while using the body mount. 
Shoulder Mount:

The shoulder mount provides a more realistic view than a chest mount from a lower eye-line. It is ideal for riding a motorbike where you don't move your body frequently or overly.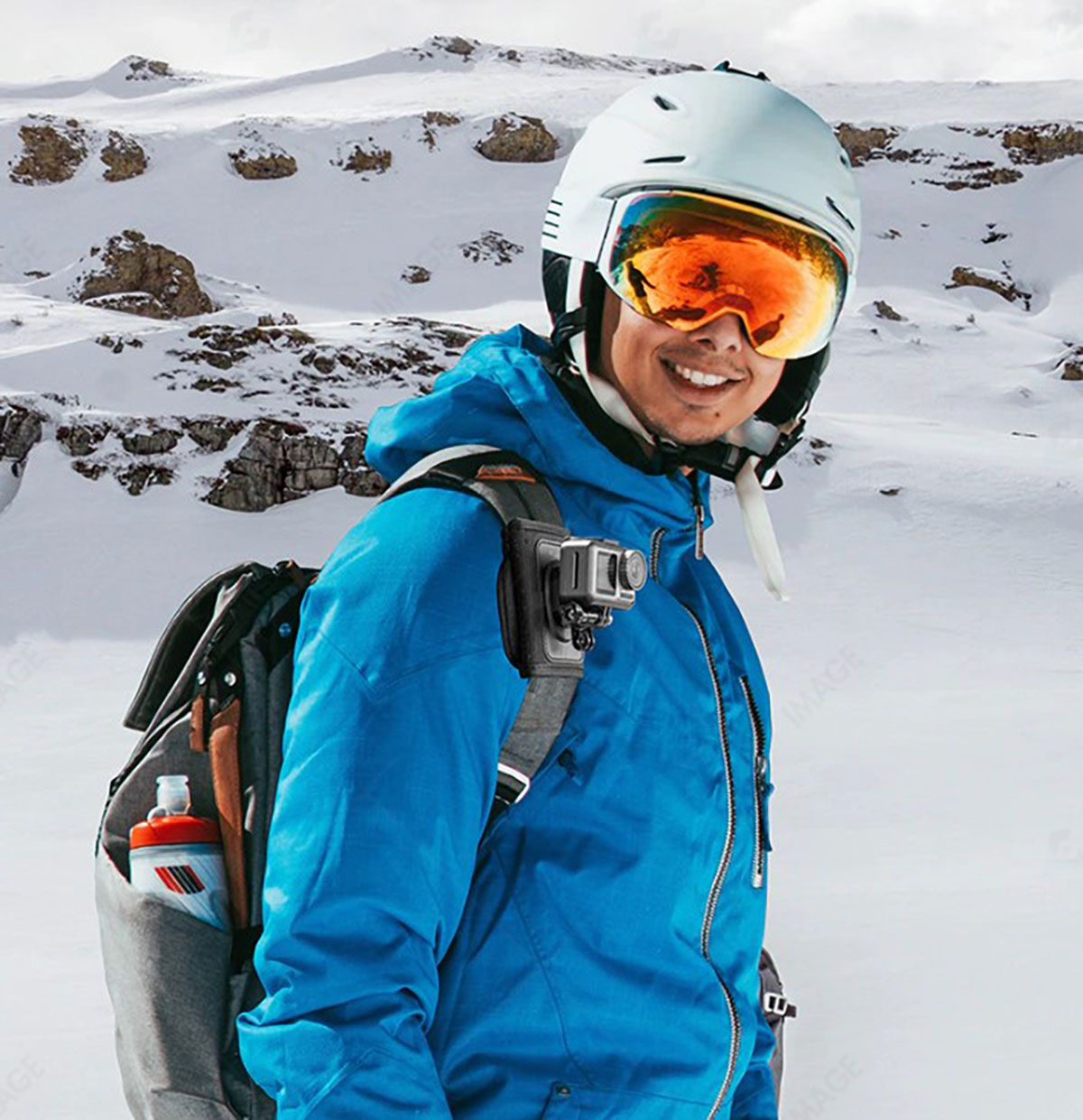 Wrist Mount: The most popular Action Camera Body Mount is the wrist mount which provides a different level of flexibility than the shoulder, chest, and head mounts. Using the wrist mount, you can control the action camera angle and focus with rotating options for any outdoor adventure.  
Mask Mount:

Taking Action Camera Body Mount underwater is challenging because you need to wear special suits or carry oxygen tanks. A mask mount is a solution for diving adventure photography. It is more immersive than a head mount because it lets you capture POV photos closer to your eyes. 
Best Action Camera Body Mount 
The action camera upgrade has made the Action Camera Body Mount popular using that you can capture impressive photos and videos from indoor to thrilling outdoor adventures. User experience reveals that the GoPro Performance Chest Mount works best for professional photographers. However, I am sharing a bunch of Action Camera Body Mounts from which you can select the best for your photography.
01. GoPro Performance Chest Mount:
It is the most pricey, authorized GoPro product. This superior body mount is made from lightweight, breathable materials that easily fit almost everyone. The steady but adjustable design makes it comfortable to wear.
The GoPro Performance Chest Mount assists in capturing stable POV photos of any activity on water and land. This excellent body mount offers a one-year manufacturer warranty, which is fantastic for a GoPro action camera.
02. ASOCEA Chest Harness Mount:
This body mount equips flexible elastic belts adjustable from 25-67 inches at the waist and 8-54 inches at the shoulder. Such flexibility makes the ASOCEA Chest Harness Mount standard for people of all shapes and sizes.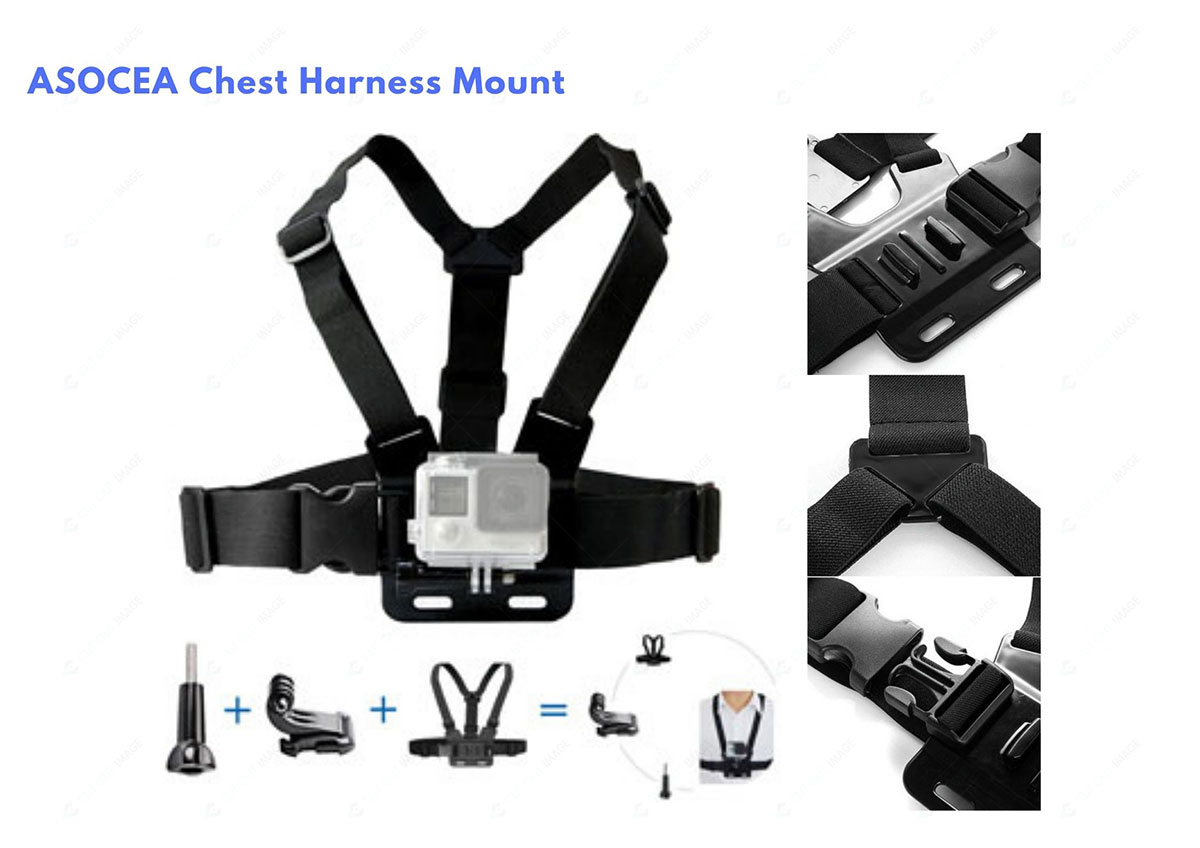 Moreover, ASOCEA Chest Harness Mount comes up with J-hook fast-release clips that you can bend up at any angle to place the camera. Therefore, it is ideal for shooting adventures of cycling, climbing, snowboarding, surfing, skiing, kayaking, or any sports. 
03. Amazon Basics Adjustable Chest Mount Harness:
The Amazon Basics Adjustable Chest Mount Harness is suitable for you if you are looking for a comfortable chest mount at a reasonable price. Though the price is comparatively low, it is one of the best available on the market. It is compatible with all GoPro HERO Sessions. 
This lightweight waterproof Action Camera Body Mount is ideal for surfing, skiing, snowboarding, and cycling. Still, you can skillfully use it for kayaking, rafting, and other water sports or thrilling outdoor adventures. It is user-friendly for photographers and fits all ages and sizes.
04. TEKCAM Chest Harness Mount:
A chest-mount camera lets you capture action hands-free, and TEKCAM Chest Harness Mount does so at a special angle. The package contains- 
1 Chest Belt Strap

1 Aluminum Thumbscrew

1 J-Hook
You can extend the shoulder strap 18-54 inches and the chest 25-67 inches, which is fully adjustable and suits people for action activities like boating, skiing, horseback riding, skydiving, etc. TEKCAM Chest Harness Mount is consistent with multiple action cameras like GoPro Hero, APEMAN, DBPOWER, WIMIUS, Yolansin, ACTMAN, and many more.
05. TELESIN Bag Backpack Shoulder Strap Mount: 
TELESIN Bag Backpack Shoulder Strap Mount is one of the most acceptable adventure photography accessories. The package includes the following- 
1 Shoulder Strap Mount

1 Dual Head J Hook

1Screw
Its soft strap is elastic nylon buckled with polycarbonate and easy to wear. Its well-designed shoulder pad allocates weight equally, which makes it comfy to wear. The shock-absorbing elastomer base plate decreases camera shaking for better shoots. 
It is ideal for sports action shooting, mountain climbing, hiking, skiing, cycling, or other outdoor sports activities. This body mount camera is compatible with GoPro Hero 11 10 9 8 7 6 5, OSMO ACTION, Sony Action Cam, Drift Innovation, Garmin, Kodak, Nikon, Panasonic, and more action cameras.
06. STUNTMAN Pack Mount:
The STUNTMAN Pack Mount is a long-lasting, comfortable mount for your action camera. The soft-walled elastomer base plate controls camera movement easily and quickly. You can tighten the non-slip straps and wrap them around the shoulder with a Velcro brand hook and loop. You can adjust it anywhere on the shoulder or chest.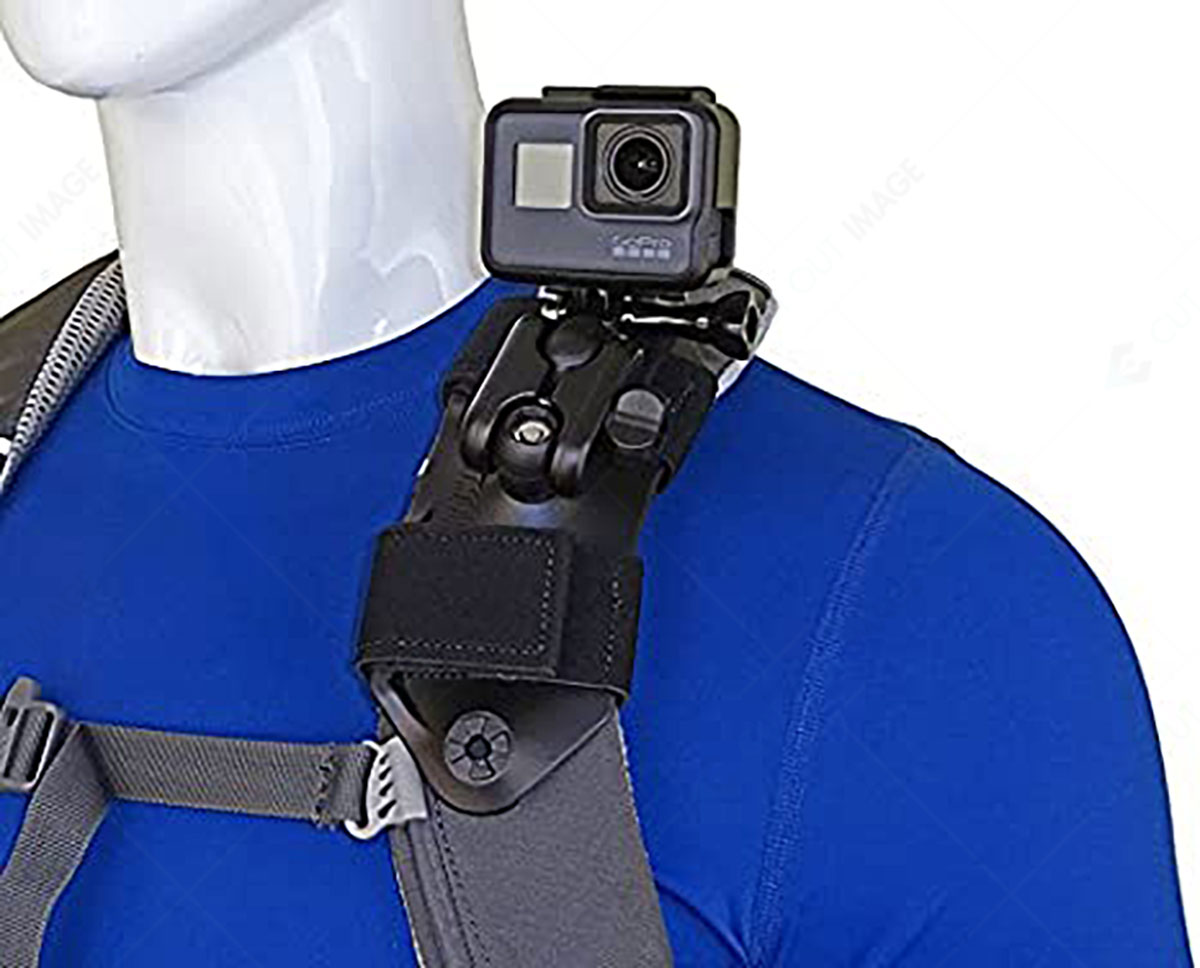 It is compatible with GoPro camera Hero sessions, Akaso, DJI Osmo Action, Garmin, Insta360, Kodak, Olfi, Olympus, Sony, Veho, and many more. It would help to buy additional adapters for mounting smartphones or tripod sockets based on your destination.  
07. Taisioner Shoulder Mount:
This Action Camera Body Mount comprises stretch fabric that fits and controls camera movement. The double ball head design made the body mount quite handy in rotating the camera 360° horizontally and 180° vertically. The rotation feature has made this body mount powerfully helpful for photographing and videoing. 
You can also use the Taisioner shoulder mount with your smartphone. You can use it for outdoor activities like walking, horse riding, hiking, or other adventurous activities. It is compatible with GoPro HERO models, Max Fusion Session, AKASO, Dragon Touch, Polaroid, APEMAN, XiaoYi, Sony, etc.
08. Taisioner Neck Holder Mount:
If you are searching for something easily portable, this body mount is for you because you can hang it around your neck and capture pictures around you. One of the best parts is that you can adjust the neck-straps according to shape and size. 
The silicone material-made neck strap is cozy to wear, light in weight, and highly portable anywhere. The turn-on-off switch on the neck makes it inflexible and less likely to be damaged. It is consistent with GoPro cameras and smartphones.
09. Sametop Chest Mount Harness Chesty Strap:
It is a light, long-lasting, flexible body mount that is relaxing for all sorts of bodies. You can easily carry it for realistic photos of skiing, skateboarding, snowboarding, snorkeling, or biking. The body mount is compatible with the GoPro Hero series, Osmo Action, and more.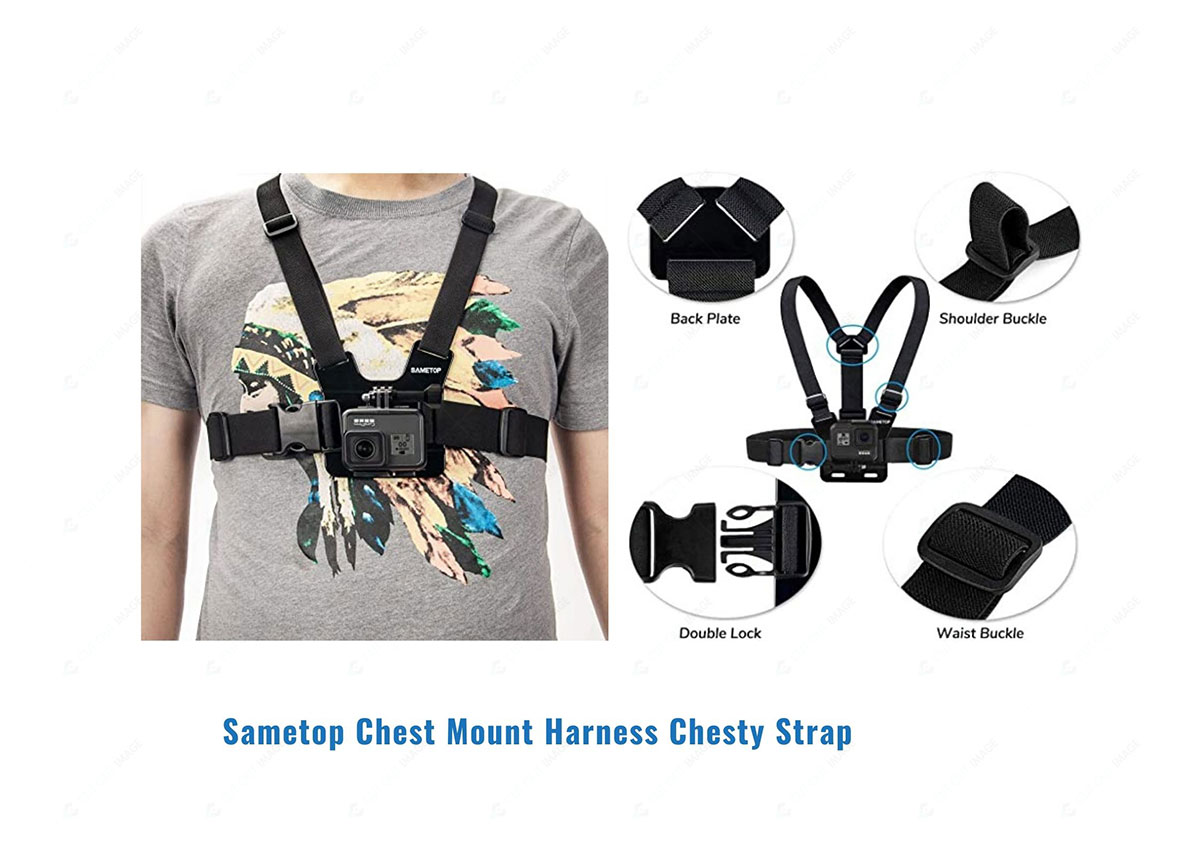 10. CamKix Chest Mount Harness:
Are you a sports fanatic? If yes, this CamKix Chest Mount Harness will be an excellent choice for taking top-notch POV shots. Moreover, it is affordable, and the padded design is comfortable. It contains fantastic features for capturing while cycling, climbing, skiing, snowboarding, surfing, kayaking, etc. This Action Camera Body Mount is compatible with all GoPro cameras.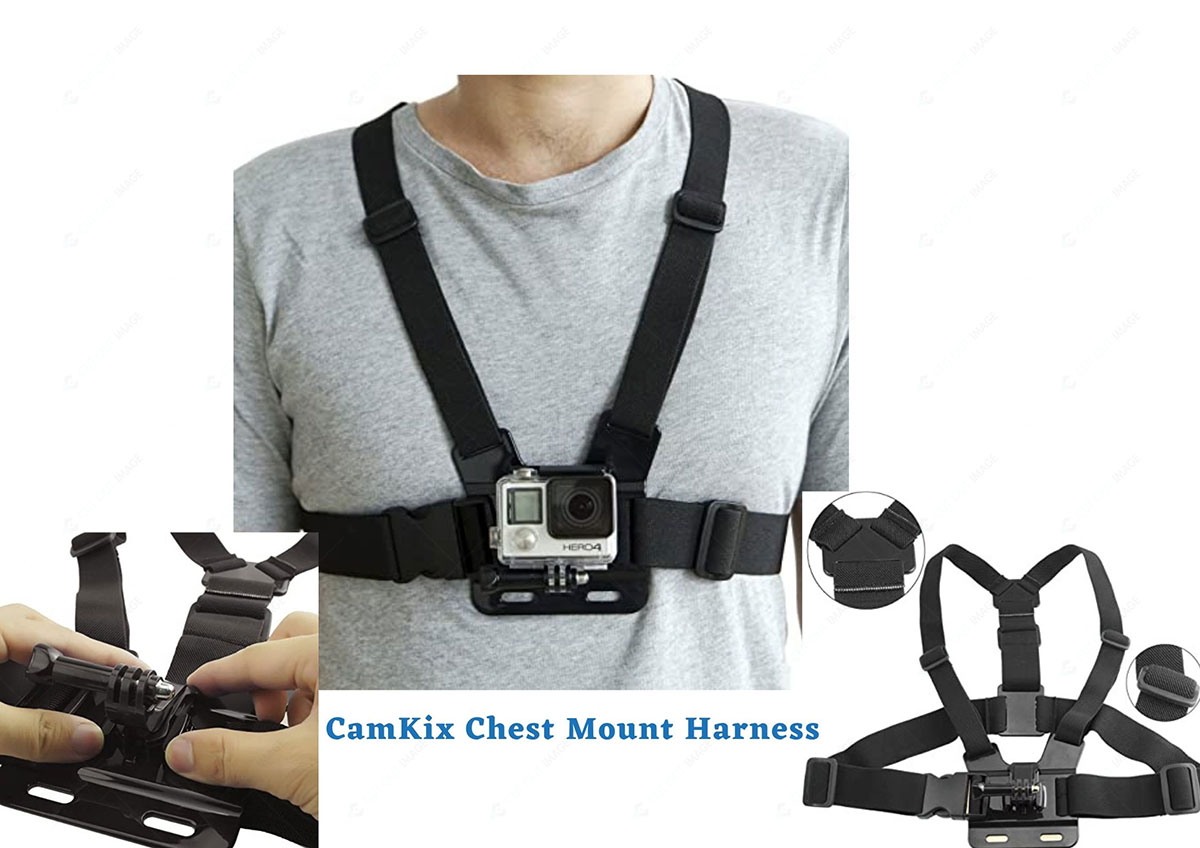 11. OCTOMASK Frameless Dive Mask with Mount:
If you want to implement underwater photography as one of the Beach Photoshoot Ideas, you need a suitable gadget. During diving, your hand won't be free since you might carry dive lights, and your device needs safety. OCTOMASK Frameless Dive Mask with Mount comes into play for you. 
The OCTOMASK Frameless Dive Mask with Mount is designed for capturing photos of spearfishing, freediving, snorkeling, and scuba diving. Its dual safety lenses and compact design ensure excellent visibility. The super-soft silicone ensures a good seal and fits all faces. The OCTOMASK is consistent with all GoPro action cameras.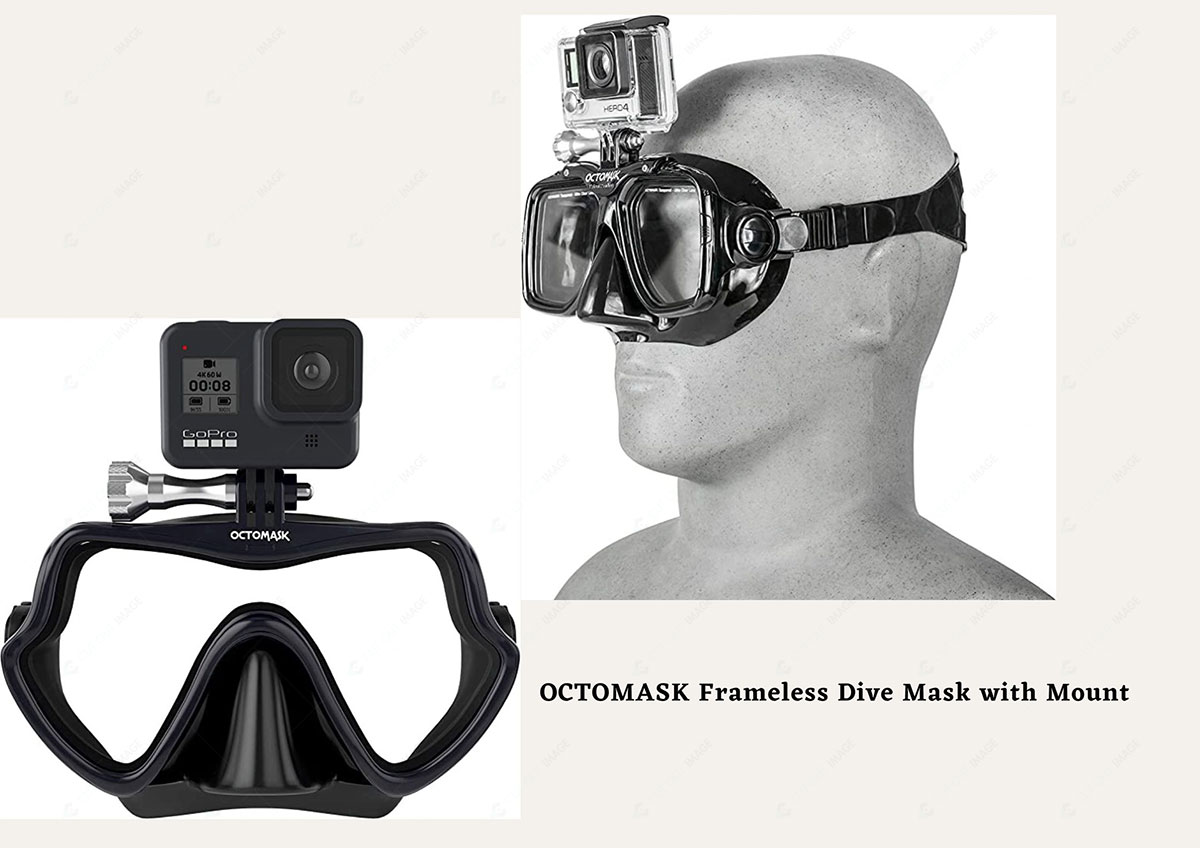 12. Mobile Phone Chest Strap Mount:
Are you passionate about doing adventure photography? If you are a newbie who desires to start an adventure photography journey, you can start with the smartphone in your hand. Mobile Phone Chest Strap Mount will be the icing on the cake. The J-strap is incredibly advantageous for photographers to capture during fishing, biking, or motorcycling.
Helpful link: Follow my blog on 10 Best iPhone Photography Tips to get tips for your photography. 
Evaluate Before Buying Action Camera Body Mount
Planning before purchasing is essential; the same goes for buying Action Camera Body Mount. You may not need all the body mounts available in the market. What should you consider before purchasing an Action Camera Body Mount? Let's glimpse tips on choosing the suitable mount for your needs: 
Activities:

Before purchasing, think twice about the actions you will take. Also, consider the angles and views you want to capture. Considering these two will narrow down the mounts list for you and make it easy to pick an appropriate one. For example, if you want underwater photography, you should use Mask Mount or wrist mount.

Compatibility: You can use multiple categories of camera mounts, but you should pick one best based on compatibility. So, before selecting the action camera body mount, check if it connects to your compatibility. Moreover, consider the device, whether it will be a camera or your smartphone.
Flexibility: A body mount is excellent for action shooting or videoing around you. But sometimes you need to change the angle that can be possible if the body mount allows flexibility. So, before buying, check if the gadget has a flexible strap to fit around your body from a different perspective.
Durable Materials: A good-quality body mount must hold solid and durable materials to mount the camera. So, before buying, it's essential to check the hooks, clips, and straps to see if they are okay or contain defective materials. Try to purchase metal instead of plastic material body mounts.
Fast Release: Fast release feature is a must for a good action camera body mount because it lets you attach or remove quickly without missing a beat for best shots.
Budget: The budget is the most important fact to consider before buying an action camera body mount. The typical price range of an action camera body mount is around $20 to $200.
How To Wear an Action Camera Body Mount?
Action Camera Body Mount is essential to capture moments by relaxing hands and concentrating on the action. In this part of the blog, I will show What Are The Best Ways to Use a Body Mount Action Camera. Let's review the most popular ways to use action cameras on your body.
Head Mount:

Securely attach the camera with head mount straps via the ventilation holes of a helmet. You can use velcro if your helmet doesn't have ventilation holes. You also can stick them around your head or helmet with an elastic waistband, suction cups, or an in-built fastening element. Make sure you avoid bumping accidentally into something while doing busy filming.

Chest Mount: You can wear a chest mount over your regular sports clothing. While wearing the chest mount, unfasten the straps and slip the straps like a vest facing the front. Then fasten it back and adjust the belts according to your body. Finally, attach the action camera to the center mount point and adjust the angle according to your requirements.
Wrist Mount: You can wear the wrist mount on any hand's wrist, left or right. Then set the camera on the wrist secured with the strap of the wrist mount.
Shoulder Mount: Similar to the wrist mount, you can wear the shoulder mount on your left or right shoulder, according to your preference. Put the camera secured with shoulder mount straps and go for action.
Mask Mount: Attaching a camera with a mask mount depends on the camera sort. For example, if you take GoPro, you can attach the sticky mounts, whereas you need velcro straps for other cameras.
Backpack Mount: You can attach the camera with mount straps snugly and securely on your back.
Why Use an Action Camera Body Mount? 
An action camera is necessary for a photographer or videographer to shoot in extreme conditions. However, it's not always possible to hold the camera in hand, and action body mount comes into play here.
Reading the blog till now, you have learned about different Action Camera Body mounts and the ways to attach an action camera body mount. Now it's time to know why you should use them. Let's learn about the reason for using Action Camera Body Mount: 
Action Camera Body Mount is a powerful camera gadget developed for capturing adventure action shots or videos. You can't take your DSLR camera or smartphone underwater, but you can do it with an action camera mounted to the body while swimming or diving. Moreover, it keeps your hands relaxed and captures the challenging action perfectly. So, it is a powerful assistant for adventure photography where you can mount them anywhere on your body, bike, or surfboard. 
The action camera is designed for action capture during adventure or sports. While surfing or running a marathon, you can't use your hands for photographing as the action needs concentration. Action Camera Body Mount is a perfect solution for using the action camera, keeping both hands relaxed. So, using it, you can focus on activities where it will do the job for you. 
It is challenging to carry a camera at hand when you want to make a documentary on a mining cave. In that case, using the action camera Chest Mount or Head mount effectively captures accurate shots from multiple angles. However, use the flashlight on the camera while photographing in the cave.    
While riding, capturing from the right angle is challenging. Here, the action cameras can be of excellent benefit. Using the Action Camera Body Mount, you can capture videos or photos from myriad angles of any ongoing event.
Conclusion
An action camera body mount is an effective accessory for hands-free POV pictures. Reading the blog, I hope you got a bunch of options to select an appropriate one for your next adventurous diary and learned the best ways to attach them to the body for the best action pictures. 
Then why are you waiting for? Get ready, set and go for your adventure and capture fantastic photos. Cut Out Image is there to care for your photos and make them flawless. However, retain the safety and let us know which Action Camera Body Mount you will pick. 
If you have liked this blog, please share it and help others with information. Check out my other blogs-