Photoshop is magic software and its newer version has been launched without any negative debates. But with this new release, one fact which you may not like is that you can access this version only through Creative Cloud. New additions have been made to the software that can benefit the photographers so let's take a look what's this software has for you:
Use Liquify Filter for Smart Objects
In previous versions, working with liquify filter was not that interesting. You could not apply the filter to smart object layer and if applied, amendments were not feasible. Any alteration to the object layer was eternal and no option to blend back the image was there. But with this version, you can apply liquify filter to the smart object layer and to your surprise, alterations are also possible if need arises in longer run. Simply remove the filter from smart object layer if you wish to and blend back the layer using blend mode, mask and edit.
ACR Filter
Apply changes to an image inside Photoshop which were previously only possible through Adobe Camera Raw. This new filter can be applied to any layer or smart object layer as well with ease. ACR is an amazing filter which allows you to use it as an editable filter. Just click on Filter>Camera Raw Filter and you are all set to get your hands on.
Square up the Objects with Upright
Basically, it's an addition in Adobe Camera Raw. Upgrade to Photoshop CC and get access to Upright Feature in ACR.
This wonder tool has the tendency to give a straight look to an image. You may see some sort of deformation in your images whilst shooting tall buildings. Go to Lens correction panel>Manual tab to grab the feature.
Sharpen Up Blur Images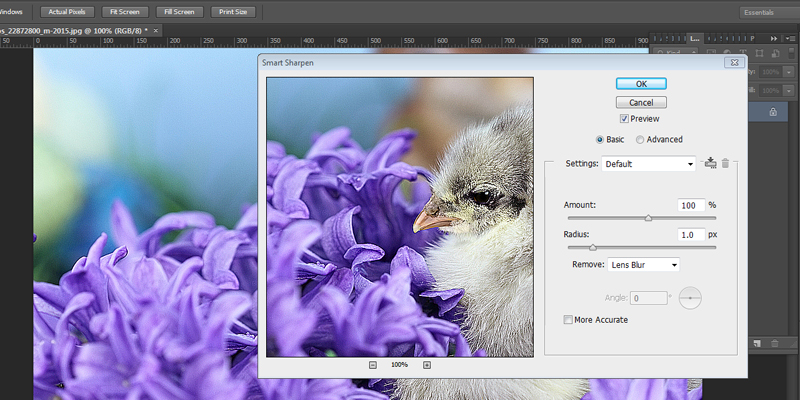 For photographers, it is a perfect feature addition to Photoshop CC. Now a slight blur in the image can be fixed up with Shake Reduction filter. At times, images get hazy due to zooming so making an image look sharp and crisp is now your right hand's task. Go to Filter> Sharpen> Shake Reduction. It as easy as anything!!
ACR features in Photoshop CC
Other than the above features, many more are added in the new upgrade of ACR but you can access them only if you have Photoshop CC. Spot removal tool is miraculous to fix an image and it is like a paintbrush. Use the tool for any image and it works well for all the problem areas except circular areas. Furthermore, Radial gradient tool is added for witty and creative effects in an image.
Preserve Pixels with Upsampling Algorithm
As you all know, Photoshop is pixel based. And enlarging an image causes the pixels to spread out thus deteriorating its quality. But now with new resizing algorithm, you can get rid of this flaw. Just go to Image> Image size and enlarge the image for better visibility. Now put the value by which you want your image to be enlarged let's say 200 percent by 200 percent. Mark a tick on the resample checkbox and click on dropdown list to choose new Preserve details.
This algorithm is perfect for printing purposes as sharpness and crispness is maintained in the picture thus avoiding blurry edges.
Smart Sharpen Filter
Another amazing addition to Photoshop CC is smart sharpen filter. To see the changes, go to Filter> Sharpen> Smart sharpen and enlarge the box to perceive its effects noticeably. Put radius value between 0.5 to 1.5 for sharpening and noise can also be reduced in an image. Apply the filter with more strong values where you see shadows and highlights in your image as it will control noise and blur effect.
Adaptive Wide Angle
Eliminate the problems of wide angle lens shooting where an object gets warped. Have power over deformation with Filter> Adaptive Wide Angle and apply the filter from Correction dropdown list. Adjust the values of Focal length and Crop factor. Apart from this, you have the option to draw lines on the respective image to straighten it. According to the constraints laid down on the image, Photoshop CC will control the distortion flawlessly. For editable results, apply the filter to smart object layer.
Post Images to Behance Directly
I love this feature of Photoshop CC. You might have heard about Behance Community where you can sell your creative work by showcasing it to others who are looking for such examples. It is very creative community, so if you are using it or planning to use it then go ahead guys. Post your artistic work directly to Behance community and get hired by large scale business tycoons. Simply click on File> Share to Behance to grab the feature.
Program Updates
Turn your heads towards this awesome and unique feature i.e. program updates. Adobe will automatically deliver program updates once available via Creative Cloud. You don't have to wait for it!! Any hitches will be tossed out immediately no matter you are on slow internet service. Downloading and installing fully fledged update is time consuming so this feature is just superb to save time and of course, the frequency to use internet.
Pricing for Photographers
Well, this newer version i.e. Photoshop CC has been accepted widely by all the photographers but still it had a lot of hostility in its bag. Creative Cloud applications are pricey so Adobe announced that whoever wants to use Photoshop CC can sign up for Photoshop Photograph Program with Photoshop CS3. It is a limited offer which can be availed by anyone to relish the benefits of Photoshop CC, Bridge CC, Behance Pro site, Lightroom 5 and 20 GB of cloud storage. Moreover, annual subscription can be availed at a price of USD $9.99 + monthly taxes.
So guys get into the world of digital photography and go creative by using these stunning features of Photoshop CC with few clicks. I hope you enjoyed reading the article. Have a good day!!