There are countless benefits of admirable product photography. It helps in building customers, their frequent visitations, chances of a boost to business and customer trust. Also with the changing trends of product photography, E-commerce is experiencing regular conversions. Now, the considerable part to shed light on is that whether it is too necessary to have a DSLR camera for product photography or is there any substitute.
Today as we all have smartphones and excellent cameras are installed in them, is it possible to have picture perfect clarity of product images with a smartphone. Well, the quality of imagery that lately launched versions of smartphones produces will keep you ablaze. The difference between smartphone and DSLR quality of generating images is narrowing considerably.
This article is based on demarcation between DSLR and Smartphones for product photography. There is no denying to the fact that DSLR cameras are way superior to any mobile model with incredible camera installed inside. The cameras have many such features that can take perfect pictures. There are detachable lenses that you can use according to the requirement of your session. DSLR cameras are quite versatile. For smaller objects, you can use macro lenses.
Also, the lenses that are accommodated with DSLR cameras have larger lenses that help in capturing sharper images. They are most useful in low light photography. Such features are not found in any of the Smartphone.
Now that was all about DSLR perks. At the same time, there are certain pitfalls as well that goes hand in hand. DSLR cameras are huge in size. It is like a large bulky item that you have to carry along-with everywhere. Smartphones on the other hand are quite sleek and handy. Also they allow you to share photographs instantly. You cannot find such features in a camera. There is another annoying facet for capturing images in a camera is that you first have to transfer all the images to your computer and then use them wherever required. Also the images will require editing that cannot be possible directly inside of the camera, unlike smartphones.
DSLR is a pricey possession and its post purchases will also put you in heavy financial crises. To incorporate with the camera, you will later need multiple types of lenses and trust me, these lenses are no less. They will also consume a lot of cash whenever you will buy one. I would recommend you not to spend such big amount on lenses and DSLR unless you are a photographer by profession. If your purpose is just to take amazing product images, you can always upgrade your smartphone and buy one with better camera, some basic lighting equipment and a tripod.
I guess it is justifiable enough to support a smartphone given the multiple uses and problem solving capability.
We will now take a look at some of the smartphones that are versatile and diligent enough for awesome product photography, let's start with the heavy:
iPhone
iPhone, the Apple Inc product; It is the first choice of every individual, given its unique features and brand value. Lately we have seen a grand inception of iPhone 6 and 6 Plus. It is fashioned with a fantastic camera of 8 megapixels. You must be thinking that in current technological realm where brands are launching up to 41mp cameras, why am I addressing 8-mp camera as fantastic. Well, you will get the answer very soon. iPhone do seem to lack in the feature here but there are other awesome features incorporated in the phone that you will not feel inconvenient.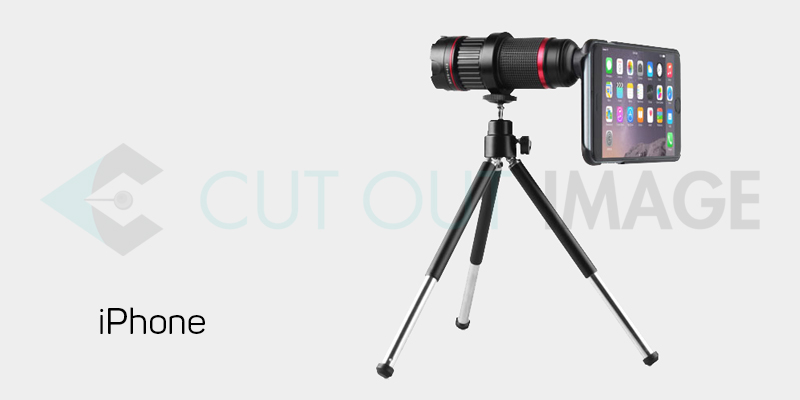 Newly launched versions of iPhone have faster and fantastic auto focus. You can enjoy the feature of exposure control that allows you to take perfect images in all kind of light availability. Then you have got optical image stabilization that let the lens to move whenever you move the phone or shake it. Even in dim light, you can take crispier pictures. Currently, you can use IOS 8 in all versions of iPhone where you can locate many new photo apps. These apps let you edit photos instantly. You can adjust the images according to the likability and also filter them if required.
Though, photo storage does not require much of your mobile's space yet, Apple has launched newest version of iPhone that has memory storage of 128 GB. It allows you to store as many images as you want. Earlier, iPhone used to have either 16 GB storage capacity or 64GB. But now, options have clearly increased their spectrum. Now, getting back to the topic, iPhone is completely suitable for product photography given its rich features. You can take perfect images in every kind of lighting availability. Also for storage, you have huge memory. Editing is also quite simple therefore; you don't have to switch on your computer or laptop every time. You can simply edit photos from your phone and upload them instantly.
Nokia Lumia 1020
Well, as I was telling about 41 pixels camera, here is the suitable example to prove my point. Nokia Lumia is a photography platter that is available in the form of a smartphone. You might sometimes feel annoyed with the phone due to its overhung camera at the back. However, the screen makes up for the inconvenience. It can produce high resolution and detailed pictures. There are various creative modes installed in the camera that let you take images the way you want them to be.
Besides being the images in high resolution, the shared stuff is always in lower resolution for easy sharing. Nokia Lumia 1020 has surpassed the picture quality of iPhone 6 also. It has the tendency to produce professional images, even in lesser lighting. It has the storage capacity of 32GB. Isn't it a competent option that gives neck to neck fight to a top-notch DSLR camera? This model is best suited for close ups and you can also install photo editing apps from the Android market.
Samsung Galaxy S5
I still remember, when this model by Samsung was launched in market, people were going crazy to wrap their hands around the new phone. Anyways, this model is crafted with a 16 megapixel camera. Talking about the camera specifications, it has an auto focus of 0.3 seconds. For low light situations, you can find Samsung's Isocell image sensor. Due to this feature, you will never have to complain about bad picture quality in darker areas. Something interesting about this smartphone is that it has selective focus system. It allows you to change the focus of an image. With a perfect auto focus feature, you can capture best of the images of moving objects. The storage of this phone is 16GB and 32GB and it has a screen size of 5.1 inches. With the help of such a phone, you surely don't need an expensive DSLR camera for product photography.
Nexus 6
This is an amazing smartphone. It is fashioned with a 13 megapixel camera and a 6 inches display. Wow, it is large and tempts me every time I think of it. Getting back to the point, the camera features are highly versatile. The optical image stabilization of the camera allows it to take remarkable images in daylight and low light situations. You can install a photo editing app and bring solution to all product photography needs. You can select from two main versions of Nexus 6 that vary from storage capacity of 32GB and 64GB.
So these are few of the options that can be considered in Smartphones. As we are concerned about best of the product photography, it is important to buy the camera that brings you amazing pictures. You can then use them at your e-commerce portals.