Birthday is a memorable day and becomes more special with the year's passage to pay for adulthood. Do you want to document your birthday? Yes, you read the correct word! You can document your birthday by doing a birthday photoshoot and make it memorable with great ideas. In this blog, I will share the 10 Best Photoshoot Ideas For Birthday In 2023. So, let's go into details to discover them!
10 Best Photoshoot Ideas For Birthday In 2023
Since birthdays arrive once a year, people want to make it memorable, which is possible with photography. So here I have studied a few common questions regarding the photo shoot ideas for birthday: 
How can I take photos on my birthday? 

What are good settings for it? 

How can I beautify my birthday photos? 
After analyzing the questions, I have brought up 10 best photoshoot ideas for birthday that will be appreciable in 2023. I have broken them into two parts- for babies and adults. So let's check one by one. 
10 Best Photoshoot Ideas For Birthday In 2023: Baby
Here I am presenting some ingenious photoshoot ideas for birthdays for babies that you can apply to make your adorable child's birthday memorable. 
#1. Jumbled with Food: [Photoshoot Ideas For Birthday]
You can make a candid but memorable photo by dressing up your baby beautifully and placing a cake in front of it. Then, let the baby smash the cake or mess face with it. Don't panic if you find the prepared items have gone wrong unexpectedly. Instead, it is fun because a disorganized but amusing atmosphere will make the photos look impressive.
#2. Add Bubbles:
Do you know kids love bubbles to play with? Therefore, while doing birthday photography, add bubbles to the party to capture the candid pose of the happy baby playing with bubbles. It will create a vibe of the magical world.
#3. Cheerful with Balloons
:
Colorful balloons are a significant element of a birthday party. Besides, kids love to play with balloons. Therefore, you shouldn't miss it while doing the birthday photoshoot. However, be careful about the baby's safety from the popped balloons. 
#4. Siblings' Love: [Photoshoot Ideas For Birthday]
You can frame the siblings' love with photography. For that, ask older siblings to play with the birthday boy or girl and capture the precious and joyful moments. It will create an excellent memory for the future.
#5. Prince/Princes Style
:
The birthday boy or girl is the party's center point. They are the prince/princess of their parents' kingdom. Therefore, as one of the best photoshoot birthday ideas, you can present your kid like a prince/princess and capture the moment with love. 
#6. Use Costume:
As a great idea for a birthday photoshoot, you can visualize a birthday party theme according to your child's choice. It will make him happy and add more joy if you provide appropriate costumes. So, try to add such an environment and use costumes to create the preferable memory. 
#7. Baby in Mug: [Photoshoot Ideas For Birthday]
Are you surprised by the title 'Baby in Mug?' It indicates the new trend on Facebook and Instagram, "Baby Mugging." It is the photography process where you have to keep the baby on the floor and hold a mug in a way that generates the view of popping out the baby of a mug. It is an easy and cute process of photography that you can apply in 2023. You can take a colorful mug and vibrant background to generate an attractive photo. 
#8. Napping Baby:
Normally, you can't expect your little kid to pose for a picture according to your preference and can't capture it in an organized environment while awake. But you can do it while he is sleeping. So therefore, pick a theme, hire a photographer and go for sleeping baby photography as an idea for a birthday photoshoot in 2023. 
#9. Family Photo:
Among the 10 Best Photoshoot Ideas For Birthday In 2023, it is the most fantastic idea because it captures the family! You can capture a photograph with the birthday baby and family members. It will serve as a great memory in the future. 
#10. Shower Moment:
You can apply shower moment as one of the 10 Best Photoshoot Ideas For Birthday In 2023 for your baby's first birthday. It is a precious time while showering babies with fun in a bathtub. You can hold this cuteness with photography for future remembrance. You can keep siblings around the bathtub and let them have fun while the baby is showering. 
10 Best Photoshoot Ideas For Birthday In 2023: Adult
Now, I will share some creative photoshoot ideas for birthdays for adults that you can apply to make your birthday unforgettable. 
#1. Show Your Maturity:
Let the world know you are no longer a kid. You are mature now. How can you reveal that without saying it? You can use number balloons showing your age. Be brave and count the moments with activities. 
#2. Pose with Friends:
As an adult, you can't think of a birthday without friends, so here are birthday photoshoot ideas with friends for you. Pose in a group and capture the moment. Also, pose with your friends in a giggle as you use confetti to create a vivid mood in the picture.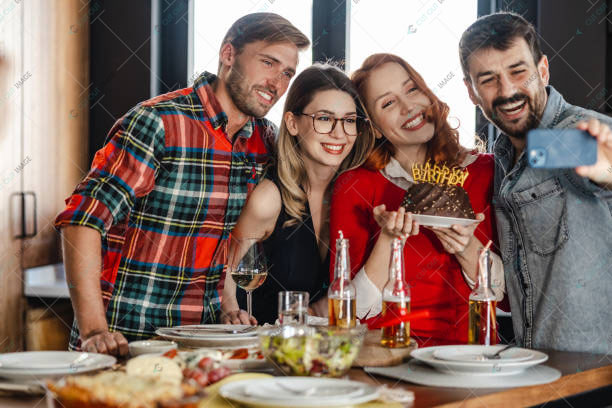 #3. Funny Face:
It's not necessary to pose seriously in birthday photography. It's a special time to enjoy and make the moments memorable with great fun. Capture a few photos with friends making funny faces. In the future, such images will make you smile. 
#4.  Frame the Preparation: 
It is one of the 10 Best Photoshoot Ideas For Birthday In 2023 to capture behind the scenes. It makes you remember how you prepared for the party. You can include the behind scene of preparing the cake, stage decoration, etc. 
#5. Flat-lay Photography:
Product and birthday photography can apply the flat-lay photography technique to keep the memory sweet. In this concept, you can use items like cake, candles, caps, and a few other related items laid on the floor, bedsheets, or mat and capture the photo. It will give a glance at your birthday party. 
#6. Bird's Eye Photography:
We always capture photos at our eye level. Are you looking for something innovative for your birthday photography in 2023? You can apply bird's eye photography using a drone. It is also known as Drone photography. In this process, the drone captures photos or takes video from a height that a human can't execute. However, as a novice, you don't have permission to use a drone because of legal issues. Therefore, you can hire a professional photographer having the mastery and permission to do this.
#7. Sleeping Posture:
There is no hard and fast rule to capturing birthday photographs, creating a party environment, and wearing a party dress. You can do it in your bedroom in a sleeping posture. Yes, you heard the right thing. You can capture the special day in an easy-going way by posing like sleeping. It's a puckish idea for an adult who is still a kid at heart, indicating he is sophisticated. And, image post production is there to create an aesthetic bedroom for you. 
#8. Outdoors Photography: [Photoshoot Ideas For Birthday]
Yes, capturing birthday photos in a party mood is not apparent. Sometimes, you can hire a photographer and go for your photography with nature. Go to hill parts, flower gardens, or any place that attracts you and creates excellent memories. It is a great birthday photography idea for 2023 that you can apply on your coming birthday if you find everyone busy. It is an alternative way to give attention to yourself! 
#9. Orchard Party: [Photoshoot Ideas For Birthday]
Among the 10 Best Photoshoot Ideas For Birthday In 2023, it is the best one you will find to capture your birthday photos during celebrations in the orchard. You need to set up the garden, call friends and hire a photographer to make an aesthetic but close-to-nature photograph. 
#10. Photo Editing: [Photoshoot Ideas For Birthday]
You don't have to sit upset since you don't have time and money to set a grand party or go outside. You simply can call a few friends, capture a few photos, and hand over the photos to photo editing service providers like Cut Out Image to edit and make them perfect birthday celebration pictures for your special day. Isn't it unique and life-saving? 
So far, I have discussed the 10 Best Photoshoot Ideas For Birthday In 2023, those you can apply to create your memory. Few of these are unique, and few are trendy. Take inspiration from these ideas and use whatever ideas you suit according to your nature and style. Let us know in the comment box which idea you liked most!