Are you looking for the Best Shopify Themes For Clothing? Envato is a great marketplace to choose some stunning and amazing themes to build your own e-commerce store. Not every marketplace is that good in offering happening launch offers as Envato. Now no more looking up to find the best theme for your store as you can now browse some of the finest themes from Envato at an unbelievable price of 29$/month.
Subscribe for one time and enjoy unlimited downloads from among the list of 9000+ items. Get access to commercial license on signing up and you can cancel it anytime you want. For all your projects, Envato brings a world of possibilities. Today, I am going to jot down few of the hand-picked shopify themes for your e-commerce portals. Here goes the list:
BeStore – Premium Shopify Theme
Bestore is a fashion apparel online shop that gives access to a handful of features in few clicks and taps. Use this theme, list your products and attract your potential customers to buy products from your portal leaving others behind. The color palette and background of this theme has such a warm impression on the viewer that in no time, your portal will be everyone's favourite.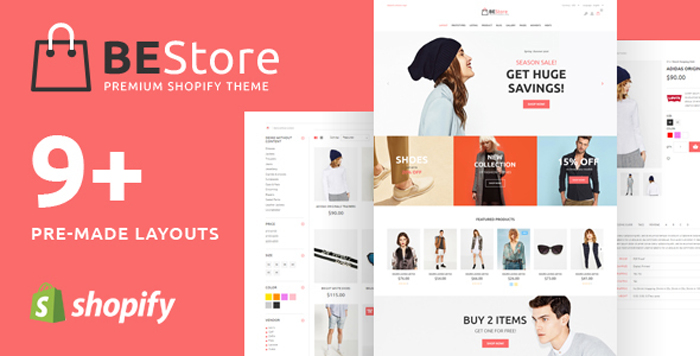 Elise – A Genuinely Multi-Concept Shopify Theme
Having unlimited options and features to browse from, Elise is an all time favourite of the shopaholics. It can be used for any type of shopping store like apparels, furniture, cosmetic, flowers, kids' toys, beauty or jewellery etc. Its extensive theme editor and admin control panel makes it the best choice for the site owners.
Fashionify – Responsive Fashion Shopify Theme
Fashionify is a theme that makes e-commerce easy on the hand. Equipped with the features like flat design and colourful look, this theme offers a user friendly experience. It has a smart responsive level and enhanced catalog for a better shopping experience. Also, it offers the viewers a good visual experience that makes it easy for them to make a fair decision while buying.
Jms Ceramics Shopify Theme
A clean, modern and professional design that is designed purely for furniture or décor type stores! It has amazing and flexible settings that offers faster support. Jms Ceramics is a stylishly designed theme that looks attractive and elegant while people browse the store.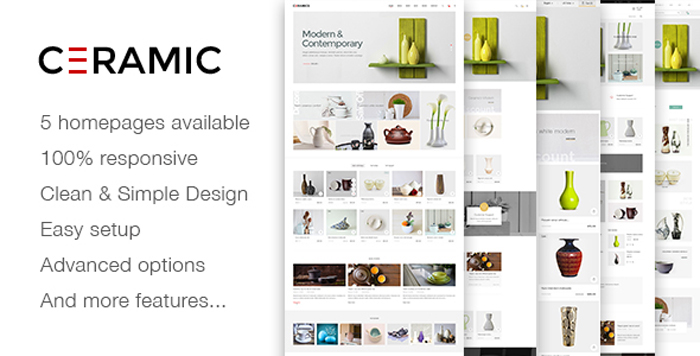 Watch Store Responsive Shopify Theme – WATZ
WATZ is a responsive premium theme that is designed to showcase luxury items like watches, bracelets, sport watches, watchmaker or clockmaker portfolio etc. Designed with parallax effect, this theme has a multi feature layout, parallax slideshow, and product landing page. The amazing color swatches and advanced filter product navigation makes it unique in every aspect.
Megatron – Versatile Shopify Theme
Megatron is a shopify theme that has the tendency to attract the viewers with its fascinating and flashy colors. With this theme, you can find the information quickly and easily.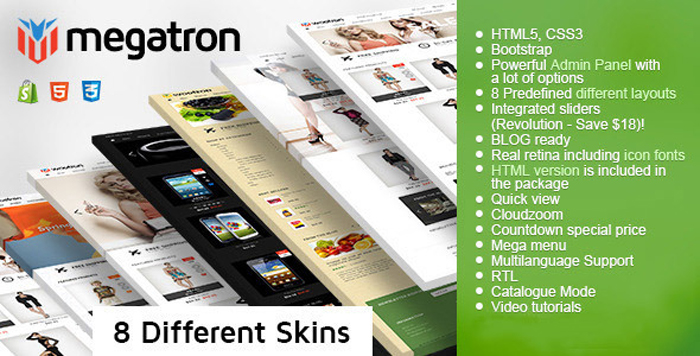 Uptown Jeans – Shopify Multi-Purpose Theme
Uptown theme is a new version that is launched in 2016 with a responsive design, compatible with mobiles.  This theme is particularly designed to display Capri, shorts, jeans, pants, t-shirts, jackets, dresses, skirts and shoes etc. The design is unique, clean, simple and with advanced features that makes it easy for everyone to browse the site with utmost ease.
Parallax Shopify Theme – Wood Furniture Decoration
It is the best wood furniture shopify theme that is designed taking in consideration the needs of furniture lovers. A fully responsive theme, parallax shopify theme is well suited to furniture store, interior or exterior design, and sofa salon etc. The template has a parallax effect that is enabled with lots of features to make browsing easy.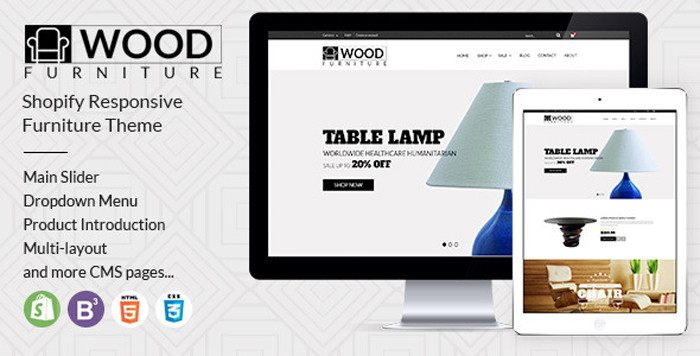 Jacket Shop | Fashion Shop Shopify Theme
A theme that is designed with total love to offer the best, stylish and versatile features to the viewers! It has all the features to impress you like responsive design, fully customizable and also it supports multi currency. Play around with the colors and fonts of this super amazing fashion theme to attract the viewers.
Navas Responsive Shopify Theme
Navas is a cool theme with loads of features like twitter bootstrap, outstanding support, fully responsive, customizable fonts and awesome icons, countless color options, and flexible page layouts etc. Get this theme and design your very own e-commerce store that will lure the visitors to buy your products.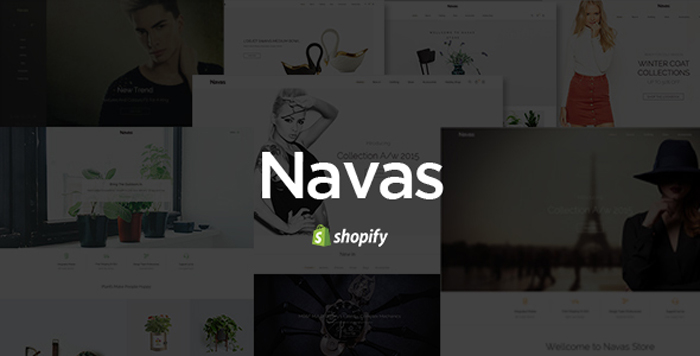 Cosmify – Fashion Cosmetic Shopify Theme
For any type of cosmetics, fashion or fragrance stores, cosmify theme fits in perfectly. The viewers can access this theme from PC, laptop or any mobile device to get a quality look. It has attractive features and customizable layout that helps you edit the menus, slider, web fonts and widgets etc. Also, adding the image light box makes this theme more productive.
Foodly – One-Stop Shopify Grocery Shop
Tempt the taste buds of your viewers by choosing this grocery shop theme – foodly. This theme is perfect as it offers fully responsive view, well documented guidance, faster loading speed and much more at the price of just 29$. The unlimited color options and illustrations makes it a worth theme for all those who want to build their own grocery e-store.
Cake Shop – Shopify Theme For Bakery And Café
Simply WOW! This theme has it all. Perfect looks, responsive, and unlimited color swatches, this theme is just great to showcase your baking skills. Bring your creativity online and amaze the world with the best cakes ever. Setting up a cake shop online is the best thing one can ever do. The powerful admin control of this theme helps you to customize the theme perfectly that make the functioning smooth.
Skate Board – Fullscreen Sports Shopify Theme
Skateboard is a stylish theme for surfboards, snowboards, skateboard and skaters etc. Showcase your product list and let the viewers see them in full screen mode. It has customizable layout with all the interesting features that makes it easy to use. For any kind of sports shop, this theme is a good option.
Quato – Shopify Theme
A theme that has an elegant layout with smooth functioning is Quato. It is also a fully responsive, well documented, and has a powerful admin control that gives you complete control over the features. Customize it according to your needs and make the best website design.
Hiking & Camping- Outdoor, Adventure Shopify Theme
Have an amazing ride with this hiking and camping shopify theme that gives you a complete feel of the originality. You can show people a great website that can connect well with your audience as it has fully responsive design, highly customizable layout, and multi currency support. Make your website a unique and versatile one to gain the maximum attention.
WellDone – Material Shopify Theme
Welldone is the brightest shopify theme that has the bright shades all over the theme. List your products in a beautiful layout in restrained office colors that give a stunning appeal to the site. Fully responsive, one click install, unlimited colors and backgrounds are some of the finest features of this theme.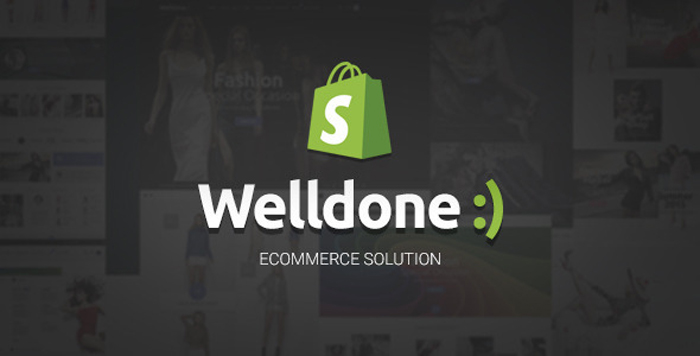 Hi Fashion | Multi-Purpose Shopify Store Template
Hi Fashion is a cool shopify theme that can be used for multiple purposes. It has multiple types of menu options, text columns, text with images and text with banners. Also, the customer can access the cart on any page without leaving the current page. For the daily or weekly offers, the user can set a timer and get the notifications.
ECommerce Shopify Theme Men's Fashion Ties
This theme has an advanced admin module that can be easily customized. In addition, it is easy to use and can be opened on any type of gadget like mobile, tablet, iPad or laptop due to its responsiveness. For each type of store, it is suitable and is a great theme to get started. This theme has a drop down menu support that makes it a fully functional as well as a beautiful theme.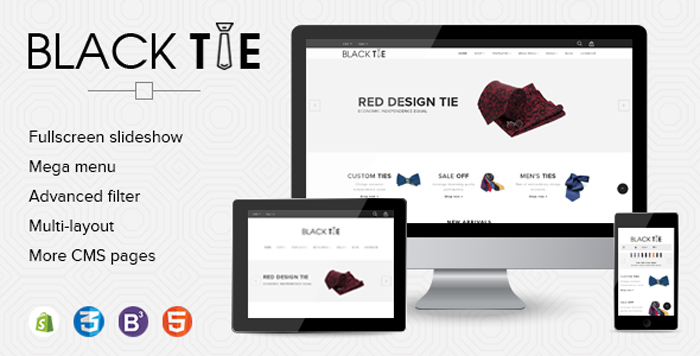 Responsive Minimalist Shopify Theme For Interior
Minimalist Shopify theme is a responsive theme that was designed in 2015. It is a user friendly theme with W3C, HTML, CSS3 and mobile compliance etc. For the websites like salons, interior designers, desk, work table, luxury stores or chair offices etc., this theme works great. It has a newsletter subscription, and advanced filters that make it easy for the people to browse the site. Unique, clean and modern design!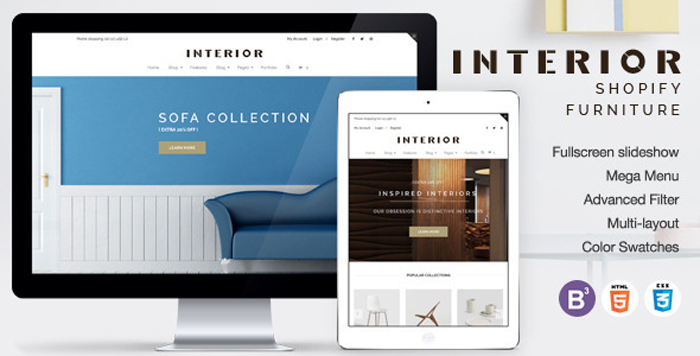 Funify – Minimal Responsive Furnitur Shopify Theme
Funify is a furniture shopify theme that has a sleek look. It looks good for online stores as the customers enjoy the gorgeous sliders that are perfect to enhance the appeal of the whole website. The features like list/grid change, sticky menu, product zooming and mega menus etc. look elegant and beautiful. This theme helps you design the trustworthy and best website you have ever imagined.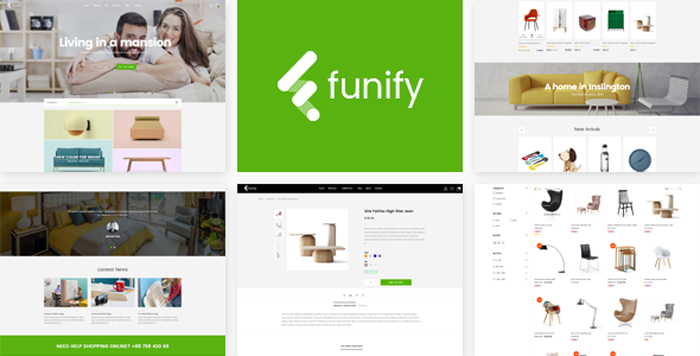 Coolbaby – Elegant Shopify Theme
Coolbaby is a nice theme to showcase products in an elegant way. It is a fully responsive theme with fully optimized images, 12 predefined skins, fluid grid system and countless color options etc. Also, it offers SEO friendly design and cross browser compatibility for user friendly experience.
Toxi Responsive Skater Shopify Theme
Make your website look stylish with this Toxi responsive skater shopify theme as it is just perfect to showcase skateboards, surfboards, skaters and snowboards etc. Due to its fully customizable option, this theme makes e-commerce easy on the hand. Also, it looks just so elegant and intuitive that leaves an everlasting impact on the viewers. Create a professional looking online portal today!
Canifa – Shopify Theme
Canifa is a bright shopify theme that displays the products in an enhanced manner as for an online shop, products matter a lot. It is a fashion theme that simplifies the troubles of viewers by offering a bright platform to shop on. Also, it is great to customize for any other online store as it is equipped with unlimited colors, powerful admin control and header style option.
Lena – Shopify Theme
Lena is a fashion theme that is used for shoes, hats, handmade items or any such thing. It is equipped with 6 home layouts that are equally unique to give an outstanding look to the website. A modern layout, this theme has an advanced powerful admin control with an amazing slider built in. Be it any online store, this theme is just great.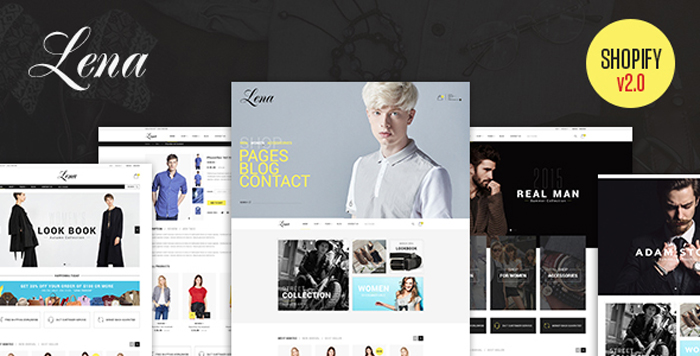 DEShop – Responsive Shopify Store Template
For the online stores like digital gadgets, clothing, fashion or furniture, Deshop is a cool theme. It has multipurpose design, slick look and easy to customize layout that makes it a versatile theme. Enabled with features like CSS3, layer slider, custom logo, stylish slider, unique portfolio design, this theme has it all.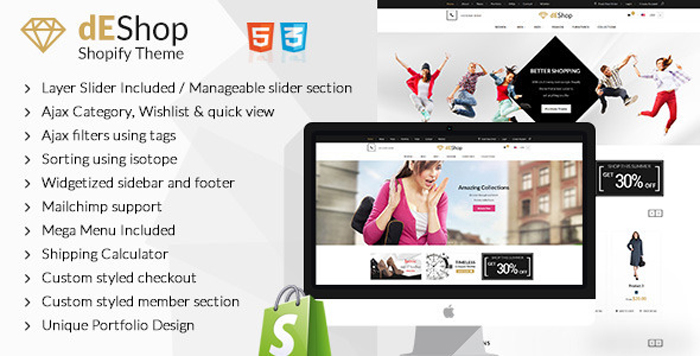 Leather – Responsive Fashion Shopify Theme
Leather is a multi concept shopify theme that comes loaded with a lot of unbelievable features. For the stores like beauty, cosmetic, retail, flowers, kids and fashion etc. this theme is worth it. It makes shopping an easy chore for even the beginners and also has a professional look to attract the viewers.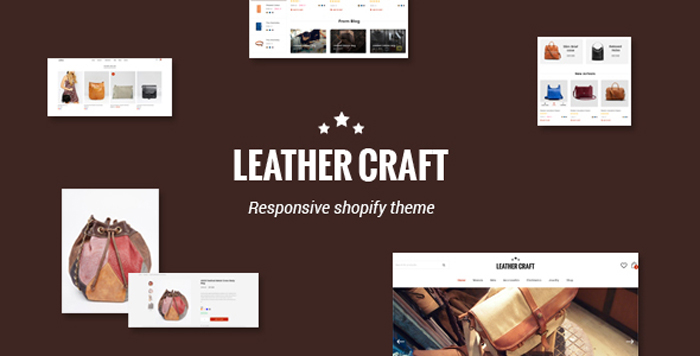 Novetty – Responsive Shopify Theme
Novetty is the hottest shopify theme that has a responsive design and a colourful layout. It offers a user friendly experience that makes it the best selling theme and also this theme keeps the visitors hooked on your website.
YourStore – Premium Shopify Theme
Yourstore is the best premium shopify theme that has a huge number of layouts and options to choose from. It is enabled with useful features, clean and elegant design and advanced functionality etc. Also, it comes with extensive documentation and support that makes it an award-winning theme.
Emigo – Shopify Theme
Emigo is a multi concept shopify theme that is designed specifically for shoes, fashion, accessories and cosmetic online shops. Loaded with some of the classy features, it has a modern style of browsing. It is a surprise package with all the necessary features that give a huge boost to your sales as people find it easy to browse your website. Even if you don't know the coding part, this theme works perfect.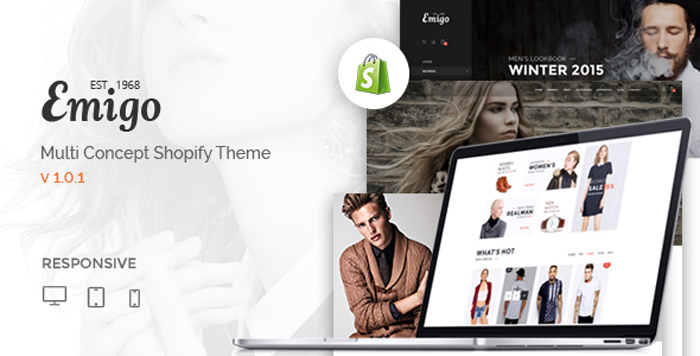 Check the list above to find a suitable theme for your online store at an amazing price of 29$/month…