Flower Photoshoot Ideas: Who doesn't love flowers? Flowers are the beautiful creation of God. It is believed that if we could witness the blessing of a single flower, our entire life would change. You can find flowers spreading their beauty and smell all around you, whether in the shop, garden, forest or even on the roadside. 
And taking pictures of this beautiful creation will never bore you since it is the most popular subject for photography. Capturing flowers is easy but capturing them with the dramatic result as an art of photography is not a piece of cake for all unless they follow some techniques. 
Are you inquisitive about flower photography? Then you are on the right blog to know about it. This blog will share plenty of stunning and unique flower photoshoot ideas. As a bonus, I will cover the following topics too: 
What Is Flower Photography?

Flower Photoshoot Ideas

Why Photographing Flowers?

Flower Photography Tools

Guidance for Flower Photography
Then let's start going through the blog and learning Flower Photoshoot Ideas!
What Is Flower Photography?
Nothing can beat the beauty of blooming flowers in various colors, shapes, and sizes. So naturally, humans have been fascinated with flowers for a long time. Because of their vibrant, lovely, and delicate appearance, flowers have been an indomitable subject of photography. 
Flower photography isn't just capturing the flower with a camera. It's more than that. It demands strategies and creativity to capture the details in dramatic style for creating appraisable art. Moreover, capturing from different angles provides different views of the component. Therefore, a flower photoshoot is known as photographic composition too. 
There are no hard and fast rules for flower photography; for that, professional photographers apply their own style of photography. Flower photography falls under the genre of Macro photography, where the photographer captures the subject in close view. 
Flower Photoshoot Ideas
You can see various flower photography in social media, books, magazines, etc. You can also capture mind-blowing flower photos following the Flower Photoshoot Ideas, which I will share here. Read and learn:
#1. Exhibit Your Flower Plant Collection:
Are you a flower lover? Do you possess a great collection of different flower plants? Then, it's high time to make a great show of your colorful collection utilizing this flower photoshoot idea. 
#2. Flower Crown:
Everyone loves flowers, but girls love to wear flower crowns. The flower crown symbolizes love, luxuriance, and festivity around the world. So, make a wreath of the flower crown by attaching the flowers to your crown with craft wire or floral tape and use it for your flower crown photoshoot ideas. 
#3. Create Flower Jewelry:
Flowers denote passion, loveliness, and pleasure, whereas jewelry brings emotion, sweetening one's beauty. You can make jewelry using flowers too. For this, use florets and small flowers. Layered jewelry combining white florets and colorful flowers can give a fantastic look to your flower photoshoot. To make it more attractive, you can add beads and pearls. While using the flower jewelry, make sure you or the model is wearing a contrasting color outfit.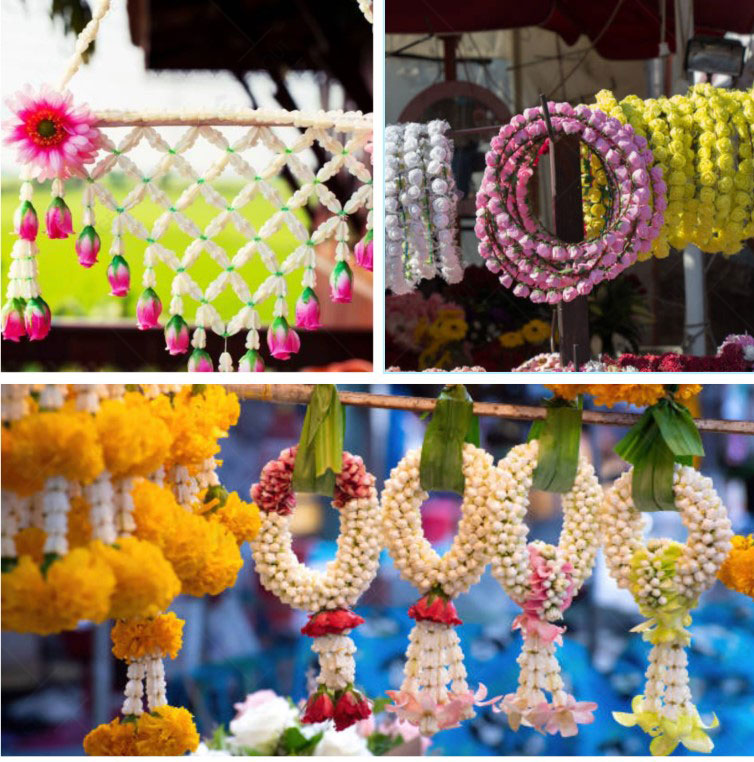 #4. Attach Flowers on Face:
One of the most trending flower photoshoot ideas is sticking flower petals on the face. Attach the petals of different or identical colors on the face making any design. It's easy and beautiful. So, don't delay in trying this captivating idea. 
#5. Contemplate Color Palettes:
While composing a flower photoshoot, try implementing a harmonious and contrasting color palette to bring out the best result. For instance, you can take red and purple flowers on a green background. It will help in highlighting the subject and make the photo eye-catching. 
#6. Use Paintbrush
:
Don't capture flowers using traditional ideas only. Sometimes, think about coming out of the box. Did you ever think of painting a natural flower? Take a paintbrush and apply the flower or different color. Then keep it close to the flower that seems like you are painting it. Isn't it something different but creative?
#7. Indoor Life With Flower:
One of the best flower photoshoot ideas is capturing indoors. You have a bunch of options for flower photoshoot ideas at home. For instance, you can capture flowers with or without a vase in simple background. You can use a solid-colored wall, piece of paper, or cloth as the background. Capture beside the window to ensure natural light. Use a diffuser of light-colored curtains if the light is too much. 
#8. Flat Lay:
Flat-lay photography is trendy on Instagram. So, you can apply this trend to your flower photoshoot also. For example, spread a cloth and create a design with flowers. Alternatively, you can create an aesthetic vibe with a flat lay by decorating flowers beside a book and a cup of coffee. Finally, to create a dreamy look, you can add fairy lights. 
#9. Water Droplets on Flower:
Nothing can beat the beauty of water droplets on flowers since they enhance the appearance of the flower's charming nature. To frame the beauty of such scenery, go outside during or after rainy times. You also can go outside early in the morning during winter to capture the fog drops on the flower. Alternatively, you can create artificial droplets with water sprinkled on the flower. Make a solution of water and glycerin 50/50 in a bottle and spray it over the flower to get a freshly misted look. This strategy is beneficial during summer when you can't get rain or dew. 
#10. Frame the Flower Fields:
How can you forget about the flower field while thinking of Flower Photoshoot Ideas? It's the place that gives you an abundance of flowers to frame with your camera.
You can create a fantastic shot by capturing the flower bed contrasting with the blue sky. You can hire a model flower photoshoot and follow the below ideas: 
Run into the flower field, spreading your long dress. 
Give a pose spreading your hair.

Get close to peer over the flower. 

Hold the photographer's hand and frame the scene. 

Pose with your best friend in the flower field. 

Hunch your shoulders close to the flower in the flower field. 

Frame yourself with flowers and pose like smelling the beautiful flower. 
#11. Go for Black and White:
Vivid and multicolored flowers load visual energy to the eyes. But black and white flower photography can give a relaxing vibe to the eyes. Usually, flowers are colorful, but make a difference in your flower photography by making them black and white. To make it happen, you need to capture the photo using a smartphone or the DSLR camera, then apply the black and white using the filter or the photo editing app. 
#12. Be Artistic:
Let your artistic mind play with the color of the flower after capturing it. As a photographer, you have the freedom to make the final output as per your imagination. Therefore, instead of going through traditional photoshoot ideas, go artistically. Edit the photo and apply the color according to your preference. It's fun too. 
#13. Bring Innovation:
Flower photography lets you think out of the box. You can capture the dried flower to create a mysterious and beautiful portrait.
In addition, apply the shadow on the flower to create an aesthetic vibe. You can use a box or a wooden crate to block the light. Capturing from closer, you can enhance the quiet natural beauty of the flower. You also can capture the flower silhouette creating a shadow on the wall. 
#14. Frame the Bug With Flower:
Ecouchard Le Brun quotes that the butterfly is a flying flower, the flower a tethered butterfly. It is one of the excellent Flower Photoshoot Ideas to capture the bug life on the flower – butterflies, bees, beetles, or millipedes that creates enormous interest. Moreover, the various colors of bugs and bees add a layer of pigment to the flower picture. 
#15. Seasonal Flowers:
Different seasons come up with different colors of flowers. Therefore, you can continue your flower photography all year round. You can capture the beauty of cherry blossoms in spring that symbolizes rebirth.
You can shoot the summer flower field that offers vivid color to the photo. Also, capture the winter flowers like poinsettias that remind us about the upcoming Christmas. 
#16. Utilize the Golden hour:
Shoot your flower photography during the golden hour to add a dramatic look to the photo. In addition, the light of the golden hour will reflect a warm and soft color on the atmosphere, creating beautiful scenery for any photograph. 
#17. Story Telling Capture:
As we know, a picture is a storyteller; it's an incredible idea of Flower Photoshoot to tell a story with the capture. You can tell the story of loneliness, capturing the only left petal of a flower. Capturing the bloomed sunflower will convey the feeling of happiness. You can tell the story of color by picturing the colorful center of a flower. Aren't these interesting?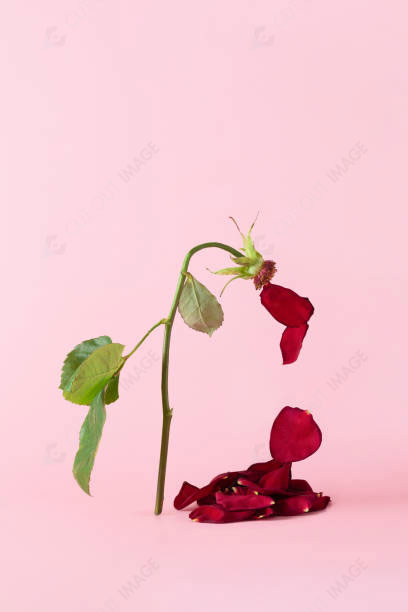 #18. Reflective Flower photograph:
Utilize a mirror-type dreamy texture to highlight the floral beauty. Capture the photo with the reflective surface. It will create an outstanding result if you can keep the backdrop black.
#19. Petal Rain:
You can create a petal rain or shower that will express happiness. For this, pluck flowers, separate the petals and throw them from the above while posing for the photo. Create a dreamy shot, and make sure to slow the shutter. 
#20. Floral Backdrop:
A floral backdrop can add a natural aesthetic vibe to your photo. Decorate the background with flowers or go to a flowery orchard to capture the image keeping it as the backdrop.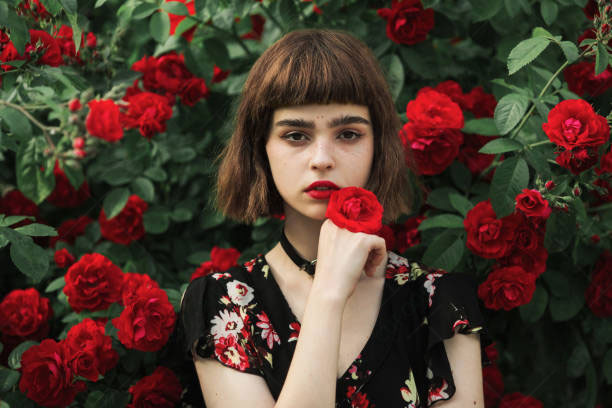 #21. Illustrate Floret's Life Cycle
:
You can illustrate the life cycle of a flower as a project flower photoshoot. Collect flowers of different stages to make the assembly and organize them over a paper or white cloth to capture. Alternatively, you can capture every stage photo of the flower and merge those to create one resembling the life cycle. 
Why Photographing Flowers?
Aesthetically, flowers are attractive since they articulate emotions of kindness, freshness, and many more. This flower is also a great natural photogenic subject of photography because of its color, texture, shape, and size. 
Flower photography is a great way for a beginner to apply learned skills and a sector for professionals to show mastery with advanced skills. Let's know more reasons for Flower Photoshoot: 
Practice Macro Photography: Flowers are available in various shapes and sizes. You can carry them anywhere to pose for your photography. Besides, a flower won't be impatient in posing for your photography. Flowers are the perfect subject for macro photography, which is extreme close-up photography of tiny subjects displayed bigger than real life. However, you need dedicated lenses for a tiny subject to construct magnification correctly. 
Practice Incredible Capture: Flowers are a simple but beautiful creation that contributes to creating a colorful amazing natural portrait. Such photography helps capture incredible photos and gather appraisal. Also, it helps a beginner apply basic knowledge to develop photography skills. 
Affordable: For a model or other photography, you might need a model to pose for you. For flower photography, if you can't afford a model, you can capture amazingly without a model. For this, you need to apply strategic and creative ideas. Besides, flowers are available everywhere at an affordable price in every season.  
Explore Flower Beauty: You can focus on the flower's natural beauty and create realistic images through a flower garden photoshoot. Flower macro photography is for those who love to be nature fanatics. It allows them to capture the smallest wildflowers or components like pollen, pistils, and stems. It also allows for displaying consistencies, delicate lines, and shapes.
Impressive for Fine Art: Flower is appropriate in sync with fine art photography, where you can utilize them as the superintendent of your artistic concept. However, you should make your message influential and expressive. 
Flower Photography Tools [Flower Photoshoot Ideas]
Flower photography is easy but strategic and contains many methods. Besides, for implementing unique flower photoshoot ideas, you need a few gear those I have listed below:   
#1. Camera:
The first and foremost gear you need for photography is the camera. You can use your smartphone camera or DSLR camera. While using a phone camera, you should increase the phone brightness to check the exposure. Lower the exposure to capture more details. A DSLR camera can offer you more features for flower photoshoot ideas. 50-millimeter and 85-millimeter lenses have wide apertures to create magical effects with complex components. 
#2. Tripod:
While capturing a photo without any support, there is a chance of a camera shake that might blur the picture. Here, a tripod is a solution that keeps the camera steady and generates sharp images. A tripod will be helpful while lighting a flower with a flash. However, you must go handheld instead of using a tripod for Non-macro shots during the daytime.
<h3style="font-size: 1.6em; text-align: start;">#3. Reflectors:
A reflector is a technical surface used to divert light towards a specific subject in the photography world. You can utilize the reflector in your flower photoshoot idea as a convenient tool for benefiting from shadows. To get the best output, just set the reflector opposite the light source.
#4. Polarizing Filters:
A polarizing filter is an excellent tool for adding worth to your flower photoshoot ideas. The polarizing filter can create a detail-oriented dark scene when facing the problem of losing detail with the light flood. Place the filter into the camera lens to get the result.
#5. Shutter Rate:
You can't freeze the moment, but you can freeze the movement using the camera's shutter speed. It is a great advantageous tool for flower photography during the wind. The regular shutter speed for flower photography is 1/250, while the intense value is 1/5000. 
#6. Natural vs. Artificial Flower:
Generally, we think of capturing the wildflower with the term flower photo shoot. But you can also capture artificial flowers that almost look natural and can be found online. Still, there are pros and cons of using natural and artificial flowers for flower photoshoots. It is hard to beat the fantastic smell, softness, and appearance of natural flowers though they are not long-lasting. On the contrary, artificial flowers are durable, and you can photograph any seasonal flower, but they mightn't be as soothing as the real ones. 
Guidance for Flower Photography [Flower Photoshoot Ideas]
Flower photography is easy to learn but challenging to master. Moreover, preference varies from person to person. Therefore, you can't fix flower photography style with any rules. Hence the guidance I am sharing now might not be universal but will definitely be helpful to you for starting flower photography. However, let's get the guidelines for taking flower photos: 
#1. Determine the Focal Point:
For any photography, you must determine the focal point of your photo that should be clear, having contrast with photo colors. Then, select a specific flower part as a photo composition and capture it. 
#2. Give Focus to Color:
Color is the main element of a photo, while flowers offer a wide range of color sources. Focus on the flower color in a way that it pops up through the green plants or leaves, creating a great contrast. You also can focus on the red flower while focusing on the blue sky. A great combination of colors can make the photo eye soothing.
#3. Capture Details:
Regular photography includes focusing on the whole subject. Try to fill the frame with the details of the flower. For fantastic flower photography, use a macro lens to focus on the details, even if it is a small flower. 
#4. Point up the Shape and Textures:
Every flower has an individual shape of a round, tube-like star, cup, trumpet, pitcher, etc., that has different textures like rough, smooth, shiny, dull etc. Therefore, point up the shape and textures of the flower through your photography. Focus on the multi-layered curlicue patterns too.  
#5. Play with Light:
As you know, shadow plays a significant role in photography; light plays the exact function. For example, the backlight is an excellent element of flower photography because it makes the flower petals look shiny. You can get the backlight from the sun directly on clear sky days. Don't forget about the light of the golden hour during sunset or sunrise. 
#6. Go Imperfection:
Sometimes, the accidentally captured photo brings the most beautiful view we call candid. Though the flower doesn't give a pose, while photographing, the flower might move or the background blur due to sudden wind or light. So don't delete those captures; check. There might be a fantastic click.
#7. Edit the photo
:
Photography is an art, and photo editing makes the art more aesthetic. You can modify the tone and outlook of your flower photos through photo editing. You can add a dramatic look to the image by adjusting the contrast and saturation. Using the curve adjustment, you can fine-tune the tone of the picture. Additionally, you can check out other photo editing techniques according to the photo and make it stunning. 
Reading the blog, you have understood that flowers are a beautiful component of nature that easily captures our interest with their beauty, color, and smell. Therefore, everyone loves flowers and also loves to photograph them. You also have learned flower photoshoot ideas along with a few tips. I hope you have enjoyed the ideas and tried these on your flower photography. So, why are you waiting? Go out and try inspiring ideas to develop your photography. Remember, practice makes a man perfect.