Adobe apps are the benchmark of creative software that is expensive. Along with the tuition fees, textbooks and other rising living costs, the price of Adobe is costly for a student's budget who depends on Adobe's creative apps for design work. However, students can get a 60-70% discount on Adobe Creative Cloud apps by signing up for an Adobe Student discount and ascertaining their full-time education status.  
Are you wondering How to Get Adobe Creative Cloud Student Discount? Keep reading to get the answer and enjoy the full benefit of everything it offers. 
To sum up, This blog will guide you in getting the Adobe Creative Cloud Student Discount while answering your query on pricing, eligibility, what's included in Creative Cloud, and why you need it. The topics I will cover in this blog are included below:
What is Adobe Creative Cloud 
The Adobe Creative Cloud, also called Adobe CC,  is the complete program package that allows access to various apps and tools to enhance creative work and share them with others. It is like an all-you-can-eat service that you can attain and maintain through a monthly subscription.
The Adobe Creative Cloud brings 20+ creative apps under one umbrella, including a font library, cloud storage space, a portfolio program, collaboration tools and Behance membership. It is essential for creative professionals like photographers, graphic designers, writers, artists, filmmakers, etc., to use a computer program for photography, designing, video, UX design, or any creative work. 
What included in Adobe Creative Cloud
Adobe Creative Cloud is a reliable name for creative work which is a complete package of 20+ creative programs for various creative disciplines. Here's what is included in the Creative Cloud: 
Adobe Photoshop: 

Almost every photographer uses Adobe Photoshop for

image post-production service

to make the photos perfect. Digital artists and filmmakers also use this Photoshop program for designing film posters or other promotional elements.  

Adobe Lightroom & Lightroom Classic:

Both Lightroom and Lightroom Classic are updated versions of image editing software. However, the only difference is that Lightroom preserves files in the Cloud, whereas Lightroom Classic preserves them on a hard drive.

Adobe Premiere Pro & Rush:

Premiere Pro is an indiscriminate video editing program trendy in Hollywood films. Its dynamic reduced version is Adobe Premiere Rush, a user-friendly video editing program on a smartphone or tablet.

Adobe After Effects:

It is widely used in the entertainment industry for motion graphics and VFX. It is mainly used in filmmaking to handle all VFX work and complicated digital effects. 

Adobe Illustrator:

Adobe Illustrator is an industry-leading program for vector artwork, using which you can create anything from simple icons to complex illustrations.  

Adobe InDesign

: Adobe InDesign software is mainly for layout and page design. It is extensively used in Media and publishing industries for print and online.

Adobe InCopy:

InCopy is a word processor used independently in InDesign for publishing intents.

Adobe XD:

Adobe XD is software for designing user experiences and interfaces for web and mobile. 

Adobe Dimension:

 Mostly, Adobe Dimension is used for 3D brand visualizations like mocking up, compositing and generating photorealistic 3D images of packaging design.

 

Acrobat DC:

Acrobat DC is a document viewer interacting with different photos and documents, especially PDFs. 

Adobe Bridge:

It is an asset management software that organizes files in conjunction with other Adobe programs and allows the transfer of files or edits data to video files with a transfer feature. 

Adobe Audition:

Audition is a handy workstation program for audio editing with multitrack, waveform, and spectral display to deliver pristine sound.

Adobe Media Encoder:

It is primarily a tool to encode, ingest and output video files in different formats. 

Flash Builder Premium:

It is a cross-platform development tool for creating games and web applications using ActionScript and Flex, compatible with Mac and Windows systems.

Camera Raw:

It is a must-have raw photograph editing tool for professional photographers. 

SpeedGrade:

SpeedGrade offers in-depth tools for fine-tuning a video project's color grading. 

 

Dreamweaver:

Adobe Dreamweaver is a website design and development tool feasible for all professional web designers. It creates and publishes web pages almost anywhere using the macOS and Windows operating systems. 

Aero:

Adobe Aero is an all-in-one augmented reality authoring and viewing platform on Creative Cloud to develop, collaborate, and publish interactive experiences in the real world. It is designed for iOS smartphones, Windows and Mac desktop versions in a public beta that tempts a heavy-duty investigation without coding proficiency. 

Mixamo:

Mixamo is utilized in designing, rigging, and life-giving animated characters. 

Adobe Animate:

Animate is a multimedia authoring animation program developed specifically for vector-based animation. It is used to design animation for animated short films, commercials, websites, rich web applications, game development, and other interactive projects.

Character Animator:

Adobe creative cloud offers the Character Animator program to create facial and motion-tracking animation for live-stream. It is ideal for quick and simple animation.

Prelude:

Adobe Prelude is a broken ingest and logging software application that works closely with Adobe Premiere Pro to tag media metadata for searching or speed up post-production management. 
Adobe Creative Cloud Student Discount
The Adobe Creative Cloud Student Discount denotes the reduced subscription fee for eligible students to use the regular Adobe CC apps. Adobe permits the discount on the first-time membership for the Creative Cloud All-Apps subscription that comes with the following benefits- 
A 7-day free trial 

Access to the full version of 20+apps

Easy reverse between the apps

Portfolio website to showcase work

100GB of cloud storage

Helpful tutorials
 However, the discount offer varies according to the location as below: 
In the US, you can enjoy 60% off on the Adobe Creative Cloud "All Apps" subscription in the first year and 45% off in the second year.

In the UK, you can enjoy 65% off in the first year, which drops to 52% in the second year.
The discount is valid for annual plan purchases, requiring a 12-month contract. It indicates that you must avail of the discount at a high price in the second year. You can cancel the subscription before the year ends if you want to avoid taking the discount on the increased cost. In the US and UK, if applicable with a subscription, Adobe offers a full refund if you cancel within 14 days of purchase. Moreover, Adobe lets you avail of the discount with a "year grace period" after graduation.
Eligibility for Adobe Creative Cloud Student Discount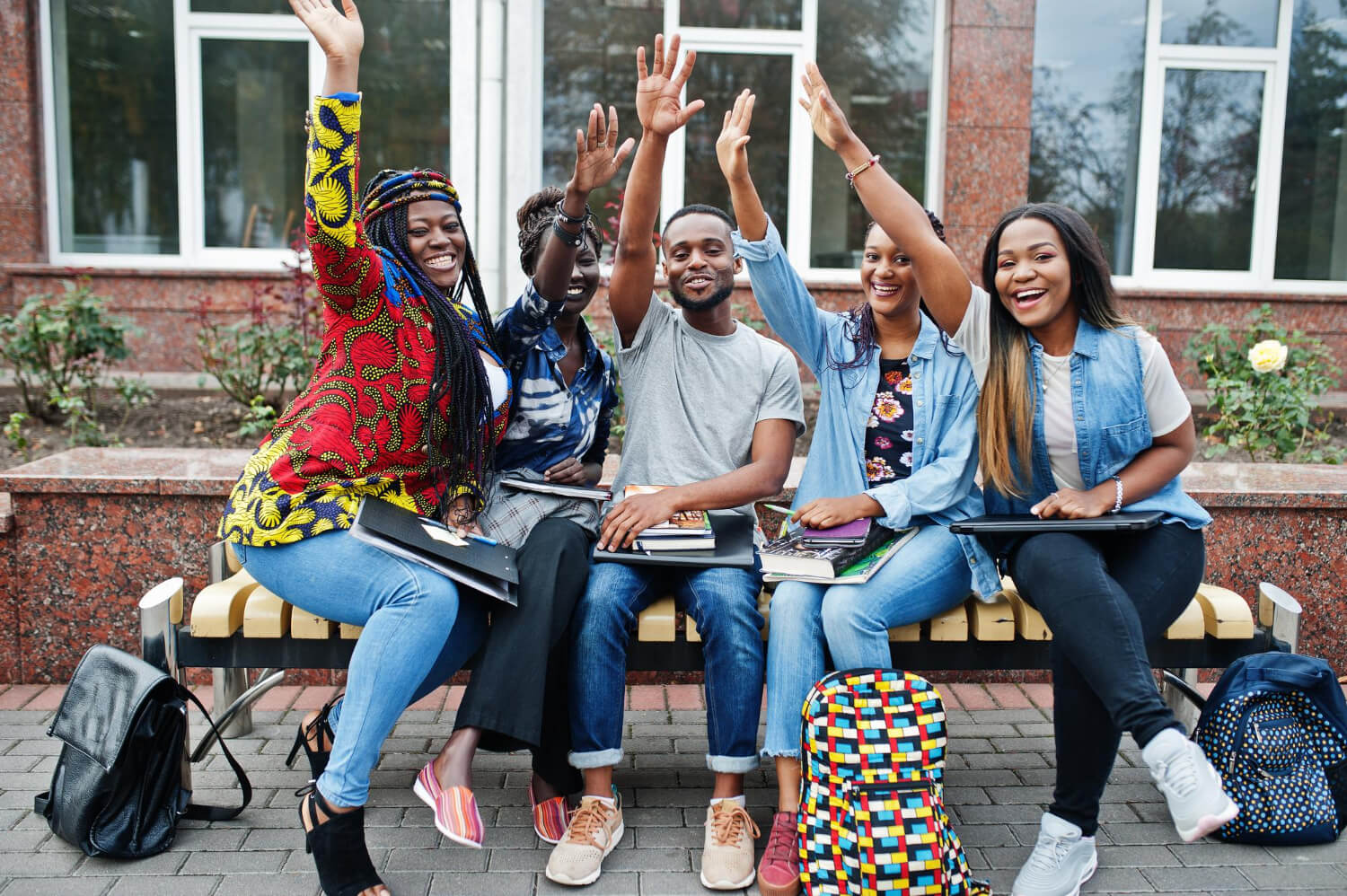 Adobe Creative Cloud Student Discount offers considerable savings for the student's budget. To be eligible and access the discount, a student must be at least 13 years of age and enlisted in any of the following: 
University or College: Full-time or part-time students of any authorized public or private university or college (Community, junior, or vocational college included) which grants two years of equivalent degrees.
School:

Student of any authorized public or private primary or secondary school providing full-time education.

Homeschooling:

Student of state regulations defined homeschooling. 

Course:

Enrolled student in course Certified by Adobe.
Adobe confirms student status via the school-issued email address given during subscription. 
Adobe defines on terms and conditions: "If you provide a school-issued email address during purchase you are instantly verified." 
How to Get Adobe Creative Cloud Student Discount
You can purchase the discount offer from Adobe.com or Adobe resellers. However, buying from the direct authority is suggested to avoid any issues. The easiest way to get Adobe's student pricing is to go to Adobe's Student Pricing page and purchase with the student's email address. Adobe verifies the email address instantly. 
Usually, a school-issued email address includes .edu, .k12, or other educational institutions domains. Suppose the provided email address doesn't include any domains. In that case, the student might need to prove additional eligibility by submitting institutional documents like a student ID card, recent report card or transcript, tuition bill, etc. Homeschooling students must provide a dated copy of a letter of intent with a membership ID to a homeschool association. In this case, any documents dated within the last six months are evaluated as recent. The verification process is done online within 1-2 days. However, you can download and install the programs as free trials.  
 The process is as below: 
Sign in to Adobe using your ID and password.

Create an account

if you don't have the account ID.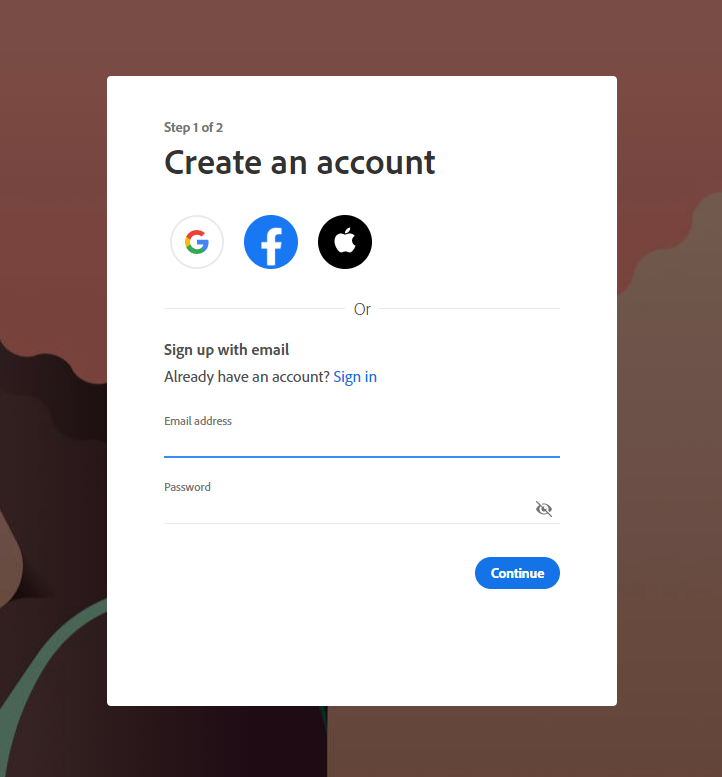 Go to the 'Students & Teachers' section and click the 'Buy now' from the 'Creative Cloud All Apps' box.
Input your academic email address and click on "Continue to Payment." 
After double-checking the summary, enter your payment details for the subscription at the Creative Cloud Student Discount rate and click 'Continue to Verification'. 
The 'Education Status Verification' page will appear, where you must update the required information.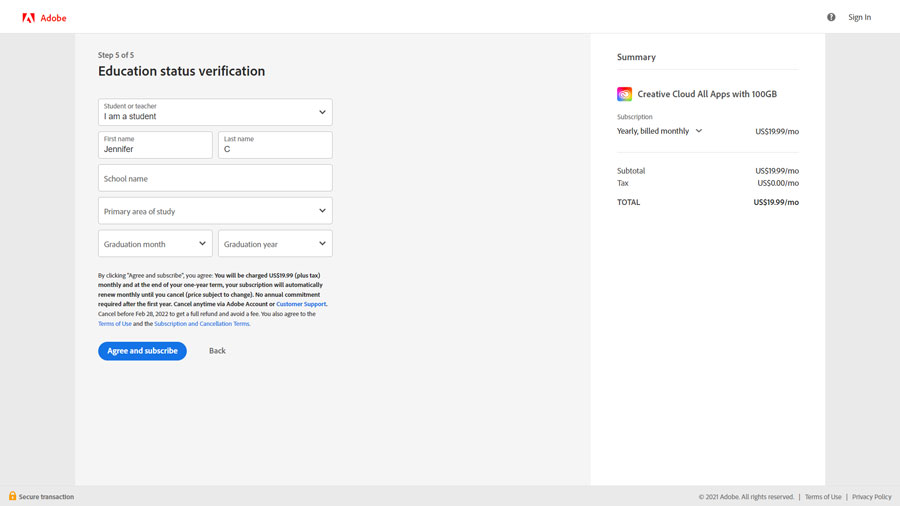 After updating the educational information, read the terms carefully and click 'Agree and Subscribe'.  

Choose a password. In the meantime, Adobe will verify the information. 

If the automated verification fails for the email address, drag manually to upload any mentioned document as an educational document and click 'Submit.' Adobe's education status verification partner will review the documents and confirm your education status within 20 minutes. 
After verification, Adobe will charge you $19.99/£16.24 for the first year. 
Why Adobe Creative Cloud Student Discount?
Adobe Creative Cloud Student Discount is a remarkable shift for Adobe, where it offers bundles of programs under one umbrella at a discount rate for students and teachers. Now the question is, why should students subscribe to Creative Cloud at a discount rate? 
In this part of the blog, I have mentioned a list of reasons for getting an Adobe Creative Cloud Student Discount. Here those are: 
Worth Value for Money:
Adobe Creative Cloud offers four different plans- Photography plan, Single app plan, All apps plan, and All apps with Adobe Stock plan at a discount rate. Among all these, the 'All apps subscription' gives access to 20+ creative apps that convey good value for money.
Allows Free Trial:
The Adobe Creative Cloud offers a free 7 days trial option with the subscription. It benefits the students to try all the creative apps to find the best suit. In the US and UK, if applicable with a subscription, Adobe offers a full refund if they cancel within 14 days of purchase. However, everyone finds it helpful to subscribe to the discount rate. 
Freedom of Creativity:
Adobe creative cloud has many innovative, practical apps for designers and creative individuals. With the subscription, you can access all the latest and most excellent creative tools to complete your dream work. 
Affordable Membership:
With the Adobe Creative Cloud Student Discount subscription, you can save up to 65% from your budget and make the purchase affordable. With this discounted single payment, you can get creative membership opportunities for all creative apps to create the best work anywhere. 
Revive Your Creativity:
Access to Adobe CC allows you to modernize your animation creation for your academic project or part-time creative job. You can use in-built templates or sketches using Photoshop or Illustrator and then revive the drawing using After Effects or Animate to grab the audience's attention. 
Benefits of Adobe Creative Cloud for Students
Only a few can understand the potential lies in Adobe CC. Access to Adobe CC allows you to employ hundreds of features for different purposes like creating a logo, brochures, portfolios, and editing photos. Benefits of Adobe Creative Cloud for Students are as below:
Bunches of Features:

Adobe CC is the better version of Adobe software that offers 20+ apps, each with packs of features. These features let you create stunning designs for advanced design projects. 

Instant Access to New Features:

Adobe Creative Cloud constantly improves current features and adds new ones. When you are subscribed, you get access to new or updated features, fixed bugs, or any other changes just by upgrading. You also can continue the previous version if you like that. 

Access to Myriad Fonts:

Creative Cloud gives access to numerous fonts. Students can download any fonts and activate them to use in their projects. The fonts come with the option of perusing, activating, or deactivating. 

Tailored Color Swatch:

Color swatch preserves various patterns, colors, tints, and gradients. Adobe Creative Cloud offers color swatch options in programs like Photoshop, Illustrator, and InDesign, where you can find easy-to-use color tools for recoloring your artwork. It also lets you be creative by offering a tailored color swatch option. 

Instant Access:

Major benefit students get from

Adobe Creative Cloud Student Discount

is instant access to the apps since they are stored in Creative Cloud. They can access the apps anytime from any part of the world. That means students can activate the Creative Cloud on at least 2 different computers using a single email address and password. They can also get 24/7 Creative Cloud support. 

Storage:

Adobe Creative Cloud has extensive cloud storage benefits. It allocates 20 GB of storage space that is hard to finish. It also allows the files to be downloaded many times and shared.

Collaboration:

Collaboration features shine Adobe's Creative cloud storage. It benefits working at home and outside by allowing logging in to two different devices and downloading any file to share with others. Moreover, you can manage viewers' comments, feedback, and revisions in one place.
Closing
Adobe Creative Cloud is a one-stop solution for photography, image post-production service, design, video, or web development with an extensive range of excellent tools. It is an ideal package for different photo retouching service providers like Cut Out Image to generate their creative work worldwide. 
The Adobe creative cloud education discount offers the same programs as the regular version at a discounted rate. In this blog, I have described all you need to know about Adobe Student Discount and guided How to Get Adobe Creative Cloud Student Discount. Hopefully, you found the blog helpful.
You Can Also Read Our Latest Blog: 24 Amazing Family Christmas Photoshoot Ideas