Everyone adores a good family photoshoot of a holiday, and Christmas is a great holiday that deserves a good Family Christmas Photoshoot. Do you have good Family Christmas Photos from the past year? Are you looking for the best Family Christmas Photoshoot Ideas to display in the drawing room as a memory or share on social media this year? 
You should be an early bird if you want to fulfill the desire of having an amazing Family Christmas Photoshoot. Otherwise, you will be in a compelled mood instead of a holiday mood during Christmas to prepare. Moreover, it will add a higher cost to your budget. 
Today I will discuss all the possible details of Family Christmas Photoshoots and brainstorm many amazing Family Christmas Photoshoot Ideas. So, scroll through the blog and explore incredible ideas. Get the Christmas tree ready and set your camera to implement these ideas!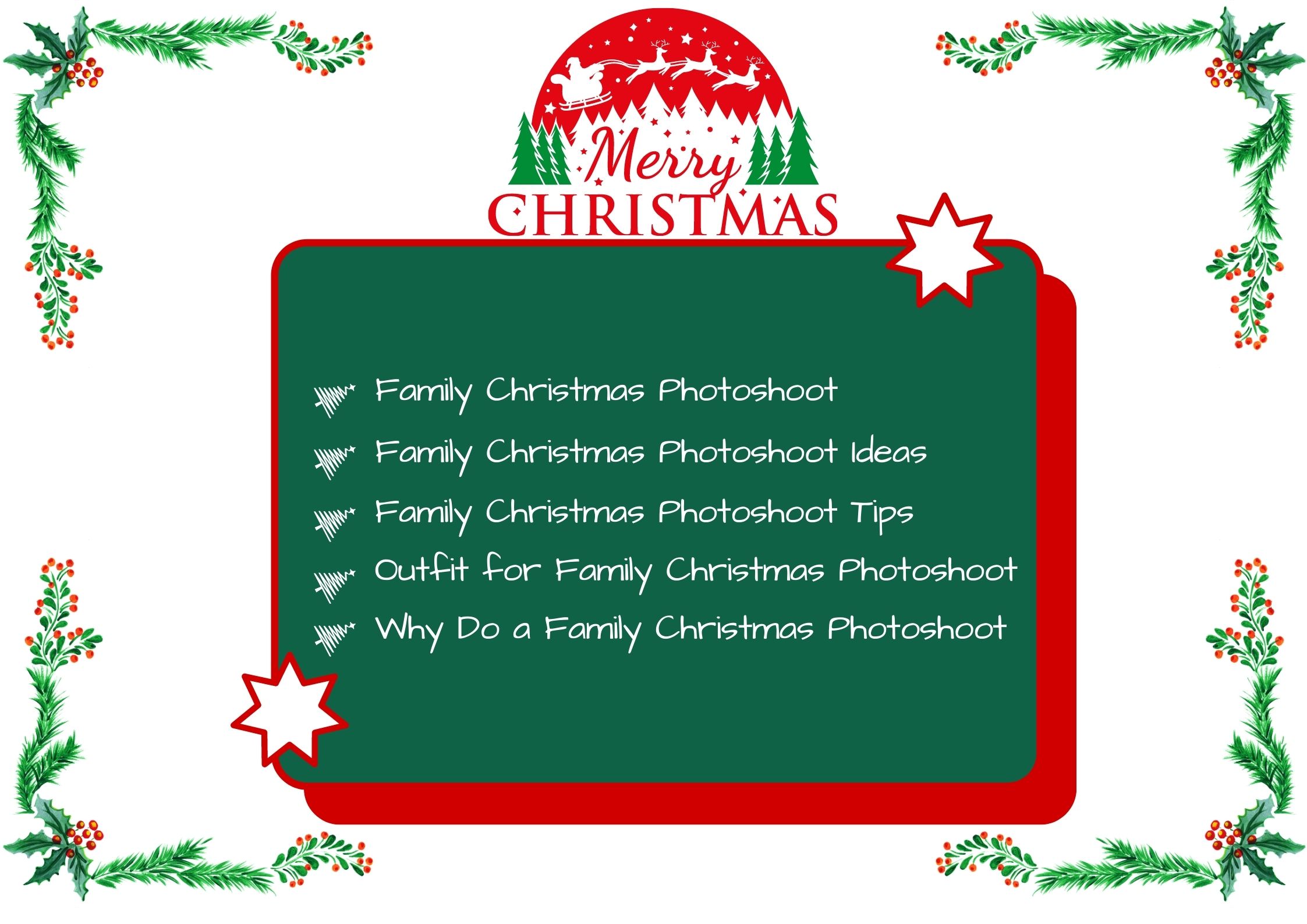 To sum up: In this blog, I will describe the importance of Family Christmas Photoshoots and how to make the initiatives fruitful by implementing Photoshoot tips and ideas. Here I will share tips on selecting locations, outfit and their colors, camera setting and many more. I will briefly share amazing and fun pose ideas to capture all the family members and create a great memory.
Family Christmas Photoshoot
Christmas is a special holiday of joy, fun and family reunions to create significant memories for a lifetime. It is the time in the hustle and bustle of today's modern world when family members skip their conflicts and get closer to spending quality time. Doing Family Christmas Photoshoot during this wonderful holiday is a remarkable family tradition. 
Family Christmas Photoshoot generally refers to taking pictures of family members together to create memory, show the world the family's happiness with cherished relationships or attach the photo to a Christmas card. Family Christmas photoshoot can be done with your family, whether small or large, containing chile or just a newly married couple.
In the past, people would go to the studio wearing matching sweaters and capture photos looking straight into the camera for Family Christmas Photos. However, the scenery has changed today. Families customize the photoshoot with fun, creative or candid poses that express the joy of the holiday and make portraits memorable.
"The best of all gifts around any Christmas tree: the presence of a happy family all wrapped up in each other." — Bill Vaughan
Family Christmas Photoshoot Ideas
All the preparation for the Family Christmas Photoshoot will be valueless with photoshoot ideas. Here are some creative Family Christmas Photoshoot Ideas for you to try this year. 
#01. Capture baby's first Christmas: Is it your baby's first Christmas? Are you going to have your first Christmas with a baby this year? Then make sure to frame the joyous moment with creativity and fun to have a new heartwarming experience. Capture the baby as below: 
The baby opens gifts with a smile

Sleeping in a crafted wooden cot in a Christmas background, wearing a Santa hat

Wearing a Santa hat and playing with pompoms

With parents wearing Santa dresses. 

The parents are wearing Mr. and Mrs. Santa costumes, and the baby is wearing a Santa hat.
#02. Christmas Dinner: Christmas is a holiday that brings all family members together and comes with the opportunity of sharing a meal traditionally known as Christmas dinner. All the family members work together or help in making the dinner fruitful. It's one of the ideal Family Christmas Photoshoot Ideas to ask all the family members to sit around the Christmas dinner table and capture the moment. 
#03. Capture Baking Moment: You might be planning to bake some cookies for Christmas. How about utilizing the moment as a Family Christmas Photoshoot Idea? For instance, mom and dad are baking Christmas cookies with the kids, or the kid is baking cookies with siblings. It will be a good memory for the future when the kids grow up and remember the old days.
#04. Decorating Christmas Tree: Christmas appears once a year, and all the family members remain excited about the holiday. They plan for the home and Christmas tree decoration all year round since it's the most precious holiday moment. So, remember to frame the candid picture of family members while decorating the Christmas tree with lights and ornaments. 
#05. Include Pet in Family Christmas Photo: Do you have a pet? Make sure to include a dog, cat, turtle, or whatever pet you have in the family Christmas photoshoot since they are also a part of the family. Pets live shorter lives than humans. So, click your pet as one of the Family Christmas Photoshoot Ideas to commemorate the memories. You can click the pet in front of the fireplace dressed in a complete Santa outfit or only the Santa hat. You can also dress the pet like a reindeer and capture it in front of the Christmas tree.
#06. Capture Kids as Christmas Present: Think out of the box to include the baby in the box! You've read correctly. I have mentioned unboxing the baby from a gift box like a Christmas present. Don't feel afraid; think of fun. Wrap a big box with wrapping paper and let the baby sit inside. Open the box lid and play peek-a-boo to make the baby laugh. Make sure to capture from the lower angle to ensure the face view isn't ruined for looking at the box.
#07. Kids Opening Present: One interesting Family Christmas Photoshoot idea is to capture babies opening gifts on Christmas morning. Ensure the baby has enough space after keeping the gifts under the Christmas tree. Capture the candid photo from an angle so their expressions can be framed. 
#08. Kids Combating Over Christmas Presents: Kids love getting a gift. All kids aren't the same, as few detest sharing it. If you have two or more children, you can implement the Family Christmas Photoshoot idea of kids combating over presents. Ask your children to fight spuriously over presents to have funny Christmas photos. It will be the icing on the cake if the parents sitting back cheer whoever wins to gain the gift. The photos will make them laugh when they are grown up.
#09. Simple Family Time: During the Christmas holiday, all the family members join and have fun. It's a great opportunity to candidly click all the funny, memorable moments. Capture the candid moment of family caroling. Alternatively, you can capture family members simply having fun or posing for a Family Christmas Photoshoot. 
#10. Screenshots of Video Call: If family members or friends can't join physically during the Christmas holiday, they can join you virtually with advanced social networking media. Making video call screenshots as memory is perfect in this case. Make a video conference with everyone and ask everyone to pose as they like. As soon as they are ready to pose, take a screenshot of the video conference. It will be best to use a larger screen of a PC monitor, a laptop, or a tablet to take screenshots because the phone's small screen mightn't show more than 4 people clearly. To make it more stunning, you can add Christmas effects or filters later using Photoshop or image editing software.
#11. Focus Socks by the Fire: Are you buying new Christmas socks this year? Then capture them wearing beside the fireplace, denoting Christmas in Winter. Focusing on the socks only will add a relaxing vibe to the photo. It will be one of the cool Family Christmas Photoshoot Ideas. It will be an alternative option if you don't want to share your face but want a Family Christmas Photoshoot to share on social media. 
#12. Read a Christmas Tale: Kids love tales. It's a beautiful moment when parents or grandparents tell them tales, and they listen attentively with amazement. Sit under a Christmas tree, wear a Santa hat to add a Christmas vibe, and shoot the moment of reading or telling tales for Family Christmas Photoshoot. It will be a lovely Christmas memory for children to recall spending quality time together. 
#13. Frame Making of Snowman: It's an art and fun outdoor activity for family members to make a snowman together. If it snows in your area in winter, grab the chance to capture the fun moment of the family as a Family Christmas Photoshoot while making the giant snowman. Ensure capturing the snowman from the front side. 
#14. Click Enjoying Christmas Sports: Does your family love sports? Sledding, skiing and snowboarding are some sports you can include in your Family Christmas Photoshoot Ideas. Here you can take a selfie or tell others to click the Funny Moment of Enjoy. Remember, small kids can't ski, so sledding will be much more fun for them.
#15. Capture the Crystal Ball Reflection: Capturing a Christmas tree through the crystal ball is trendy. Let's do something different. It's a unique but amazing idea to capture the family through the crystal ball reflection. However, if you don't have a crystal ball, you can try other reflective objects.
#16. Capture the Couple Photo: If you are newly married but don't have kids yet, don't think you can't capture a family Christmas photoshoot. Still, you have a family and include a couple's photo of you in the Family Christmas memory box. As Couple Photoshoot Outfit Ideas, you can include matching outfits. If you are expecting a baby, you can pose with a note "expecting parents". 
#17. Take a Selfie: With easy smartphone access, taking selfies has become a regular part of our life that you can include in your Family Christmas Photoshoot Ideas. While taking the selfie, ensure good lighting and background, giving a Christmas vibe. Moreover, use a selfie stick if the number of family members is more; otherwise, taking it by hand might make some out of frame. 
#18. Create a Christmas Scene: Since Christmas is a religious holiday, you can portray the Christmas birth scene to convey the importance of Christmas. It will be a cup of tea if you have a newborn baby around Christmas. You can wrap the baby with swaddling clothes to create the vibe of just being born. 
#19. Spreading Confetti: To create a joyful vibe in the Family Christmas Photoshoot, you can throw or blow confetti in the air towards the camera while taking the photo. Ensure enough confetti since you might need to click several times to get a perfect shot.
#20. Family Christmas Tree: Does your family contain 4 members? Creating a family Christmas tree will be one of the challenging but creative Family Christmas Photoshoot Ideas. Dress yourself and others in green to make a human pyramid giving a Christmas tree shape. You can wrap Christmas lights and ornaments to make the tree look gorgeous.
#21. Wrap with Christmas lights: A picture tells a story. You can also create a story with your Family Christmas Photoshoot that will make you nostalgic in the future. Parents kneeling under the Christmas tree will wrap themselves with Christmas lights and express like they have been tied up while kids are robbing the gifts from the tree. Alternatively, parents can tie their kids with light and act like they are stealing gifts.
#22. Recreate Movie Scenes: Are you a movie lover? If yes, you can create your favorite winter or Christmas movie scene as your Family Christmas Photoshoot Idea. Do you remember the Home 'Alone movie'? You can recreate the scenery of the 'Home Alone' movie's Christmas scenes where the parents will be the thieves, and the kid will act like Kevin. 
If you don't watch movies but love series, you might know about "Games of Thrones". You can recreate the Stark family from the "Winter is coming" part with your family. 
Before implementing the scenery you want to recreate, think about the costume color and pattern to design an outfit close to the character's style.
#23. Express in Words:  Christmas holiday is the season of joy when we wish everyone 'Merry Christmas'. You can craft words like Joy or merry as a family Christmas photoshoot idea. For this, you can cut cardboard spelt J-O-Y or M-E-R-R-Y. Then decorate with fabric, paper, light or paint. Finally, each person holds the word's letters to pose for the photo in the outdoor backdrop.
#24. With Candy Cane: Candy cane is a must-have item for Christmas to make peppermint bark. Including the candy cane in your family's Christmas photoshoot is a nice idea. You can keep the kid middle, stand on either side and ask them to make a heart shape with two candy canes. All the members can hold the candy cane and do different funny poses. You can also capture the kids enjoying candy canes together.
Family Christmas Photoshoot Tips 
A good family Christmas photoshoot can create a great memory. After recalling the joyous moment, you can pass it on to the next generation. Here I am sharing a few Family Christmas Photoshoot Tips to make the session fruitful.
Book A Professional Photographer:
Practice makes a man perfect, which is appropriate for a professional photographer to take the perfect picture. Since it is traditional to click Christmas photography, it is challenging to book a photographer during the holiday. Therefore, finding the best professional photographer and booking early is wise. September or October is the perfect time to book.  
However, if you are out of budget for hiring a photographer or somehow fail to book a professional, you can capture those by yourself using your phone or camera. Not think much about being perfect because Cut Out Image is there to share dab hand making them perfect applying the image post production service. 
Helpful link: 10 Best iPhone Photography Tips to click family Christmas photoshoot at home.
Select Props:
Without props, your Christmas Family photos will be incomplete. You can use sleds, snowballs, and a snow fort as props for your Christmas Photoshoot. You also can select presents boxes, candy canes, Christmas lights, or Christmas decorations as props for Family Christmas Photoshoot. Alternatively, you can make word props by writing "Joy" or "Merry Christmas" and adding sparklers for a sparkling effect.
Let Kids Be Kids:
Kids are unpredictable and often cry out in the middle of a session if they don't get what they want. So, let kids be kids and keep low expectations. Let them have fun wearing dresses they like, even if they want to wear costumes like a reindeer, Santa Claus, or any character. It will make them feel that they are in the holiday spirit.
Frame Mindfully:
Framing the subject is very important to capture it adequately. Therefore, always remember to click from an eye level. For example, while photographing kids, sit or crouch to balance the kid's height and your camera lens level. While photographing adults, click a little above eye level to avoid double chins. To frame the subject perfectly, follow the Rule of Thirds in Photography.  
Select a Convenient Location:
Location selection is paramount for any photography. Therefore, before planning to pose, you should select the location for an indoor or outdoor photoshoot. If you plan indoors, you can decorate the home with a lovely backdrop and Christmas tree. You can also go to a studio and do an indoor Family Christmas Photoshoot using different props. 
If you live near the woods, you can go to a nearby farmhouse for an outdoor Family Christmas Photoshoot, where you can keep a pumpkin or silo as the backdrop. You can select the park as the outdoor area for the photoshoot if it snows white beauty. You also can photoshoot outside, adding the festive vibes of Christmas lights that fit into your pictures. Whatever location you select, ensure it is convenient for every member and comes with the best lighting source. 
Helpful link: Check out outdoor large family photo ideas to do a Family Christmas Photoshoot outdoors.
Employ Proper Lighting:
Lighting is all that jazz in photography because it can break or make your picture. Natural lighting depends on the timing of the day. I suggest picking the golden hour early in the day or late in the afternoon when the sunlight is softer. Clicking on the midday will create harsh shadows in your pictures. So avoid clicking in the inflated daylight of noon. 
Crafting artificial light also can create a majestic photography piece. Cover the large window with a white sheet and Christmas decorative light to create a cozy color light. You can add LED string around the camera lens to generate a professional and magical look in your photos.
You also can create a bokeh effect with lighting by standing a few feet before the lit Christmas tree and capture setting the camera's shallow aperture from f/1.4 to f/5.6 on a tripod. It will generate a gorgeous photo where the persons are focused, and the background lights are blurred. 
Camera Setting:
Camera shaking can blur the focused point. Before setting the camera, you should use a tripod with a timer to avoid shaking during photography. If you shoot with a DSLR, switch it to manual mode. You can use 3 Point Slingers to avoid the discomfort of carrying a camera for a long session. Check out my other 20 Best 3 Point Slinger for Camera blog in 2023. Now, let's know a few camera settings for the best Family Christmas Photoshoot: 
Shutter Speed:

Set the shutter speed at 1/125 when your subject is moving and slower it for immobile objects. Keep increasing the shutter speed to adapt the brightness while photographing in bright daylight. 

Aperture:

Lowering the aperture (f/) setting can create a dreamy bokeh effect on the photo, which I already shared in the lighting tips. 

ISO: Increase the ISO if the photo seems underexposed and decrease it if the photo seems overexposed. 
Retouch your photo:
Only a single click can't ensure a perfect image. Even a professional photographer can't click the flawless photo for unavoidable issues like unwanted objects in the background, extreme brightness or darkness, etc. Therefore, you need to retouch your photos to make them perfect after capturing them. 
Moreover, through retouching, you can add missing elements to your photo. For example, you live in a temperate area where snow doesn't fall but want to add snow to your photos with a Santa hat and reindeer antlers. Applying image post-production services can make it possible. If a Christmas background is missing, you can add that too. To get the best result, you can contact Cut Out Image, providing high-quality service globally.
Outfit for Family Christmas Photoshoot
The outfit is an inseparable part of the photoshoot because the outfit often defines the photo message. Matching colors and outfits for a large family Christmas Photoshoot is challenging. So, before the photo session, ensure everyone is on the same page regarding outfits. 
Thinking of Christmas, everyone wears white accenting red and green colors. However, I will share more color palettes and what to wear as Christmas outfits.  
Traditional Red and Green Outfit:

Red and green are traditional Christmas colors, and you can select them for your family's Christmas outfit. For males, you can set the outfit of red pants with a green shirt and for females, a deep wine red skirt with a forest green top to resemble Christmas perfectly. Alternatively, you can set up red pants with a white shirt for males and a red skirt with a white top for females. To balance the lookout, you can add green socks.

Outside of Red and Green: You can also think out of tradition to bring color to your outfit for Family Christmas Photoshoot. A few beautiful outfit color ideas are as below:      * Try to select pink, mustard, yellow, or dusty orange to add brightness along with a festive vibe to your family photos.
      * Select navy, blues, greens, gray or neutral to add coolness with beauty to your family look in the photos.
      * Blend different shades of solid color or patterns to everyone's outfit and a pop of color to one of their outfits.
      *Combine mustard yellow and dusty orange shirts or tops with blue jeans or skirts to create a bright look.


      * Green combined with cream for a charmed look to the photos.

Matching Pajamas: A suitable closet makes Family Christmas Photoshoot Ideas come to life. Matching pajamas are a good outfit idea for family Christmas photos showing family collaboration. In the morning, all the family members can wear matching pajamas and hide messy bed-heads with Santa hats.
Christmas Costumes: Clothing to implement Family Christmas Photoshoot Ideas ensure a good memory with a planned outfit. If you want to keep the outfit simple, all the members can wear Santa hats. Alternatively, parents can wear Santa and Mrs. Claus costumes, while the children can wear elves or reindeer costumes. It's better to have the costume well-tailored than buy it to fit.
Christmas Sweater: It's trendy to wear a red, black or green Christmas sweater for the Christmas holiday photoshoot. So, you can keep the Christmas sweater in your Family Christmas Photoshoot outfit list. Choose a loose, but long-sleeved sweater with cozy jeans paint to create a warm, chilly mood. You can wear a red Santa hat to create a more vivid Christmas vibe.
Stylish Look: Outfits If you want to present yourself and your family stylishly, you can select a jacket with jeans, a furry Santa hat, a scarf or belt and warm boots.  Vintage Christmas Outfits: You can keep traditional vintage outfits for your Family's Christmas Photoshoot ideas. You can try high-waisted skirts or flared trousers. You can add Christmas shoes with a pointed toe and a high heel.
Vintage Christmas Outfits: You can keep traditional vintage outfits for your Family's Christmas Photoshoot ideas. You can try high-waisted skirts or flared trousers. You can add Christmas shoes with a pointed toe and a high heel.
Why Do a Family Christmas Photoshoot
Winter is the season of Christmas when you can do Family Christmas Photoshoot as your winter photoshoot ideas. Christmas brings the opportunity to reunite family and friends, near and dear, and lets us complete the tradition of doing a family Christmas photo shoot that creates a lifetime memory. There is more reason to do the family Christmas photoshoot as below:
Venture into Holiday Spirit:

A family Christmas photo will recall your time of last Christmas season. You will venture into the holiday spirit while viewing or implementing the Family Christmas Photoshoot Ideas. 
Christmas brings families together and strengthens bonds, whereas the Family Christmas Photoshoot freezes the moments of joy.
Priceless Memories:

High-caliber photographer captures moments through outstanding photography talent. Combining photography skills with Family Christmas Photoshoot Ideas can create priceless memories. Such memories will make you smile in the future when everyone is aged, and some will be grown up or deceased since none of us are immortal. 

Create a Synopsis of Family:

None of us will remain forever in the world. So, you can create a family album with the family Christmas photoshoot and gift it to your children, who will pass it on to the next generation. Thus the memorable gift will be handed over to multiple generations as memorable masterpiece gifts. These pictures will connect them with the roots that serve as a family synopsis. 

Great Reunion Memory:

You can invite all your friends and family to a reunion and do the Family Christmas Photoshoot for the Christmas holiday. Time flies, but photography freezes the moment. So, implement Family Christmas Photoshoot Ideas to capture the special moment. 

Self-esteem Booster:

You should apply your Christmas family photos to design creative Christmas cards or photo books. Looking back on these memories will give you the true essence of yourself, rejuvenate you with the feeling of self-worth, and boost your self-motivation.

Stunning Hallway Artwork:

Creative and fun Family Christmas Photoshoot Ideas can help you generate unique family photos that you can hang in the hallway or living room. Looking at them will remind you of beautiful moments and show others the good bonding of the family members. 
Helpful link: Lesbian Outfits Ideas That May Interest You
Final Words
We have arrived at the last-minute part of our article. In this blog, I have shared a whole batch of Family Christmas Photoshoot Ideas you can implement to create wonderful Christmas memories forever. I also have shared how to make them stunning and special. Aspiringly, you enjoyed the ideas, and those will help you make your upcoming Christmas splendid with amazing memories. 
Let us know in the comments which idea you liked most. You are also inspired to share your ideas out of this list. And don't forget to check out my other blogs that might meet your needs.