Couple Photoshoot Outfit Ideas: Life is short and a collection of moments. So why shouldn't we create great memories in this short period to remember forever? Nowadays, the couple photoshoot has become a trendy way to make such a lovely memory.
The most challenging part of such photography is selecting the outfits because choosing the right outfit makes the couple's photography more memorable. So, if you are planning to do a couple photoshoots and searching for couple photoshoot outfit ideas, you are on the right page on your exploration.
Today I will share unique and amazing Couple Photoshoot Outfit Ideas from which you can take inspiration and create lovely memories. So, let's dive into the deep!
What is a Couple Photoshoot?
We can't see or touch all the beautiful things in the world, but we can feel them with our hearts. One such beautiful thing is the lovely memory that we can create through the couple's photoshoot with our beloved person.
In general, by the term couple, we understand two beloved people in the same frame that might include lovers, bride & groom, bride & bride, or groom & groom. It helps to spice up the relationship and remember the lovely moments in the future.
The couple photoshoot might take place during pre-wedding, wedding, engagement, or any couple photography to accomplish Summer Photoshoot Ideas or other holiday photoshoot ideas.
Importance of Couple Photoshoot:
Almost every couple wants to capture their beautiful moments with Portrait Photography to remind them of the future, and a couple of photoshoots come into play in this case. Here are some reasons for considering the couple photoshoot:
#1. Create Beautiful Memories:
A couple of photoshoots create beautiful memories by capturing beautiful moments. Such photos will remind you about the precious moment you have spent today and act like a bridge between the present and future.
#2. Frames the Date Moment
:
A couple spends sweet moments together, and a date is one of the good moments of doing things they love. So, why should you miss the moment that can make you feel happy in the future? Therefore, you should do a couple of photoshoots and select outfits carefully.
#3. Witness of Adventure
:
As a couple, you might go on many adventures and explore various places to spend time together. If you want to document such exciting moments, you should do a couple of photoshoots selecting the appropriate outfit.
#4. Connect With Lover:
In this chaotic world, we always remain busy, and date gives us time to connect with the lover. A couple of photoshoots bring the opportunity to spend time with the beloved one and connect for a long time because the main focus is the couple. Moreover, such a photo session creates a deep feeling among them and improves their relationship.
Couple Photoshoot Outfit Ideas
Most couples remain confused about what to wear for their couple photoshoot so that it can be attractive to see. So let's have a clear idea of the secret sauce to make your couple's photoshoot more charming.
#1. Consider the Location:
The first and foremost thing you should do for the Couple Photoshoot Outfit Ideas is to consider the area, whether you know about it or not. Then, try to gather information about the location to select your outfit. For example, if it is an adventurous place, you should choose an outfit with which you can walk comfortably. You should also consider that the dress matches the location. If you pick the frozen area as your couple photoshoot location, you should wear a jacket, hat, and gloves. Again, if you select a beach, you can wear a swimsuit. On the whole, consider the location and then pick the outfit.
#2. Instead of Similar, Harmonize the Color
:
Avoid selecting the same color outfit for both for a better couple photoshoot. Instead, you can harmonize the color that suits you both. It would be best if you tried to keep at least one color ideal for both. You can keep the color common using various accessories like a scarf, purse, etc.
#3. Prioritize Your Comfort:
Since there is no hard and fast rule for selecting an outfit for a couple of photoshoots, you can choose it according to your comfort. Everyone believes that comfort is king. So, prioritize your comfort and wear something that makes you feel relaxed and confident. Otherwise, the discomfort will be expressed in the image, and you can not fix it even with photo editing.
#4. Think about Season:
Weather changes according to season. Therefore, we wear different outfits in different weather to adapt to the climate condition. For instance, we wear thick outfits during winter and light dresses in summer. So, you should consider the season while looking for a Couple of Photoshoot Outfit Ideas.
#5. Similar Outfits:
Though it seems childish to match the outfit, it has become common to choose similar couple outfits. The couples of millennials are following this trend much and going the extra mile to set it as style. So, you also can include a similar outfit in your Couple Photoshoot Outfit Ideas.
#6. Couple Photoshoot Outfit Ideas for Spring:
Spring is the most beautiful season when flowers blossom everywhere. Therefore, you can pick a printed floral outfit for your couple photoshoot in spring. Floral printed maxi, scarf, shirts, etc. can be suitable for this season's photography. Try to edit the photo to ensure proper color since it's a bloom season. Keep in touch with Cut Out Image to get the image post-production service.
#7. Couple Photoshoot Outfit Ideas for Autumn:
Autumn is the second Spring because, at this time, the color of leaves changes to fiery, making them look like a flower. Besides, it is a cooling off-season sandwiched between summer and winter. Therefore, sweaters or jackets of Black, Deep Green, Maroon, Purple, Orange, Brown, etc., are perfect for autumn outfits. You also can consider plaids paired with solid color underneath. Finally, add a cow hat or a few pumpkins to create the autumn vibe.
#8. Couple Photoshoot Outfit Ideas for Winter:
By the name of winter, we remember the cold season full of celebration. The season is cold, but the heart is warm since it creates the romantic moment of talking while sitting beside a fireplace or in a snowy environment with a cup of coffee. Frame out such a moment with a couple of photoshoots wearing jackets, coats, boots, jeans, etc. In the case of color, select neutral or earthy shades. As a prop, you can bring a blanket, coffee, etc. Don't forget to wear a hat, hand, and feet warmer if you go outside in a snowy environment.
#9. Festive Mode Outfit:
Christmas is the annual festival and a great time to do a couple of Photoshoots. You can pick a red, green, golden, black, etc. color outfit for both. For example, you can wear a red sweater with black pants. You can wear similar or do harmonize as mentioned before. You also can dress like Santa clauses or wear matching pajamas available online.
#10. Couple Photoshoot Outfit Ideas for Summer
:
Summer reminds us of hot weather. So, you can't wear the winter jacket for doing a couple of photoshoot during summer, can you? However, you can wear soft blue, green, white, red, yellow, light pink, etc. colored, cozy outfits like trousers, short pants, t-shirts, crop tops, denim pants, skimpy skirts, etc. for your couple photoshoot. Don't forget to apply sunscreen to protect the skin. You also can wear sunglasses to protect your eyes from sunlight.
#11. Solid Colors for Couple Photoshoot Outfit Ideas
:
The idea of wearing a robust solid color outfit is one of the standards but best Couple Photoshoot Outfit Ideas. Solid colors contain no pattern. So here, the woman can wear dark colors while the man can wear light-colored outfits. One of the benefits of using a solid color outfit is that it doesn't distract the attention.
#12. Neutral Color Outfits:
Wearing a neutral-colored outfit is the perfect Couple of Photoshoot Outfit Ideas. Neutral color is always trendy, and it improves the view. Soothing pinks, cream, softened blues, mild green, and white are some of the neutral colors you can select for your outfits.
#13. Floral Outfit for Couple Photoshoot:
One compelling couple photoshoot outfit idea is that you can pick a floral printed dress for women. Then choose a solid color from the floral dress to coordinate the man's outfit. It will construct a striking look!
#14. Couple Photoshoot Outfit Ideas for Sea Beach:
If you plan to do the photoshoot at the beach, you can select a coral-shaded outfit. You can wear a light coral-colored dress that will blow in the sea breeze. A blowing outfit will add life to the photo. The man can wear a light-colored shirt matching her.
#15. Tom and Jerry Outfit:
Who doesn't like Tom and Jerry? Everyone loves them because they fight and care for each other. Some couples share such bonding that makes the relationship more connected. If you share such bonding, you can express it by wearing an outfit containing Tom and Jerry print. You can buy Tom, and Jerry printed T-shirts or customize them.
#16. Fairy Tale Outfit for Couple Photoshoot
:
Every girl is a princess to her father. So, if a man treats his partner with majesty and wants to express it to all, this outfit idea is for him. Both the man and woman can wear outfits inspired by fairytales. In addition, they can customize the costume to make the idea boom.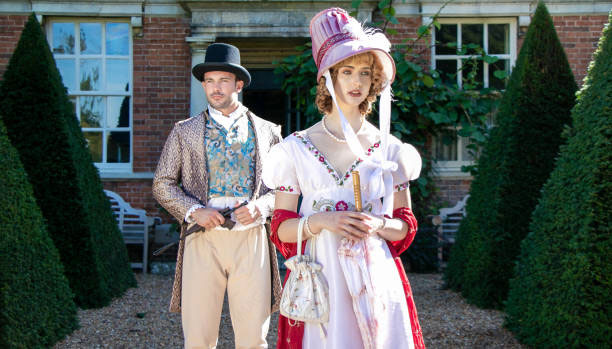 #17. Vamp Outfit for Couple Photoshoot:
A vamp is the one who can influence man with her magic and looks. A couple can reflect such a theme where the woman will wear a stunning black bodycon outfit with dark red lipstick. Here, the man can choose any dress, but it will create a fierce vibe if he keeps the buttons unbuttoned.
#18. Outfit Idea for Vintage Look:
Vintage style can be the best outfit idea for a couple of photoshoots. Before picking the outfit for a vintage look, try to find the place offering such a vibe. Fontainhas street, glorious churches or forts, etc., are good examples of areas giving vintage vibes. A man can wear a plaid suit with a bow and hat to accomplish the outfit idea, whereas a woman can wear vintage-style frocks.
#19. Blend Formal and informal Outfit:
Do you like formal style outfits, but your partner loves informal ones? Then this outfit idea is for you. Since there is no hard and fast rule for outfits for a couple of photoshoots, you can wear whatever you want. So, you can wear a bold and stylish formal outfit and ask your partner to wear a gorgeous gown according to her preference. Of course, she can wear a magnificent maxi too.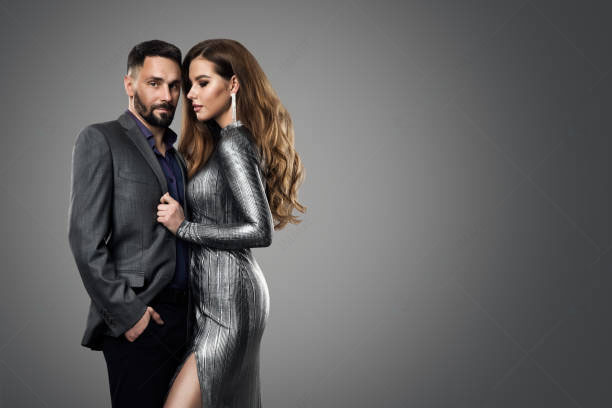 #20. Exclusive Formal Outfit:
Do you love the bossy vibe, and the same does your partner? Then you can include formal outfits for both of you as Couple Photoshoot Outfit Ideas. Wear an exclusive formal outfit and capture the photo in a formal or extravagant environment.
Ask Yourself While Selecting Couple Photoshoot Outfit:
A couple of photoshoots is a way of showing love for each other that you can include in your 30th Birthday Photoshoot Ideas. The first thing you need to do to select outfits for couple of photoshoots is asked yourself some questions. The answers to these questions will help you choose the appropriate outfit for creating lovely memories. Here are those questions:
Do you want to twin your outfit or want to coordinate? For coordinating, include two or more colors in your outfits. On the other hand, if you wish to correspond, you can select a single color.

Which mood do you like- dark or bright? For bright pictures, pick white or neutral colors outfits, while to create moody photos, you can select dark colors outfits like dark gray or black.

Where will the photography take place? Indoor or outdoor? Select your outfit, considering the location.

What is your favorite color, or which color suits you most? Consider the color that suits you more and prioritize your preferred color.

How can you resemble your personality with the photos? Define your character and add an outfit with accessories to express that.
Do's and Don'Ts for Selecting Couple Photoshoot Outfit :
Choosing the right outfit for the couple's photoshoot is a little bit challenging. Almost every couple faces the question, "what to wear?" Remember, your outfit bears your personality. Therefore, before selecting an outfit for a couple of photoshoots consider a few do's and don'ts as below:
Do's for Couple Photoshoot Outfit Ideas:
Choose an appropriate color depending on the ambiance, weather, and skin tone.

Choose accessories like hats, capes, scarves, etc. that can change your look.

A bucket of flowers as an accessory can add beauty to your photo during summer or spring.

Pick the outfits from your wardrobe because they are more endurable and comfortable.

Avoid the color that blends with the surroundings. For example, don't wear black while photographing in a dark environment.

Give priority to your choice and comfort.

Evaluate the mood of the photography. If you want to create a retro vibe, you should pick an outfit of that category.

Try out the outfits before the final photography to ensure you look good on them and feel comfortable.

Don't forget the saying, "Less is more." So try to go simple if the extra accessories fail to beautify you.

Think about the golden hour when the dress color changes in the photos.
Don'ts for Couple Photoshoot Outfit Ideas:
Don't add too many accessories to the outfit.

Don't pick a furry dress in the summertime.

Don't select an outfit containing too many patterns or stripes.

Don't pick an outfit containing a bold logo that might distract the viewer's attention.

Don't select a color of the outfit that you can't isolate from the background.

Don't wear a very bright or neon color outfit.

Don't pick a color that blends with the skin or creates too much contrast.

Matching is good but making the same design for both is childish. So, don't make twinning.
The blog is to share ideas for guiding you on what to wear for the couple photoshoot. In this blog, I have shared a bunch of Couple Photoshoot Outfit Ideas, from casual to formal. However, these are not the exact instructions you have to follow. Instead, you can take inspiration and modify it according to you because all couples are unique, holding their personality just like the fingers at hand. I hope you have liked my ideas and will take inspiration to show your love story creating lovely memories. Let me know in the comments below which idea you like most!