"Cherry blossoms, cherry blossoms,
Across the spring sky,
As far as the eye can see.
Is it mist or clouds?" 
The traditional Japanese folk song illustrating spring makes us imagine the pink and white clouds tracing winter's ending and signifying spring's commencement. Cherry flowers, the national flower of Japan, bloom with natural beauty during spring. The aesthetic cherry blossom has inspired numerous quotes to describe their beauty in the landscape. 
Are you planning to attend the cherry blossom festival this year? Are you looking for aesthetic Cherry Blossoms Background ideas for your picture? You land on the correct page to explore ideas. Keep reading on!
Topline Summary: The blog will cover all the essential details regarding Cherry Blossoms Background, including the meaning, significance, nuts, and bolts of cherry blossoms. It will also cover tips and ideas for Cherry Blossoms Background. Here is the table of contents: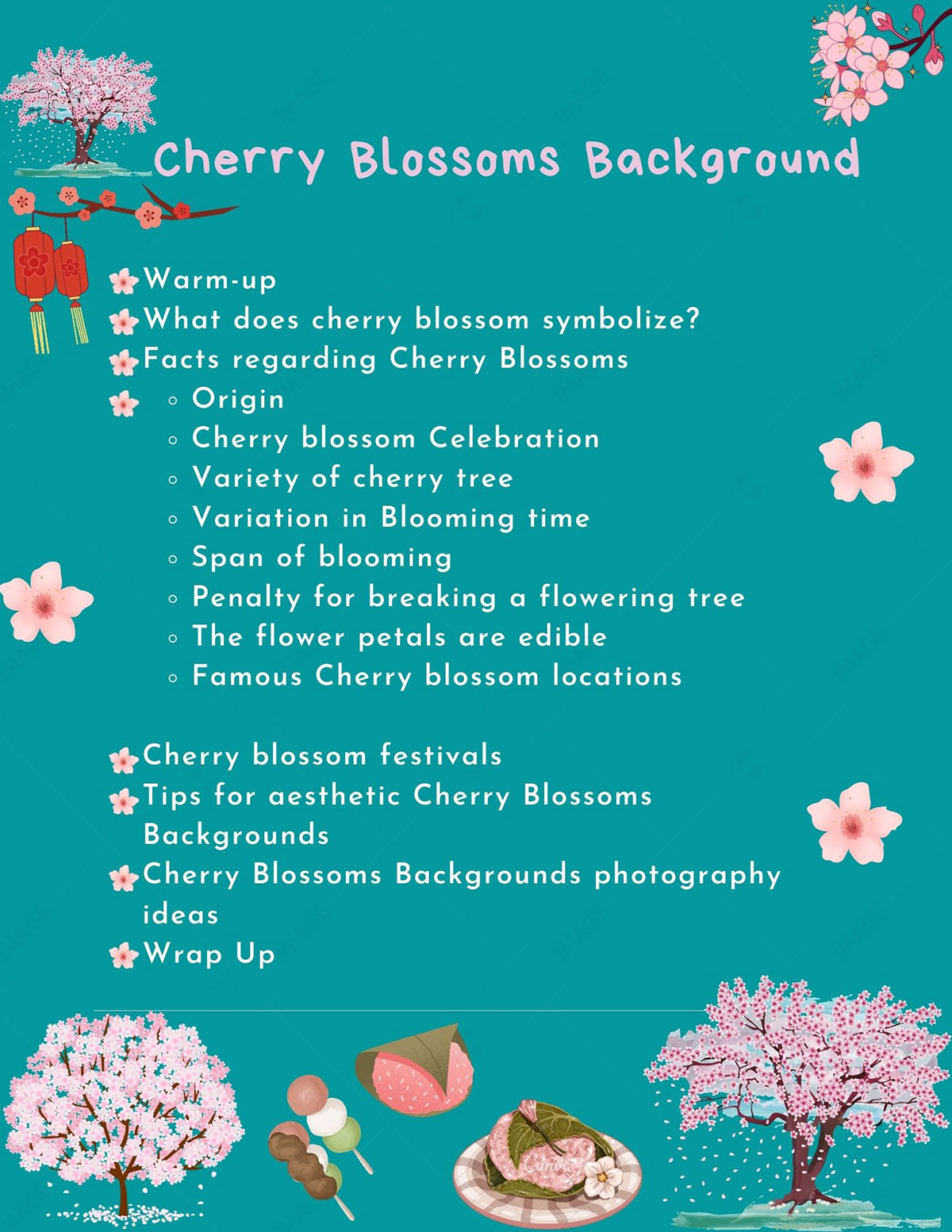 "Come see the cherry trees of a water constellation and the round key of the rapid universe, come touch the fire of instantaneous blue, come before its petals are consumed" – Pablo Neruda
What Does Cherry Blossom Symbolize?
Cherry blossoms are soft, light pink or white flowers blooming in spring in the branches of cherry trees before fruiting the cherry. The cherry flower, also known as Sakura, symbolizes the evolution of human life by representing the transition of a cold, dark season into a vibrant, colorful season with elegance and beauty.  
Cherry blossoms depict a deep-seated Buddhist concept, "mono no aware," which reminds us that human life is short and beautiful. The cherry blossom's duration symbolizes life's temporariness with its short blooming time, and its beauty correlates with human life's fading away.  
Additionally, the fallen petals of cherry blossoms illustrate the souls of Japanese samurais having noble characters without fear of death.
 "Due to their short bloom time, Sakura blossoms are a metaphor for life itself: beautiful yet fleeting." ― Shannon M Mullen
Facts About Cherry Blossoms
Cherry blossoms, known as Sakura in Japan, color the spring's nature, indicating the transient nature of life. However, if you plan to view the beauty of cherry blossoms and capture yourself in the Cherry Blossoms Background this year, you should know some facts before jumping in for the mission. Here presenting some significant facts about cherry blossoms: 
#01. Origin:
Celebrating cherry blossoms is a centuries-old tradition of Japanese culture. But there is debate about the origin of this cherry blossom. He Zongru, executive chairman of the China Cherry Industry Association, dismissed claims to Southern Metropolis Daily, a major Chinese newspaper, "We don't want to get into a war of words with Japan and South Korea, but we want to assert a fact: Many historical documents confirm that the cherry blossom's place of origin is in China, Simply put, the cherry blossom originated in China and flourished in Japan. South Korea has nothing to do with it."
#02. Varieties of Cherry Tree:
Hundreds of cherry tree varieties are available worldwide. Among them, Yoshino cherry trees are the most popular. It is the star of the cherry festival. 
 A few more variations are as below: 
Pink Shell

Pink Perfection

Tai-Haku

Shogetsu

Sargent 

Fujimae

Umineko

Shirota

Takasago

Kwanzan
#03. Shortest Span of Blooming:
Even though the cherry blossom season endures about a month, the beauty of cherry blossom fades fast, lasting up to a week for an individual tree. All the cherry trees bloom at different times in different places during the season. So, it would be best if you visited different locations and trees to experience the beauty of bloom for a long time.
#04. Inconstancy in Blooming Time:
Generally, the blooming season starts from late March to early May. You can not fix a date for the blooming in advance because the blooming time for cherry blossoms varies yearly for the below specific facts: 
The weather is one of the points impacting blooming time. The blooms will be late if the winter has been freezing. 
Geographical location is another factor that makes a difference in blooming time. For example, cherry blossoms start in early January in the southernmost sub-tropical islands. 
The height of the land at which the cherry trees are planted is another factor affecting cherry blossom time. Usually, the blossom starts later on higher ground than the lower one.
#05. Damaging Cherry Tree Punishable:
Since you are planning to view the cherry blossom, it is an important fact you should know. Cherry trees are sensitive to cutting and scraping because they might rot the whole tree, causing it to die. Plucking any flower or breaking or damaging any part of the cherry tree are viewed as destroying national property in Washington, D.C. Therefore, you might get arrested or punished for such activities while enjoying or photographing the cherry blossom in Washington, D.C.
#06. Petals and Leaves Are Edible:
You will be surprised to know that the cherry flower's petals and leaves are edible along with the cherry. Japanese use these leaves and petals in preparing their traditional sweets and tea. You can buy them from supermarkets or department store food halls in Japan.
Putting 1-2 flowers in a cup of hot water, you can prepare Sakura aroma tea, tasting salty and sour. You can taste the sakura leaf by wrapping the wagashi-filled mochi cake with the leaf. You also can buy seasonal sakura-flavored candies and chocolates.
#07. Cherry Blossom Celebration:
The cherry blossom is a Japanese national flower, and the Japanese are so fond of it that they reserved a special day to celebrate the cherry blossom. The Cherry Blossom Association in Japan launched March 27th as "Sakura No Hi" or "The Cherry Blossom Day" in 1992.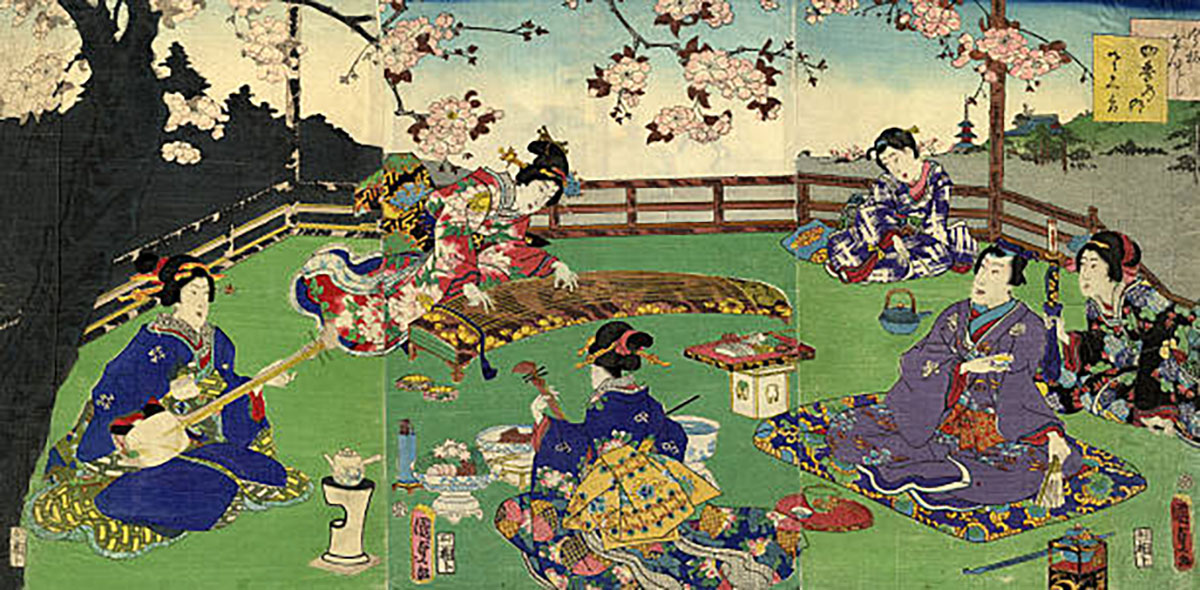 On this day, the cherry blossom appears in everything from traditional art and paintings to wallpapers, tattoos, etc. The U.S. also celebrates cherry blossoms as a symbol of the long-lasting friendship between Japan and the U.S.
#08. Famous Cherry Blossom Locations:
When we think of cherry blossoms, the name that first comes to mind is Japan because it has an extensive collection of varieties. The view of Pink Cherry Blossom Trees with Clear Blue Sky in Mount Fuji is a common scenery for cherry blossom views.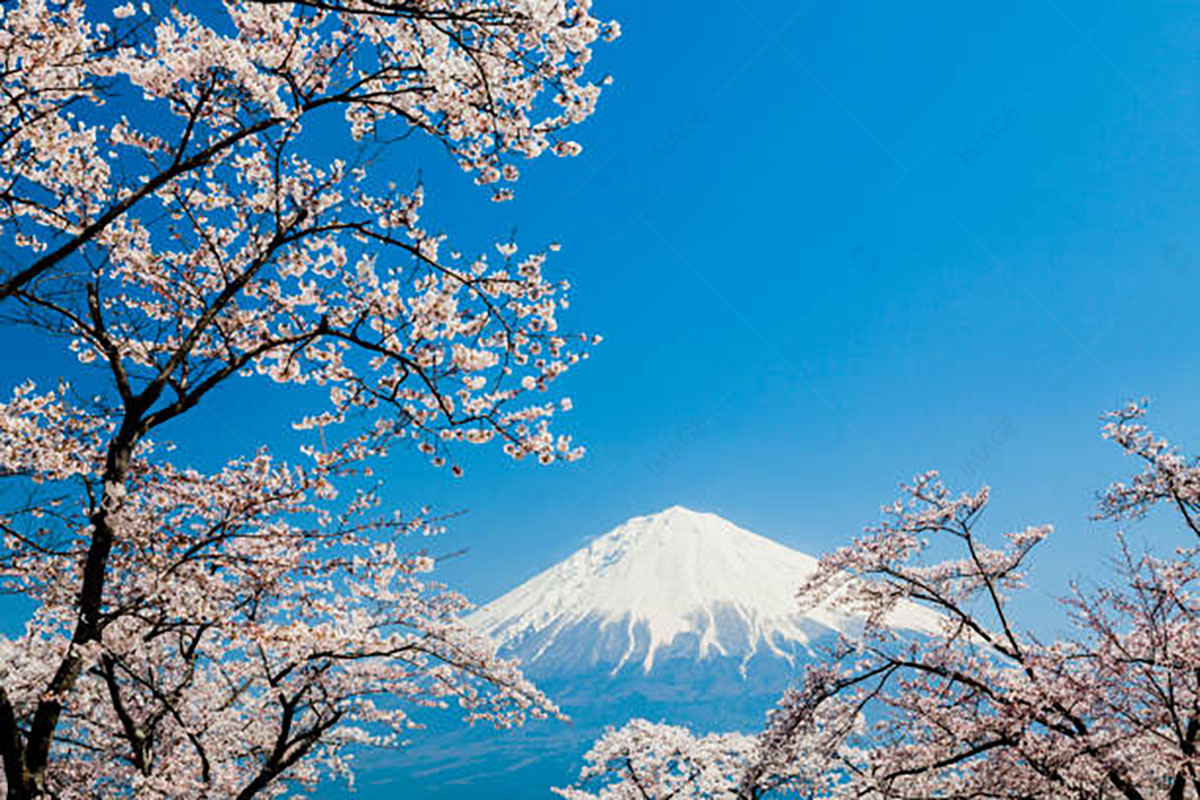 The Tidal Basin and Thomas Jefferson Memorial in Washington DC is also known as the largest cherry blossom location in the U. S. However, Macon, Georgia, holds the title Cherry Blossom Capital of the World. 
In addition, you can enjoy cherry blossoms from other common regions worldwide, including China, Korea, Nepal, India, Pakistan, Iran, Afghanistan, the U.S, and other areas across northern Europe. Some of the most iconic global destinations for Cherry Blossoms include:
The Hirosaki Festival: Hirosaki, Japan

Philosopher's Path: Kyoto, Japan

Shinjuku Gyoen Park: Tokyo, Japan

The National Mall: Washington, DC

Keukenhof Gardens: Amsterdam, Netherlands

VanDusen Botanical Garden: Vancouver & Victoria, British Columbia

The Copenhagen Sakura Festival: Copenhagen, Denmark

Trocadéro: Paris, France

The Tree Tunnels: Bonn, Germany

Primavera y Cerezo en Flor: Jerte Valley, Spain

Trinity College Dublin: Dublin, Ireland

The India Cherry Blossom Festival: Meghalaya, India
Cherry Blossom Festivals
Japanese reflect their gratitude for Cherry blossoms by celebrating the cherry blossom festival yearly called "Hanami," which means "flower viewing." People worldwide join the festival nowadays and capture photos in the Cherry Blossoms Background. However, have you ever thought the festival could have a backstory? 
In 1885, Mrs. Eliza Ruhamah Scidmore first proposed to plant cherry trees on the Potomac waterfront, but the request was ignored. Later in 1906, Dr. David Fairchild imported 75 blooming cherry trees and 25 single-flowered sweepings from Japan to experiment with the cherry trees' survival capability in the Washington DC environment. 

In 1909, Dr. Takamine asked the Mayor of Tokyo, Yukio Ozaki, to support giving cherry trees to the United States, and the mayor settled the initiatives. Finally, the first Lady of the United States, Helen Herron Taft, agreed to accept the donation of 2,000 cherry trees. 

In 1910, an assessment team from the Department of Agriculture found that the trees were plagued with insects and nematodes. They recommended destroying the trees to save American farmers, and President William Howard Taft accepted the suggestion. 

1912, Tokyo Mayor Yukio Ozaki again gifted 3,020 pink cherry trees to the People of the United States as a token of friendship. Then Helen Herron Taft and Viscountess Chinda, wife of the Japanese Ambassador, planted two Yoshino cherry trees on the Northern bank of the Tidal Basin. Since then, workers have continued planting Yoshino trees around the Tidal Basin. 

In 1935, many civic groups sponsored to celebrate the first "Cherry Blossom Festival." Finally, on March 30, 1954,

The National Cherry Blossom Festival Association launched the festival officially with the lighting of the lantern gifted by The Japanese Ambassador to the United States.
To welcome the cherry blossom season, the Japanese celebrate the traditional flower viewing party called "Hanami." The tradition started with monarchs and Imperial Palace members feasting under the trees' blooming branches. 
At present, people gather under the blooming cherry tree in parks or castle grounds with friends, family, or colleagues to enjoy the beauty of cherry blossoms. Cherry bloom festivals are also held at night-time in many towns known as "Yozakura," where they create a magical atmosphere by hanging paper lanterns to enlighten cherry blossom trees. 
"In the cherry blossom's shade, there's no such thing as a stranger." -Kobayashi Issa.
Popular spots for Hanami in Tokyo are: 
Ueno Park 

Shinjuku Gyoen

Showa Kinen Park

Koganei Park
To celebrate the blossom, they usually spread a blue plastic sheet as a mat, take off their shoes and sit for a long time under the bloom.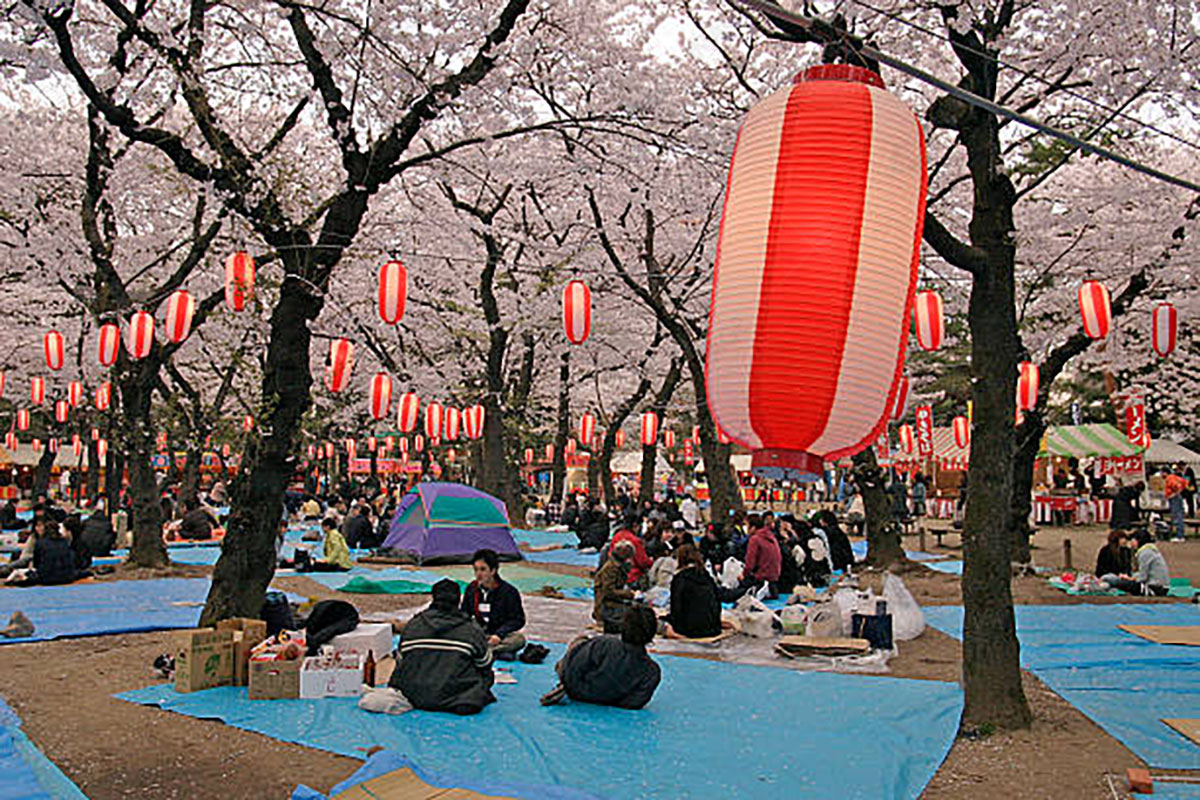 They also bring different Japanese cuisine, from savory eats to sweet treats, and share with the group. Some of the common foods are- 
#1: Hanami Bento – sushi rolls, rice stuffed in fried tofu pouches, and white fish cakes.
#2: Fried & Grilled Dishes – boneless, bite-sized Japanese fried chicken, grilled octopus balls, breaded fried shrimp.
#3: Tsukemono & Salads – Kinpira gobo, Shiro-ae, potato salad, and salads made with hijiki seaweed and lotus root.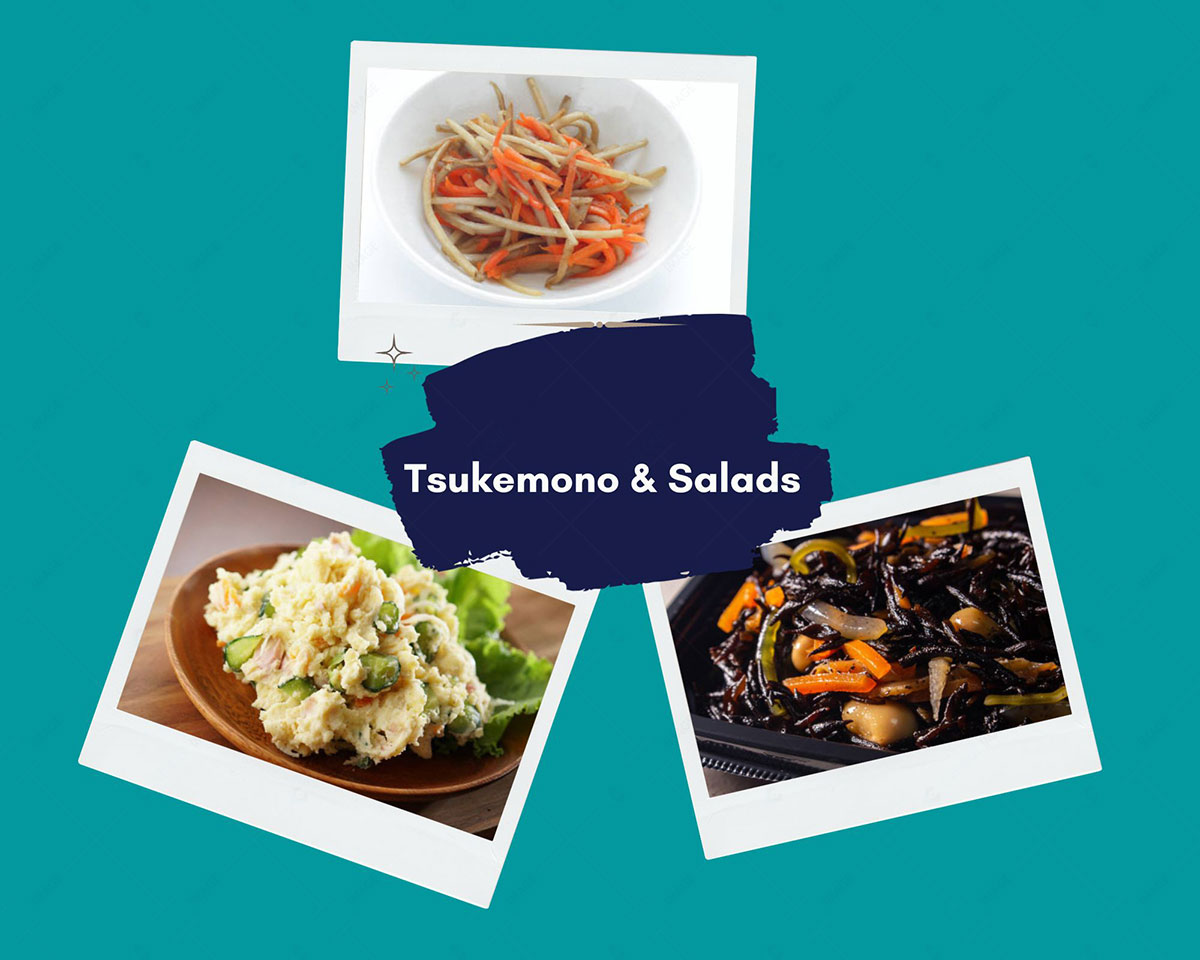 #4: Dessert- sakura mochi, Hanami dango
#5: Fruit – Strawberries, oranges, and kiwis cut into bite-sized pieces. 
#6: Drink – Sake, chuhai, fruit juice, tea, or a soft drink.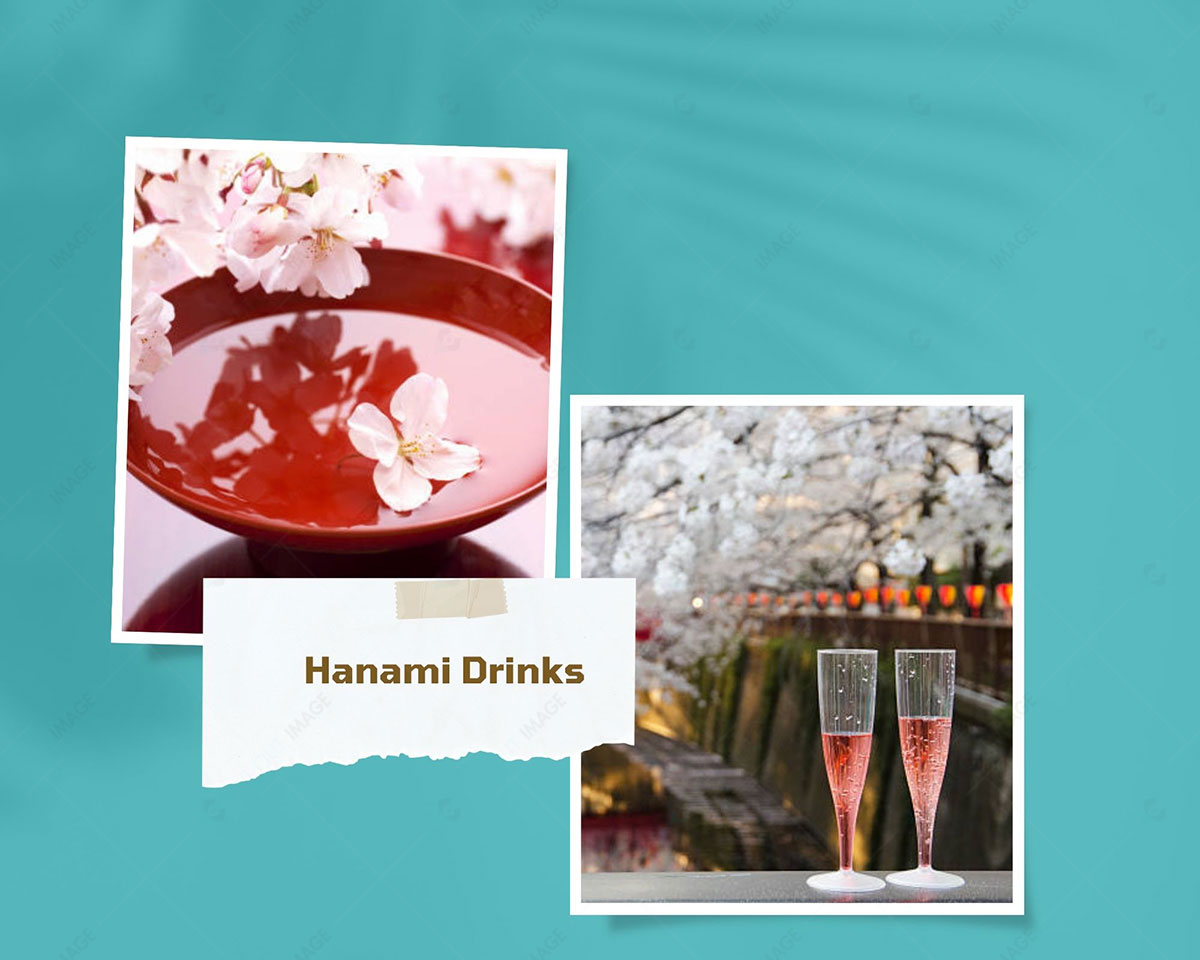 "From all these trees, in the salads, the soup, everywhere, cherry blossoms fall." – Matsuo Basho. 
If you intend to join the Hanami and capture yourself in the festival with Cherry Blossoms Background, you can visit several places. GoWithGuide can help you visit Tokyo and other areas of Japan to make your Hanami experience more enjoyable. Don't worry about the food because you can buy those from supermarkets. Cut Out Image is also there to polish your images and make sweet memories.  
Tips for Capturing Cherry Blossoms Backgrounds
Photography is an excellent practice for apprehending natural beauty, and cherry blossoms are a stunning subject that lasts for a short time in nature. So, you have to capture the pretty springtime bloom with the correct preparation, and here are some tips for you- 
#01. Track the Date:
Since the date to enjoy the blossom varies depending on typical factors, there is no fixed date for cherry blossom. However, you can track the date in many ways. You can find the update in local newspapers. You can also visit the Japan Weather Association and Weathermap, which provide cherry blossom forecasts for the hanami season's start and end dates in various country locations.  
Japanese frequently state the phrase "Cherry blossom front goes North."
#02. Wait for Golden Hour:
The cherry blossoms seem bleached or white in direct sunlight. Therefore, the best timing for photographing bold-colored cherry blossoms is the pre-dawn and sunset when you can experience the golden hour with soft light.
#03. Create a Checklist:
A checklist can help you make your plan successful without missing anything. So, create an index of your planning containing the list of activities to do, ideas to implement, and accessories to carry. 
#04. Beware of Rain:
Check the weather forecast before you travel to capture the cherry blossom because, during springtime in Japan, you might experience rain wherever you are. So, don't forget to carry the below: 
Warm and Waterproof Clothing

Waterproof Walking Boots

Umbrellas and Waterproof Covers
#05. Camera Settings:
The camera often fails to capture the blossom color perfectly. Correct camera settings with proper gear come into play to make it possible. I recommend setting the shoot mode manual to adjust the shutter speed, ISO, and aperture. A custom white balance will help counteract unwanted color, while a custom metering mode will control the exposure. Lenses of 24-70mm are excellent selections for outstanding versatility. Macro lenses are also great for capturing all the details of a single cherry flower. I prefer Sigma 35mm f/1.2 DG DN Art to photograph the cherry blossom. 
#06. Arrange Composition:
An essential tip for good cherry background photography is correctly arranging the elements within the frame. For example, while photographing the close view of the cherry flower, try to place the flower off-center to create a dynamic image.
#07. Neutral Density Filters:
ND filters help you get darker images without impacting the depth of the field. These filters are used to capture long exposures on bright days.
#08. Outfit Colors:
Muted or pastel color outfits work best for Cherry Blossoms Background. However, the Japanese tend to wear bold colors, for example- red, against cherry blossoms. This tendency makes the subject stand out, contrasting the background. 
#09. Avoid Overexposure:
The cherry blossom ranges from pale pink to beautiful white. An overexposed cherry blossom photo will lose color and detail, which will be difficult to recover by retouching. So, slightly underexpose your pictures if you photograph during daylight or under a bright sky that you can manipulate during retouching.

 Helpful link: Need a professional Photo Retouching Service? Contact Cut Out Image and start with a free trial. 
#10. Keep Simple and Be Patient:
Nature, especially the cherry blossom nature itself, is beautiful. So, while photographing the cherry blossom background, the less is better to keep it simple and beautiful. Also, keep patience while photographing and spend a considerable amount of time. Remember, patience and persistence often pay off! 
Cherry Blossoms Backgrounds Photography Ideas
A significant number of tourists, photographers, bloggers, and social media influencers head to Japan during the Hanami festival every year to take pictures of the cherry blossoms. Cherry blossoms are a beautiful subject, but everyone can't capture its finest. I am here presenting some Cherry Blossoms Background Photography ideas to justify the cherry blossom. So, let's move on. 
#1. Capture the Depth of Field:
One of the Cherry Blossoms Background ideas is to capture the depth of the field telling a story of cherry blossoms. You can focus on the entire depth of the area to illustrate the beautiful environment. You can also focus on shallow depth of field, showing your viewers the flower's design.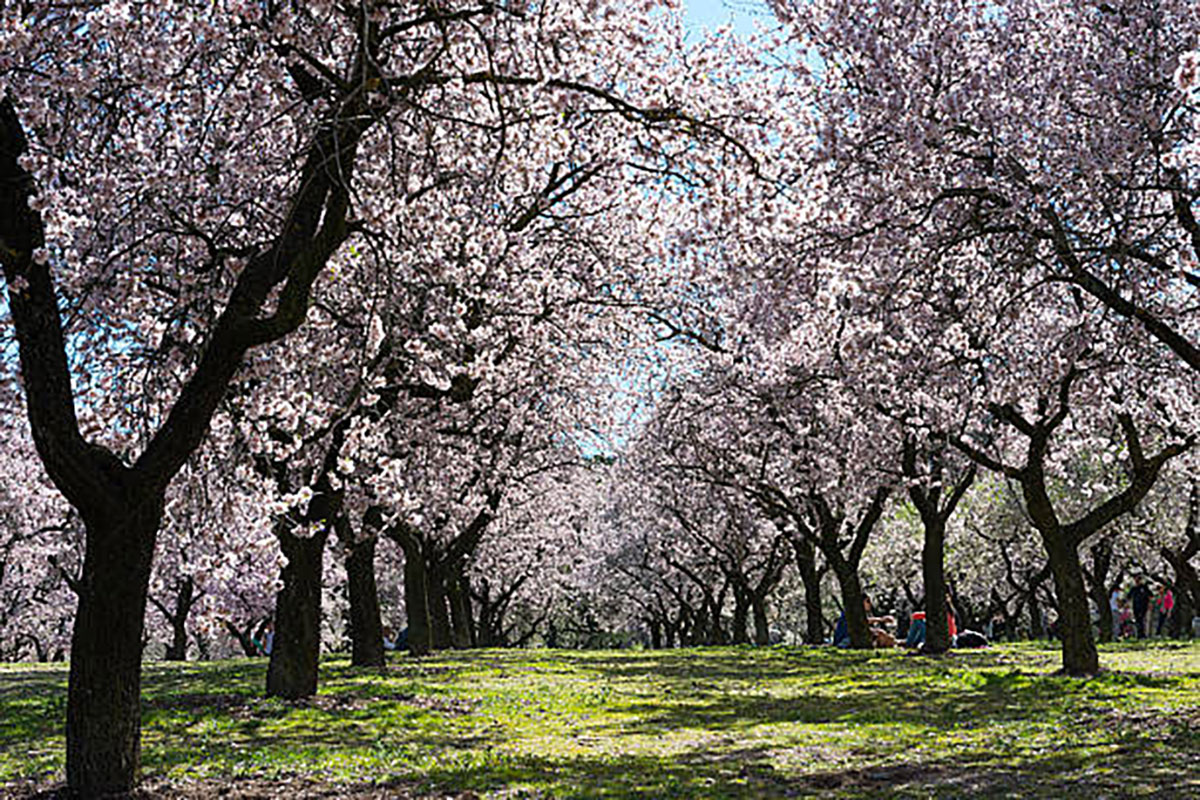 #2. Experiment with Different Viewpoints:
Play with the viewpoints to capture the Cherry Blossoms Background since every standpoint will come out with a unique view. For example, lie on the ground to shoot the blooming tree or climb a hill to capture the below. Also, remember to capture from the eye level and lower angle.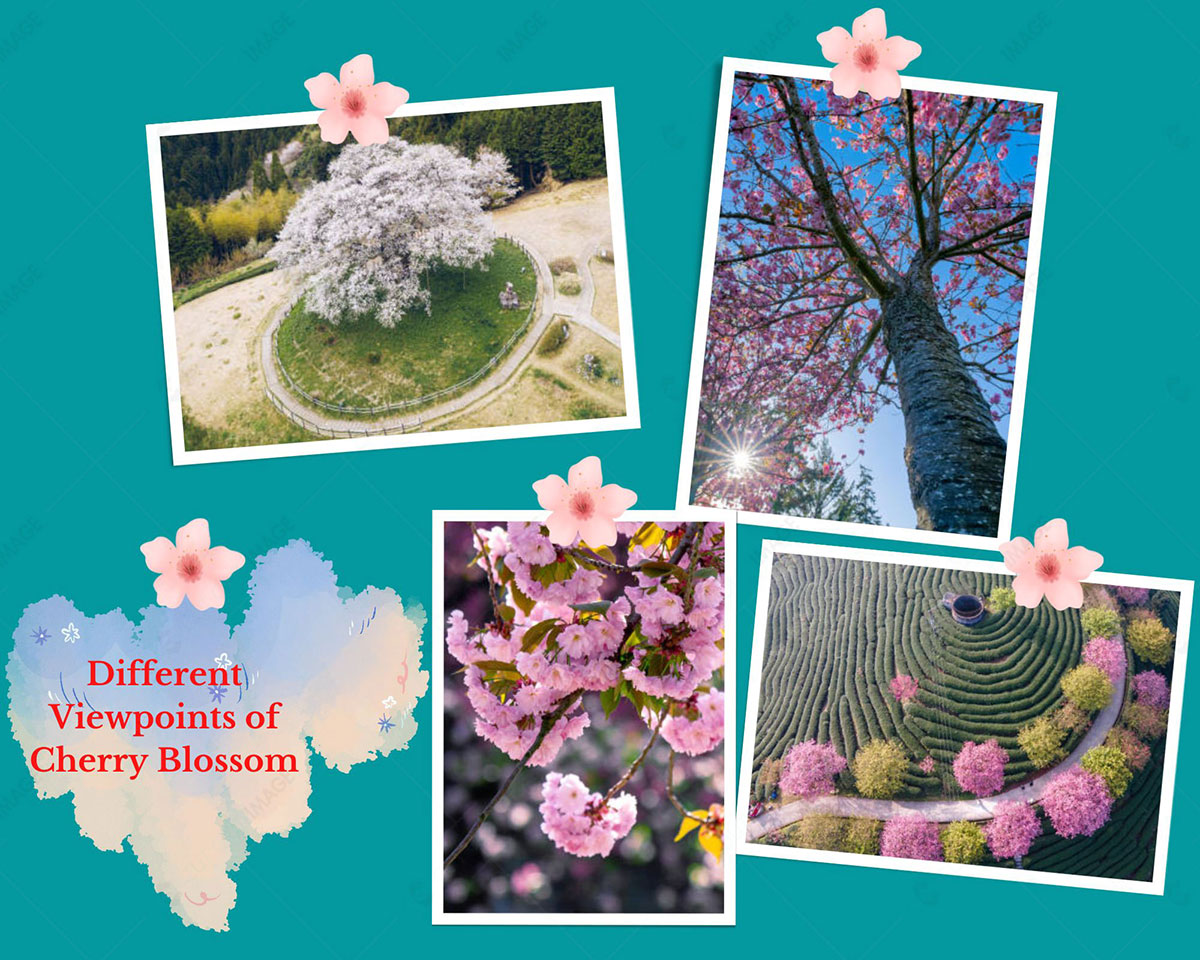 Pro tip: Photographing Cherry Blossoms against a blue sky is a superior and pragmatic choice because the colors are complementary. However, avoid capturing facing the sun directly to restrict outbursts and parasitic reflections. 
#3. Grab a Close-up View:
If you want to illustrate the beauty of cherry blossoms with accurate detail, you should apply macro photography ideas. It might not seem easy at first, but after a bit of practice, it will be a piece of cake for you. Focus on the flower accurately and capture the close-up view.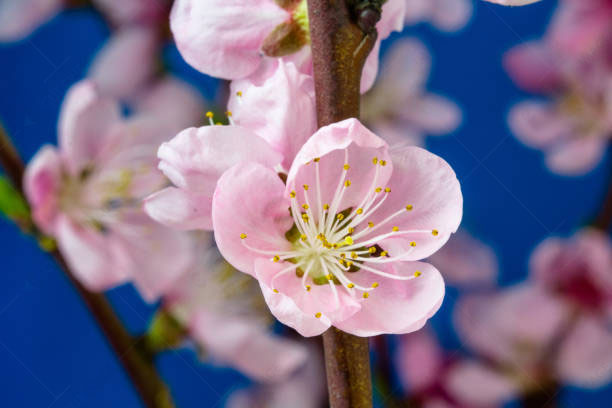 #4. Cherry Blossoms as Leading Lines: One of the most effective Cherry Blossoms Background ideas is to use the branches of cherry blossoms as the leading line to your subject. Alternatively, focus on a branch of petals showing the wood or lanterns hanging on the branches to create a leading line. 
#5. Lay Down Under Cherry Tree:
The ground under the cherry tree is like a natural flower's blanket. Select a flowering cherry tree and lie down under it wearing a light-colored dress. Spread a few cherry flowers or petals on your hair and ask the photographer to capture from the above through the cherry blossom branches. It will create a stunning Cherry Blossoms Background to grab your social media followers' attention.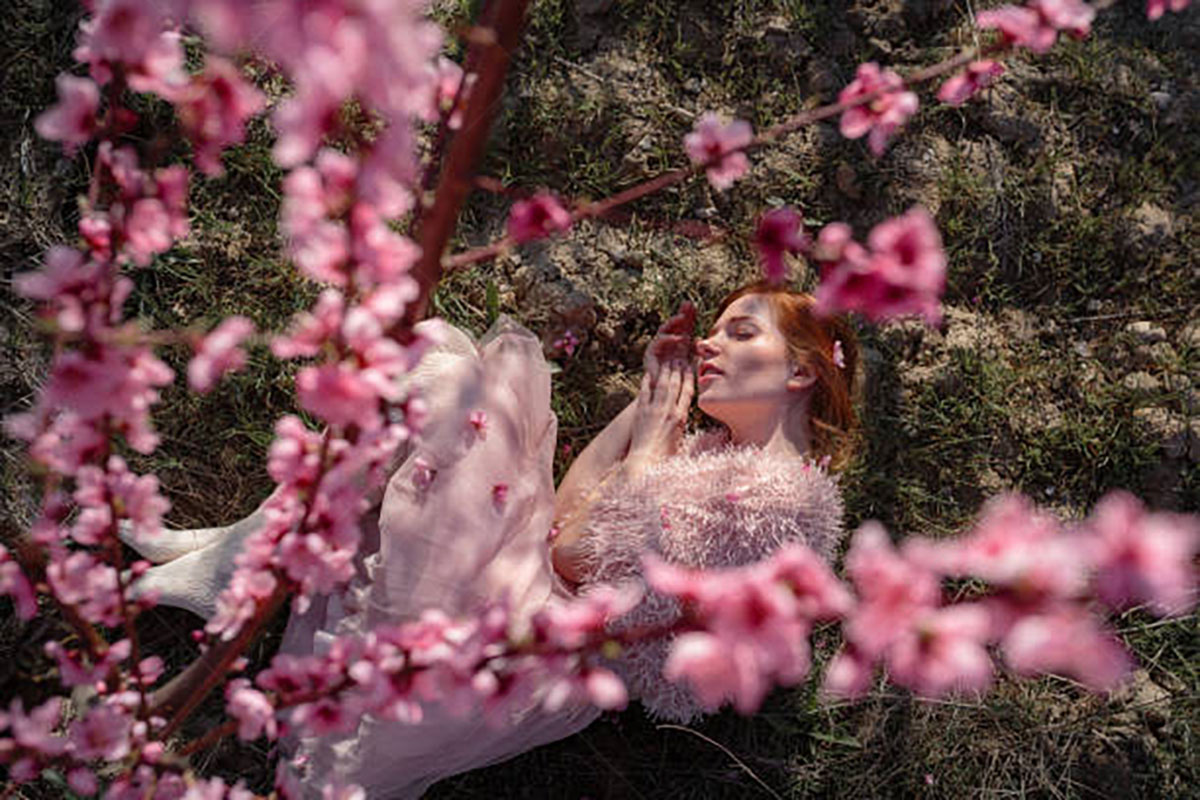 #6. Capture the Blossom's Shadow
:
It's a unique Cherry Blossoms Background idea to capture the cherry blossom's shadow over any object like an umbrella or your face. To make it happen, you have to photoshoot during sunny daylight.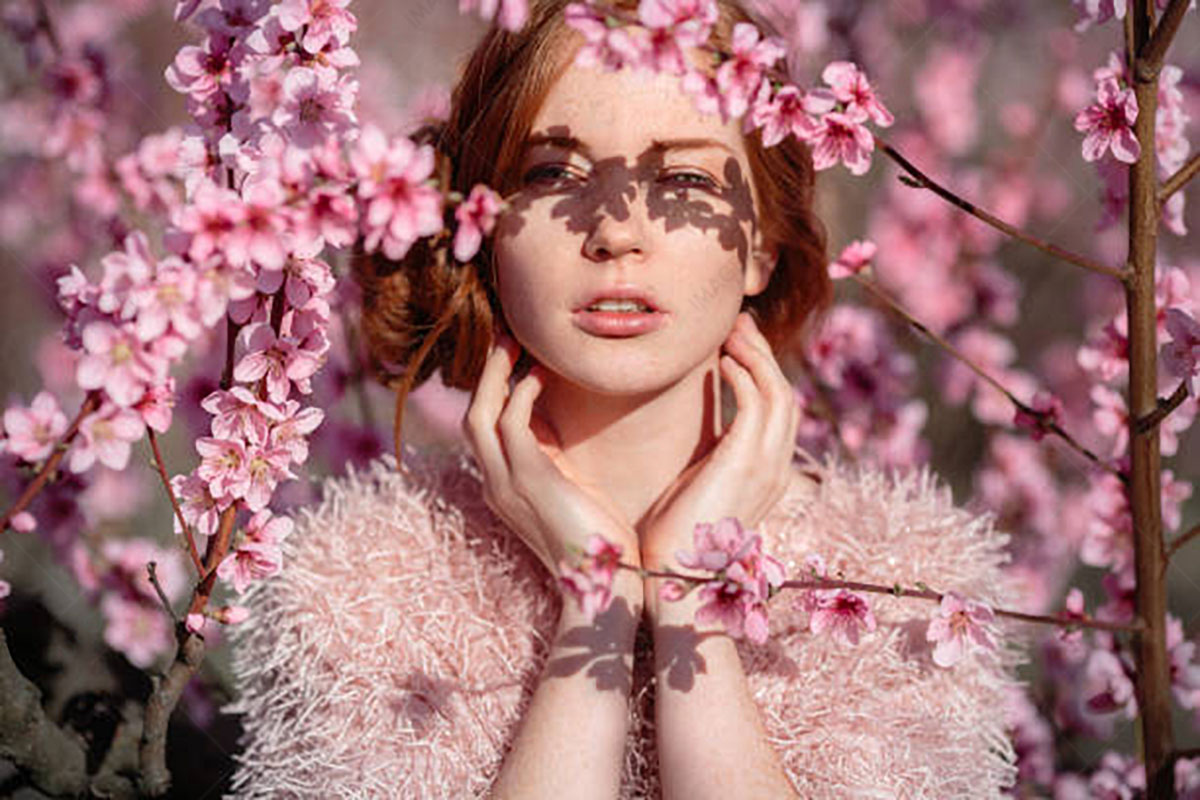 #7. Walk Through Blooming Trees
:
Capture yourself walking through the blooming trees to illustrate the spring vibe and attitude to the audience. Take multiple photos to create a correct look. Such cherry blossom background works best for portraying individuals, couples, or groups. Utilizing a bike or bicycle will create a dynamic vibe in the photo.  
#8. Close-Ups With Cherry Blossoms:
Take a close picture of yourself while keeping the Cherry Blossoms Background. You can capture your eyes and lips or smell the flower. To enhance the view, you can cut out image later. It is an excellent portrait photoshoot idea you can combine with a cherry blossom background. After capturing a few photos like this style, you can create a great picture by collaging them.
#9. Imitate Traditional Art:
Cherry blossoms are integral to Japanese Traditional Art. The artists are so fond of sakura that they have created numerous exquisite masterpieces. So, why don't you take inspiration from those? Take one of those masterpieces and illustrate the view in your photography. Give attention to shade, composition, and idea while imitating the picture.
#10. Cherry Blossoms in Water Reflections:
Water reflections can be incredibly captivating, especially for the cherry blossom. There is a tendency among Japanese to plant cherry blossoms near water bodies like lakes, basins, ponds, etc. It creates excellent scenery when the cherry blossoms reflect on the water. As an interesting Cherry Blossoms Background photography idea, you capture the scene. 
#11. Polarizing:
To capture the cherry blossom background, you can utilize the polarization on a sunny day. The polarization will filter the bright sunlight and create a dark view. The darkened colored blossoms against a dark sky will make incredible scenery. You can use crystal ball to capture the reflection also. 
#12. Capture the Night View:
You can capture the beauty of cherry blossoms in daylight and dreamy looks at night. In some places like Naka-Megeo in Shibuya, cherry trees are illuminated using lanterns that create a mesmerizing scenery. The Japanese call it Yozakura. How can you miss that? So grab the view and frame in your photography as a cherry blossom background.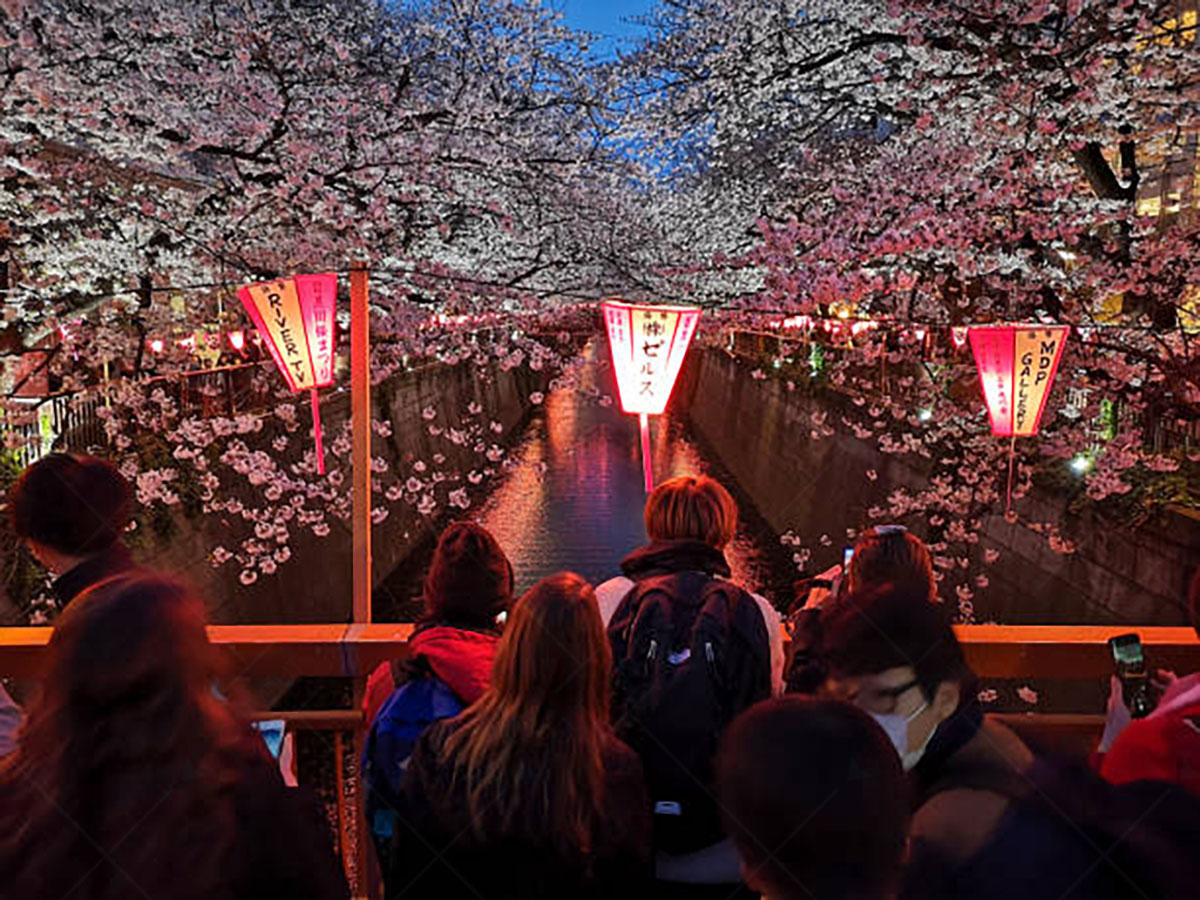 #13. Capture in Elegant Style:
Wearing a flowing dress with a hat and stunning accessories in cherry blossom background can create an elegant look. Be careful in choosing accessories, and try natural hair and makeup style. Ensure the composition looks hot off the press and the components match the desired style.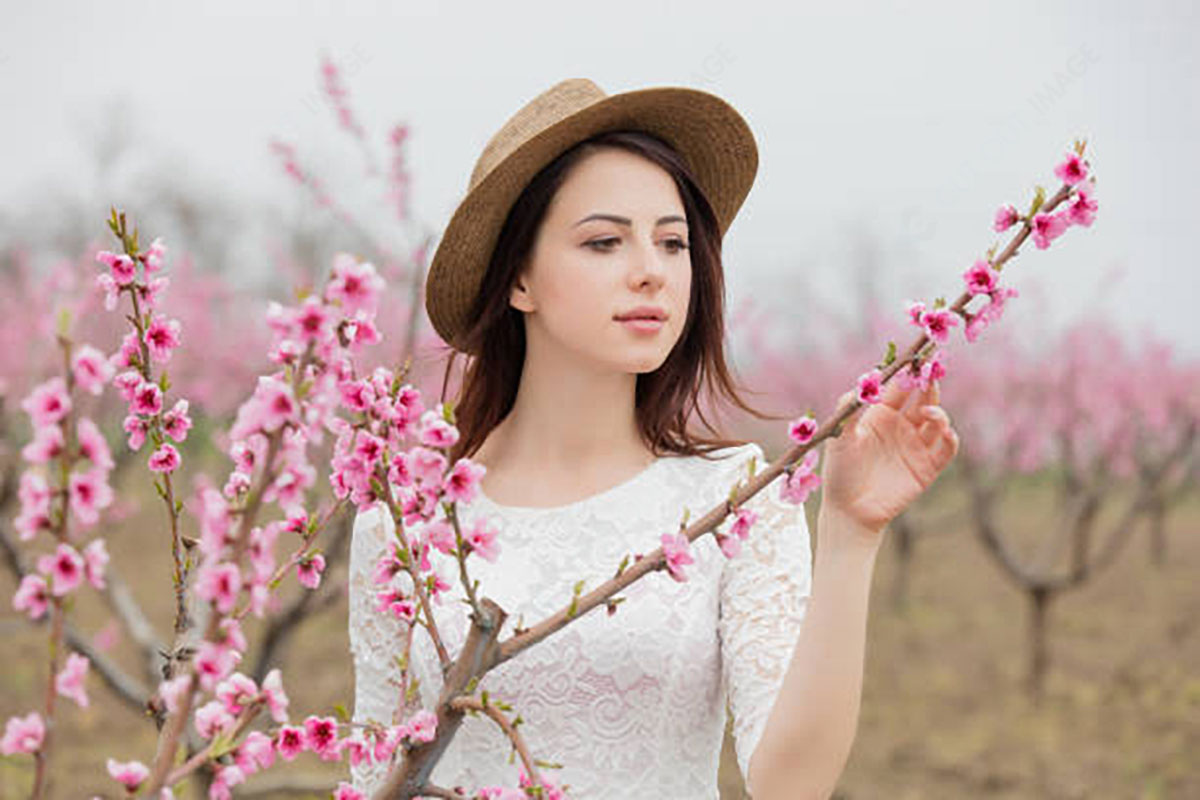 #14. Wedding photos in Cherry Blossoms Background:
Cherry blossoms create an aesthetic natural background for wedding photos that make the picture vibrant with a romantic look. So, if your wedding overlaps with the cherry blossom season, you should take advantage of the opportunity. You don't have to think about the theme. Instead, you have to pose, and the bloomed background will do the rest for you.
#15. Construct Romantic Photo:
If your wedding day doesn't overlay with cherry blossom season, don't feel upset about that. You can't capture wedding photos, but you can still capture romantic images by constructing a Love Story with your beloved one. You can give poses while interacting with your partner, and the photographer will capture the moment behind flowering cherry branches. Also you can hug, dance, hold hands, etc. Check out couple photoshoot outfit ideas to select what to wear for the photography. 
#16. Capture with Fallen Petals:
Cherry petals cover the ground magnificently when they finish blooming. Take advantage of the opportunity to utilize this beautiful Cherry Blossoms Background for your spring photos. It will also allow you to capture an image by blowing petals pose. Make sure the petals are visible in the picture. You can also pose and ask someone else to sprinkle cherry petals on you. It will create a fantastic and vibrant look. 
#17. Maternity Photography in Cherry Blossom:
Cherry blossoms are soothing, light, and gracefully flowing. You can imitate the same vibe with a flowing maternity dress for your maternity photography in cherry blossom. In addition, you can add a cherry flower in the frame to lead the viewer's eye to the belly! Finally, you can look up like the cherry tree standing up to the sun and ask the photographer to capture from eye level and top level through the blossomed branch.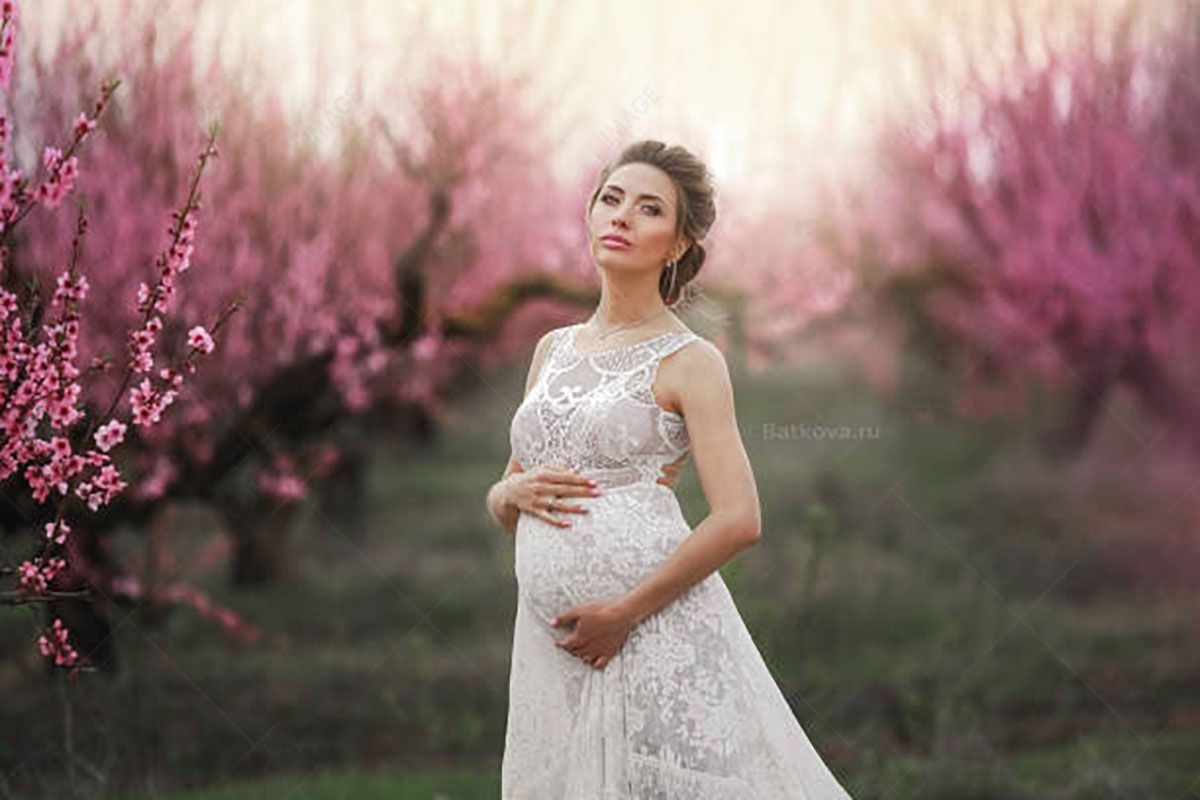 #18. Cherry Blossom Family Photoshoot:
A cherry blossoms background is an appropriate backdrop for family photography. You can capture the spring vibe while your children play under the tree with fallen flowers. Additionally, you can capture candid moments of your family enjoying the cherry blossom, walking through the blossoming field, or having fun and playing. You can also illustrate the bonding between family members keeping the cherry blossom as background.  
To get an elegant and lovely family portrait in a cherry blossom background, try wearing a similar texture outfit or one style of clothing showing harmony.
Wrap Up: 
The cherry blossom is a beautiful addition to nature during spring and is a perfect composition for flower photography. You can visit any country to capture the cherry blossom background, but you can gather a beautiful experience by celebrating the Hanami festival in Japan. 
" There is much to be said for cherry blossoms, but they seem so flighty. They are so quick to run off and leave you." -Murasaki Shikibu, 
I have shared all the nuts and bolts regarding cherry blossoms in this blog. I have also shared tips and ideas for aesthetically capturing the cherry blossom background. Now all you need to do is to take preparation and keep an eye on the update for the festival. Then, implement the ideas and create a lasting memory with the cherry blossom. Let us know about your experiment in the comment box.
Additionally, you can check out my following blogs on different photography ideas to get inspiration: