Are you a thalassophile? The person who loves the ocean always feels Beachitude and hears the beach calling to go. 
Let's say you are not a thalassophile but are you feeling stressed? Here is a magic formula for you, google your symptoms, and it will suggest you go to the beach! It is a joke. However, nothing is as relaxing as the beach to soak up your anxieties. Therefore, many people spend time at the beach and feel the tranquility. 
"When anxious, uneasy, and bad thoughts come, I go to the sea, and the sea drowns them out with its great wide sounds, cleanses me with its noise, and imposes a rhythm upon everything in me that is bewildered and confused." – Rainer Maria Rilke.
Are you planning to spend your summer vacation on a nearby beach? Then, don't miss the opportunity to create a lifetime memory with Beach Photoshoot Ideas. Remember, creative photography is remarkable but challenging to master. However, little guidance will help you create a great result. So, I am sharing some Beach Photoshoot Ideas and Tips for fun and making memories. So, keep reading.  
Topline Summary: The beach offers photographers almost endless ways to show their mastery of photography with its sand as a blank canvas! This blog gives you a clear idea of the Beach photoshoot. You will also get scrutinized tips and ideas on Beach Photoshoot. Let's have a glimpse of the topics I am going to discuss: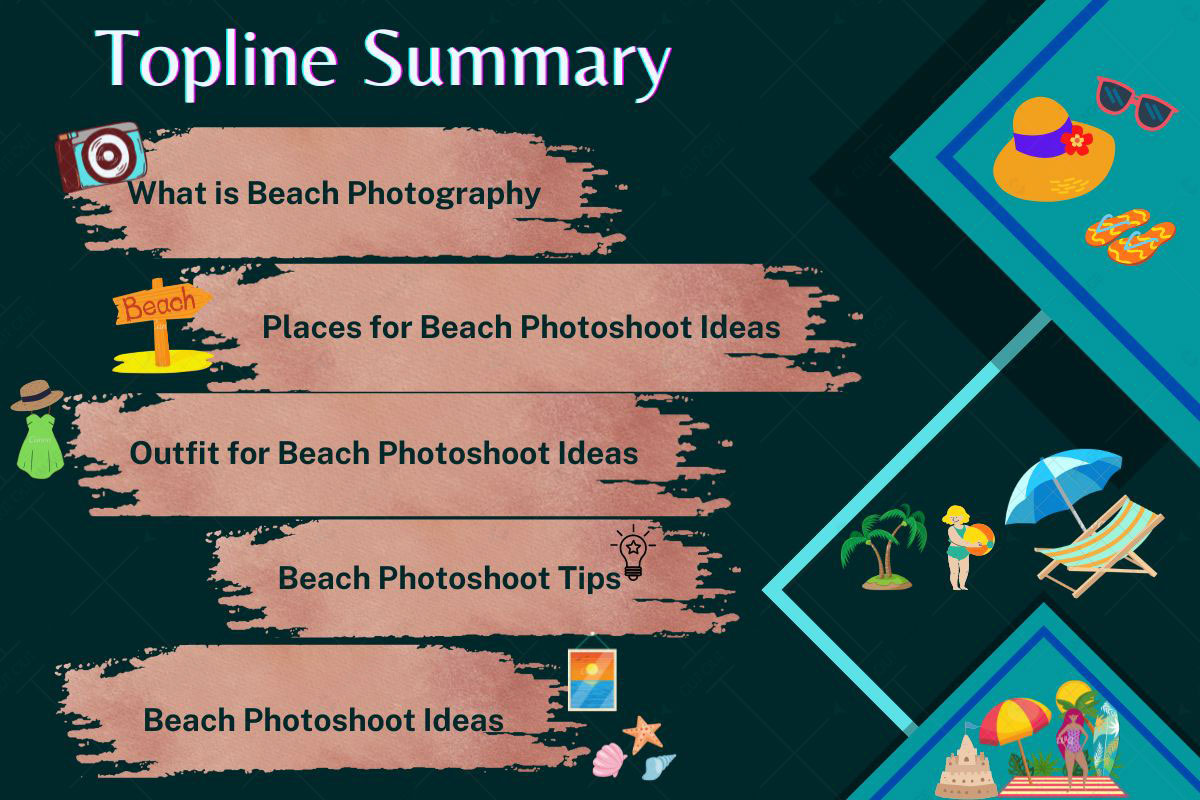 What is Beach Photography? 
 A beach is an unbendable striped land separating seawater from inland areas. Beach contains sand, rocks, and minerals beat up by the regular pounding of wind and waves. 
The sound of ocean waves, the salt water's smell, the vast sea, and the warm feeling of sand under your toes make you feel soothed. Besides, The salt of the beach helps lower blood pressure. The ocean air's negative ions can help calm your brain. Recent studies prove that a beach-type environment can profoundly impact our brains and mental health. 
Beach photography is a broad category that keeps the sea or beach as the background and focuses on several things like seashells, wildlife, sunset, sunrise, the golden hour, the sky, and the people spending time at the beach. It is an excellent source for adventurous photographers also. 
"The ocean stirs the heart, inspires the imagination and brings eternal joy to the soul." – Robert Wyland.
Places for Beach Photoshoots
The ocean is beautiful, mysterious, wild, and endless, and the beaches are photogenic. There are so many beaches in the world for capturing breathtaking photographs. I am sharing a list of the most photogenic beaches worldwide.  
#1. Bay of Fires, Tasmania in Australia:
The Bay of Fires is a photographic paradise located on the northeastern coast of Tasmania in Australia. Captain Tobias Furneaux gave it the name in 1773 that displays the scenery like the fire has been put on the bay. The beach is known worldwide for its clear blue seas and vivid orange lichen-cloaked boulders in bone-white sand. Lonely Planet prescribed the beach as the hottest destination in 2009.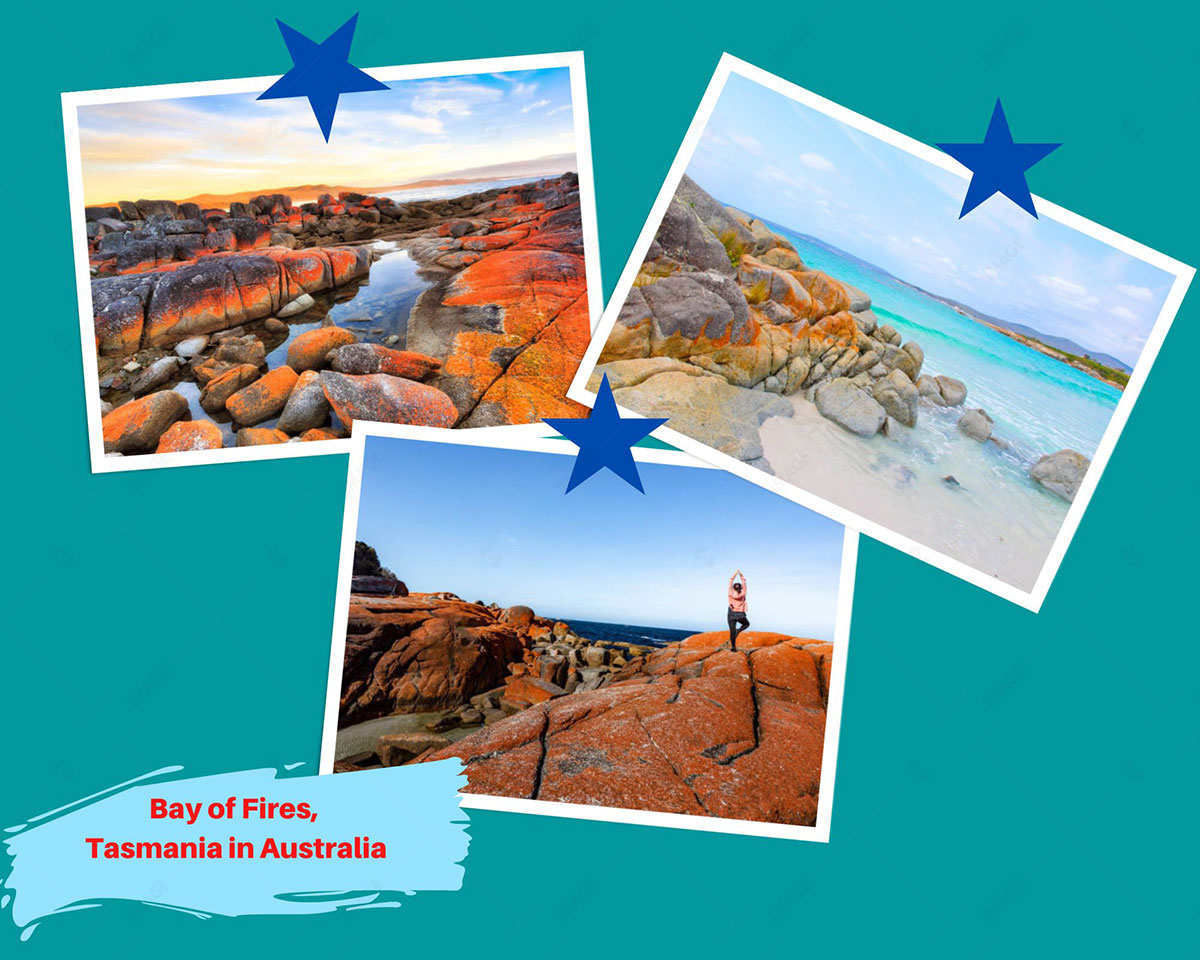 #2. Red Beach, Santorini in Greece:
Do you wish to walk on Mars? Then, Red Beach of Akrotiri in Santorini is a Mars on the planet for you. It is a volcanic island, and the crushed volcanic rock makes up the beach's sand, black and red. It is one of the most stunning beaches in Greece and one of the most romantic destinations with fantastic natural beauty worldwide. Photographers and influencers crowd this beach to capture the beauty of the alien landscape.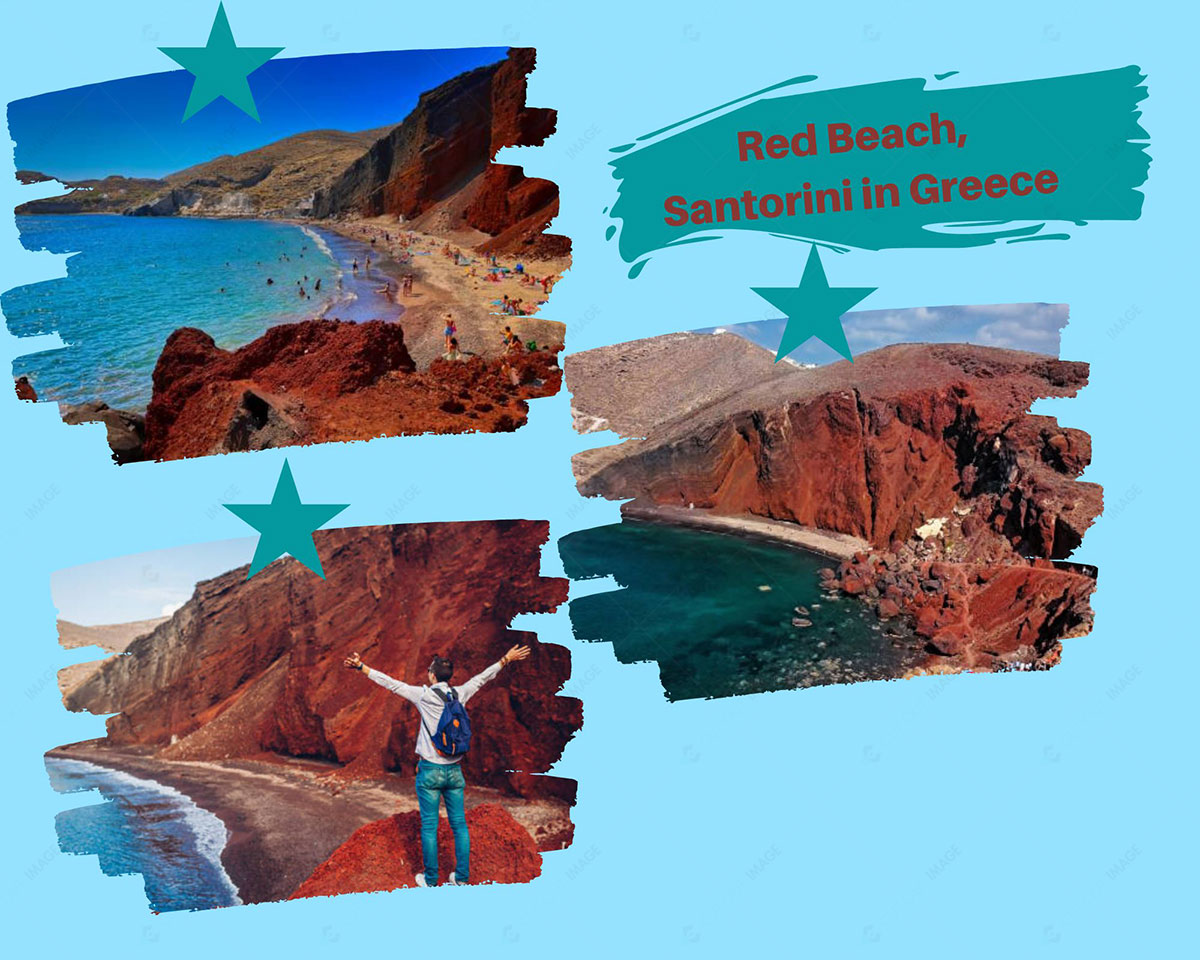 #3. Isla Holbox in Mexico:
Isla Holbox, located on the north coast of the Yucatán Peninsula, is a perfect mix of relaxation, great weather, and bohemian beauty. It is the dream paradise island for color lovers. It is also a good place for whale shark viewing and kiteboarding.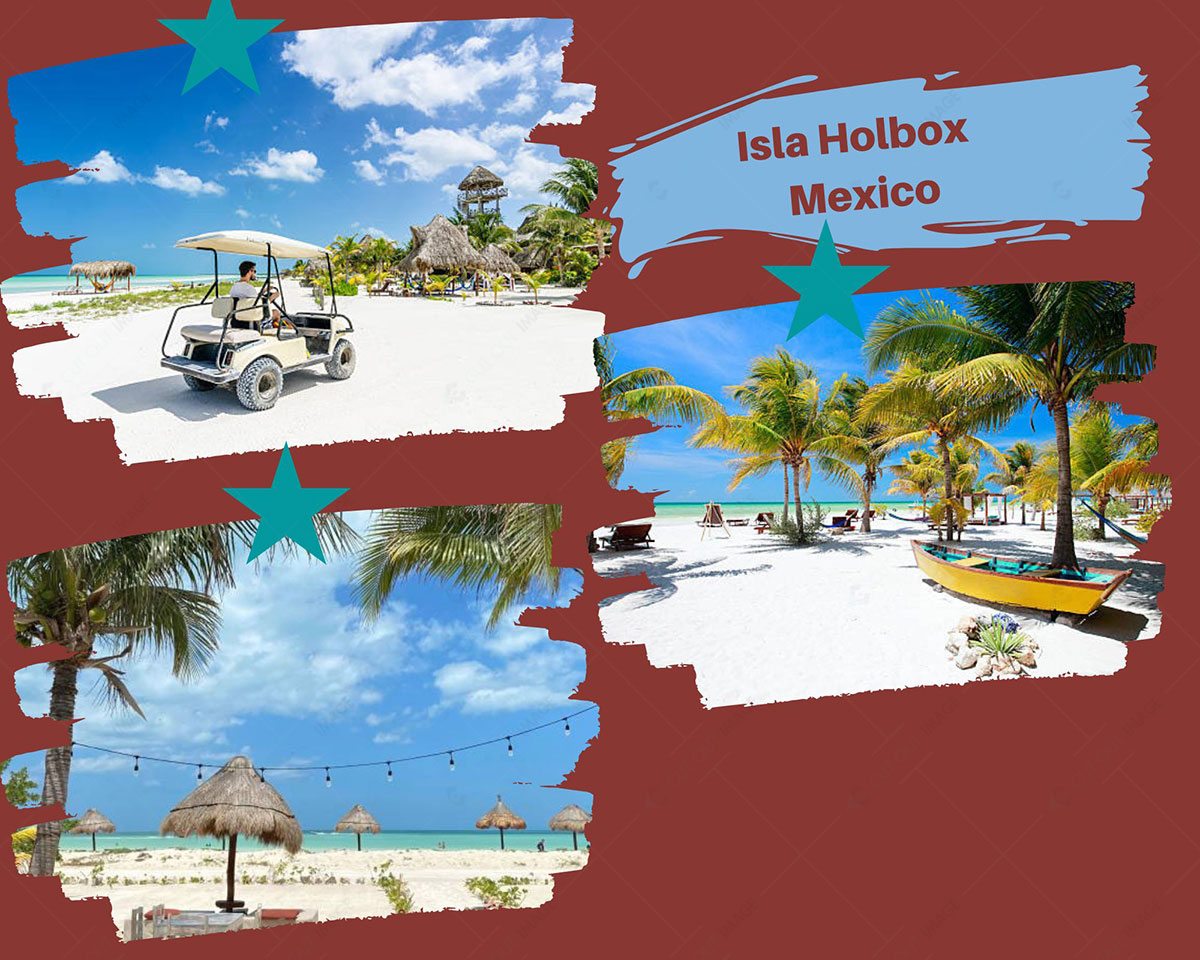 #4. Cathedral Cove, New Zealand:
Cathedral Cove, one of the most picturesque spots, is like the cherry on top of a beautiful scenery cake. 
If you have watched the American film series "The Chronicles of Narnia", you have observed the view of this beach as one of the filming locations. However, the summer is the best time to go to Cathedral Cove. 
#5. Bora Bora, French Polynesia:
Bora Bora is one of the world's most beautiful volcano island beaches in French Polynesia. Its original name was "Pora pora mai te pora", but over time, it was abbreviated and misinterpreted as "Bola Bola" or "Bora Bora." It emerges as an artist's palette with a million shades of blue color crystal water. The iconic beauty of Mount Otemanu made the beach a paradise for honeymooners. 
#6. Maupiti Island in French Polynesia:
Maupiti is a smaller version of Bora Bora island located in French Polynesia. The specificity of this island is that the local people have protected it from mass tourism to maintain a peaceful ecosystem. The lagoon of this beach is so shallow that you can cross it on foot from the main island to the Auira motu. Despite being tiny, it has many attractions, like a beautiful coral garden with different species of fish. 
#7. Fernando de Noronha, Brazil:
Fernando de Noronha is an isolated volcanic archipelago 220 miles off Brazil's northeast coast. The well-known ecological shelter is famous for its undeveloped beaches. Including a National Marine Park, it is a UNESCO World Heritage Site and safe to travel all year round. However, August and December are the best months to visit the beach for scuba diving and snorkeling with photography.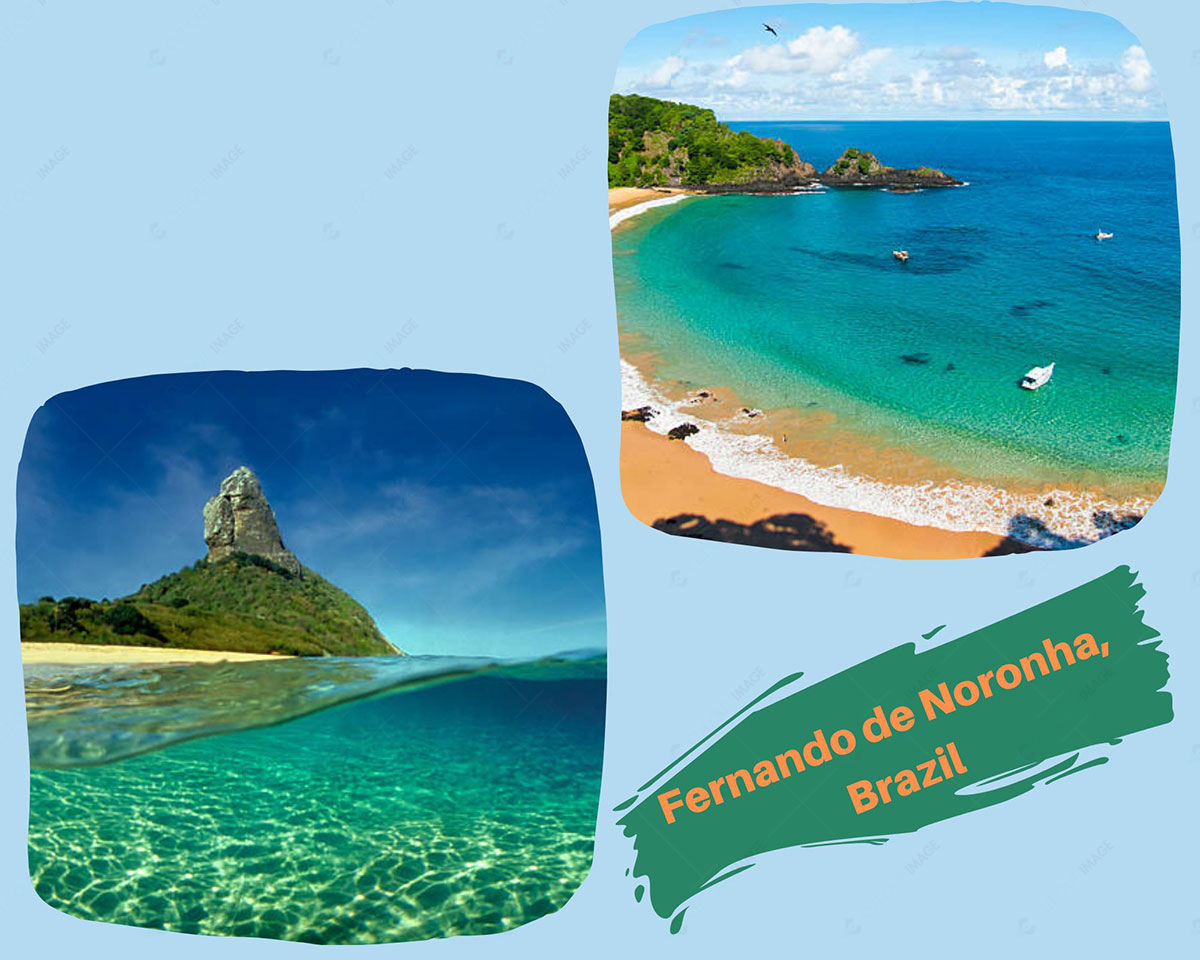 #8. Phi Phi Island, Thailand:
Did you watch the Hollywood blockbuster movie "The Beach"? Phi Phi Island was featured in this movie. It is in the middle of the Andaman sea, which contains blue-green water and stunning beaches. It is a paradise presenting the beauty of colorful corals and the marine life that deserves a visit once in a lifetime, alone or in groups, for a pacifying holiday. The best time for visiting this beach and doing a beach photoshoot is between November and April. 
#9. Punaluu Black Sand Beach, Hawaii:
Punaluʻu Black Sand Beach is one of the most famous beaches located between Pāhala and Nāʻālehu on the Big Island of the U.S. state of Hawaii. The beach holds jet-black sands made of lava's basalt flowing into the ocean. The fantastic black beach containing rows of coconut palms will give you an unforgettable sight. In addition, you can witness imperiled Hawksbill and green turtles basking in the sun on the beach. It's expensive but worth visiting for relaxing and a beach photoshoot.
#10. Kaihalulu Beach in Maui, Hawaii:
Kaihalulu Beach, well known as Red Sand Beach, is located on Kaihalulu Bay. It is a pocket beach with red sand, a wonder of nature generated by volcanoes. If you decide to visit for a beach photoshoot, you should abide by the guideline and maintain caution paying respect to the island's people and rescue workers. You can see the beach at any time of the year except during rainy times. 
Outfit for Beach Photoshoot Ideas
The beach is charmed with blue water, golden sand, and stunning sunlight. While planning beach photoshoot ideas, you should also emphasize outfits. Here are a few outfit ideas for the beach photoshoot:  
Dress to impress, prioritizing your comfort. Otherwise, your discomfort will be expressed in the pictures. For example, if you feel shy with a short dress, maxi dresses can be an option. Add a hat to create an elegant vibe. 
Select a dress that is easy to move and sit on and suitable for a long time. Such clothing will show a relaxed vibe in the photo. For that, keep the clothing choices on Loose-fitting shirts, dresses, and pants in soft fabrics like cotton or linen. 

Focus on color for selecting a beach photoshoot outfit. Solid colors are always preferable in Beach photoshoots. I would suggest wearing white outfits since they look stunning against the colors of the sand, water, and sky at the beach.
If you are a Chromatophilia, you can select navy, blue

,

aqua, turquoise, bright yellows, and teal as they stand out in the beach background. However, patterned or logo-containing outfits are advised to avoid.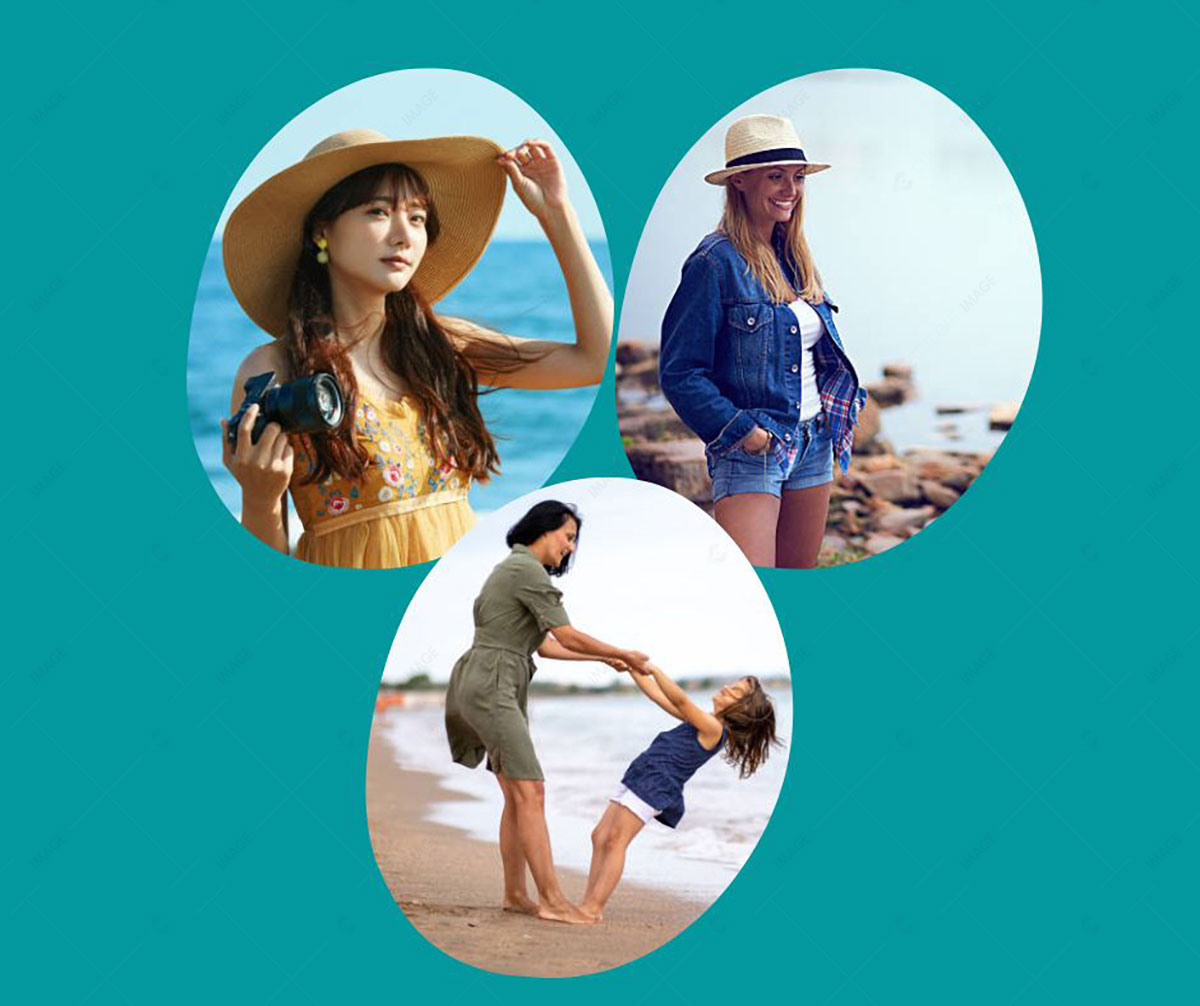 For the family photoshoots, match the daughter's outfit with the mother's and the father's outfit with the son's to show harmony. Alternatively, you can pull color from one of the member's patterned dresses and set it as others' outfit color.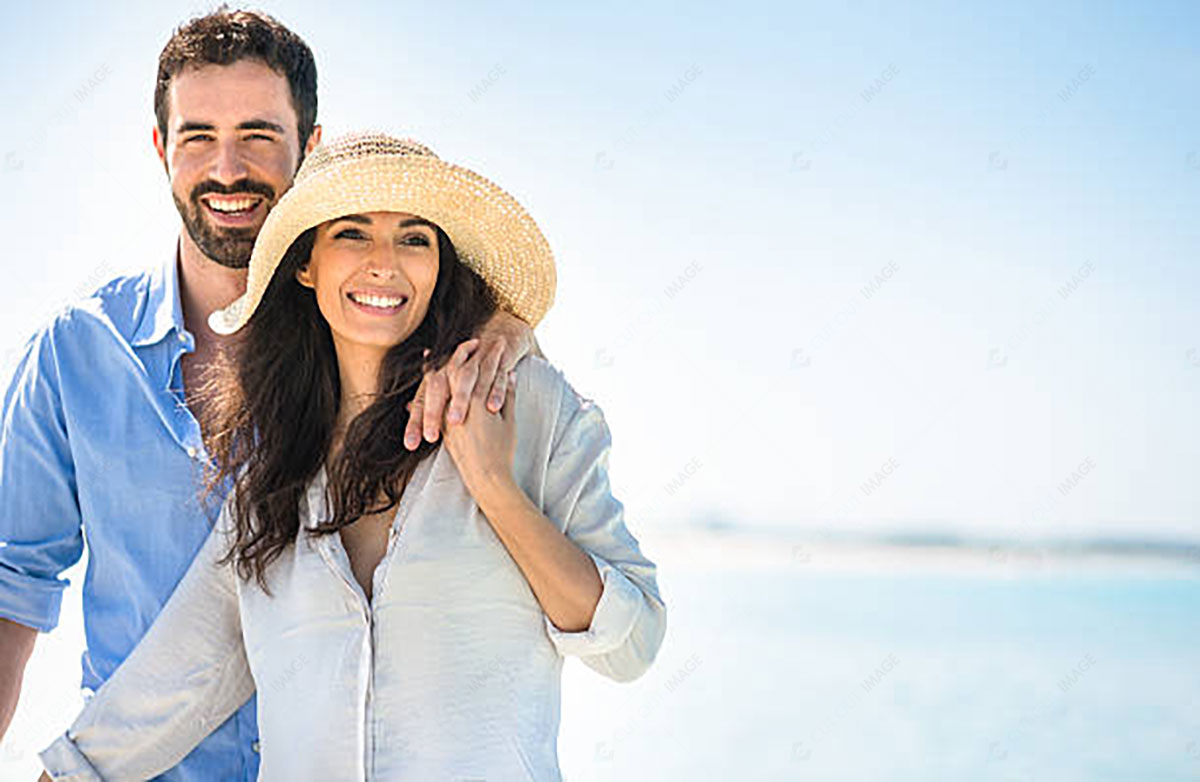 For Beach Photoshoots, less is more in the case of accessorizing. So, avoid over-garnishing. Don't think much about shoes. Bare feet are adequate for a beach photoshoot.
Beach Photoshoot Tips
A beach is an excellent place for all kinds of photography, especially portrait and landscape photography. Beach Photoshoot is not difficult to do but challenging to master. However, in this part of the blog, I am sharing a few tips so that you can relax and have fun on your next Beach Photoshoot. 
Use Manual Settings:

As a novice, you might feel scared by this tip, but it is worth learning. At the beach, the dark and light spots in the frame fluctuate, impacting the camera's auto mode. Therefore, it's best to use manual mode for capturing the best photo. According to the picture, customize the settings. For example, set the method to high speed for capturing the continuous movement of waves or surfers riding the wave.

Utilize Flash Light:

Excluding the golden hour, handling harsh shadows on the beach will be challenging. The use of a flashlight is an antidote for managing this problem. With the flashlight, you can't dominate the sunlight but can minimize the shadows on the face to create the perfect photo.

Use Polarizer Filter:

A polarizer filter is an excellent tonic for improving dark shadows, controlling overexposure, sweetening colors, and hiding the reflection of surfaces. During noon the brighter sun, the reflective seawater, and sand might affect the image quality. Therefore, it is worth using a Polarizer Filter

for beach photography at noon. Later, you can cut out image to get a perfect picture. 
Shoot RAW Photos:

JPEG and RAW are two photo formats you find in a digital camera. In RAW form, all the image data remains uncompressed, which you can fix in post-processing. Therefore, I recommend shooting water and sunshine in RAW so that you can fix them later. 

Explore the Beach:

Before implementing Beach Photoshoot, as a photographer, you should explore the beach area to find interesting photogenic spots. Also, find out the points you need to be cautious about for safety. Try to locate the sites at a walking distance if possible.

Cut off the Crowd:

Except for street photography, try to cut off the crowd for any portrait shoot; otherwise, it will distract the attention from the main subject. Try to follow the same rule while implementing Beach Photoshoot Ideas. Shooting in the sunrise can help you avoid the crowd.

Capture The Horizon Lineal

: While doing a beach photoshoot, keeping the sea as the background, it's essential to keep the horizon linear or straight. Even a slightly skewed horizon line can distract the photo. To maintain the horizon line, turn on the camera's grid lines and line up the horizon. Alternatively, you can use a bubble level to scale the horizon. Finally, you can adjust the level in post-processing.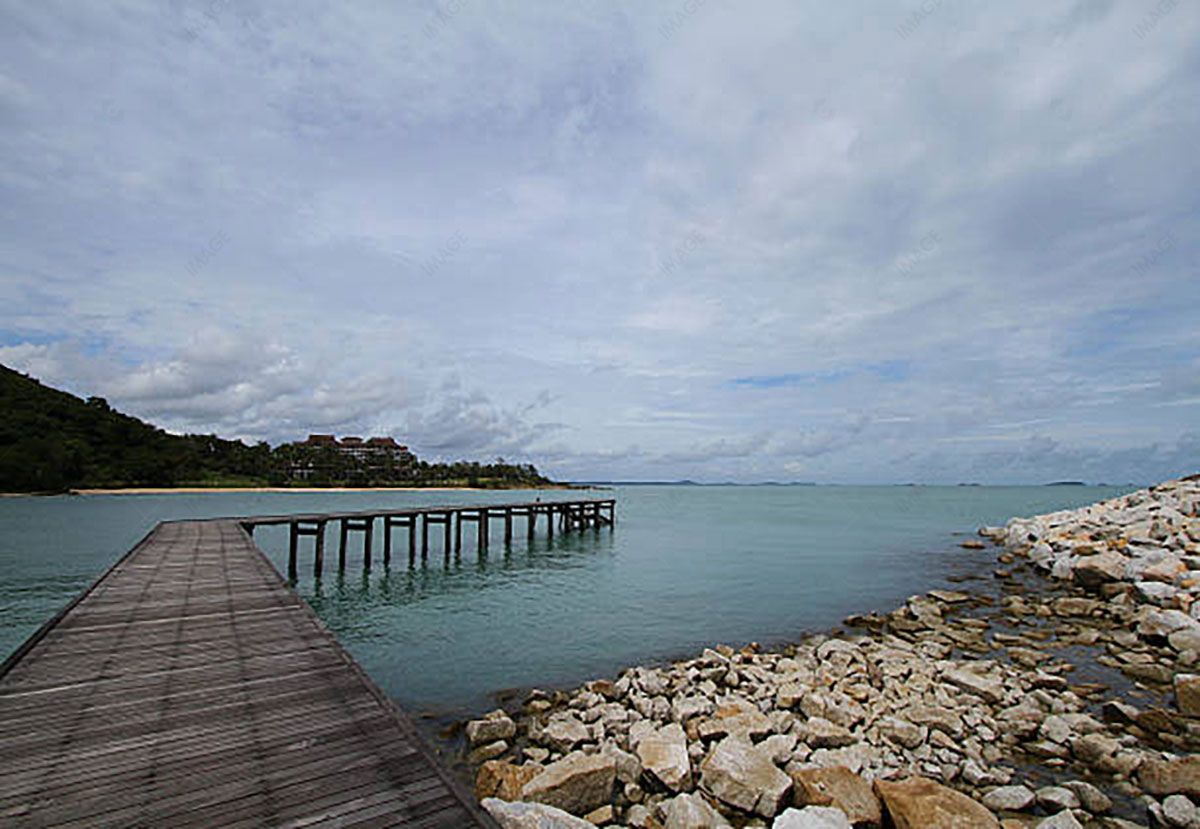 Helpful link: If you need the image post-production service, keep in touch with Cut Out Image to get world-class service. Start with a free trial.
Prioritize Safety:

While accomplishing Beach Photoshoot Ideas, make sure the wave or sand doesn't damage your devices. The powerful waves might endanger your life if you are not careful on a rocky beach. Think twice before entering a cave without an exit because the tide might block the entrance. During photography on the rocky shore, you might lose focus on the cautious things. Therefore, I always recommend prioritizing safety and taking an assistant there. 

Create a Checklist:

I always recommend creating a checklist to execute any photography plan. Beach Photoshoot isn't apart from those. So, make a checklist including what to do and what to carry. Here is a checklist of essential items you should carry in your bag for your Beach Photoshoot: 

Sunscreen

Sunglasses 

The bathing suit with sarong

Sandals 

Hat

Drinking water
Beach Photoshoot Ideas
Visiting the beach is relaxing, fun, and adventurous; Beach Photoshoot is the best way to frame the moments for a lifetime memory that can help you gather appraisal from others. I am serving tasteful Beach Photoshoot Ideas to the table to make your upcoming vacation fruitful. So, let's start ingesting.
#01. Capture Silhouettes:
Always it's not mandatory to include a clear view of the subject. Sometimes you can focus on silhouettes to create a delicate subject of the picture. During sunset, you can create breathtaking shapes with different poses like jumping, doing yoga, playing with the sun, romantic poses, etc. Make sure you are adjusting exposure to expose the sky accurately.
#02. Click Stormy Weather:
Everyone captures photos of the blue sea, sunny or colorful sky, sand, people, etc., as beach photography. But the feature can include capturing stormy weather too. If you are an adventure lover, you shouldn't miss the moment of capturing the daring look of the sea beach. However, flag up your safety first.
#03. Aesthetic Black and White:
By capturing black and white, you can frame the sea beach aesthetically and differently. Shoot the beach wider to create many bright empty spaces contrasting the subject. You can polish the photo using the Image Post-Production Service. 
#04. Beach Photoshoot Ideas for Couples:
Beach is the garden variety button for a couple photoshoot; therefore, you will find maximum couples and engagement sessions at the beach. For a beach photoshoot of the couple, you can ask the couple to talk and walk at the beach or waterline holding hands while you will capture the candid moment. You can ask to lean on the partner's arm with warm love and frame the lovely moment. You can also click the date or candlelight dinner moment at the beachside with a romantic mood.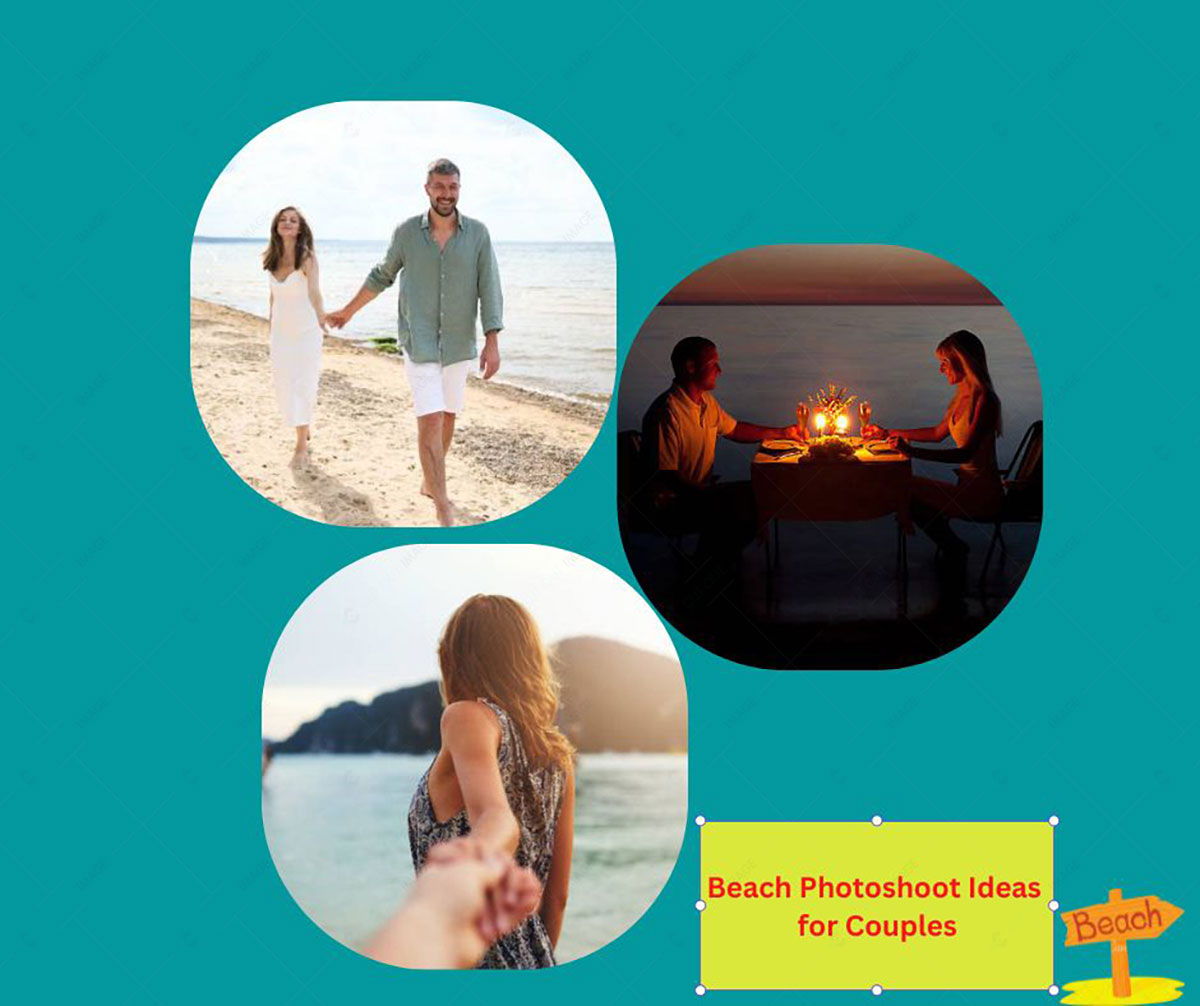 #05. Beach Photoshoot Ideas for Families:
Everything in the world changes over time, making us nostalgic. So, capture your family today to nostalgia in the future when they will not remain the same. Enjoy the upcoming holiday with family at the beach and frame the bonding on camera. Doesn't it sound like music to the ear?
Here are some Beach Photoshoot Ideas for Families: 
Walk along the waterline or beach with family members, talking and laughing. 

Pose for the photo by sitting or standing together. 

Pose like playing with children and laughing. For example, you can throw up the kid. 

Ask the kid star to pose like a model.

Photograph the family bonding of love.

Capture the sibling bonding. 

Capture the kids playing or drawing on the sand.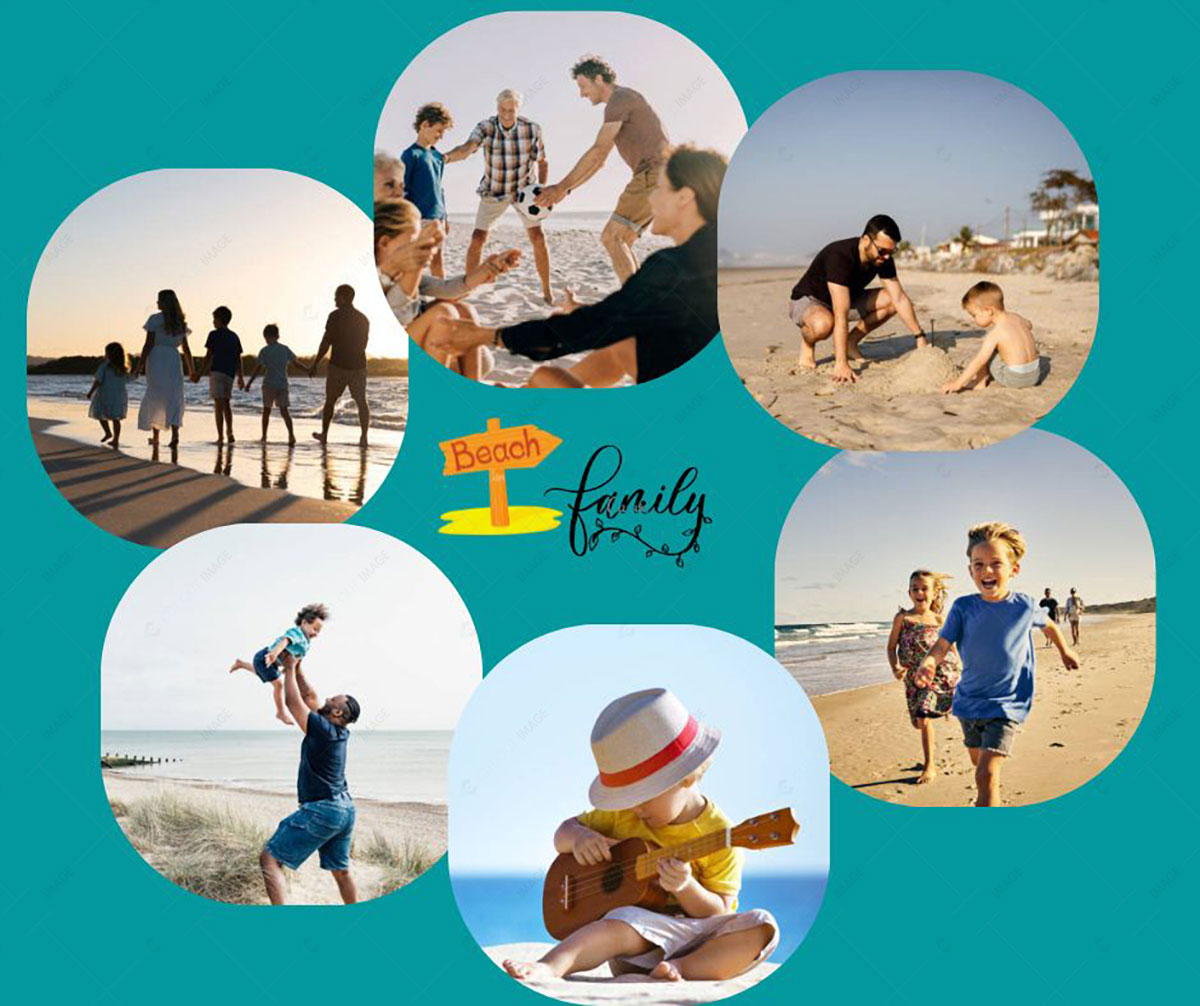 #06. Hand or Footprints in the Sand
:
One of the exciting and creative Beach Photoshoot Ideas is to frame a family member's or couple's hand or footprints in the sand. It will preserve the beach memory longer through photography and create an excellent impression if you can capture the prints striped up next to each other.
#07. Capture Beauty of Golden Hour:
Who doesn't like the golden hour? It creates a heavenly feeling among us since the temperature and the light are amiable at this time. It gives a magical view of the beach and the sky with the vibe of "Sky above. Sand below. Peace within." So, don't miss capturing the golden hour view as a Beach Photoshoot Idea.
#08. Coffee and sea:
Are you a coffee lover? If so, why shouldn't you include your love in your Beach Photoshoot Ideas? Before your peace of mind fades under your nose, comfort yourself and offer yourself a cup of coffee at the relaxing beach. Enjoy your coffee and shoot the moment during sunrise or sunset.  
 "Give me coffee to change the things I can and the beach to accept the things I can't."
#09. Creative Frame for Portrait:
Photography is about creativity. The more you think out of the box, the more creative your photography passion is. So, implement your creative ideas on your Beach Photoshoot. You can focus on your subject through different creative frames. For example, you can make a heart-shaped frame using leaves or hands. Luckily you can find cave entry path love or triangle shaped and use that as frame.
#10. Capture Sea Shells:
Sitting on a beach, you will enjoy the sea wave and find different shaped and colored shells. All the shells are unique in design, and their beauty is fascinating. So, you can set the shell as the focal point of your beach photoshoot. A close-up picture will define the design view. 
#11. Frame Friendship at Beach:
Are you planning to go to the sea beach with friends? Cheers to the good time you are going to enjoy! Then why not frame the friendship bonding, fun, and enjoyment through Beach Photoshoot Ideas? You can play different beach games in a group, like beach volleyball, beach frisbee, and jet skiing. Hopefully, you can also do fun activities like making a sandcastle, finding shells, and don't forget to capture candid moments.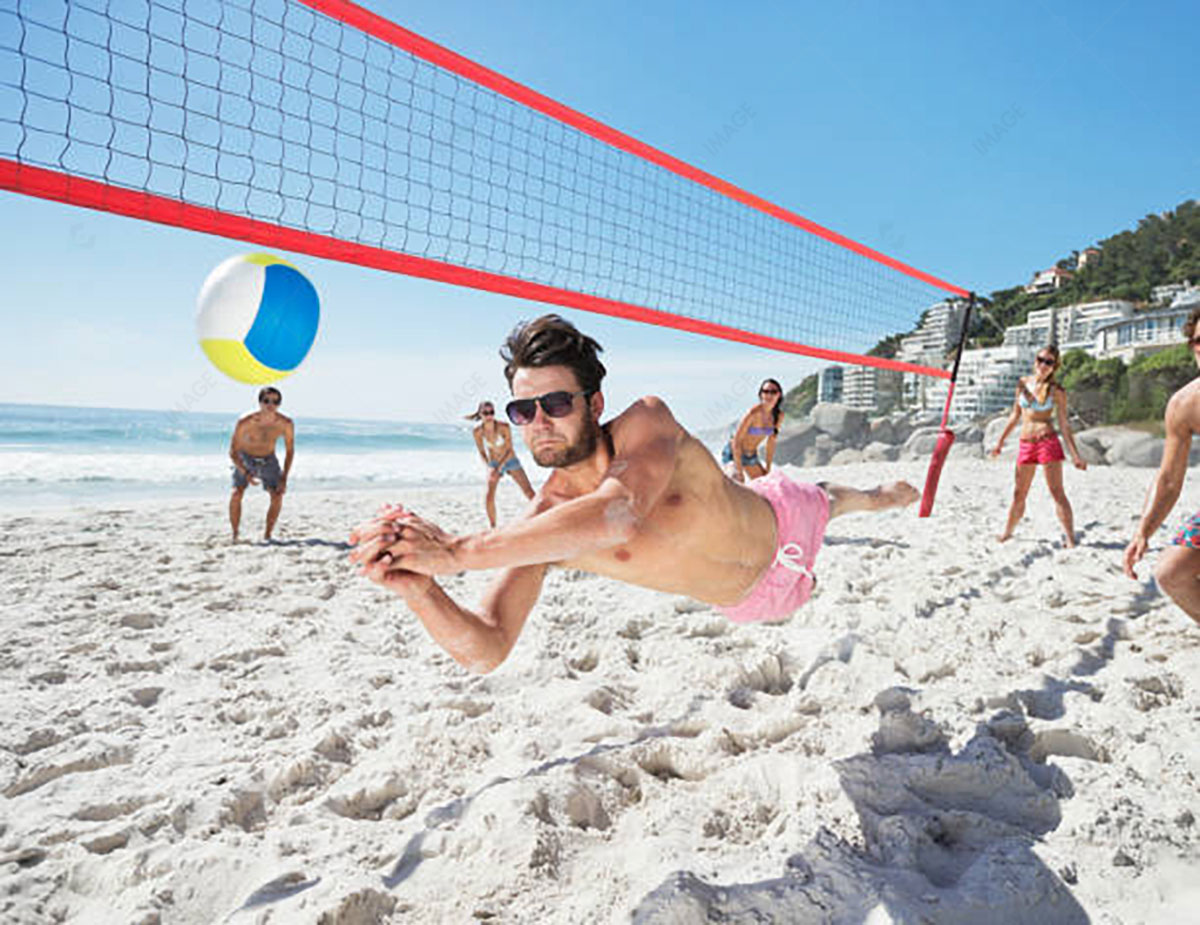 You can also implement a female birthday photoshoot at the beach wearing a similar dress and creating party mode by holding drinks in hand.
#12. Reflection Photography at the Beach:
Do you want to add fantastic effects to your Beach Photoshoot? Reflection photography is there to pick you up in achieving this goal. You can capture the reflection on water or sunglasses. Stand in the sand close to the water and ask someone to capture the photo with water reflection. Alternatively, keep your sunglasses on the sand on a sunny day and photograph the sun's reflection on the sunglasses.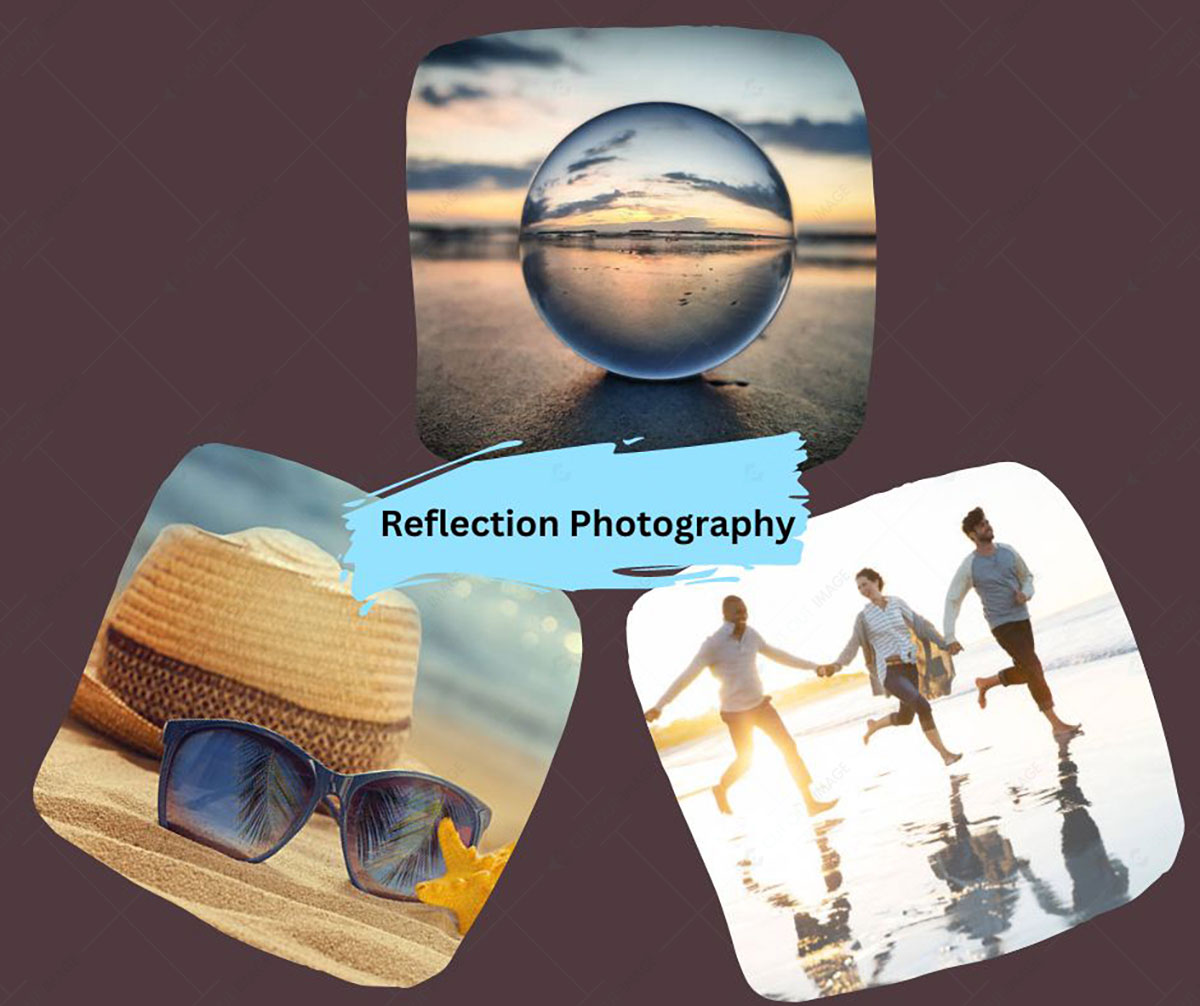 #13. Capture Riding on Bicycles:
Do you have a tandem bicycle? Bring it to the beach if possible, or rent one if available. You can use it in your Beach Photoshoot Ideas. It will add movement with a fun vibe to your photo. Take your partner or friends to join you.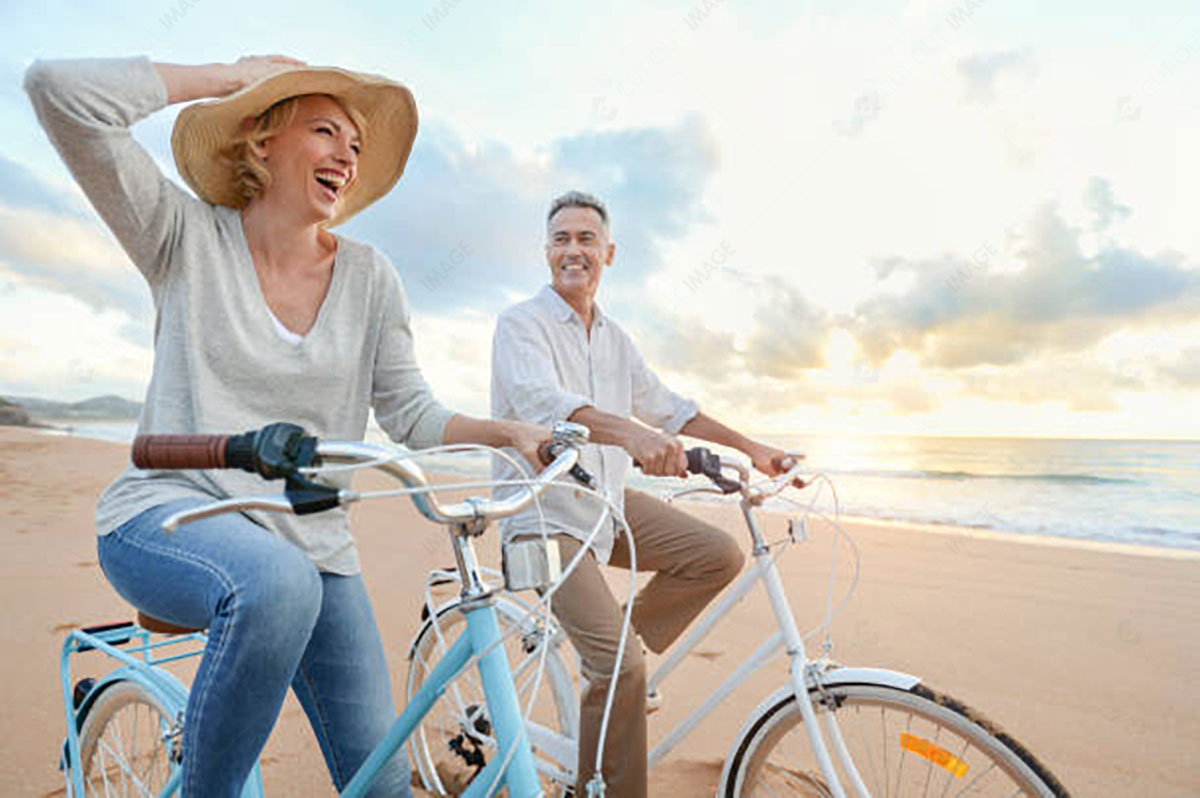 #14. Take a Selfie:
Selfie is like meat and potatoes in social media nowadays. So, don't feel bad if you can't find a photographer because a selfie is there to capture solo beach photos. You can implement the idea for your Beach Photoshoot using a tripod with a timer or a remote trigger. Alternatively, you can ask a stranger to help you in capturing photos.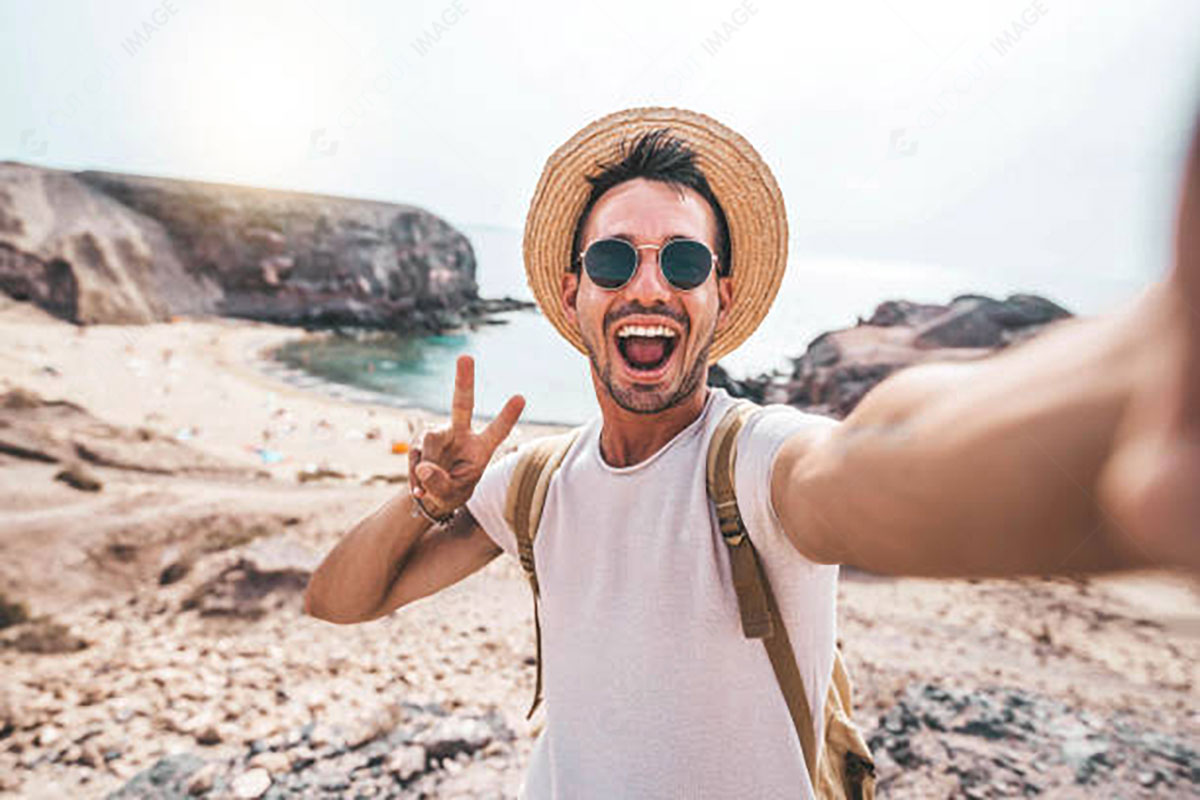 #15. The Book Nook:
Are you a bibliophile? Don't miss the relaxing environment of the beach while reading your favorite book lying on a hammock. You also can sit in a dockyard and read a book while drinking your coffee or refreshing drinks. This Beach Photoshoot Ideas will create an Instagram-worthy photo for you.
#16. Capture Yoga Pose:
The beach's relaxing environment is excellent for fitness lovers to do yoga. Doing yoga at the beach is beneficial to health. The fresh air will clean your lungs and boost your energy. So, enlist it in your Beach Photoshoot Ideas to capture yoga poses.
#17. Pose under a Palm Tree:
To create an authentic vibe in your photography, you can pose under a palm tree as a Beach Photoshoot Idea. You also can lean against a tree and hold a cocktail or coconut to add a chill mood. The palm tree, coconut, or cocktail will be beautiful props for fun and creative beach photography. 
#18. Aquatic Photos:
Is your camera waterproof? If so, utilize it in your Beach Photoshoot Ideas to capture Aquatic Photos. You can capture yourself diving under the sea. Alternatively, you can shoot the beauty of Marine life under the sea. It is one of the most creative photo ideas to capture the beauty under the sea.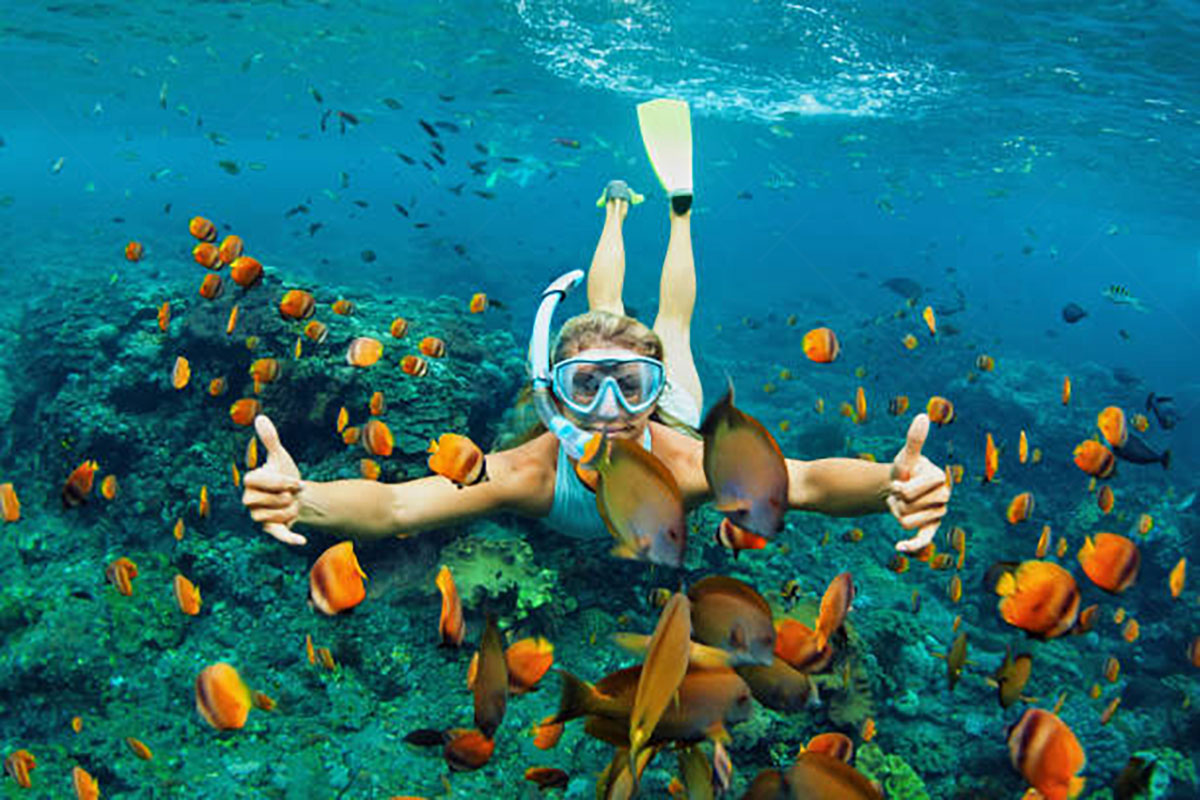 #19. Miniature Photography:
What if you play with toys at this age? It's incredible to create a miniature lifestyle photo using toys on sand or rock on the beach. You can buy such human-looked toys online. Capture in close view to make the toys look bigger than real. Remember the Rule of Thirds in Photography while composing the elements to make the image more interesting. You can also set a small umbrella or shed, spread a mini piece of cloth and keep a small book to create a reading vibe at the beach.
#20. Describe a Story:
A picture communicates a story. Execute your Beach Photoshoot Ideas to tell a simple story. You can capture single or multiple photos to depict the story. Make it collage in a story sequence in case of numerous images. 
You can capture parents expecting a baby by showing the kid shoes and toys in hand. You can depict the story of building a sand castle using multiple photos.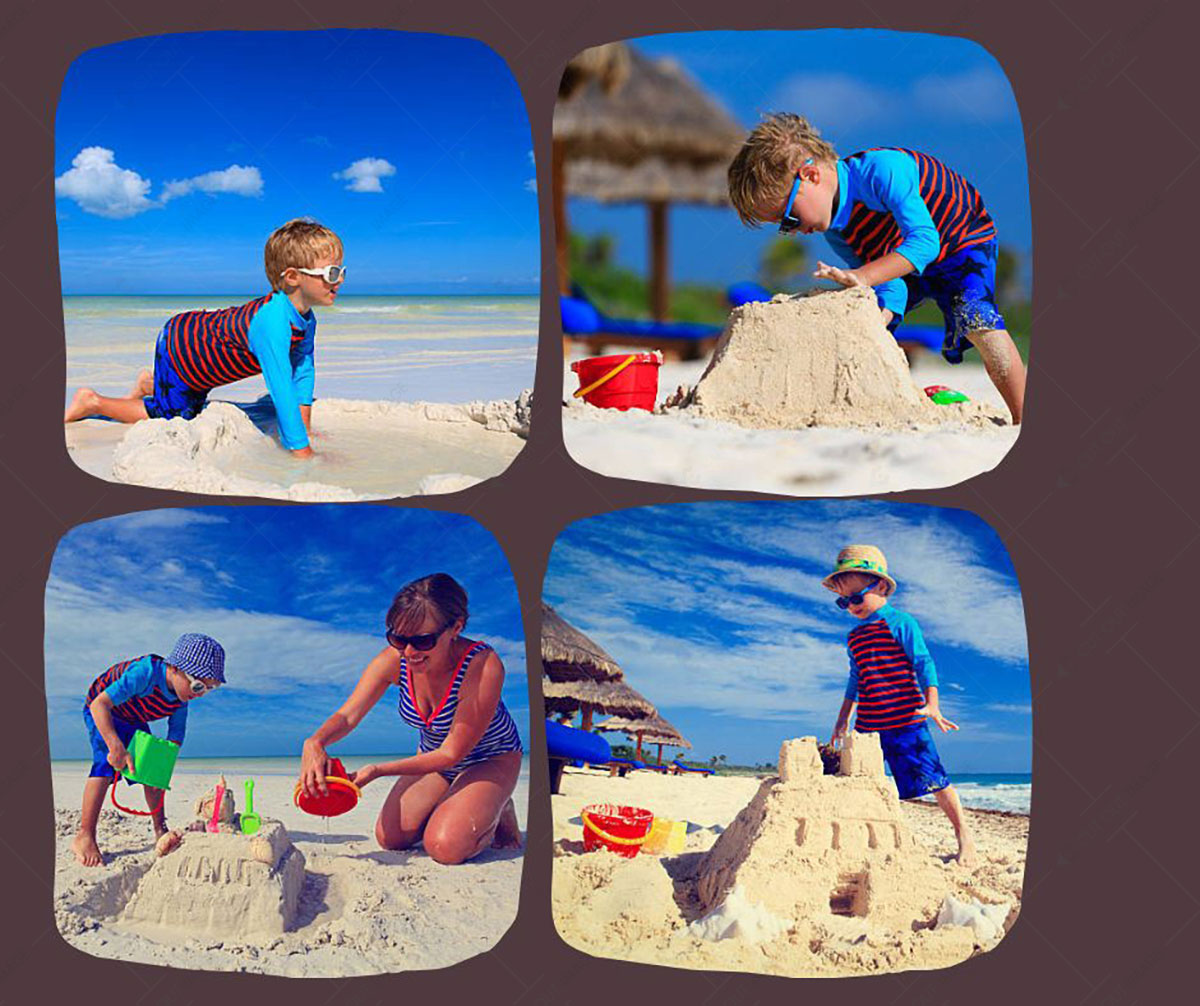 Also, you can illustrate the day on the beach by overlay photography, including towels, sunglasses, hats, sunscreen, and drinks on a mat over the sand. 

Ensure the story and photography are simple, related, and capable of displaying an understandable message.
#21. Draw or Write on Sand:
It's plain-Jane on social media finding sea beach photos, including different drawings on the sand. You can also try this on your Beach Photoshoot Ideas. It's effortless and doesn't require any tool. You must sit and use your fingers or a stick to write or draw something. Draw something simple like a heart, or write your name, a date and the place's name. You can write your favorite quote to upload on Instagram too. Adding a sea shell can create a great look in this picture. 
#22. Show your creativity:
If you are an aesthete craftsperson, you can use the sea or sand as a background to capture your craftwork. Combining blue sky and sea will work well to show off your nature-related creations. Try this photography during sunset or sunrise to avoid the harsh shadows over your artwork.
#23. Capture Flying Lanterns:
Flying lanterns have a 2000-year-old history in Asia. Flying lanterns, also known as wish lanterns, are fun activities near the sea beach after sunset. It has become popular on the main tourist beaches of Phuket. Capture the beauty of a fired flying lantern as your Beach Photoshoot Ideas. 
However, Flying lanterns aren't allowed on all beaches for fire hazard risk. So, before doing it, ensure it is permitted in a particular state or local law. If it is prohibited, alternatively, you can fly paper kites, Origami whales, and Bubbles!
#24. Message in Bottle:
Do you know about the message in the bottle? Since it contributes to ocean pollution, you can include it in your beach photoshoot differently. You can write a note on paper and put it in a wine bottle or any fancy clear glass bottle with a string. Brush lemon juice and fire on the paper note to get an incredible ancient scroll effect. Instead of throwing it into the water, set it on the beach sand and then capture photos. 
#25. Wedding Photoshoot at Beach:
What can be better than capturing a wedding couple on the boundless sea background? It creates a romantic background during sunset for a couple. If the sea beach is near the wedding venue, don't miss the opportunity to do a wedding photoshoot at the beach. You can hire a sea boat for an offshore session and select a low-crowd place for comfort.
#26. Birthday photoshoot at the beach:
Beach will be an excellent spot to implement some relaxing but fun 30th Birthday Photoshoot Ideas. On your 30th birthday, you can have a beach party with friends. This beach-themed birthday photoshoot will add a breezy vibe to your photos. Don't forget to bring balloons to create a birthday mood.
#27. Maternity Photoshoot at the Beach:
Maternity is an exciting period for a mother and the father because they are about to launch a new life into this world. The stunning sunset at sea beach is an excellent location for the mother to mark this time. So, include maternity photoshoots as your beach photoshoot ideas. Ask the mother to arch back, bend her leg close to the camera and relax her fingers when holding her belly. 
 Caution: Beware of the sea wave and rocky places for the mother's safety and pay attention to her comfort. 
#28. Product Photography at the Beach:
Not only portraits or the landscape you can do product photography at the sea beach also. You can execute the Beach Photoshoot Ideas for products related to the beach like Sunscreen lotions, sunglasses, Waterproof Phone Pouch, Sun Shelter, Beach Mat etc.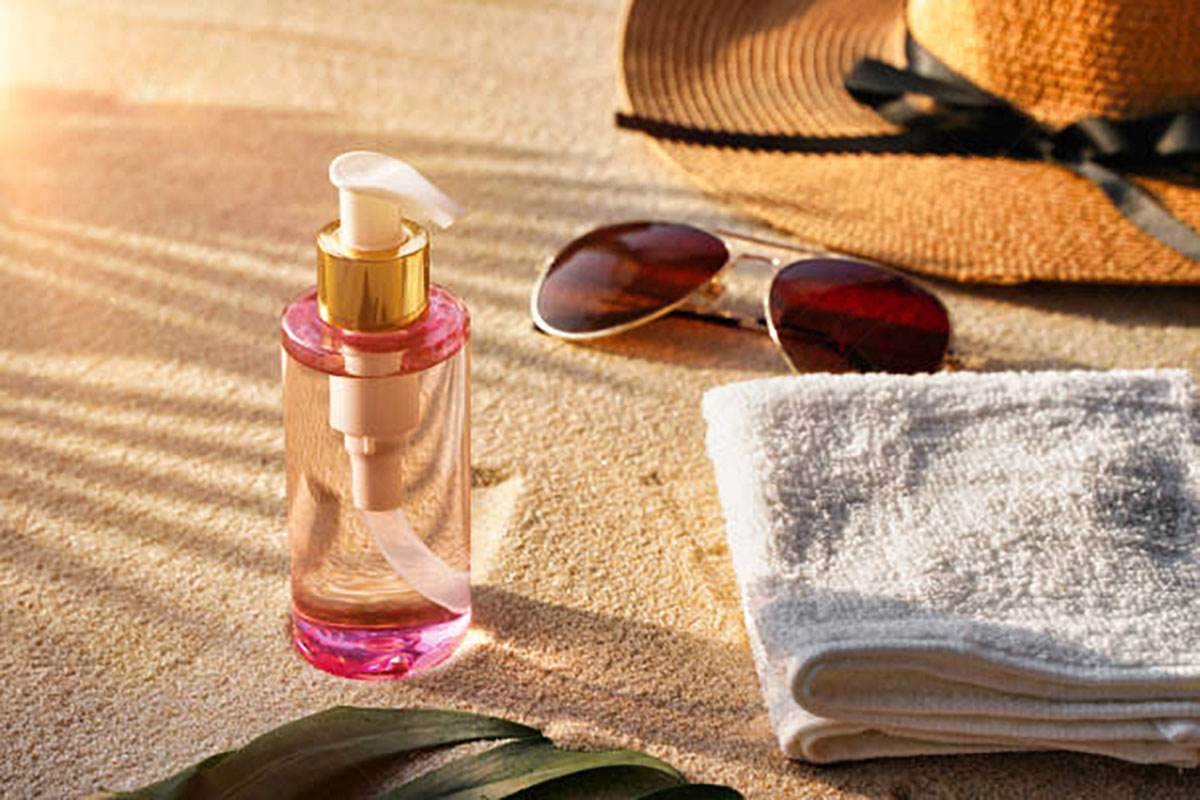 #29. Adventurous Photoshoot at the Beach
:
Are you an adventurer? Then this is the most fantastic beach photoshoot idea for you to jump from the high mountain to the seawater. Try this idea at your own risk since everyone is not eligible. Professional training and preparation are needed for a danger-free result. Alternatively, you can surf in the seawater or dive into the deep water. Later retouch the photo to get a stunning effect.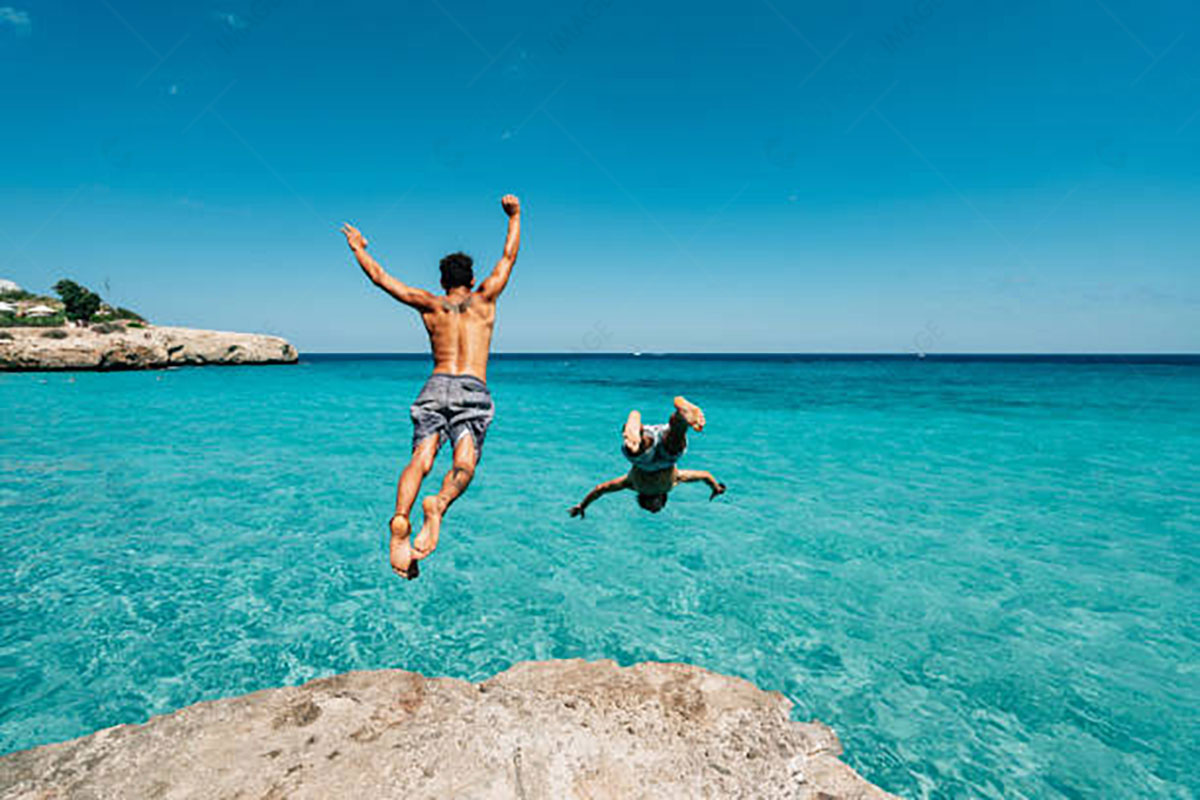 Try a free trial of photo retouching from Cut Out Image.
#30. Hand Tricks With Creative Props:
This is one of the coolest and funniest Beach Photoshoot Ideas to get praiseworthy pictures. Try hand tricks using props like a tiny paper umbrella, vegetables, flowers etc., close to the camera and ask your model to pose accordingly. For example, take a mini umbrella nearby the camera and focus on the model lying on the beach. That will give the view that the person is relaxing under the umbrella.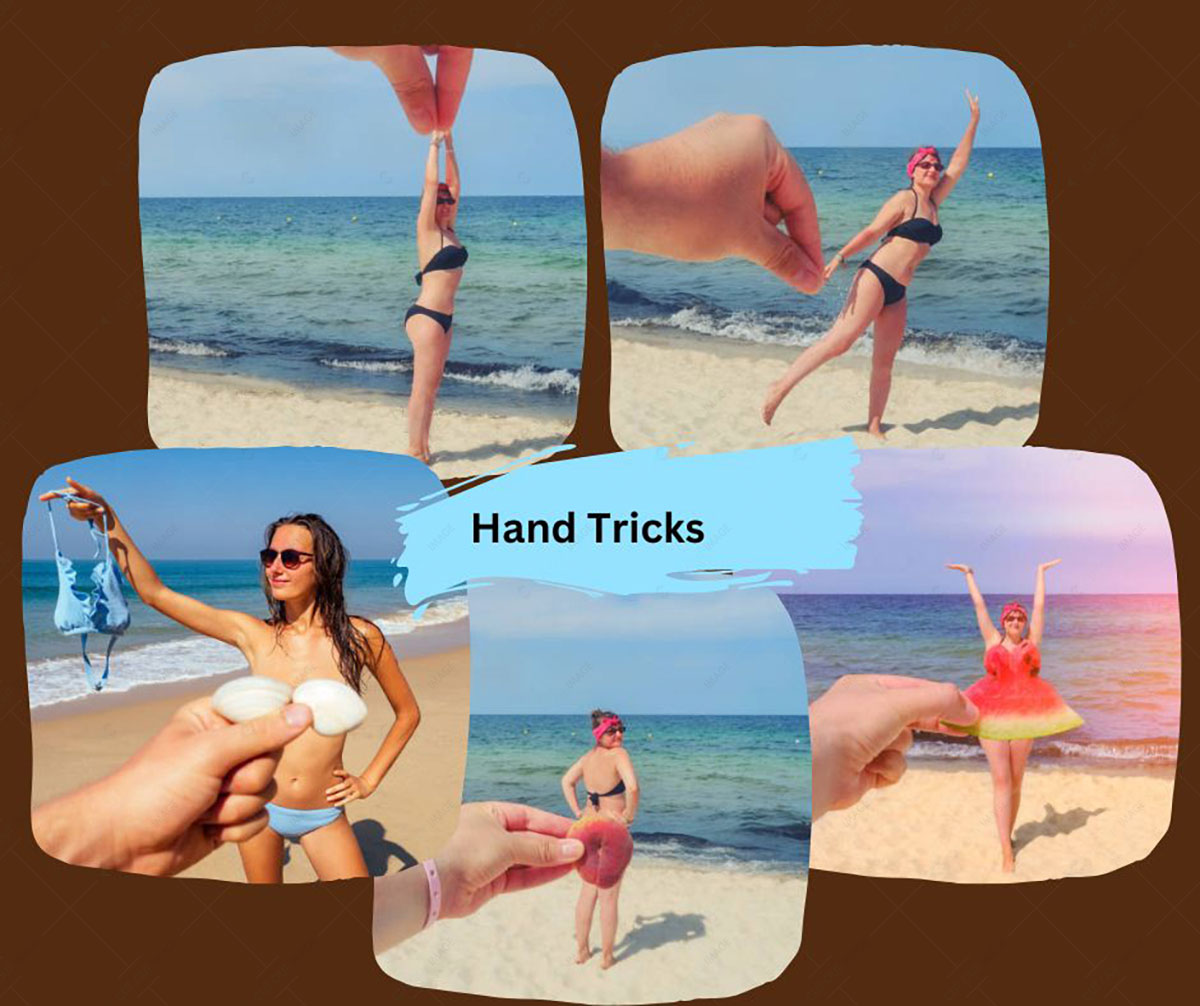 #31. Picnic at the Beach:
Nothing is better than enjoying good food in a relaxing environment like a beach. Therefore, as part of beach photoshoot ideas, you can set out for a beach picnic with friends or family. The salty air, warm sand and gentle wave sound create a great environment that makes the picnic enjoyable.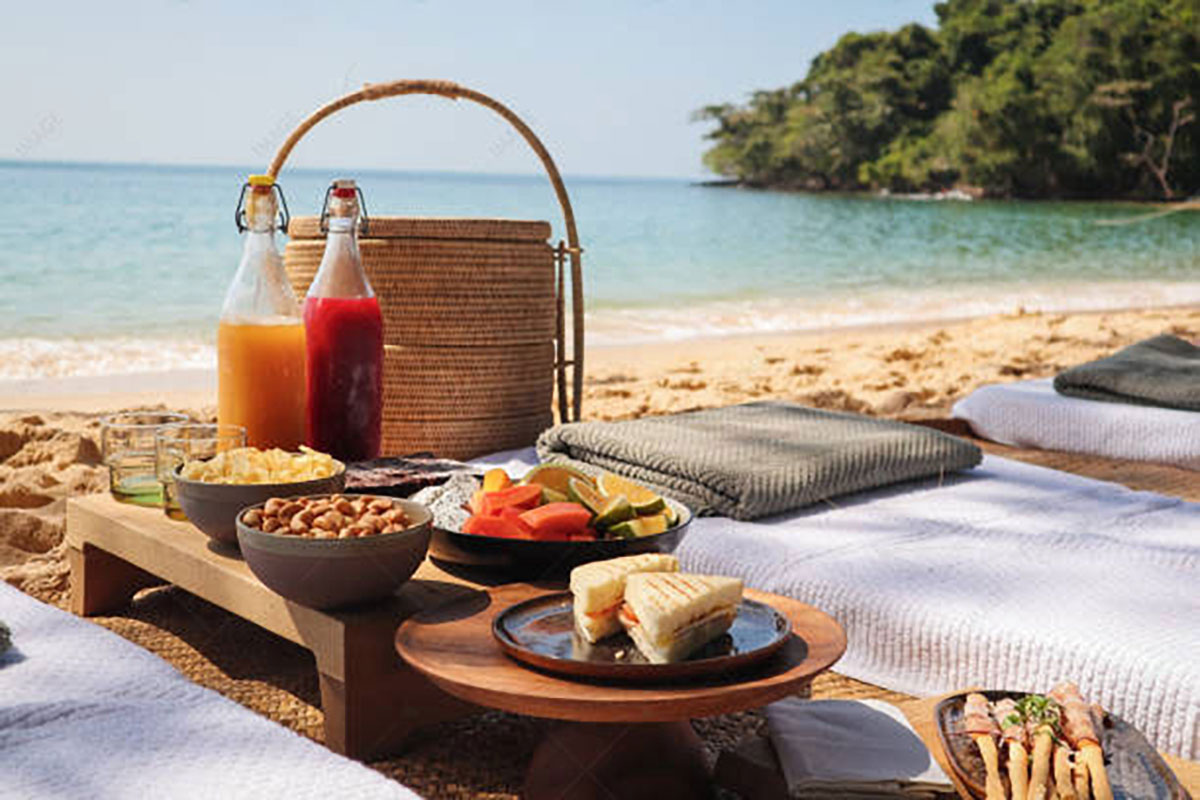 Final Words: 
Beach is a source of peace and beauty that you can frame creatively by doing Beach Photography. After reading this blog, you got a bunch of Beach Photoshoot Ideas. I hope you will love those ideas and take inspiration for creating an admirable beach photoshoot. Let's go and capture memories at the beach on your upcoming vacation.
Are you looking for more inspiration? Check out my other blogs-