Introduction
"Rain, rain, go away, come again another day. 
Little Johnny wants to play, rain, rain go away."
Do you want to snap the world uniquely? Then don't run indoors during rain because rain can add a unique, captivating touch to your compositions. It's tricky and challenging, but it lets you showcase your photography creativity admirably. So, why don't you play in the rain to be creative? If you are new to the rain game, this blog will guide you with Rain Photography Ideas. Embrace the ideas and create amazing pictures 
 "Rain showers my spirit and waters my soul." – Emily Logan Decent
Topline Summary
Reading the blog, you will learn about different rain photography ideas that you can accomplish using your phone or DSLR. You will also learn about the camera settings to capture the most amazing photos. Here are the topics I am going to cover in this blog: 
Camera Settings for Rain Photography

Rain Photography Ideas

Why Rain Photography

See also: Excellent 40 Summer Photoshoot Ideas 2022 
Camera Setting for Rain Photography : 
A few days ago, my friend tried rain photography and came up with a hangdog look because she posed very well, but the photo was not as expected. Can you guess the reason? 
Your excellent rain photography poses won't bring the expected results unless you deal with the proper camera setting. Here are some camera setting tips for you to accomplish Rain Photography Ideas: 
ISO
:
Since you are undergoing low light during rain photography, you need to adjust the ISO by increasing it slightly so that your photo doesn't result in underexposure. Additionally, the increasing ISO can benefit you with a fast shutter speed to shoot the raindrops.
Exposure:
You must consider the lighting for an overcast sky. So, you have to experiment with the exposure settings. I suggest changing the current camera exposure to a different level and applying it to the bracket if you are doubtful about the best exposure. However, if your photos become overexposed, don't worry because you can fix them later.

Helpful blog: How to Fix an Overexposed Photo
Shutter Speed:
You must have used a fast shutter speed to capture the running object. The same technique is applicable for capturing splashing water or droplets as Rain Photography Ideas. You can set the speed at or below 1/250 sec to go slower or faster. Remember, the slower speed captures the dreamy image but overdoing it can lose the focal point. 
Aperture:
To accomplish creative Rain Photography Ideas, you should set the aperture from f/8 and change it gradually to capture mesmerizing photos. Remember, a larger aperture contains more lights in the camera and maintains a fast shutter speed. For the best result, use a prime lens with a wide aperture. 
Focal Point:
If you set the focal point autofocus by default, you might risk focusing on important subjects for the photo. Even the cut out image process won't help resolve the issue. Therefore, you should apply manual focus to decide which part to focus on in the scene.  
Light Source:
Light is the heart of photography that can break or make a photo. Since you already experience low light on a rainy day, you can pay attention to bright windows during the day and billboards, traffic lights, car headlights, etc., while photographing outside in the evening or at night. In addition, you can use flash in manual mode to add a creative look to your rainy photography ideas. Remember, you should shoot in raw format to polish the images using the image post-production service. 

Helpful link: Try the Photo Retouching Service of Cut Out Image to polish your rainy photographs.
Rain Photography Ideas
When it rains, don't go inside, sidestepping photography. Instead, take advantage of your Rain Photography Ideas. Here presenting some creative and fabulous Rain Photography Ideas: 
#1. Frame Stormy Weather:
Do you want your photo to be scary? Often, rain comes with dramatic cold and stormy weather. So, don't miss the chance to capture the ominous weather by applying creative rain photography ideas. Such photos will impress the viewer with a scary impression.  
#2. Snap the Rainbow:
A rainbow is always special for landscape photographers. Luckily if you find a rainbow after a rain, don't miss the opportunity to snap the rainbow with its beauty. Do it quickly because it will stay for a few moments.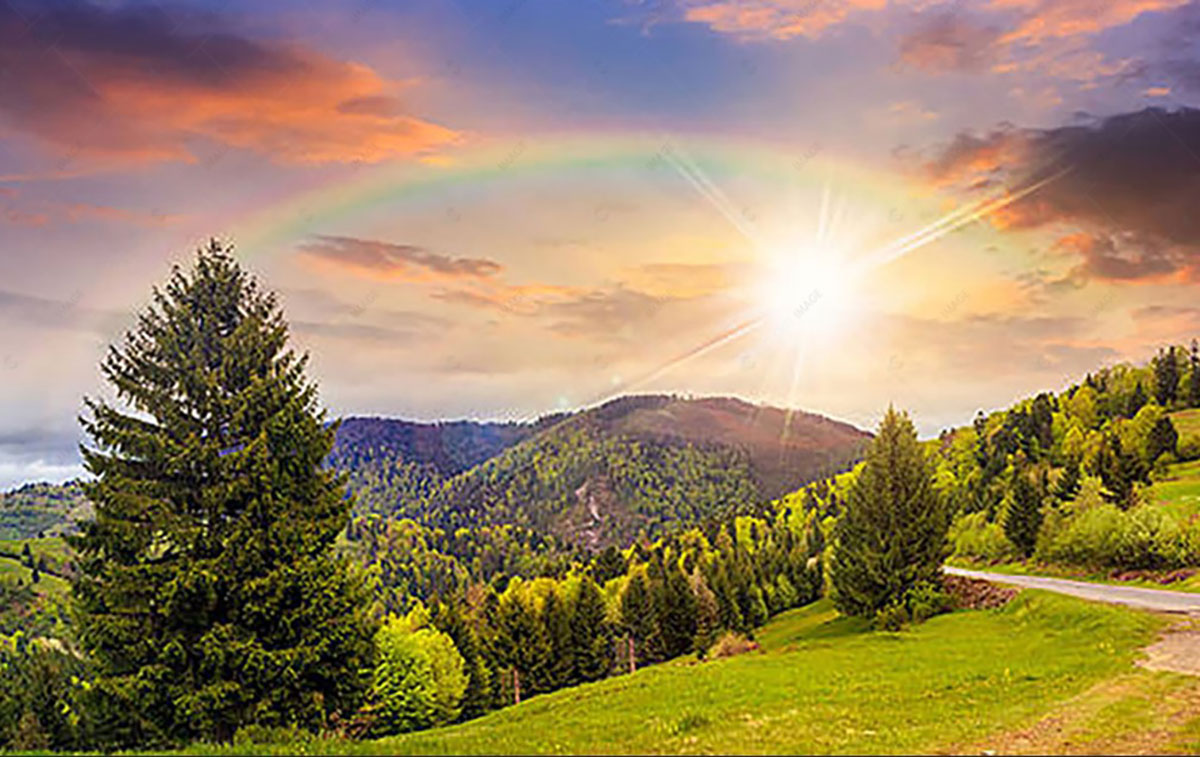 #3. Kids enjoying rain
:
Rainy is a favorite day for kids; they love to play in the rain and have fun. Use your camera to frame their enjoyment in the rain as one of the Rain Photography Ideas. Focus on their smiles too. 
#4. Tea and Book
:
Drinking hot tea and reading a book is the best way to enjoy a rainy day. Moreover, it will create a beautiful environment for reading if you can listen to the rain sound and light the candle with a lovely fragrance. Frame up such cozy activity and atmosphere in your Rain Photography Ideas. 
#5. Capture Rainforest: 
The rainforests offer incredible scenery during rain. Amazon, Congo, Australasia, Sunderland, and Indo-Burma are the world's extensive rainforests that you can visit to run the rain photography ideas. However, you can also visit the Hoh Rainforest in the Olympic National Park in Washington if you live in Forks.
 Note: Carry good rain gear while visiting a rainforest to stay dry and warm. Don't forget to wear waterproof boots before leaving home. 
#6. Snap the Thunder with Lightning:
Are you an adventure lover? Then you can capture the thunderstorm with lightning as rain photography to reveal your passion for adventure. Such lightning will add a dramatic look to your photo if you can capture it correctly, setting the exposure time between 5 to 10 secs.
#7. Macro Photography:
Following the song "My favorite things," you can go for macro photography to shoot raindrops on a rose or any flower. I must admit that photographing the raindrops on flowers, leaves, trees, spider webs, or any object can bring out amazing scenery for your rain photography. Use a macro lens to get the perfect shot. 
#8. Artificial Rain:
You might live in a place that doesn't rain much, but you want to accomplish rain photography. What to do, then? Telling the secret in your ear, 'You can fake it!' Yes, you heard correctly. You can go to the garden and spray water on the flowers or leaves using a hose or spray. The water will create drops that you can capture by faking the raindrop. 
Sometimes, it also happens that you have caught a storm cloud with rain, but after photographing, you find the rain isn't showing as expected. So, you can add digital rain to solve the problem.
#9. Capture the Umbrella:
Umbrella is the essential thing you need on a rainy day. So, you can use an umbrella as a prop for your Rain Photography Ideas. Capture a colorful umbrella with raindrops to describe the rainy day. You also can use the umbrella as a frame for your photo. You can emphasize the umbrella's robust and bright shape, capturing it from a bird's eye view. 
#10. Shoot Splashes of Raindrops:
What else can be as beautiful as capturing the raindrop splashes? It is one of the best Rain Photography Ideas to shoot raindrops, splashes or rolling rain on any object during rain time. You can find such raindrops or rain splashes in various scenarios as below:  
Rainwater splashing on walls or ground.

Raindrops falling on windows or car windows.

Children splash water by jumping and playing.

Raindrops or splash on pool or damp places.

Rainwater falling from rooftops. 

Holding rainwater in your own hands
 Apply a higher shutter speed ranging from 1/1000th to 1/2000th per second to freeze the splashes. If necessary, lower the rate. 
#11. Illustrate water reflection:
If you are afraid of taking the camera out during the rain, you might not capture the rain time, but you won't miss rain photography. You can come out after the rain and explore some waterholes with incredible reflections of buildings, trees, streets, etc. Capture the reflection from the water. Use a prime or zoom lens to get the best picture. You can use a macro lens to capture reflection from droplet water. 
#12. Product Photography:
Product photography demands an actual situation to make it believable. You can use the raindrops or rainwater splash on your product, like fruit or vegetables, to create a fresh look with reality. While capturing the photo apply a slow shutter speed with a close view of the product. You can do it for selling or passion for capturing the aesthetic freshness. 
#13. Rain and Food:
We stay home during the rain, and we love to eat different delicious food during a rainy day, including hot drinks like tea, coffee, hot chocolate, etc. Take food beside the window, and capture the moment of enjoying the food and rain as your rain photography idea. 
#14. Abstract photography:
Abstract photography has become trendy nowadays. Without paint, you can create an abstract photo on a rainy day. To accomplish it, you have to find beautiful frames surrounding you. You can include the below places to create an abstract photo for Rain Photography Ideas: 
Puddles

Glass Door or Window

Car Window

 Plants, twigs, flowers
#15. Fun in Rain:
Want to add joy to your photos? Then ask your subject to pose like having fun in the rain. You also can capture candidly random people having fun in the drizzle. You can capture children having fun by jumping in the puddles, splashing water, and getting drenched in rainwater.
#16. Capture Fauna
:
Similar to humans, the Fauna or the animal world behaves differently during rain. For example, birds stay in the trees to save themselves from rainwater, while insects look for dry places. You can capture their photos as your Rain Photography Ideas.
#17. Rain and Music:
"I'm singin' in the rain, just singin' in the rain.
What a glorious feeling, I'm happy again…..????????????"
Rain brings emotion to us. We enjoy music and think about sweet memories during the rain. As a rain photography idea, you can capture yourself enjoying music during rain. 
#18. Street Photography:
An excellent subject for your rain photograph is the street with rain, which creates a stunning photo. However, it also creates challenges that you can overcome by taking proper gear protection. Some good street shots include- 
People using an umbrella or wearing raincoats

Reflection on puddles or raindrops

The lights with rain on dark 
 Invest in a waterproof camera case, camera bag and lens hood to protect your gear from rainwater. 
#19. Snap the Charm of Night:
A rainy night is a good time for creating unique and admirable photos for your rain photography. The lighting of traffic, lamp posts, car headlights, etc., create a magical charm in the image of rain at night by vibrating against the darkness. You can add fairy lights if you want to accomplish rain photography ideas at home.
#20. Snap Through Crystal Ball:
Are you thinking about how to take rain photos using phone? You can't take your phone outside while it's raining, but you can wait till the rain stops. Then go out and place a crystal ball in a way that reflects a scenery containing buildings, trees etc. Then, take close-up shots using the macro lens to capture incredible detail in the crystal ball reflections.
#21. Rainy Wedding Photography:
What if you are doing wedding photography and the rain starts? Will you stop photographing? Don't do that; instead, take advantage of romantic weather. Ask the couple to pose using an umbrella to create a romantic scene. It will help you capture the happy couple with sweet moments. 
#22. Black and White:
Because of low light in a rainy atmosphere, the colors of the photographs get muted. To bring a balance, you need to add a light source. Then, play with the light and darkness and capture the photo in black and white to make an aesthetic photo. To get the best output, employ image post-production using photo editing software. 
#23. Image Post-Production:
Only capturing can't ensure a perfect photo, so even a proficient photographer takes the image post-production service to eliminate all imperfections. You can use photo editing software like Adobe Photoshop and Lightroom to do it by yourself or outsource the service. In addition, you can contact Cut Out Image to get global-quality image post-production services. 

Try out their Free Trial before onboarding the ship. 
Significance of Rain Photography
If you think only sunny days are perfect for photography, you live inside the box. So come out of the box, drench in the rain and capture the beauty of a rainy day. Trust me, the rain will provide you power and grace to capture the fantastic and mysterious beauty of nature. Here are a few significance of applying Rain Photography Ideas: 
* Create Engaging Images:
You can create engaging and dynamic images using the rain as a backdrop, articulation, or central component. Once you know how to use the rain in your photo, you'll no longer think the rainy weather will destroy your photographs. 
* Develop Skills:
Rain will provide a fantastic opportunity to work with different light states, reflections, and camera settings. Consequently, it will help you develop your photography skill. Besides, it will benefit you by using your creative mind and visions
* Present  Different Nature:
The rain changes the usual geographies into gloom and mystery during heavy rainfall. Such an environment furnishes beautiful components for photography that you can't usually find. So, don't let the rain stop you from capturing the distinct modes of nature using Rain Photography Ideas.
 Note: Ensure high protection for your gear if you are using it outdoors in the rain.
* Enhance Emotion:
Rain comes with different emotions, making people happy about good memories, sad about tragic events, nostalgic about childhood, and anxious about bread and butter. Besides, Rain adds magic to the environment, making people think about love, poetry, or literature. So, frame them using rain photography ideas. 
The Final Thought
Every rainy day comes up differently. So, you can apply rain photograph ideas to create unique pictures and stories unceasingly. Considering everything, I hope the blog has provided you with enough inspiration to set out for a rain photograph. Therefore, be updated with the weather forecast and get ready with your gear to capture the different moods of each rainy day. 
Let me know which idea you loved most and which you did not. Then, stay tuned to read my upcoming blogs. In the meantime, you can read my following photography blogs: