Family is the genuine source of unconditional love, bonding, caring, and sharing. Creative family photos generate lifetime memory framing such incredible moments. However, it is challenging to photograph the family if it is large. Are you from a large family and planning for a photo session? Don't be stressed thinking about the challenges. Rather, continue reading the blog to learn about Creative Large Family Photo Ideas and make the session fun. 
To Sum Up
Family photos have the power of traveling time, making you nostalgic about your whole life. In this blog, I will share a bunch of Creative Large Family Photo Ideas to help you make the session fun instead of challenging. I will also brainstorm on preparation and reason for such photography. Let's have a glimpse of the topics of this blog:  
What Is a Large Family? 
"Family faces are magic mirrors. Looking at people who belong to us, we see the past, present, and future." -Gail Buckley.
A family is a group of people living together related by birth, adoption, or marriage. A large family consists of five or more members, including several generations. The members might be biological parents, their children, in-laws, siblings, grandparents, aunts, uncles, and cousins living jointly in residence.
If we compare family with fruit, we can call the large family orange because all the individual parts stay together here. Though having a large family seems chaotic, members are happier than others because of having stronger emotional relationships. 
Groundworks for Creative Large Family Photo
Creative Large Family Photography is challenging, but you can accomplish it with fun and efficiency by doing some groundwork. Let's know about them to make the session fruitful. 
01. Define Intention: Why do you want to do the Large Family Photo Session? Are you going to do it for wall hanging, making an album, printing purposes, or making holiday cards? Find the intention behind your action plan to help you determine other activities, including pose ideas, selecting a location or outfit, and making arrangements.  
02. Fix a Date: A large family contains many members, and they might not always be available. So, to make the session happen, you should fix a date when everyone is attainable to participate. You can also select an event like Christmas, a wedding, etc., that almost everyone will attend. 
03. Set A Budget: Before you jump to implement Creative Large Family Photo Ideas, think about a few things- 
Will you hire a Photographer or capture by yourself? 

Will you outsource a photo retouching service or do it by yourself?

Will you do the session indoors or outdoors?
There is no free lunch in the world. So, if you hire a professional photographer, outsource photo retouching services, go outside for photography, or buy outfits and accessories, you need a budget. Therefore, think about the need and set the budget. 
04. Select Location: After setting the budget, you should select a location if you want to do outdoor photography. Try to choose the place according to family taste, having good sunlight, and being accessible to all. You can select natural settings like beaches, forests, parks, open fields, etc. You can also choose vintage locations like rural barns, old-fashioned cafes, historical places, etc. 
05. Create a Checklist: Once you are done with initial planning, it's time to create a checklist to avoid mistakes. You should include the date, place, time, outfits to wear, poses to give, other arrangements etc.
Creative Large Family Photo Ideas
Creative posing is essential for Large Family Photography, and you can accomplish it using multiple ideas. Let's have a view at Creative Large Family Photo Ideas: 
01. Stand in Balance: It's impossible to capture a large family side by side because it might cut off a few members from the side. So, as an idea for a Creative Large Family Photo, you can consider the members' height and set them from tallest to shortest. Ask the taller members to stand behind and the shorter children in front. It is an excellent idea for showing your family's growth over time.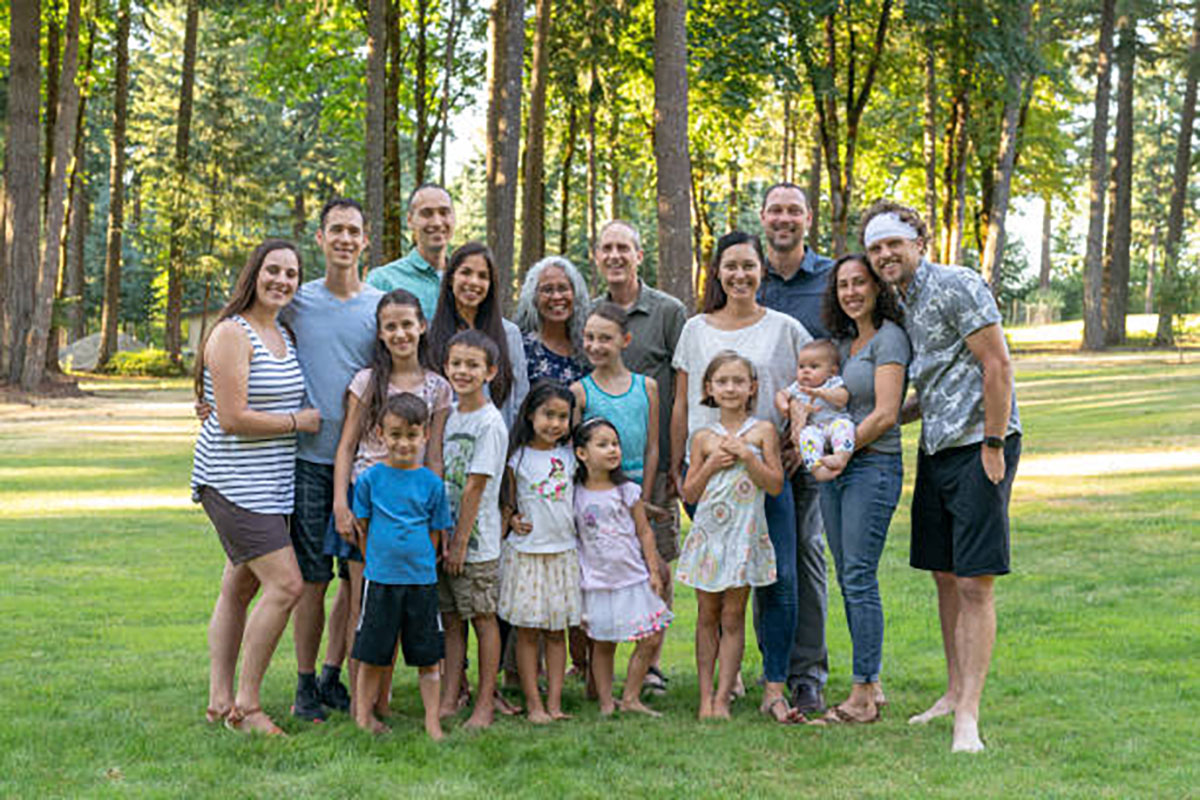 02. Lie Down: If the members share a good bonding, you can capture a lie-down pose of them. Ask the elder members to lie on the ground and the children to lie over them. Before implementing the idea, ensure they are comfortable with this pose; otherwise, you can ask them to lie in a circle. 
03. Capture Sitting: Since you don't want to block any member from the photo, sitting is a good way to capture them together. All the family members can sit in a room, yard or stairs and shoot them from a low angle to ensure everyone's faces are visible. It is a great idea to show off your family's closeness. 
04. Capture having a Campfire: One of the Creative Large Family Photo Ideas is to set a casual campfire and capture the moment perfectly. Try to snap in the evening or on any cloudy day. It will help you capture everyone's face using daylight since a firelight is not enough to enlighten all. Shoot several pictures to select the best one after culling. What does culling mean in photography? Check out my blog to learn about this.
05. Snap Dinner Moment: Dinner is an important time for a Large Family because it is when all the members can sit together after daylong work. One of the Creative Large Family Photo Ideas is to capture this moment and make it more creative by setting it outside. Set the table simply with no-frills dishes to avoid distraction. Capture from the same level or high angle to focus the table along with faces. 
06. Portrait Notable Time: You can capture big moments of your family life as treasurable memories. Reunions, birthdays, holidays, or any happy celebration can be a significant part of Creative Large Family Photography. These times offer plenty of chances to showcase your love for one another. You can also illustrate the memorable time of doing favorite activities like fishing, boating, surfing, traveling, etc. 
07. Wedding Photo With Family: Don't miss the opportunity to capture the lovely family at the wedding. Ask all the members to stand beside the bride or groom with poses that reflect their unique style. 
08. Beach Photoshoot With Family: The beach is a wonderful environment for creating treasurable memories forever. You can include blue and golden hour beauty while implementing large family Beach Photoshoot Ideas. Blue hour is great for creating artwork where you ensure lighting on the face and an underexposed background showing the blue color sky. As a pose, the members can surf in the water, play games on the beach sand, or build castles.
09. Shoot Outdoor: You can arrange the photoshoot outside to implement outdoor large family photo ideas. For such photos, you can select several locations like golf fields, botanical gardens, a pick-your-own orchard, sunflower or lavender areas, skating spots, farmer's markets, or playgrounds. 
10. Frame Crazy Moment: Do you belong to a large jovial family? This idea is for you to illustrate the family vibe through photography as a Creative Large Family Photo Idea. Capture the funny moments of the family that will make you laugh in the future. You can also wear different costumes illuminated by Halloween, Christmas, Super Heroes, movies, etc. 
11. Capture Picnic Time: With a large family, you can go for a picnic and capture the precious moment as a Creative Large Family Photo Idea. You can do the picnic anywhere, like your own backyard or picnic spot, park, forest, or natural environment nearby you. 
12. Fall Photoshoot: Fall is the season of reaping that appears with beautiful color and flavor. You can do fall photoshoots as Creative Large Family Photo Ideas. To accomplish it, you can explore the corn maze or cowboy places and capture the photos keeping corn stalks, hay bales, etc., as backdrops. 
13. Winter Photoshoot: Don't confine yourself indoors while it's snowing outside in winter. Go out with family members and picture the Creative Large Family Photo showcasing your family playing, chuckling, and enjoying the blankets of white snow.
14. Summer Photoshoot: Summer is the season of traveling and capturing colorful photos. So, you can travel with your large family and implement Travellers Photography as Creative Large Family Photo Ideas. If you can't afford to travel, don't worry. To capture memorable photos, you can visit local places, pools, or nearby sea beaches.
15. Spring Field: Spring comes up with various colorful flowers, and you can't deny the beauty of the flower field. Visit nearby flower fields with family and capture the family enjoying the moment. 
16. Click Candid Shots:  Real life is beautiful and candid shots are king. So keep a few candid pictures of your family members as Creative Large Family Photo Ideas. Let the kids be a kid and click the candid pictures of playing or laughing. So, include elders in candid photos while they talk, have fun, or laugh. 
17. Use Props for Photography: You can use different props on your Creative Large Family Photos. You can hold a large photo booth or frame and ask all members to pose from that. Alternatively, you can hold food or other objects as props and capture the picture.  
18. Monochromic Beauty: Monochrome or black and white adds an elegant vibe to any photo with timeless beauty. Show elegance in your Creative Large Family Photo by implementing the monochromic effect. You can apply the filter while capturing. You can also implement it as image post-production or outsourcing from such a service provider.  
Helpful info: To get a perfect monochromic effect and retouch the full session's photos, you can outsource image post-production service from Cut Out Image. 
Outfit Ideas for Creative Large Family Photo
Are you worrying about outfits for family photos? Harmonizing large family photo clothing ideas can be difficult because you have to think about multiple people having individual styles and choices. Make the process stress free as much as possible by below tips: 
Matching T-shirts:

Show your family's similarity of feelings and thinking by wearing matching T-shirts with jeans or khakis. Ensure the T-shirt is simple and pristine.
Coordinated outfit:

Completely matched color outfits were popular in the past. If you don't want to wear a similar color, you can coordinate by picking 2 to 3 colors. Consider the season, location, and individual color pallet choices for the color selection. While selecting 3 colors, ensure 1 color is neutral, like white, black, khaki, gray, or blue. For example, you can combine hot pink, turquoise and navy blue as outfit colors. You can take more color combo inspiration from

Pinterest

.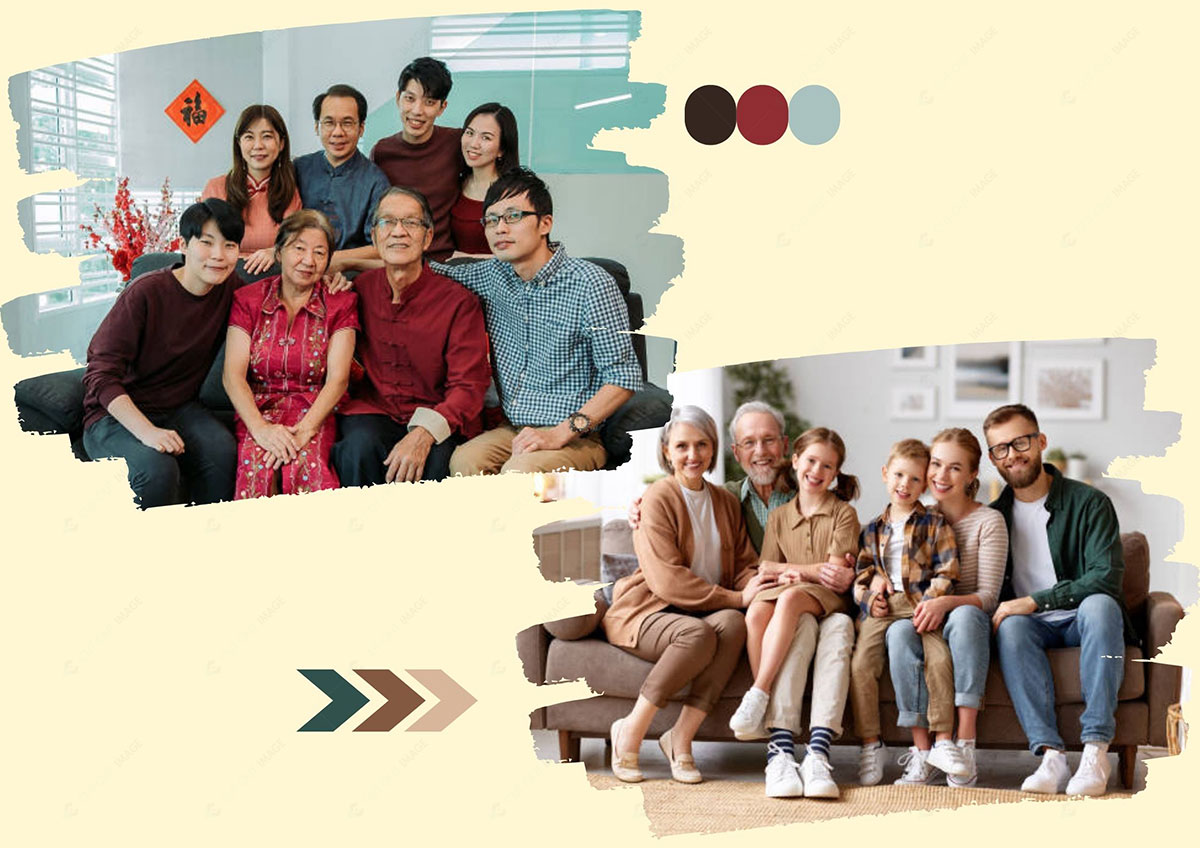 Forecast Seasonal Color: It doesn't matter what type of attire you select, but the color matters. Consider the season for choosing the color as below:
         1. For Spring, select pastel colors like blush, mint, cream, lavender, etc.
         2. For Summer, select vibrant colors like lemon, turquoise, red, etc.
         3. For Fall, choose earthy colors like amber, pumpkin, maroon, dark green, etc.
         4. For Winter, select cool colors like gray, royal blue, eggplant, etc.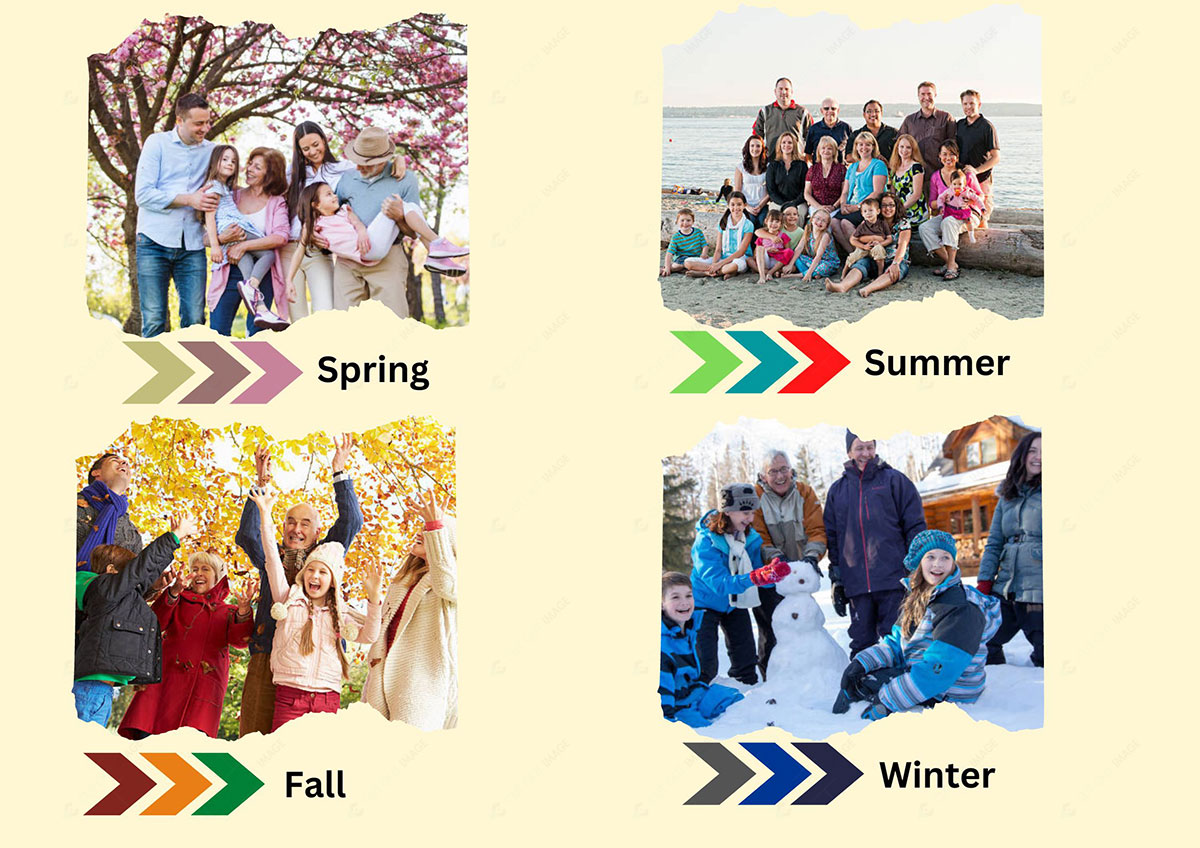 Add a Pop Color:

Ask everyone to wear a single-colored outfit, preferably neutral tones, and ask only one member to wear a different color that will pop out among them. It will delight the view without degrading attention. 
Add Patterns:

Diversity is the spice of life. Therefore, along with a solid color, you can select an outfit containing different patterns like flowers, plaids, stripes, geometrical shapes, polka dots, etc. To make the photo appealing and chasm ensure the patterned dress coordinates the solid color outfits of others. However, avoid large or too many patterned outfits because they devastate the image.
Comfort:

During outfit selection, give importance to the family member's convenience. It will be revealed in the photo if they don't feel comfortable. So, select an outfit that allows them to move freely with a good feeling. For example, you can choose T-shirts for gents to relax them from tucking. If any member wants to wear a funny costume, don't deny them because it will add fun to the session.
Accessories:

Appropriate accessories are important to add a taste to the photo. So, don't forget accessories like scarves, earrings, bracelets, hats, sunglasses, etc., to complete your outfit. Moreover, make sure all the members choose shoes according to their outfits.    
Common Mistakes of Large Family Photography
Some common mistakes take place while implementing Creative Large Family Photo Ideas. Let's know about them to avoid them as much as possible. 
* Harsh Lighting: 
Bad camera flashes and direct sunlight are always unsteady, which provides harsh lighting. Avoid capturing photos during noon and the place where the sunlight directly falls, creating harsh shadows. Don't use the limelight while photographing indoors. 
* Distinct Expression:
While capturing the photo, you might find everyone smiling and giving a good pose. Unfortunately, after capture, you might see that one of the members missed the happy pose, had a different posture, or might look at others. Therefore, click multiple photos simultaneously for a single pose to ensure the expected result. 
 *
Distracted Subject:
Every member should make eye contact for a good photo which is challenging. Because one of them might be distracted during the capture for a different reason, especially if you shoot outdoors. To avoid this, be bold and vocal for proper attention. 
* Diminutive View:
If the large family members stand side by side, there is a chance to have an undersized view while ensuring everyone is in the frame. It will be challenging and make the subject's expression faint. Therefore, you should direct some members to stand while others sit on tools or benches. You can also use stairs and ask them to sit that will ensure none is blocking from the camera. 
* Clogged Faces:
The most common mistake in Creative Large Family Photo is when one person's face gets clogged by the front person's head. To avoid this, you must set your composition to see everyone's face without any blocks. You can use stairs and ask them to sit, which will ensure none is blocking from the camera. 
Why Capture Creative Large Family Photo
Family photos are eternally souvenirs that connect the present and future with the past. So, it's important to do large family photography. Let's know why you should capture a creative large family photo:
Preserve Memories:

Time moves fast, like an eye blink, and the family members become older. Pictures tell a story. So, family photography documents the sweet memories of this moment to remember in the future.

Reveal Family: Picture speaks a thousand words louder. With the creative large family photos, you can reveal your family's nature, personality, unity, and sense of humor.
Create Photo Wall: A family photo wall enhances the dwelling room with smiling faces that reveal the family's happiness. Moreover, family photo exhibitions boost a member's self-esteem, thinking of himself as an important part of the family. Capturing a Creative Large Family Photo is the prior requirement for implementing large family photo wall ideas.
Make Photo Album:  With a creative large family photo, you can create a photo album to show off your family memories. You can create an online or offline photo album for different occasions. Scrapbooking is another admirable way to display your family's sweet bonding at specific times.
Gift: Making a customizable gift with the Family Photo can be a great memorable gift for a special family member. You can print them on mugs, cases, pillows, coasters, calendars, notebooks, T-shirts, water bottles, etc., or make photo puzzles using multiple photos.
Closing
After reading the blog, hopefully, you will no longer fear Large Family Photography challenges. My shared Creative Large Family Photo Ideas will inspire you to prepare better, capture nicely and have fun. Fellas, let me know your opinion and experiment with these ideas in the comment box.