Everyone runs up a bill to live authentically in this modern world without discrimination. In recent times, though the 'L' letter is used more openly, a Lesbian still has to struggle against society to show their identity because Lesbian fashion is less talked about. 
Do you consider yourself Lesbian, or have you just identified your gender orientation? Do you cherish creating your fashionable wardrobe like Ruby Rose? If you explore the Instagram account of Ruby Rose, you will find eye-catching lesbian clothing ideas. However, don't stress about finding the right clothes to represent your s*e*x*uality with pride. This blog will help you disclose your outfit treasure to the world.
To sum up: In this blog, I will cover the basic idea of lesbians and how they are classified. I will briefly share Lesbian Outfits Ideas with trendy brands. I will also share lesbian fashion history and how it evolved in today's world. Hopefully, the blog will help you show the world your true self.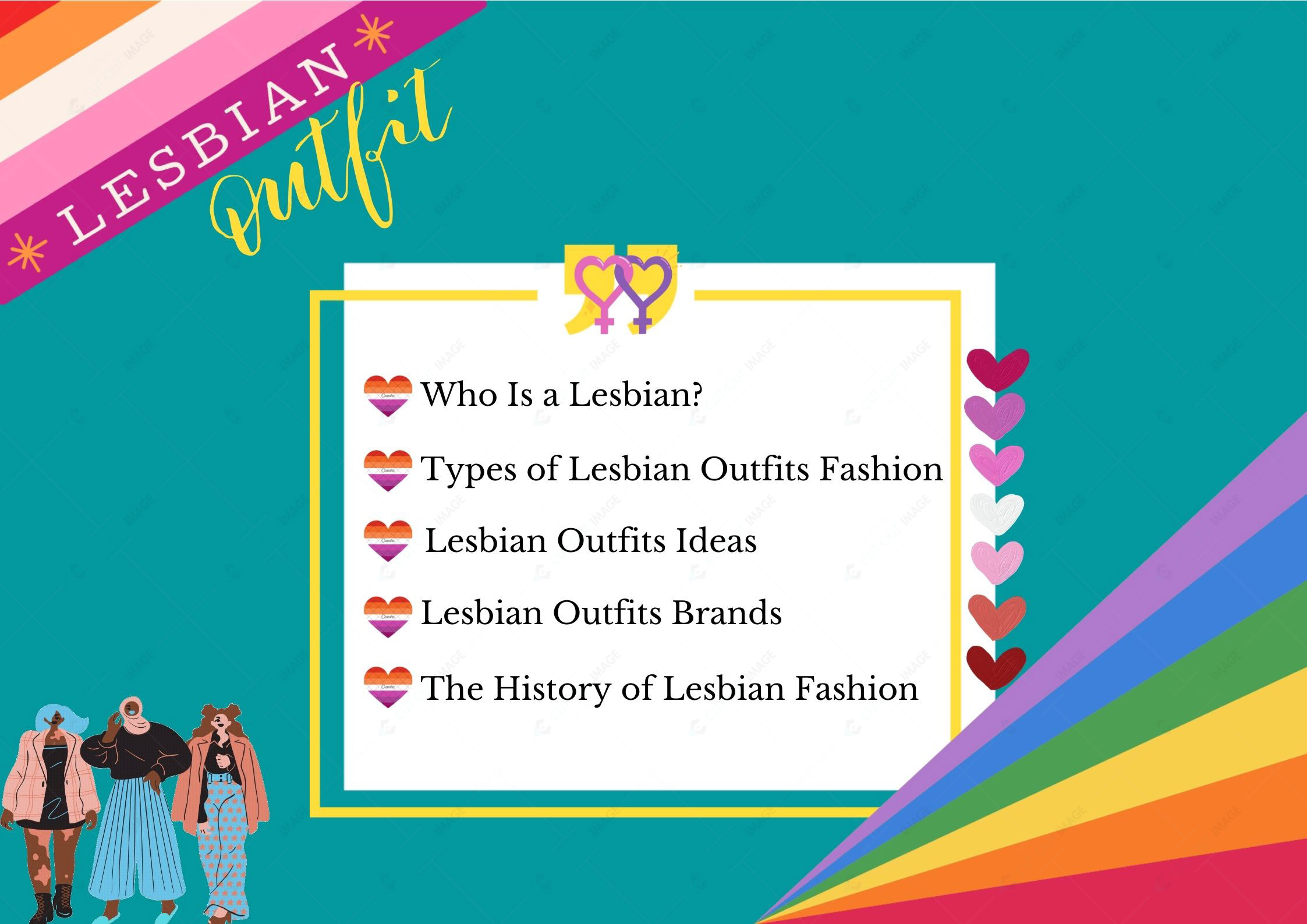 Who Is a Lesbian?
A Lesbian is a gay woman who is romantically attracted to another of her gender. Transgender or non-binary are also called lesbians. A Lesbian can be attracted to another woman, non-binary or transgender. 
"Lesbian" originated from the Greek island name Lesbos. It was the birthplace of Sappho, who wrote poems on homoromantic themes. According to her name, the term '"sapphic" originated, referring to female homos*e*x*uality.
The word 'Lesbianism' was first mentioned in the Code of Hammurabi around 1700 B.C. It is a Babylonian code of law that allowed marriage between women. The LGBTQ community uses the term "queer" to refer to lesbians, gay people, and others. In broad, queer direct to someone who isn't straight.
Usually, lesbians are not s*e*x*ually attracted to men; therefore, many people folklore that they dislike men, but it's not true. Most lesbians share friendships and professional relationships with men. Moreover, some others believe that one person in a lesbian relationship should play a masculine role, but that depends on the specific individuals' interaction involved in the relationship.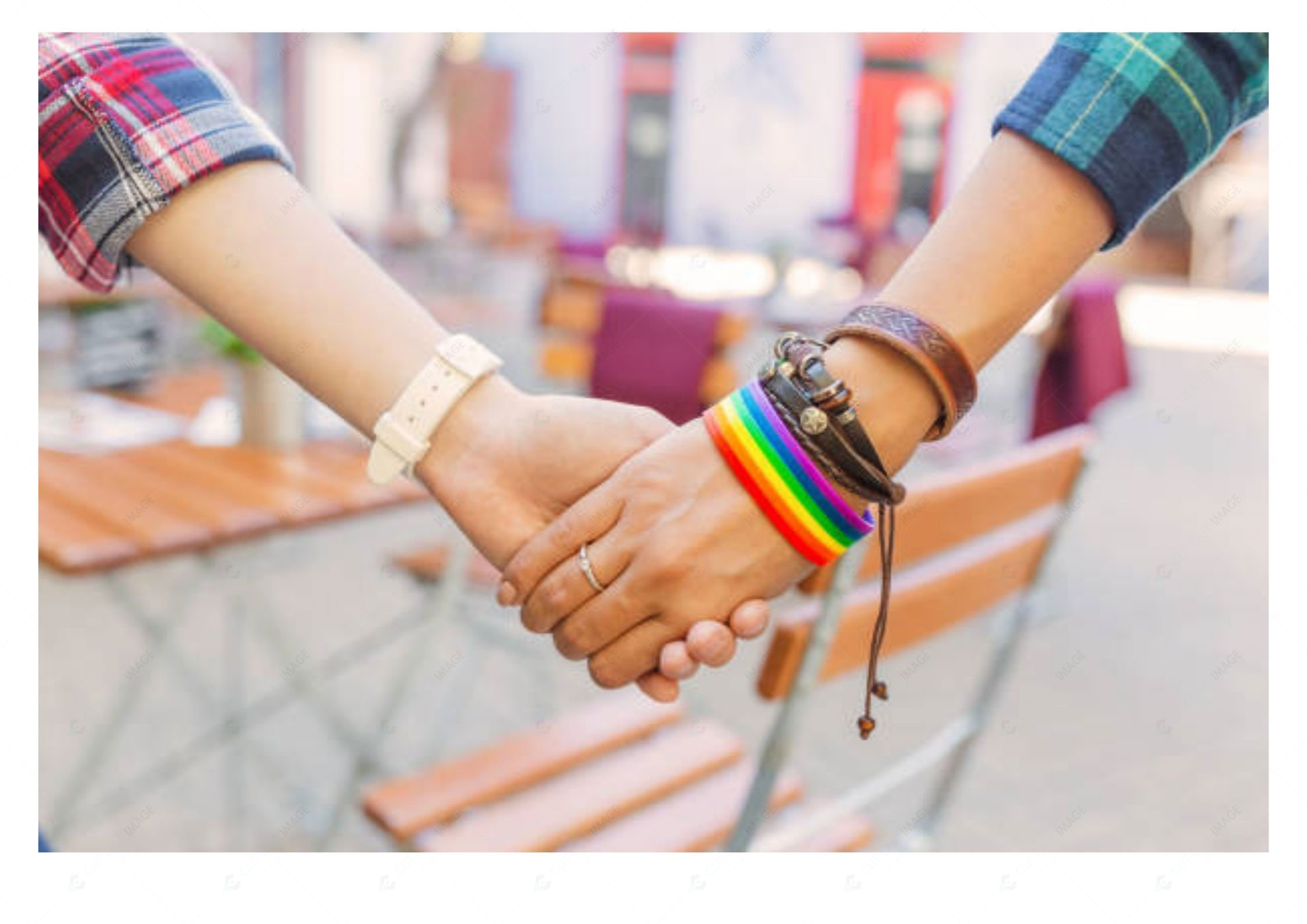 Types of Lesbian Outfits Fashion
Have you recently pinpointed your romantical exposure and are new to the lesbian planet? Then there are certain things you should know before you develop a lesbian outfit design or plan to date any other lesbians. 
The prime fact you should know is the classification of lesbians. Yes, you read the correct word! There are different types of lesbians available worldwide. Let's know about them and their outfit fashion before you plan for yourself. 
#1. Femme Lesbian Fashion:
A femme lesbian is essentially a feminine-type lesbian. As the name suggests, they come with feminine expressions, dress like girls, have long feminine hair, and walk in stilettos wearing lipstick, eyeliner, and other makeup flawlessly. That's why they are also called lipstick lesbians and often get mistaken for a typical woman. 
However, hidden queerness can be a trump card. Femmes treat their queerness and femininity to the same extent. They follow the below trend to present their femme to queer people- 
Fringed bags

White 60's gogo or Combat boots

Folksy tapestry coats

A bright yellow or blue monochromatic outfit

Wear creepy earrings inspired by a recent trend on TikTok called "lesbian earrings," made from tiny tarot cards, succulent pots, or even SPAM cans.

Denim jackets with ample pins

A statement printed t-shirt or tote bag.
Sarah Catharine Paulson, Lauren Jauregui, Holland Taylor, and Cara Delevingne are examples of femme lesbians.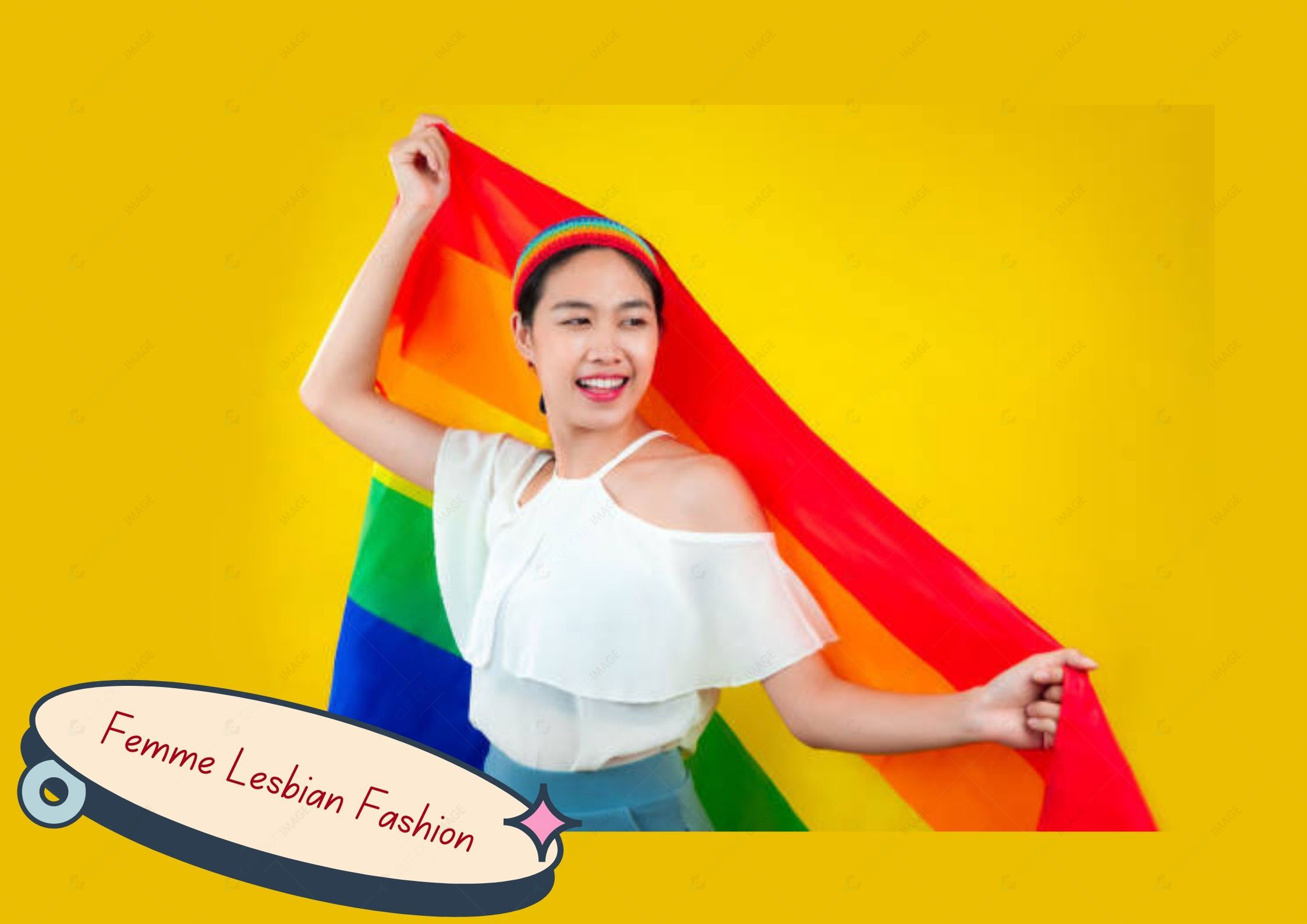 #2. The Butch Lesbian Fashion:
Butch contrasts the femme lesbian style that promotes a mannish mindset and energy. A butch maintains short masculine haircuts and wears men's clothing toned with an exquisite pair of brogues. As the butchy fashion borrowed from men's fashion, they are also called Masculine lesbians. 
They employ the men's dress to recognize or sign another lesbian identity. Many misread that butch lesbian fashion isn't as stylish as femme. However, butch lesbian styles are more potent than femme in breaking traditional feminine styles. 
Casey Legler, Lea DeLaria, Jenny Shimizu, JD Samson, and Roberta Colindrez are some examples of Butch lesbian fashion icons. 
"[Butches] exist in this realm of masculinity that has nothing to do with cis men- that's the part only we [butches] know how to talk about"- Casey Legler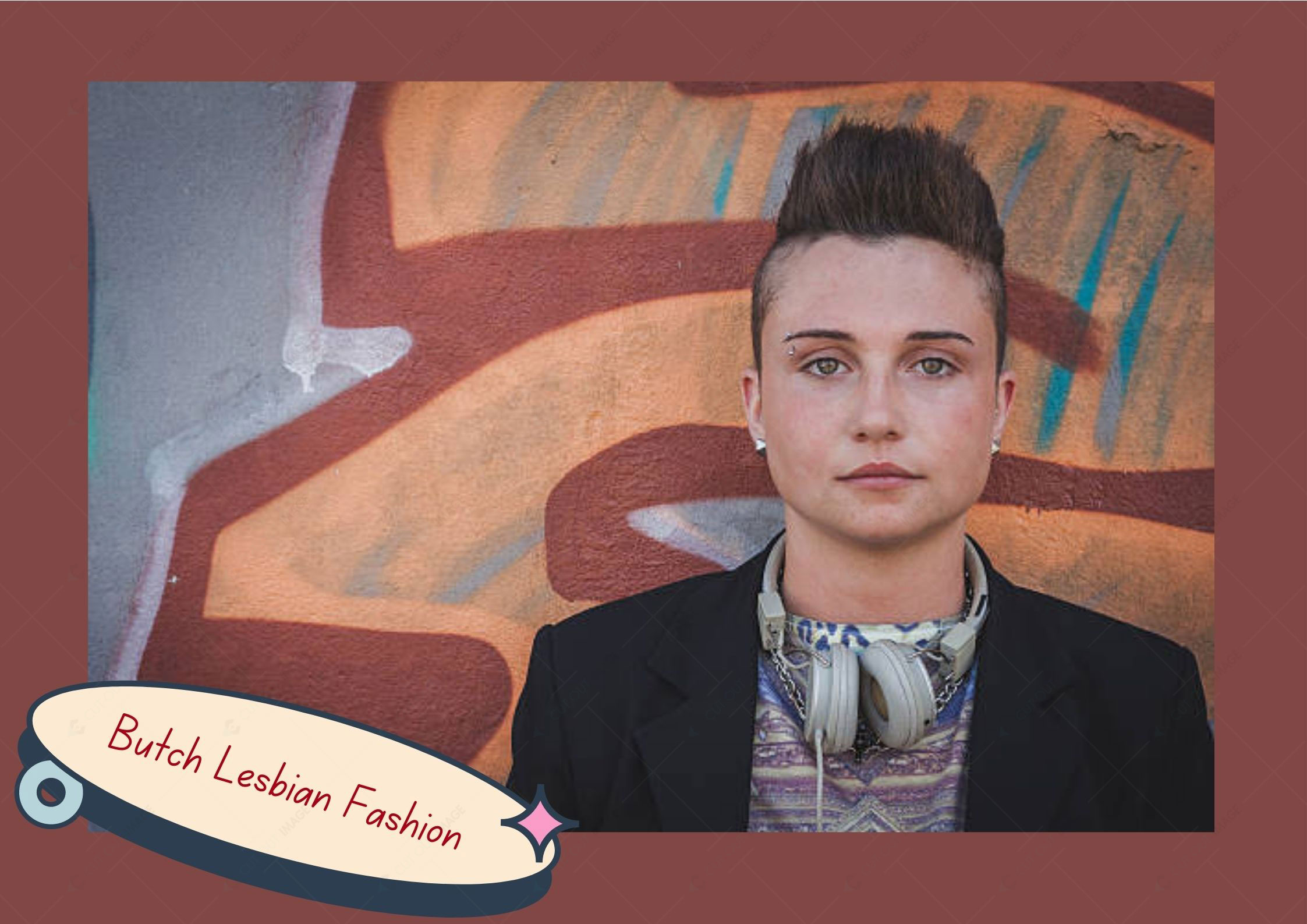 #3. The Chapstick Lesbian Fashion:
The term 'Chapstick Lesbian' is characterized between a butch and a femme. It describes someone who doesn't convey masculine or feminine expressions, which makes it harder to define. They are also called soft butch, Futch (combining femme and butch), stem (blending stud and femme), or tomboy. 
The Chapstick Lesbians presents a genderless or gender-neutral outfits style androgynously. They embrace mannish attire adding feminine ornament. They always look stylish with their staple feature of an edgy haircut and regular outfit blend of masc and femme styles. Ellen DeGeneres is an example of The Chapstick Lesbian icon.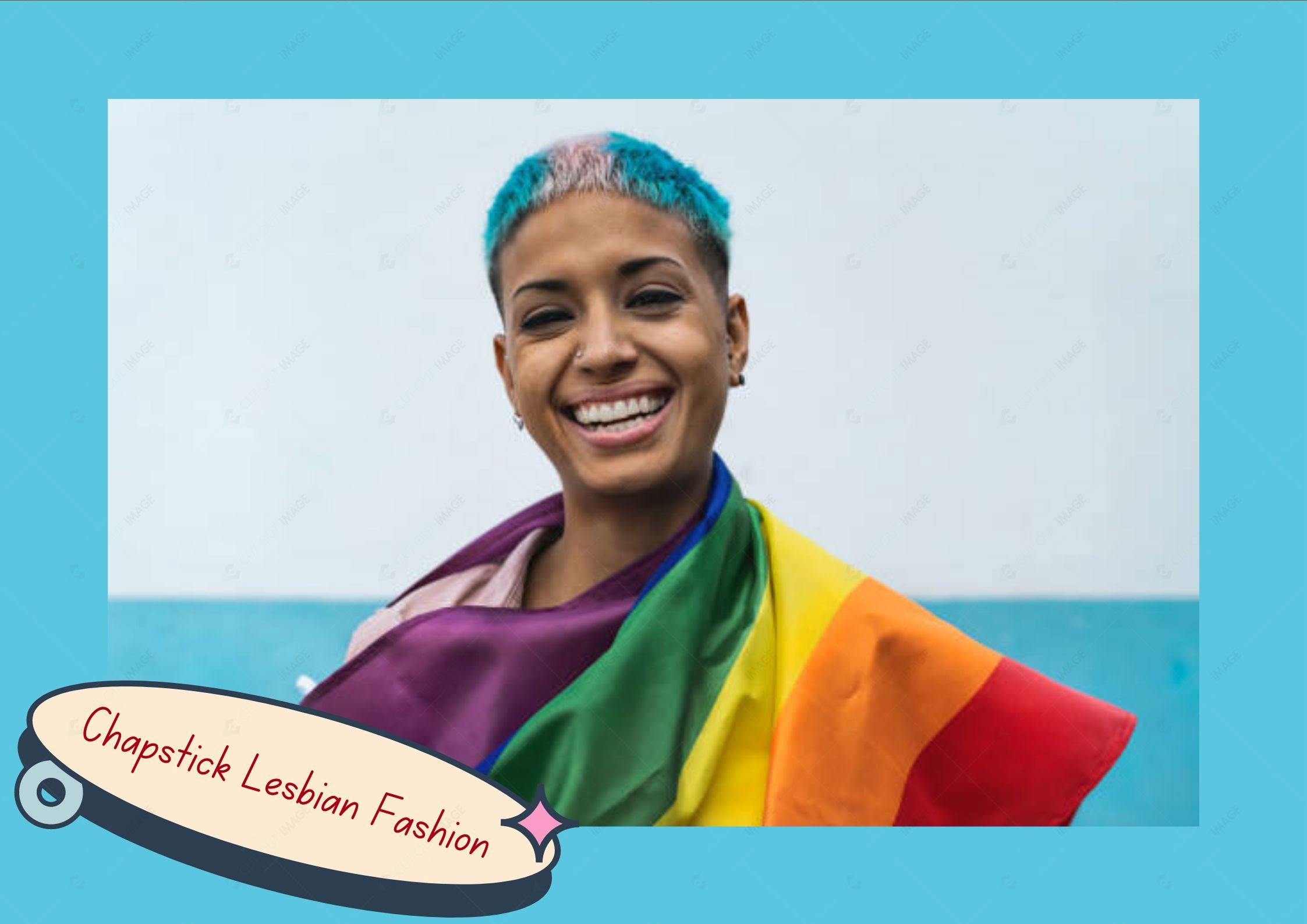 #4. Sporty Lesbian Fashion:
As the name defines, a sporty lesbian is recognized as Van's ambassador or a person concerned with sports like football, skating, running, etc. They own an aesthetic temple body hiding their abs under a baggy t-shirt.
Sporty lesbians prefer specific brands like Adidas, Nike, and Fila for their outfits. They have a short haircut or wear hair in a top knot paired with an undercut. Sometimes, they wear bandanas as a sweatband.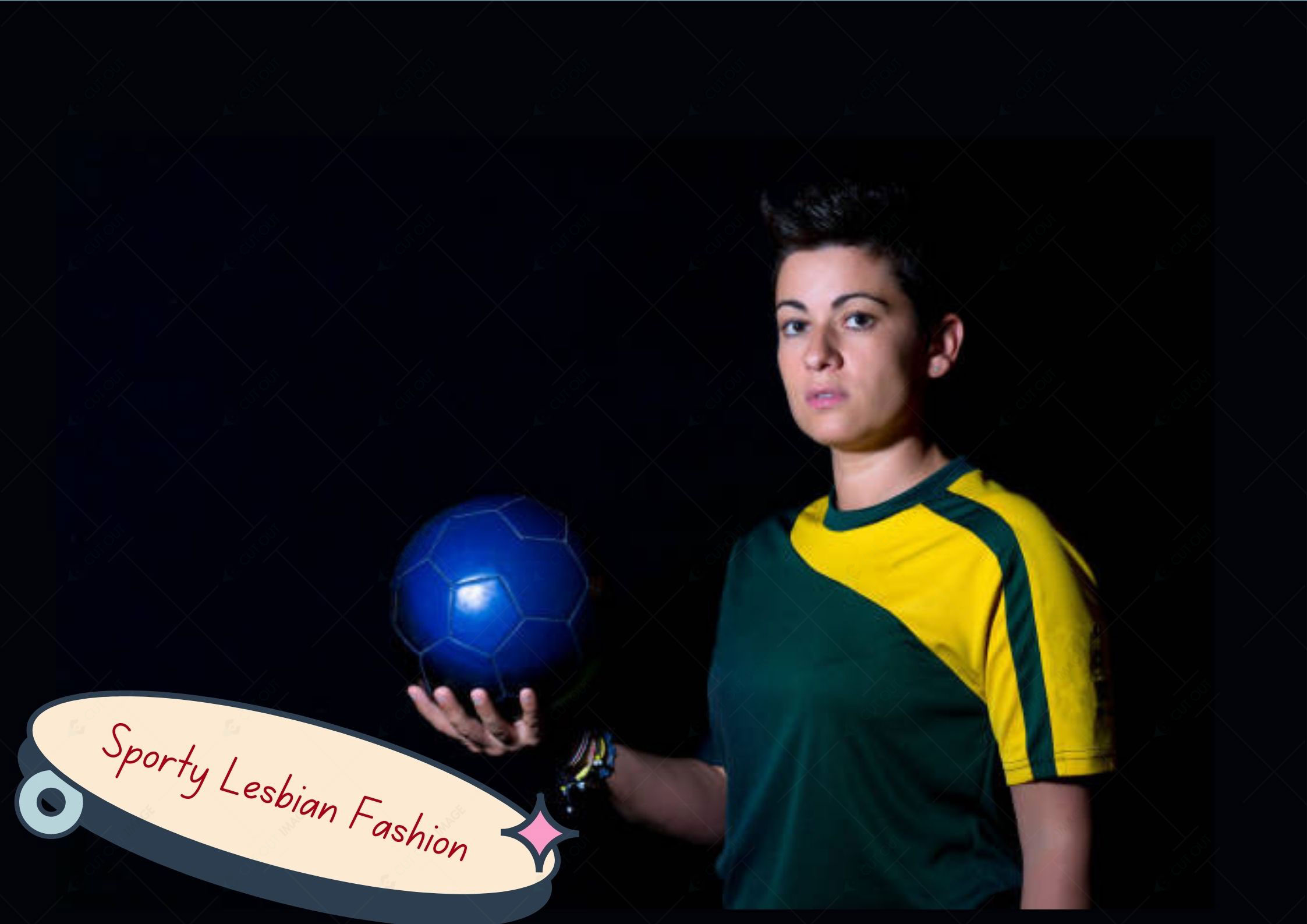 #5.Cottagecore Lesbians Fashion:
Cottagecore Lesbian represents a lesbian who leaves city life and enjoys Western farm life. Such lesbians prefer linen floral or plaid printed outfits like long prairie dresses, lacy collars, quilted jackets or knitted sweaters, sun hats, garden boots, etc. Some of them are fantasy elements like goblins and fairies. I am doubtful of the existence of real-life cottagecore lesbians for the ideal aesthetic lifestyle.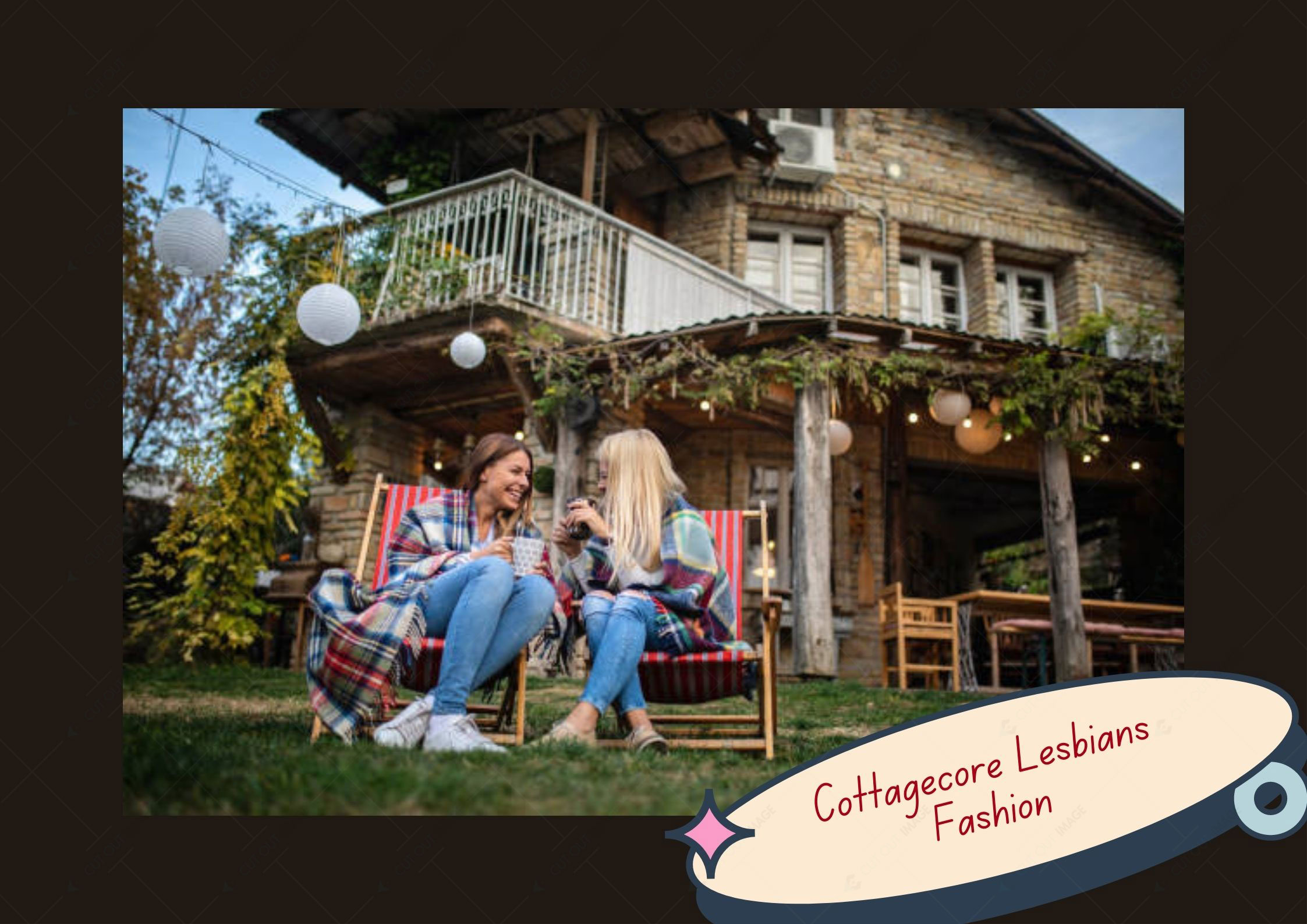 Lesbian Outfits Ideas
Clothes shouldn't undergo inflexible rules of tagged and gendered categories. Therefore, here I have listed some cool lesbian outfits under the lesbian fashion category that aren't just limited to lesbians. Anyone can wear these to compliment the look. Let's check out the following: 
01. A) Femme Lesbian Outfit Ideas:
A femme lesbian often gets jumbled with a straight female. So femme lesbians need to be creative to dress like lesbians. However, a femme lesbian can wear traditional feminine clothes, adding a sapphic twist to signal butch lesbians that they are queer. Here are the Lesbian Outfits Ideas for Femme Lesbian: 
Shirt and Pants:

The purpose of a femme lesbian outfit is to signal the lesbian bat attitude showing off femininity. The pair of tiny shirts with non-skinny pants perfectly achieve that purpose. Here the tiny shirt means the cropped t-shirt hits home for a bit of skin and is a little tight-fitting. In the case of pants, select bootcut or wide-leg colored pants that indicate others' queerdar.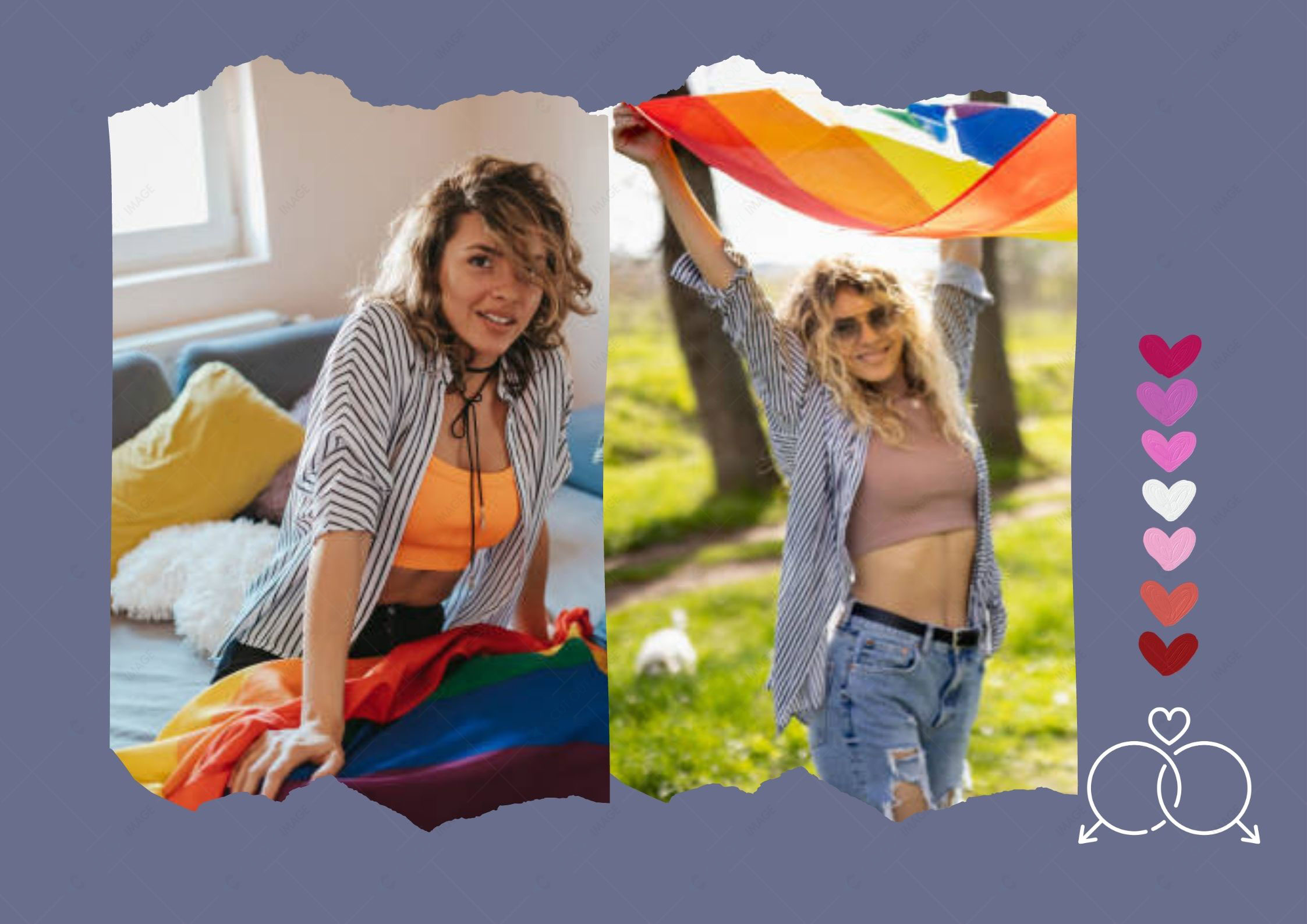 Denim Jacket:

Denim jackets are fashionable and aren't gender-specific. Mid-to-light wash denim jackets are now more trendy than darker ones for femme-lesbian fashion. As a femme lesbian, you can pair the denim jacket with denim jeans and wear a T-shirt under the jacket keeping it unbuttoned. 
Epoch Glimpses Outfit:

You can add a handful of exclusive outfit designs from the 40s, 70s, and 90s decade in your wardrobe to dress like a lesbian without compromising your femininity. You can include striped and patterned dresses and baggy mom jeans made with authentic denim. To go outside, you can select a bucket or sun hat.
Casual Tracksuit:

A tracksuit is a fashionable as well as comfortable Lesbian outfit. Selecting a casual tracksuit paired with a sports bra will add a boyish vibe along with flirty femme touch to your outfit. To turn your head anywhere, you must wear outfit-matched shoes and add some accessories.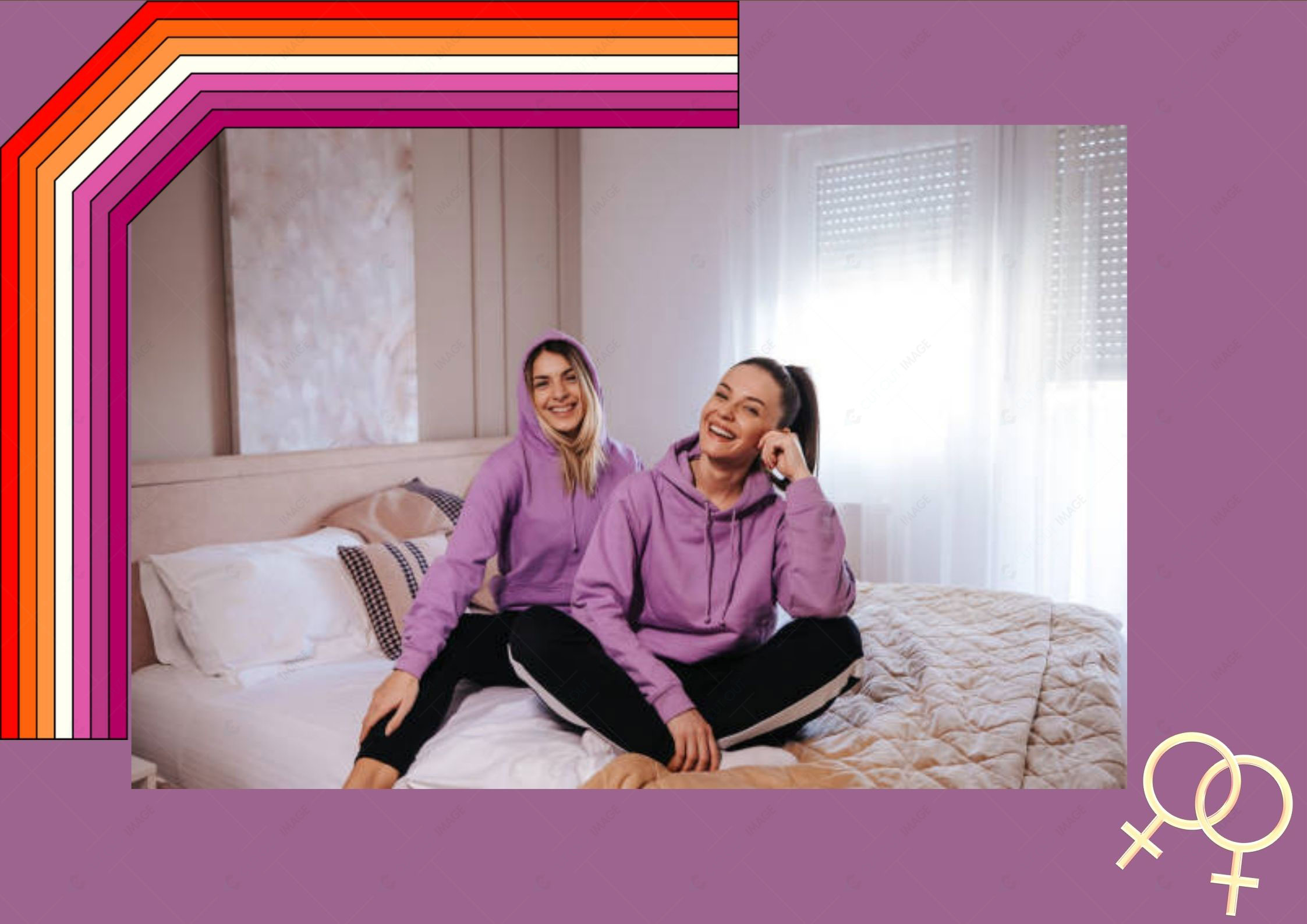 Graphic T-shirt:

The denim jacket is not comfortable during summer. So, as a Lesbian Outfits Idea for summer, you can pick a graphic T-shirt to feel comfy in hot temperatures. You can pair the rainbow-printed t-shirt with denim shorts, cotton pants or a skirt to make you look more attractive and comfortable. If you wear denim shorts, elevate the look by wearing knee-high socks with boots.
Flowing Maxi Dress:

You can select a lightweight flowing dress as one of the Lesbian Outfits Ideas that can help you cool off during the rising temperature of summer. Maxi dresses are perfect for all occasions, like dinner dates during summer. During winter, you can add denim with jeans and pants. Add a simple pendant and a pair of heels to add an elegant vibe to your appearance. 
Dungarees:

Are you looking for

Lesbian Outfits Ideas for spring? Dungarees can be the most trendy closet of your wardrobe for spring because they are comfortable and breathable. You can pair it with a solid color T-shirt.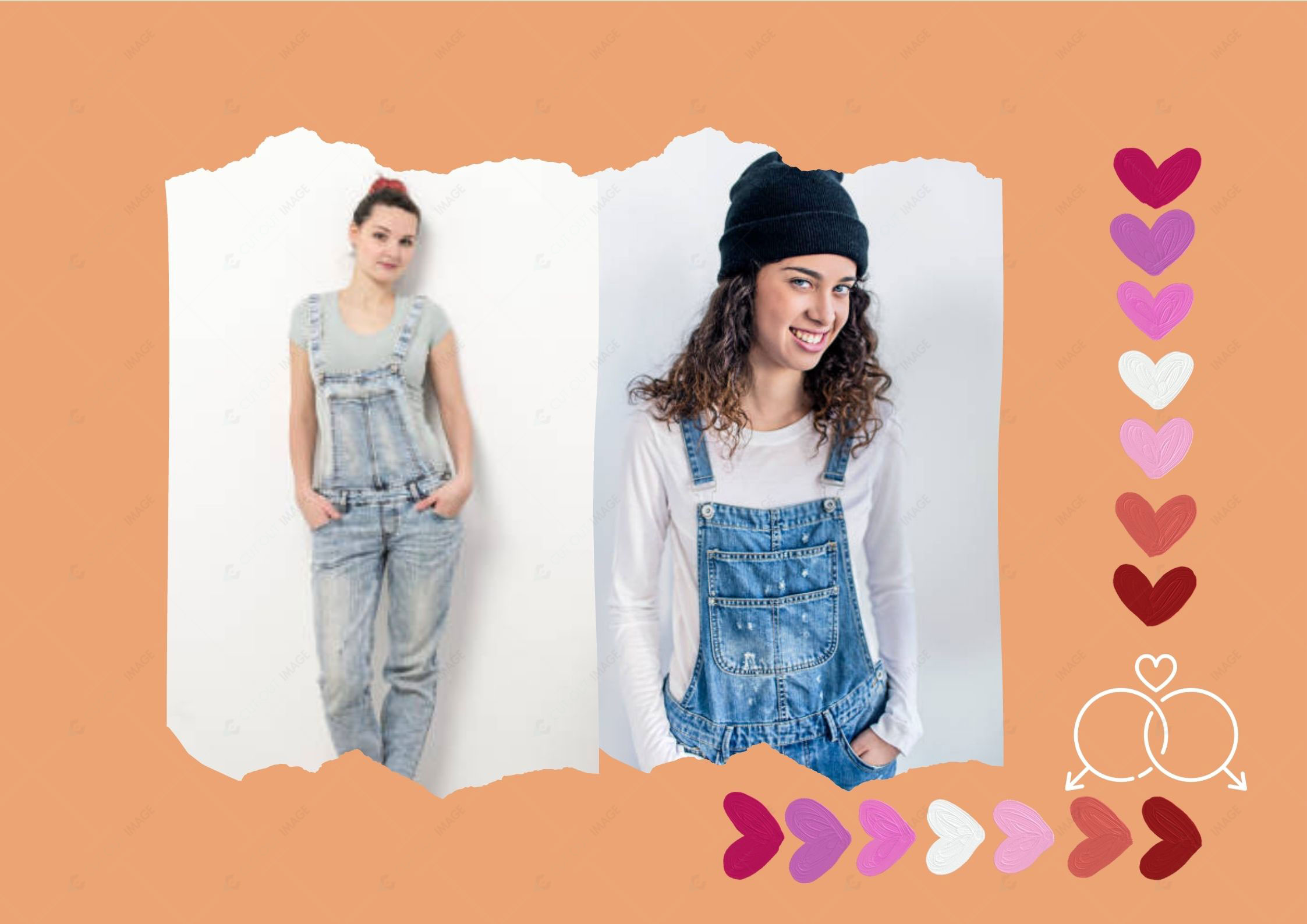 High-waisted Plaid Patterned Skirt:

One of the most attractive Lesbian Outfits Ideas is the high-waisted plaid patterned skirt of black and red color that adds a chic and gothic vibe to your spring fashion. Moreover, this casual skirt reflects amenity and warmth in your style. To overboard the style for a date, you can apply black eyeliner and red lipstick.
02. B) Butch Lesbian Outfit Ideas:
A butch expresses men's attitudes and wears men's clothing. Here are some Lesbian Outfits Ideas for butch: 
Black or White T-shirt:

Are you looking for a classic outfit idea? A black or white T-shirt is the best as a classic but an essential part of a butch wardrobe. Remember to keep solid black or white without print or pattern.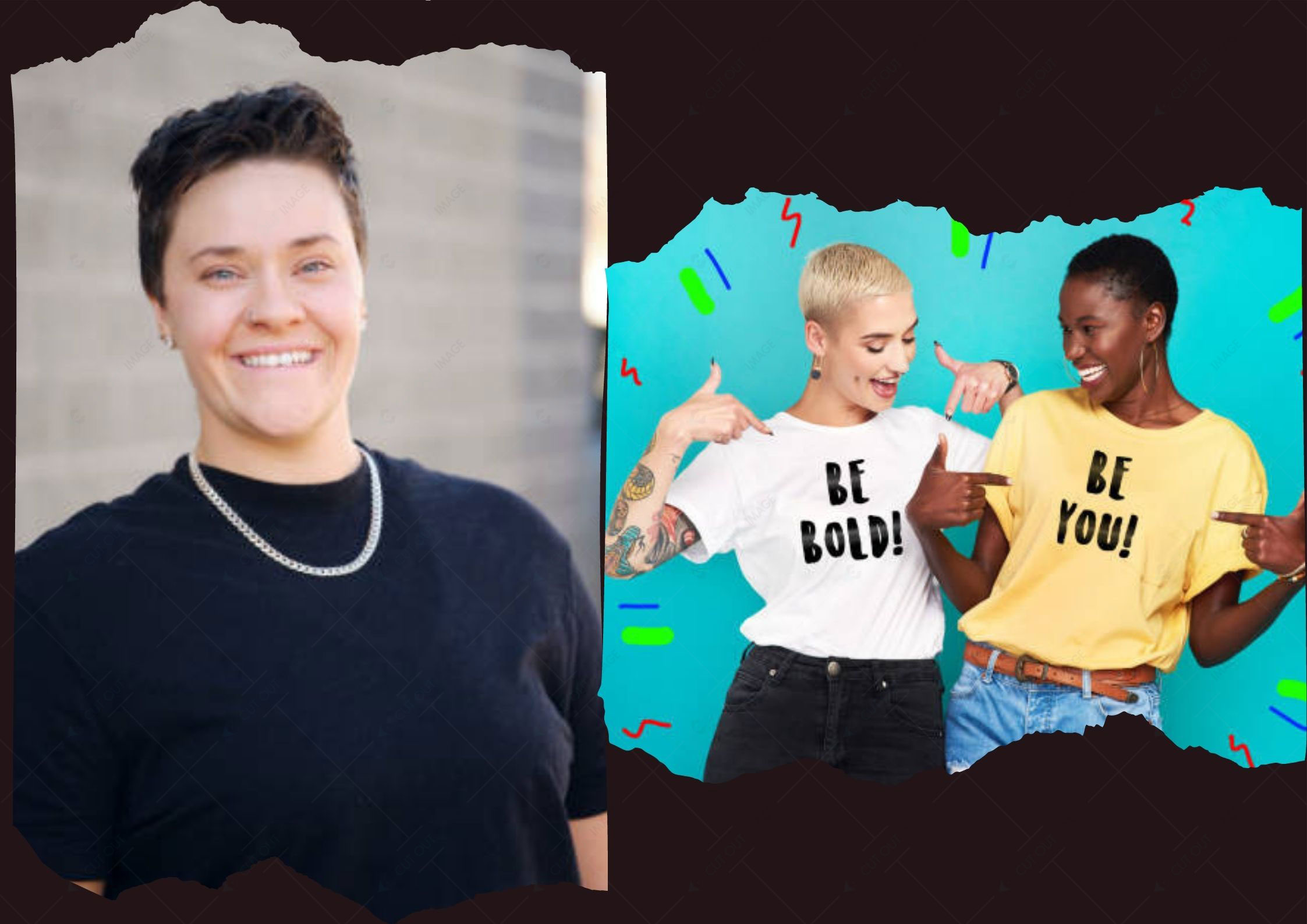 Casual Shirt:

If you are looking for an outfit trendy for both formal and casual, then the white shirt is arguably essential in your closet. You can wear it buttoned or unbuttoned, according to your preference. If you prefer an unbuttoned one, layer it over a graphic-printed t-shirt.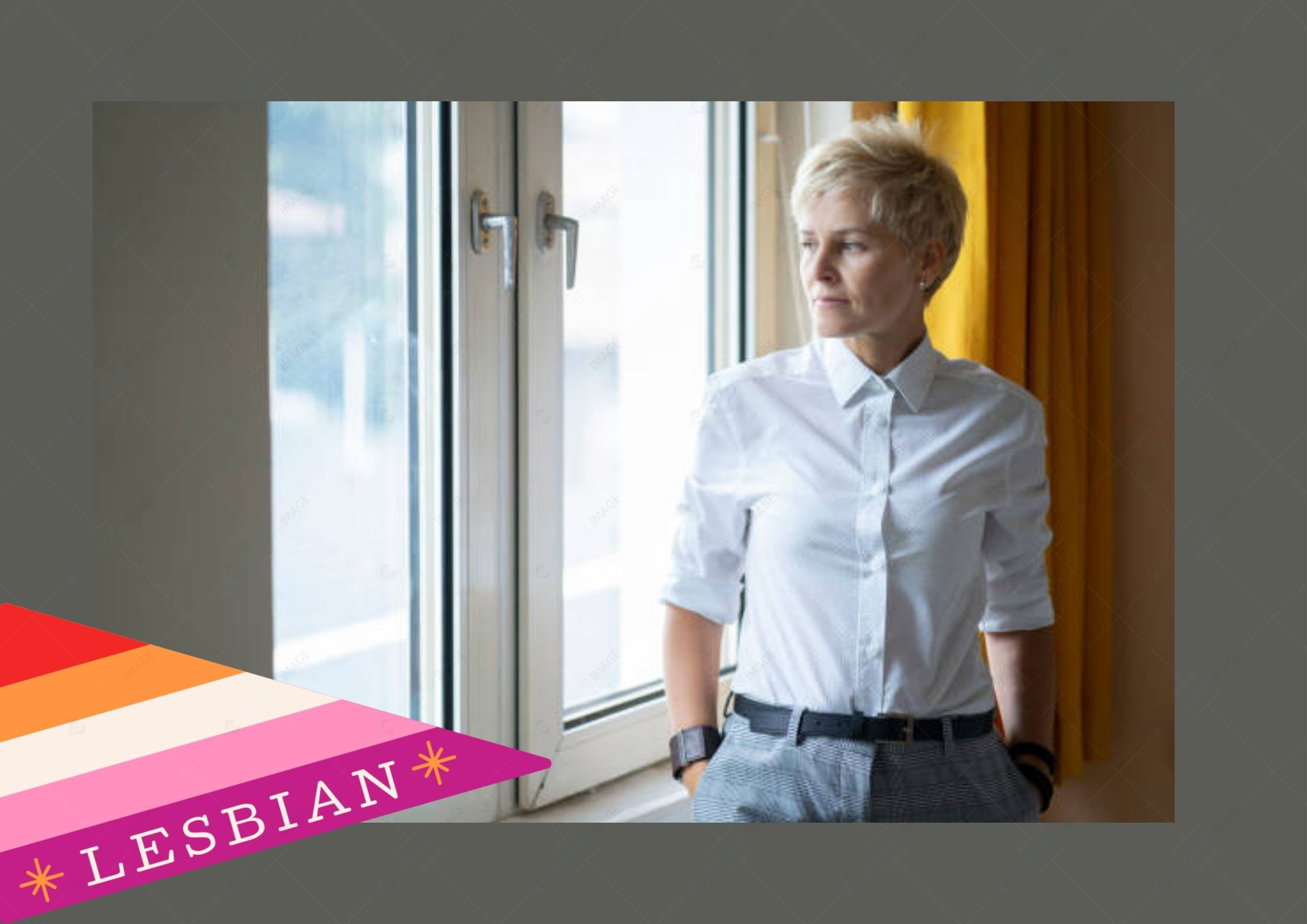 Male-Designed Shirt & Pants:

Most butch prefers shirt and pants as essential for a casual look in butch lesbians fashion. So, you can add it to your closet considering color or pattern. You can add a suit jacket with a waistcoat and bowtie to create a traditional look. Well, you can visit several lesbian clothing brands for formal clothing. I will share those brand names later. Keep reading. 
Jerseys:

A Sporty Lesbian must include jerseys in the wardrobe as an outfit. However, butch or stud lesbians also can add jerseys to their wardrobe for upward trends. The jersey can be any color, kind, or theme.  
Black Faux Leather Jacket:

Want to prompt your interest in another lesbian indirectly? Let your personality speak up through your outfit. A black faux leather jacket is a trendy women's outfit and one of the best butch lesbian outfits. It gives you a femme and butch look simultaneously that will aid in achieving the goal. Add a black fabric lace choker and chunky heel boots with fishnet stockings to create a femme fatale look. 
Boxers:

Boxers and boxer briefs are the most comfortable underwear for butch lesbians. Finding boxers without a pouch can be challenging, but if you search correctly, you will get them from some lesbian clothing brands. 
Sports Bra:

Butch lesbians always try to get the male look with their outfits, and a sports bra helps as a stepping stone. Real bras emphasize the chest, whereas sports bra flattens. Therefore, as a butch lesbian, you should select a sports bra for suitability and comfort.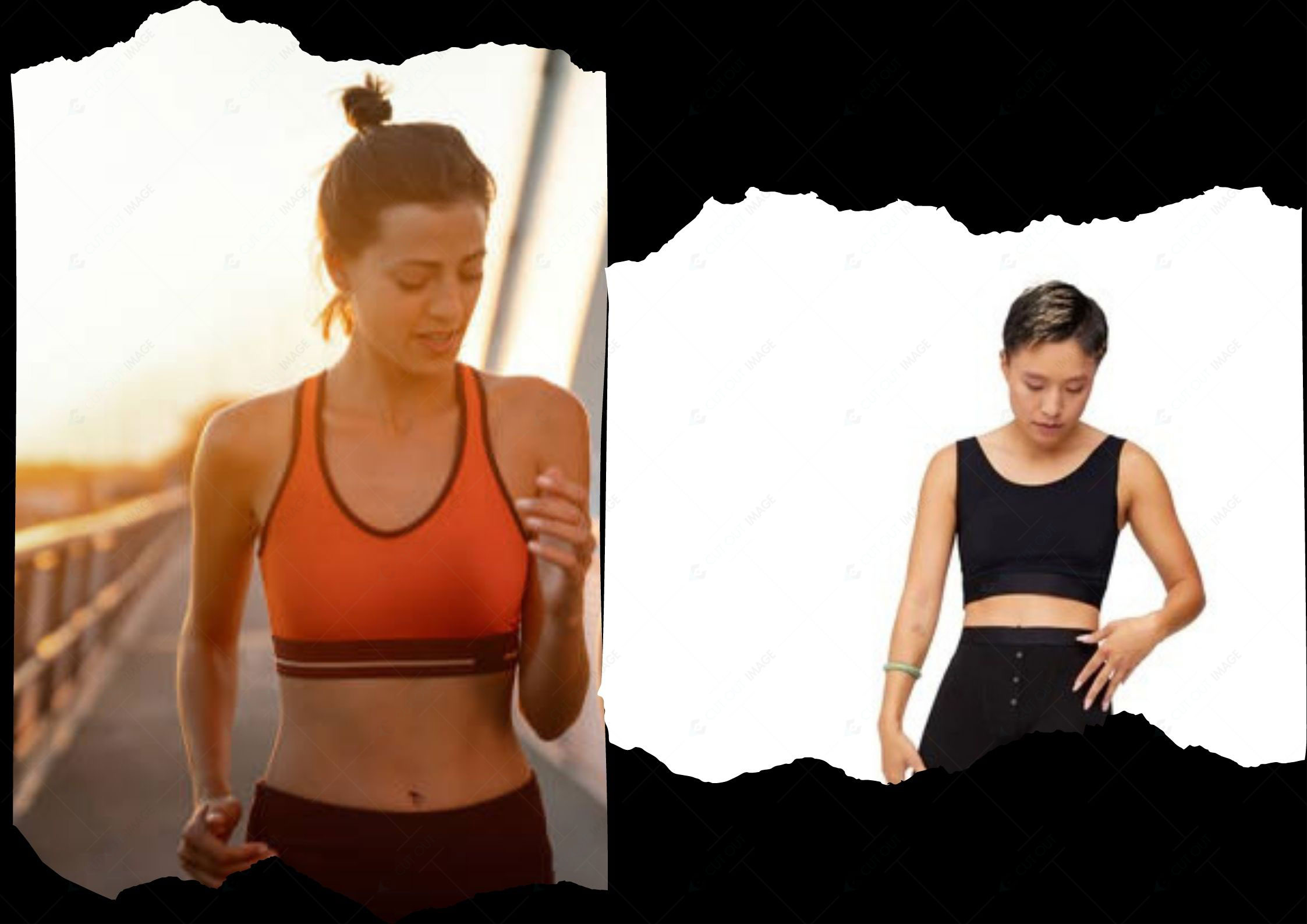 Inseam Shorts:

Do you want to show off your newly created lesbian tattoos on the thigh? Inseam Shorts are ideal for showing off the design on your leg or thigh. It is the most trendy butch lesbian fashion, which strikes instantly between the hip and knee. If you wear boxers, you can select 5 inches inseam to cover it.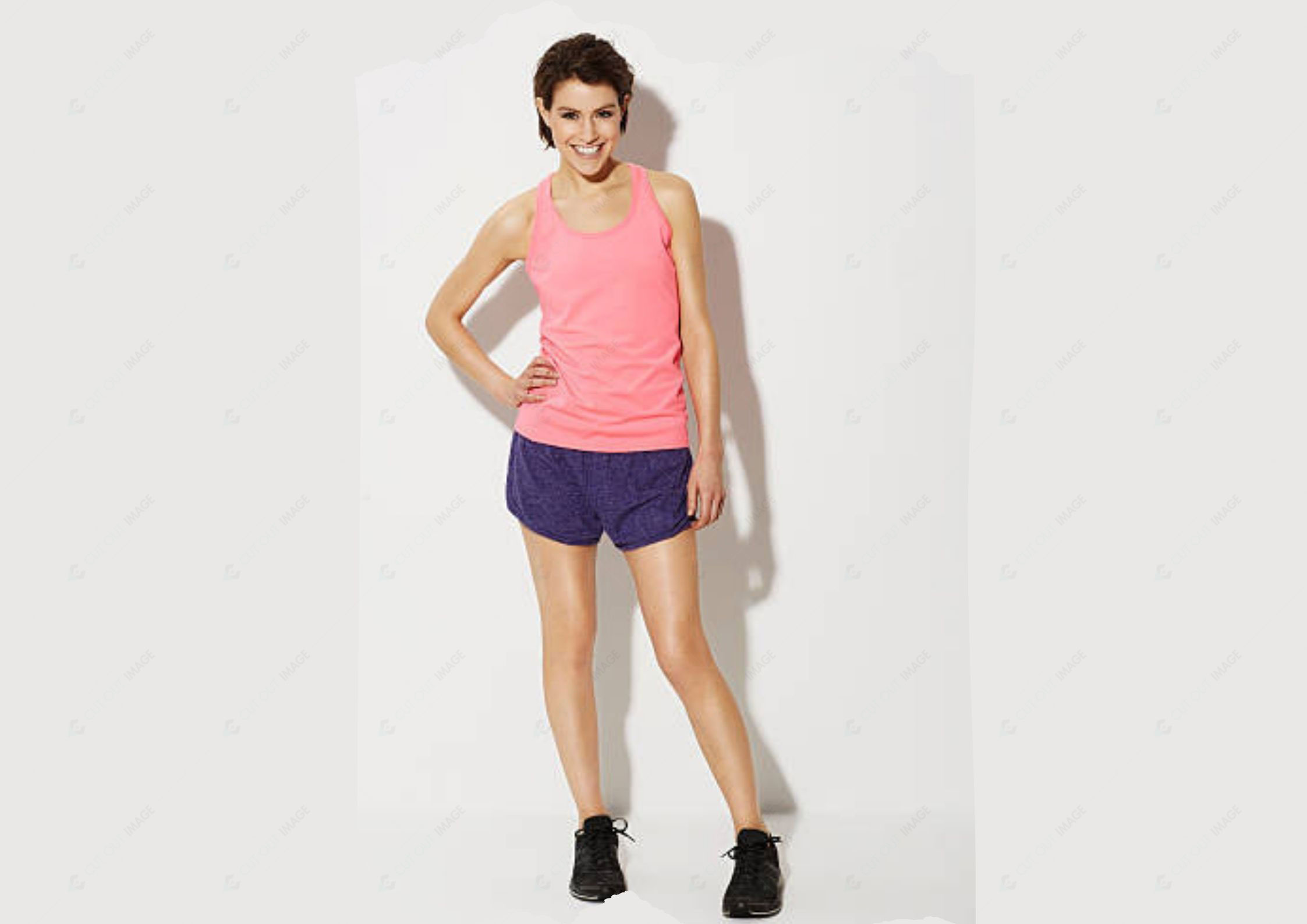 03. C) Futch/Stem Lesbian Outfit Ideas:
Futch is a blend of butch and femme lesbians. Therefore, Futch/Stem Lesbian outfit ideas are drawn from a pick-and-mix of butch and femme Lesbian Outfit Ideas. As a Futch/stem, you need to combine items picking from butch and femme fashion outfits that suit you best.  
Some futch lesbians wear more futch outfits with feminine items. For example, she might wear men's pants with a T-shirt and add weird earrings with floral sunglasses. Additionally, she can put on lipstick and eyeliner.
Some futch wear men's pants with crop tops showing off skin or curves. Here, they add little makeup with lipstick and eyeliner.  

Some wear butch clothing with femme patterned prints and wear makeup, jewelry and feminine hairstyles.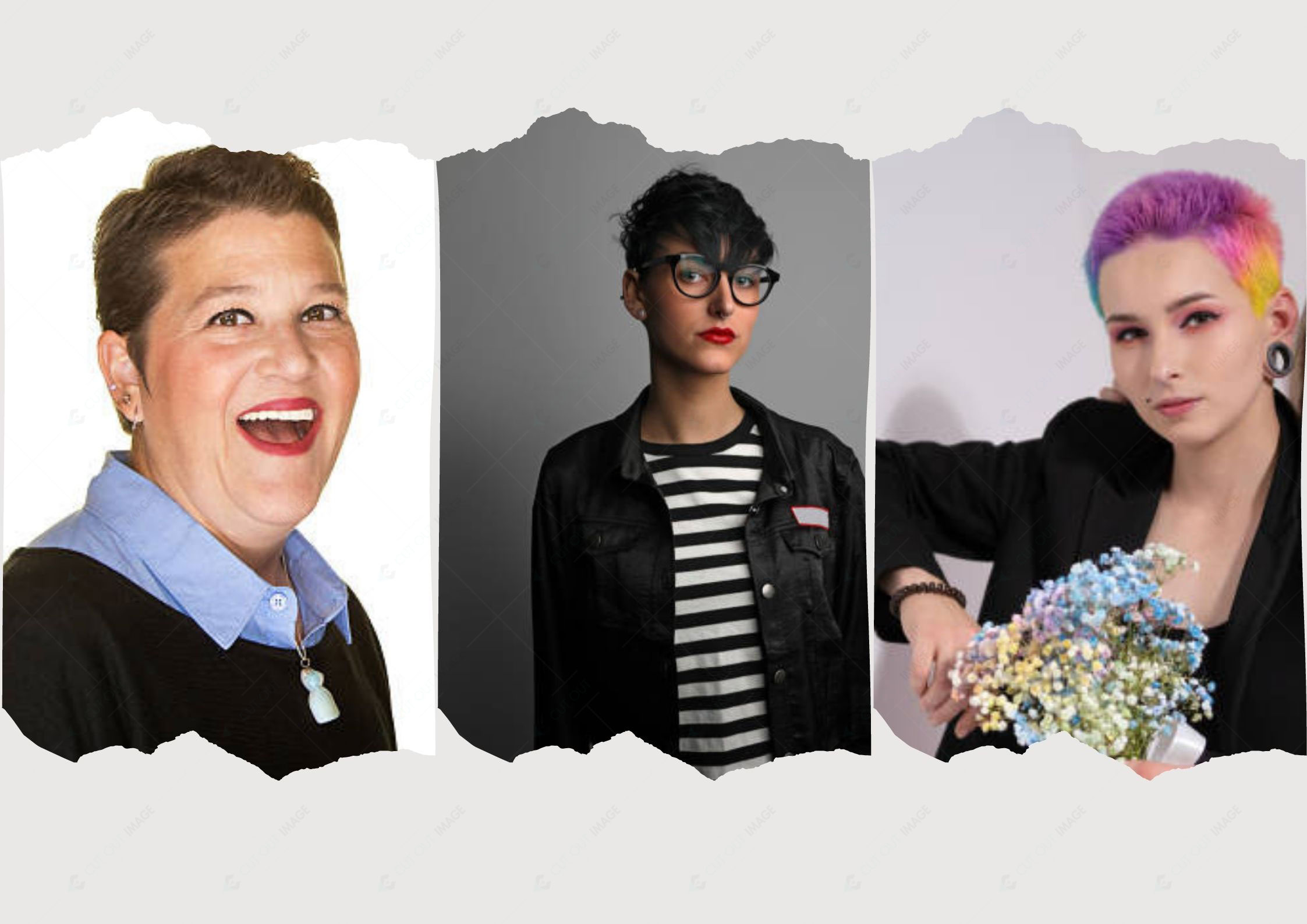 04. D) Formal Lesbian Outfits Ideas:
Don't consider formal outfits for lesbians as dull. It's charming and comfortable to walk into the office in a bossy style with a formal suit. Here are formal outfit ideas for different lesbians: 
Masc lesbians can wear the suit, adding a bowtie to emphasize the personality. Adding a bowtie matching the suspenders is another excellent option. They also can wear a wristwatch to add a masculine vibe.

A femme lesbian can wear a black suit with a white long-neck blouse shirt to achieve a stylish bossy look and feel like a complete fashionista.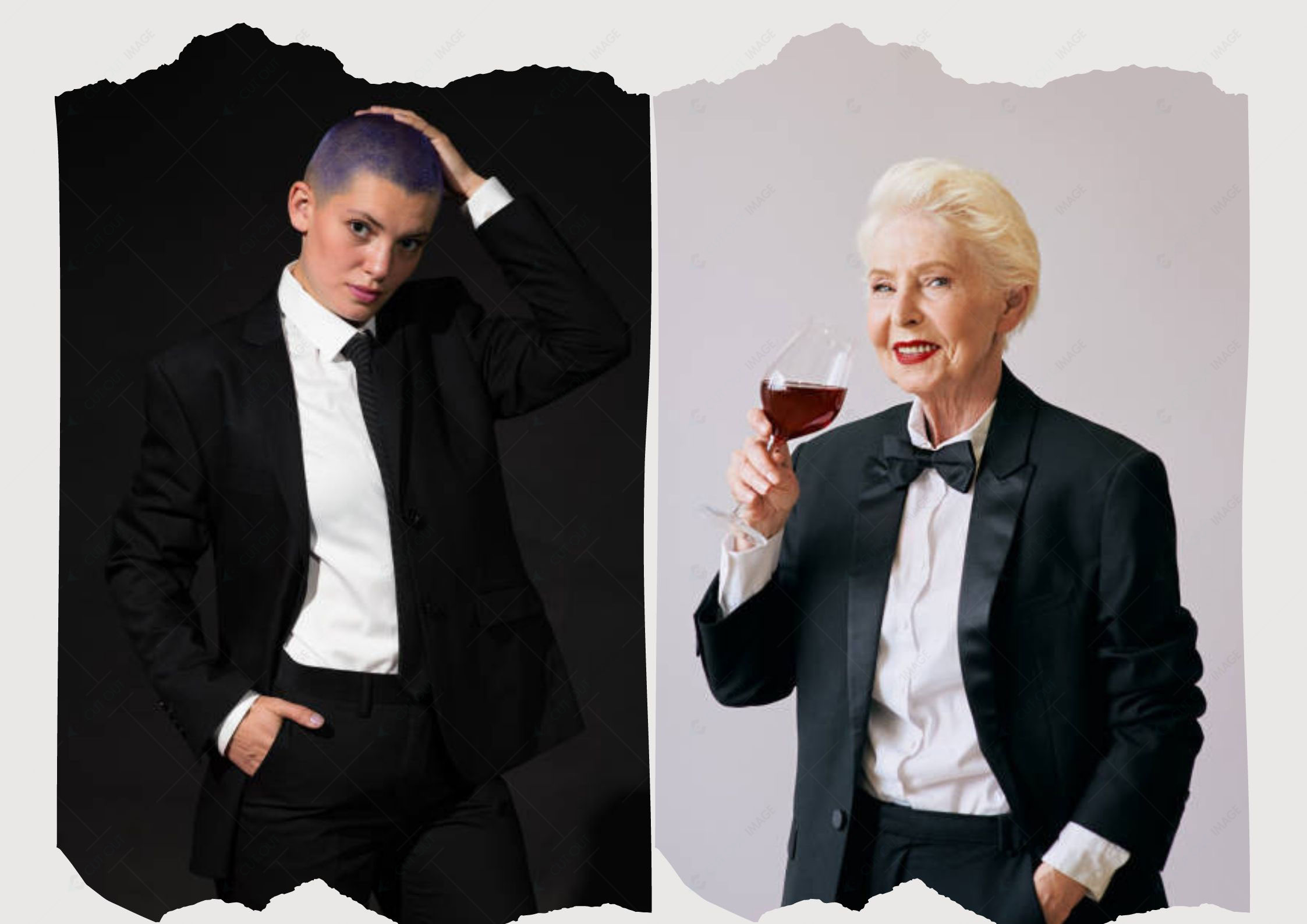 05. E) Lesbian Outfits Ideas for Wedding:
A lesbian couple comprises two brides. The day no longer exists when a same-gender couple staying together was challenging, let alone getting married. Today, they legalized getting married, and as a result, we can see some happiest LGBT weddings worldwide. Surprisingly many lesbian couples have set wedding fashion goals through LGBT wedding outfits. Here are a few ideas of lesbian wedding clothing that lesbian couples can follow on their wedding day: 
Both can wear gowns. They can wear a similar or coordinate the color, design, ornaments, and makeover. They can also wear completely different colors and patterns or reverse the element. 
Both can wear suits or tuxes.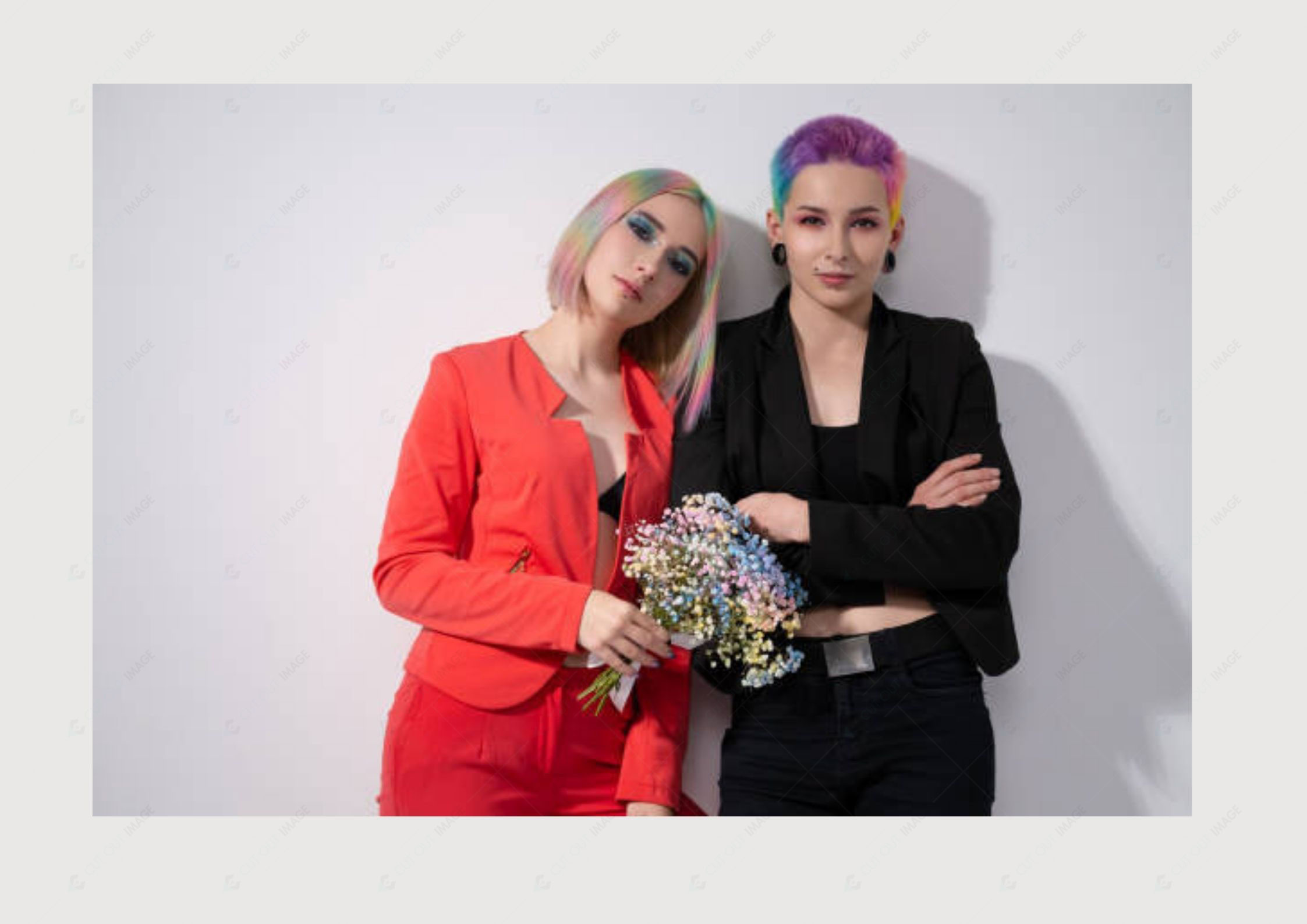 One bride can wear a gown, while the other can wear a suit.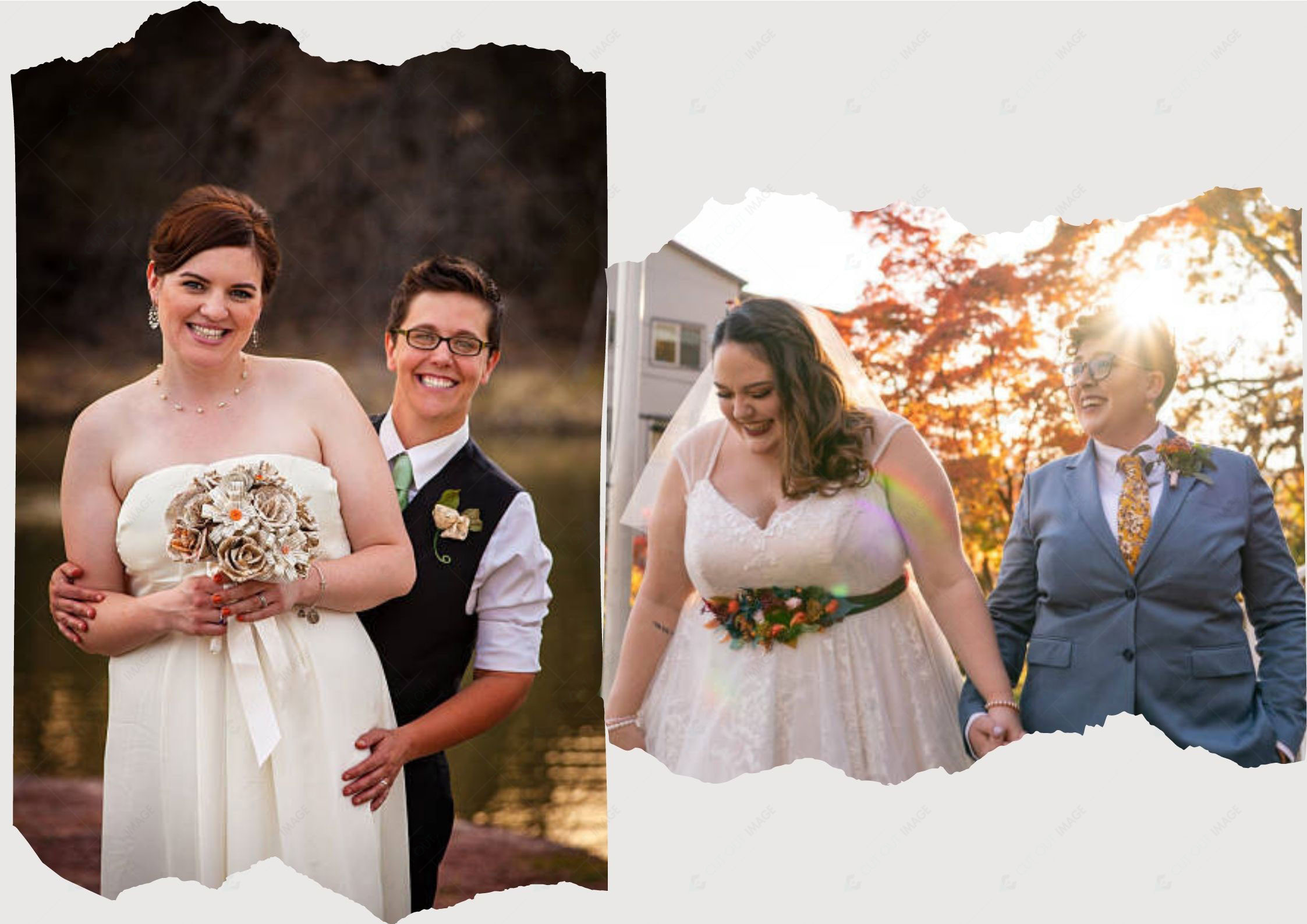 An inter-racial couple wedding is a multicultural event where both have their own culture harmonizing with each other. Here both can add their artistic touch to the wedding attire. For example, the brides of a lesbian wedding in California, Swati and Katherine, wore their Sabyasachi lehenga and bridal gown depicting their own culture.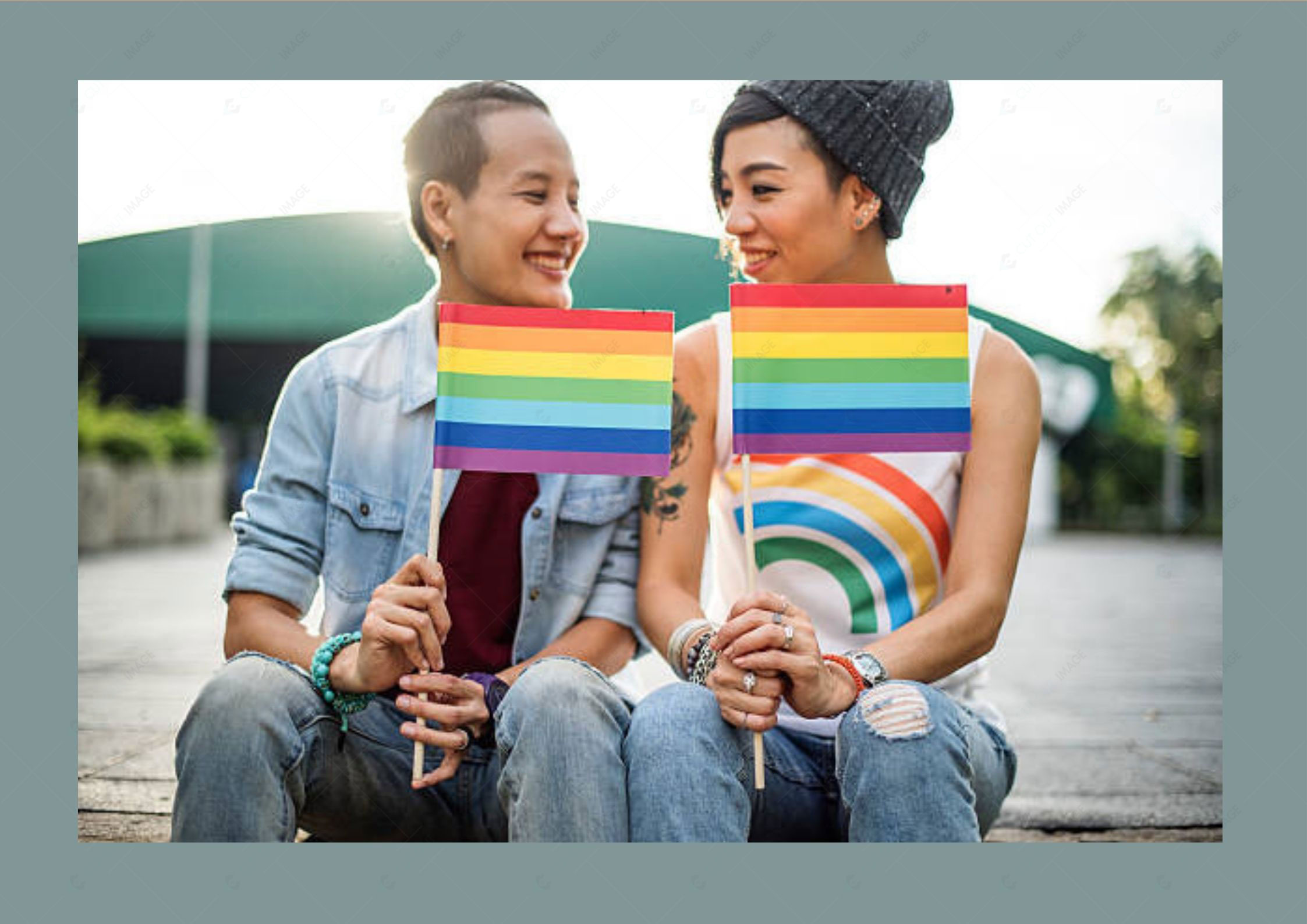 06. G) Tomboy Fashion:
Do you remember Ashlyn Harris? She is an excellent example of having Tomboy fashion outfit ideas. However, here are a few Lesbian Outfits Ideas for Tomboy fashion: 
A tomboy is impressive because it features masculine dynamics with feminine elements. She can wear a crop top or T-shirt with solid color shorts and plain white sneakers as a perfect

lesbian pride outfit

.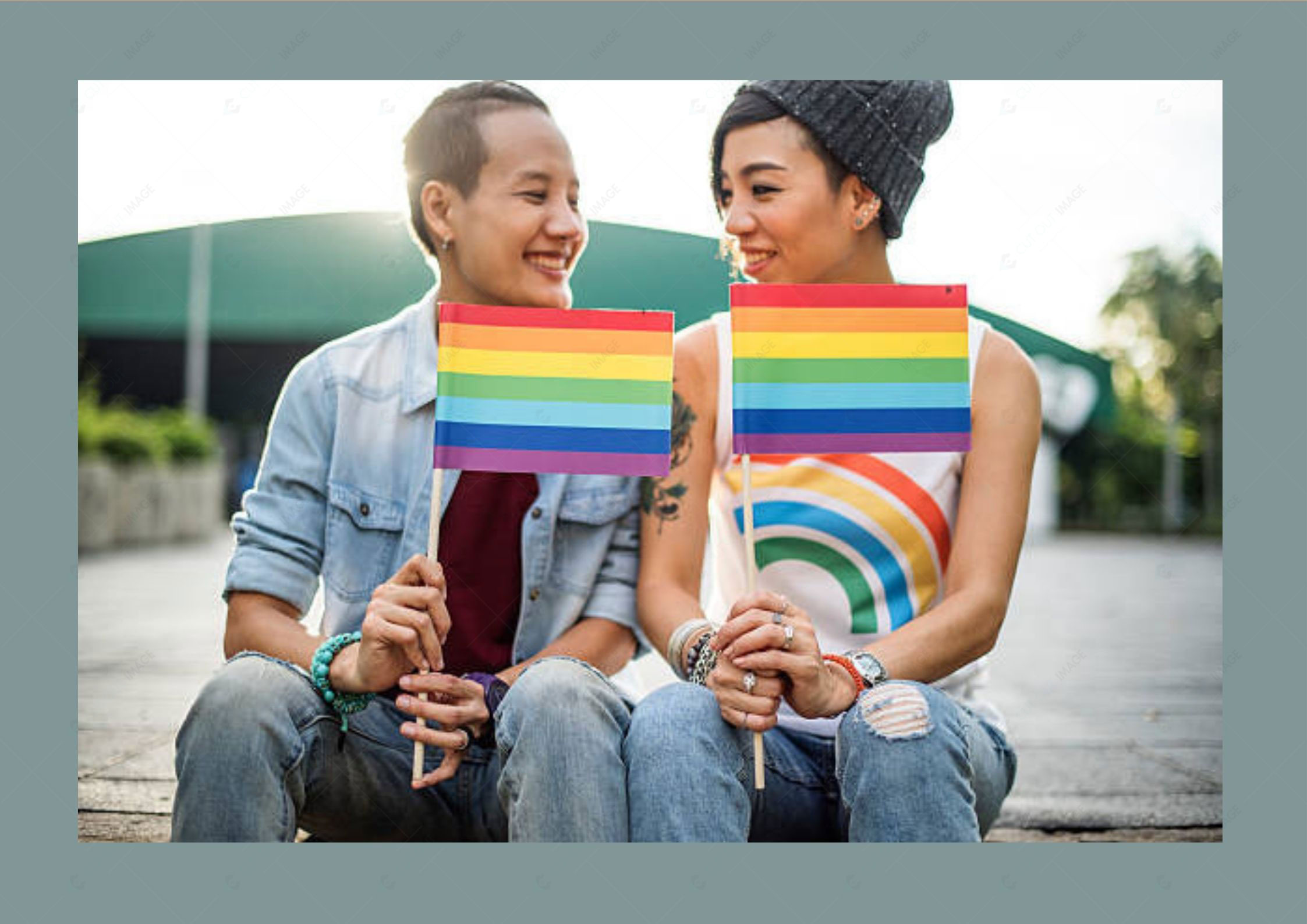 Tomboy always wears ripped jeans with hoodies and sneakers- come out of that thought. In winter, she can wear casual jeans paired with a turtle-necked colorful sweater or blazer and convert style into bold, brave art. 
Every lesbian looks stunning in flannel. In summer, she can wear a funky patterned or flannel shirt with jeans or beach shorts. If she feels cozy, she can wear a blazer layer over the shirt. She can have a messy hairstyle to create a more charming tomboy look.
07. F) Lesbian Outfits for Couples:
Lesbian couple includes two lesbians sharing a romantic relationship. Here persons in the relationship can be femme or other types of lesbians I mentioned earlier. Since each lesbian, like butch, femme, or other, has their fashion style, they can coordinate their outfits to resemble beautiful couples. They can also wear similar designs, colored, or style outfits. Floral pride outfits also seem fantastic as Lesbian Couples Outfits.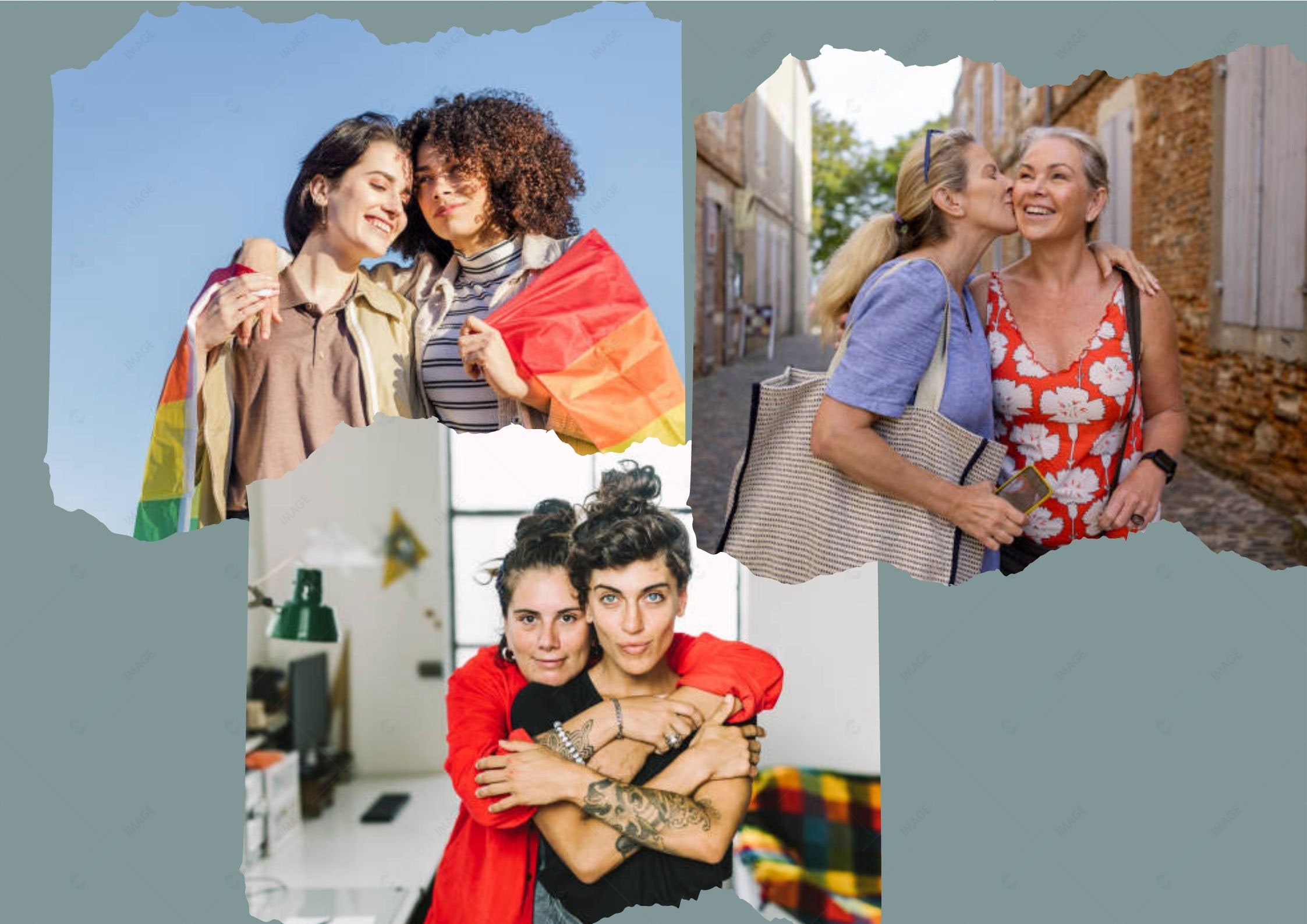 Lesbian Outfits Brands 
Outfit mirrors personality. In the past, lesbians faced many challenges in finding an appropriate outfit to express their gender identity. But it doesn't exist anymore in today's fashion world. Today every lesbian can update their wardrobe according to their preference from different brands without difficulty.
Today notable brands are introducing gender-neutral clothing for lesbians. They create amazing artistic expression clothes for LGBTQ+ communities. Let's know about some of Lesbian Outfits Brands who cater to lesbians finding a new look:
Kirrin Finch: Kirrin Finch sells menswear-inspired apparel for non-binary or lesbians to plug the gap in gender-defying fashion. They sell casual button-ups, suits, trousers, vests, jackets, etc., for all kinds of bodies, making them feel confident about their personalities.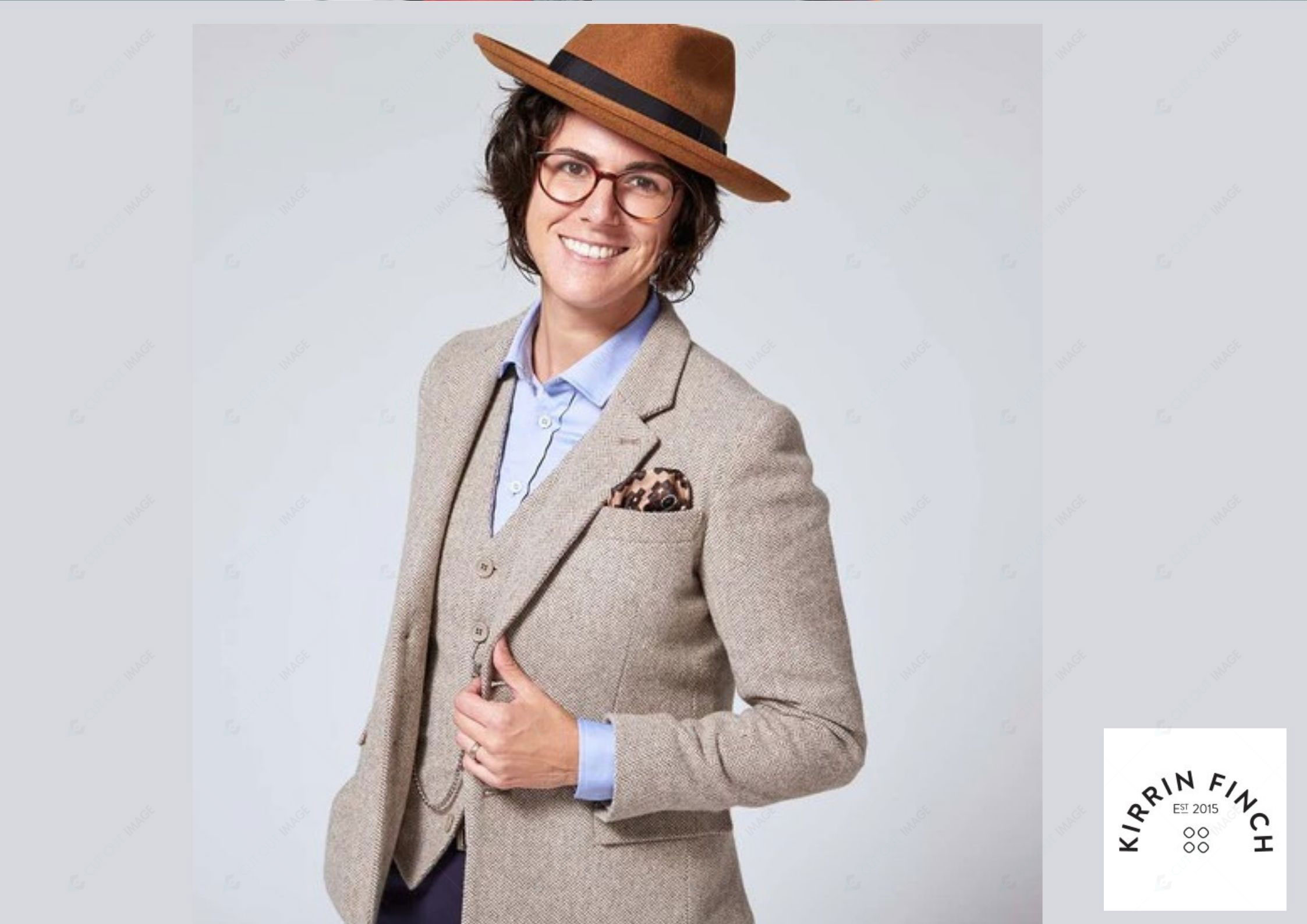 Stuzo Clothing: Stuzo Clothing is a gender-free streetwear clothing brand. They sell colorful jumpsuits, sarcastic message shirts, unique jackets, etc., for spirited non-conforming lesbians. Fashionable celebrities like Ruby Rose, Jada Pinkett Smith, Tiffany Haddish, and Lena Waithe prefer Stuzo for their outfit.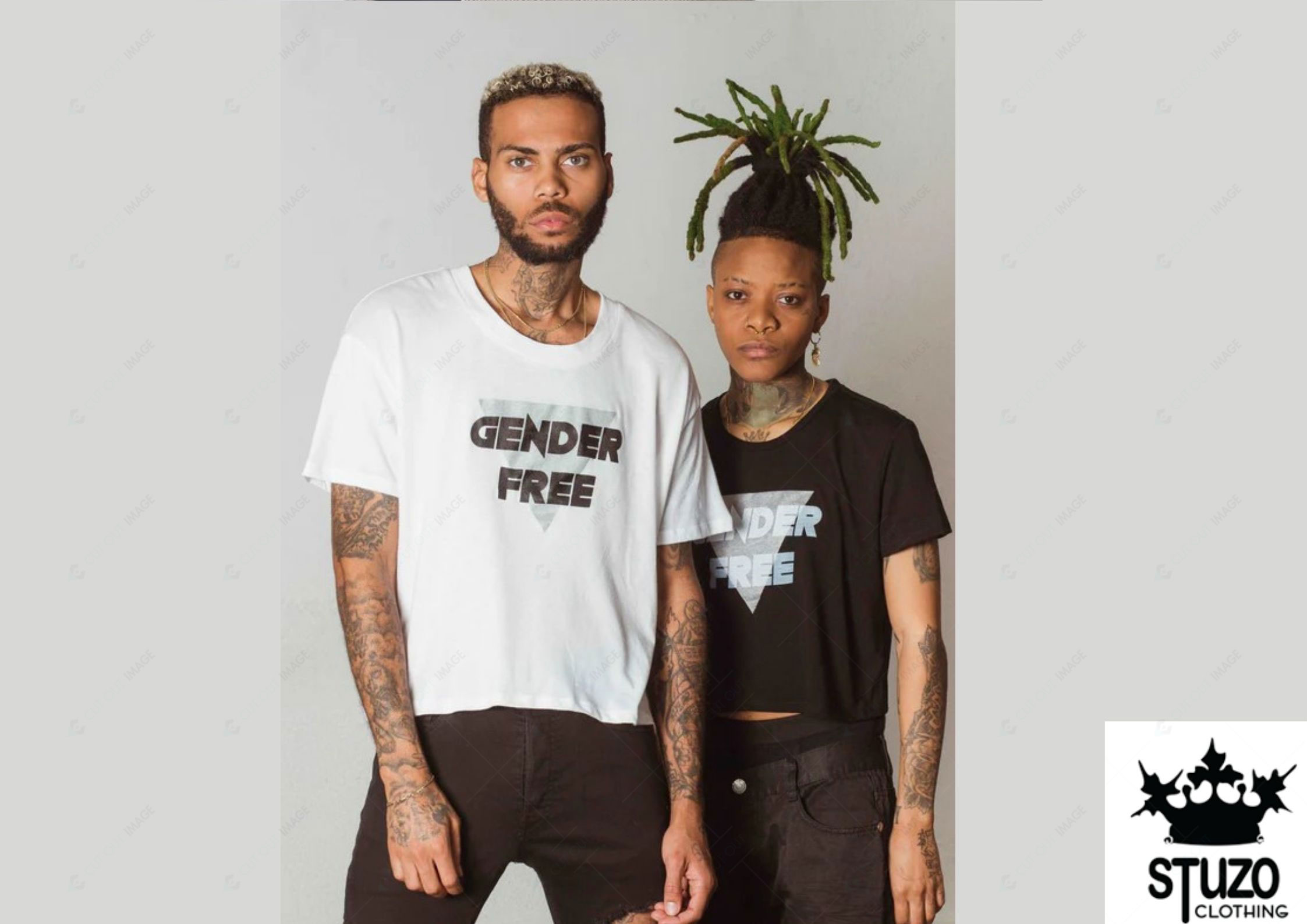 Wildfang:

Wildfang is an outfits brand that essences sustainable fashion for LGBT that aims to rethink gender norms and style. Various colors of printed Coverall jumpsuits, blazers, button-ups, sleek double-breasted blazers, pants, etc., are some of its bestselling products. It is the best brand for office wear.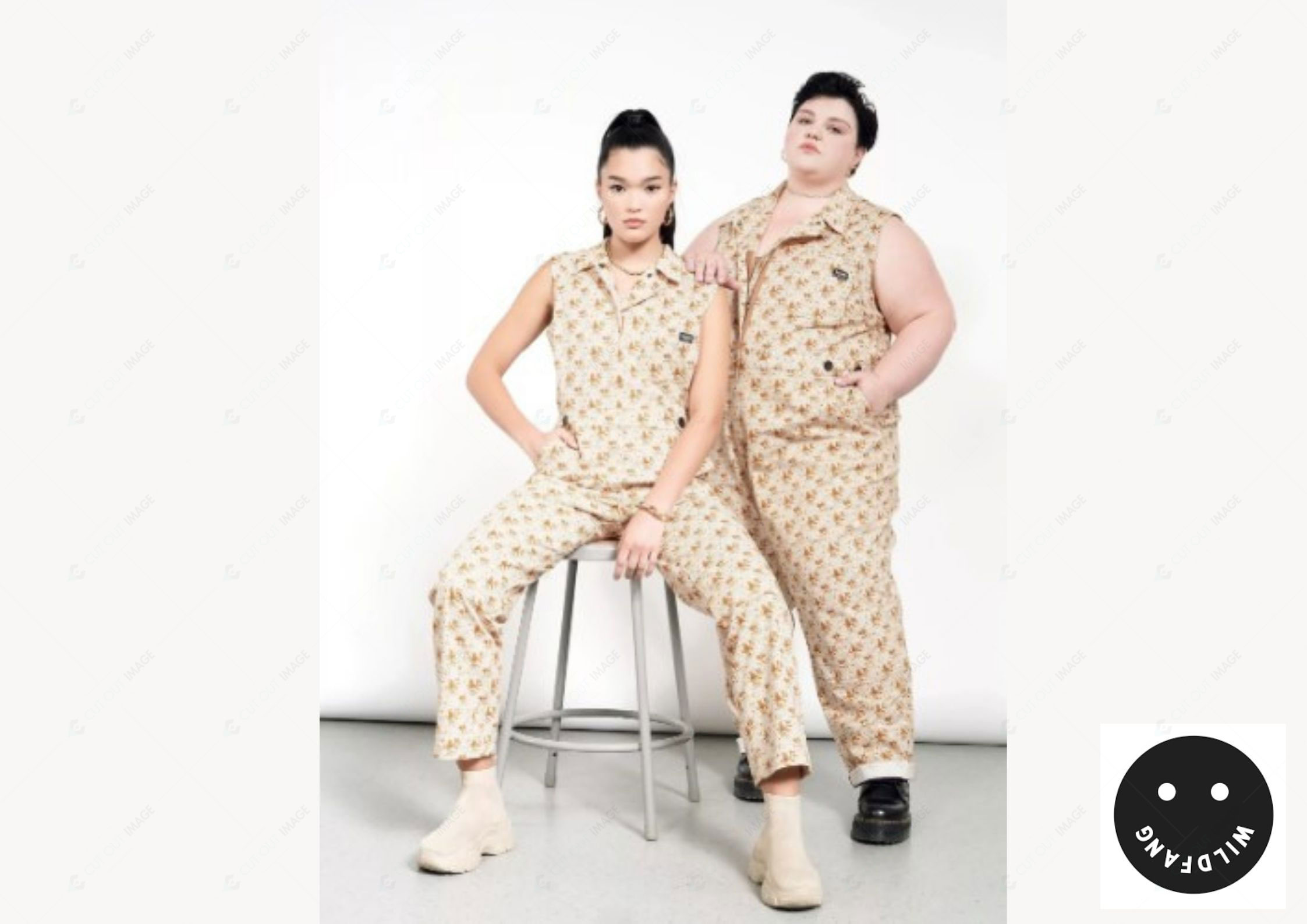 Telfar:

If you are looking for stylish Lesbian outfits at a reasonable price, the Telfar brand is there for you. Celebrities like Zoe Kravitz and Dua Lipa have been wearing Telfar brand outfits. Though Telfar is well known for its shopping bags, it also sells T-shirts, jewelry, hats, and shoes, including Ugg and Converse.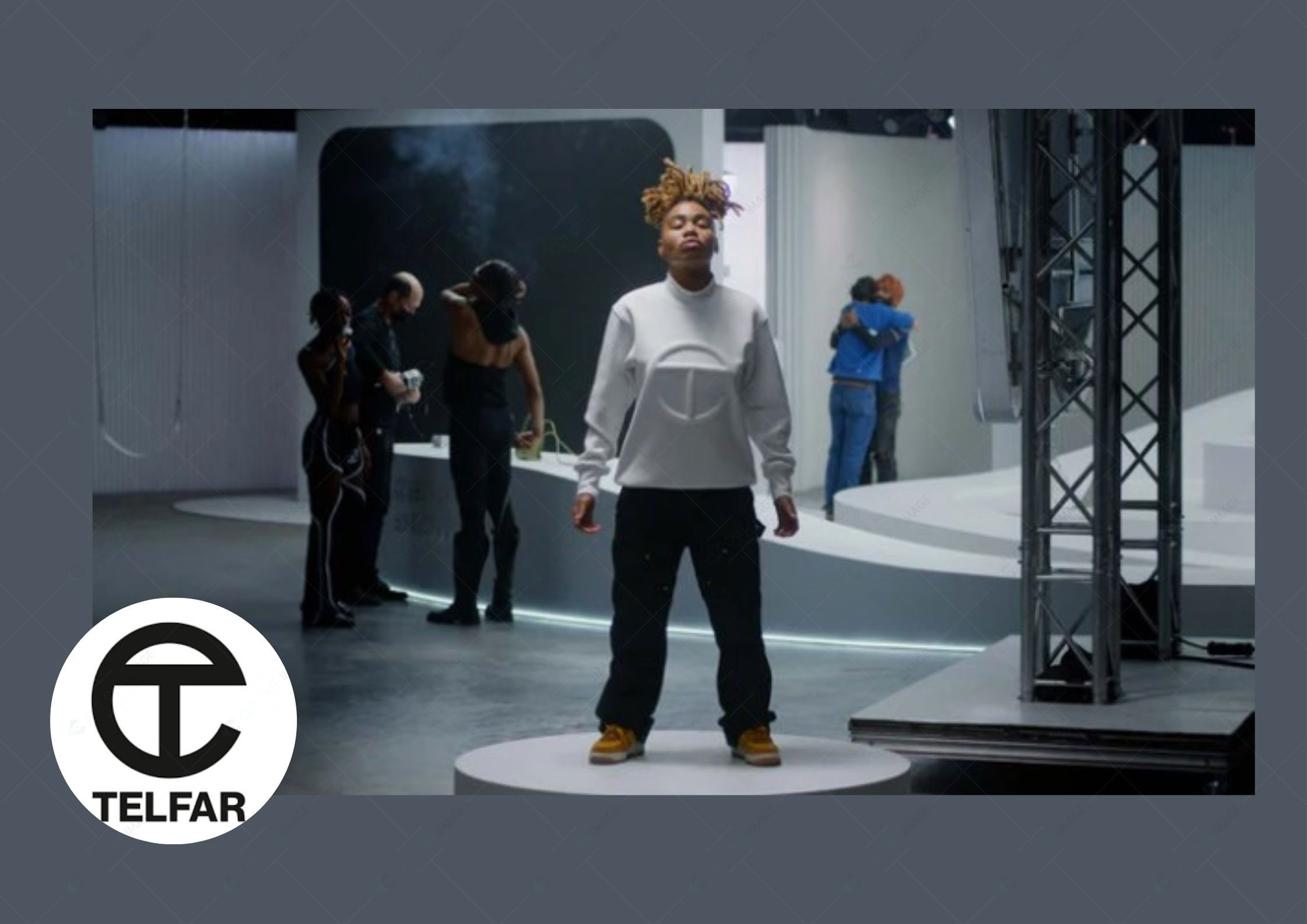 Phlemuns:

Unis*e*x outfit brand Phlemuns was founded in 2013 by James Flemons in Los Angeles. The brand sells uniquely crafted tops, dresses, and sets for all gender.
Chromat:

The lesbian outfit brand Chromat offers future-forward outfits for all. It comes with the solution for plus size lesbians' challenge in finding comfortable underwear, activewear, and swimwear. It also supplies breathable and shape-shifting sports bras, swimwear, etc., for trans, nonbinary, and queer bodies.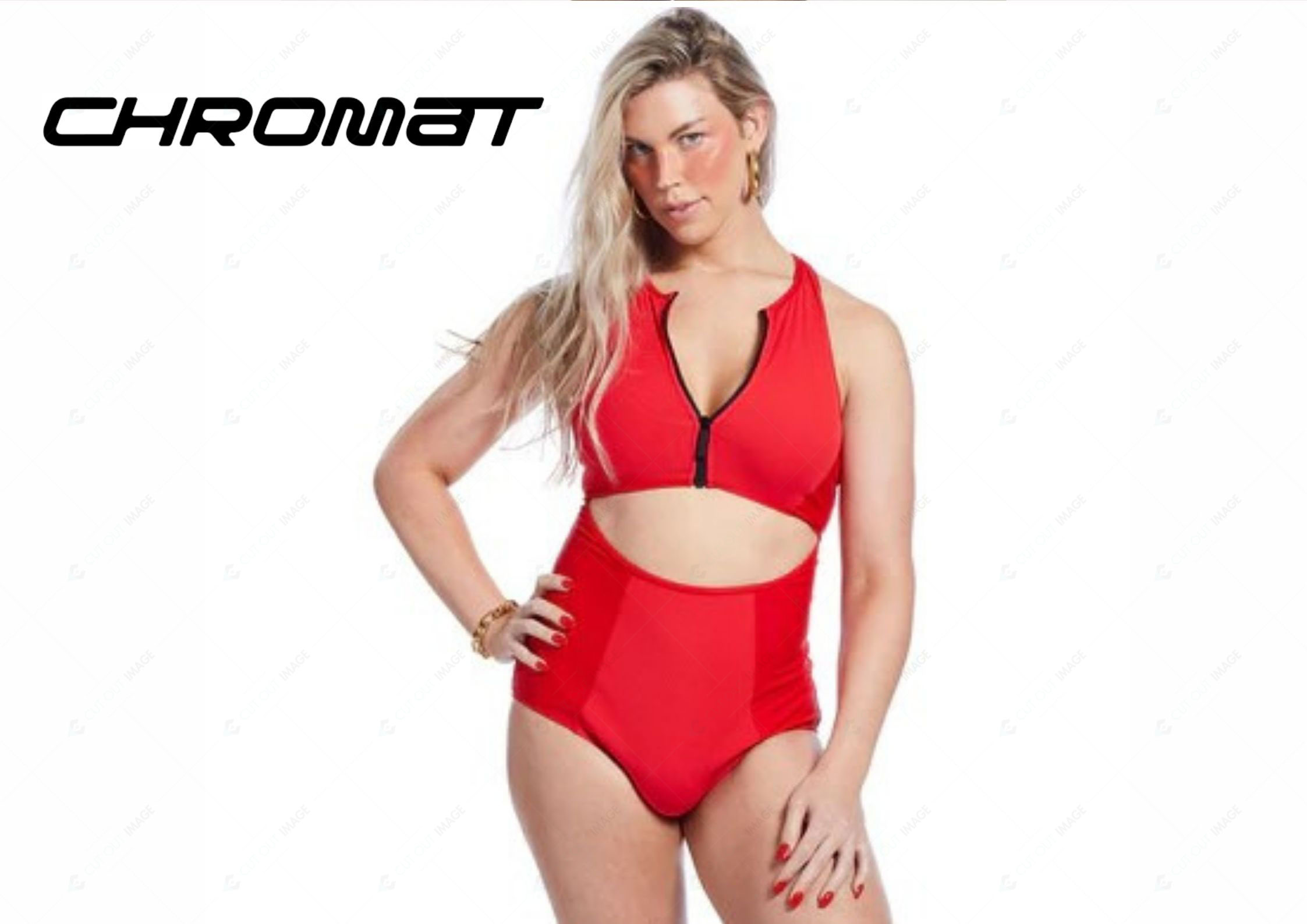 TomboyX:

If you don't feel cozy with lacy underwear, you will be a big fan of TomBoyX for underwear without any frills. TomboX is an eco-friendly gender-neutral brand that makes underwear fit every body regardless of size. They also supply cozy and trendy swim, sleep, loungewear, etc., to adopt any body type. Moreover, they even make menstruation underwear.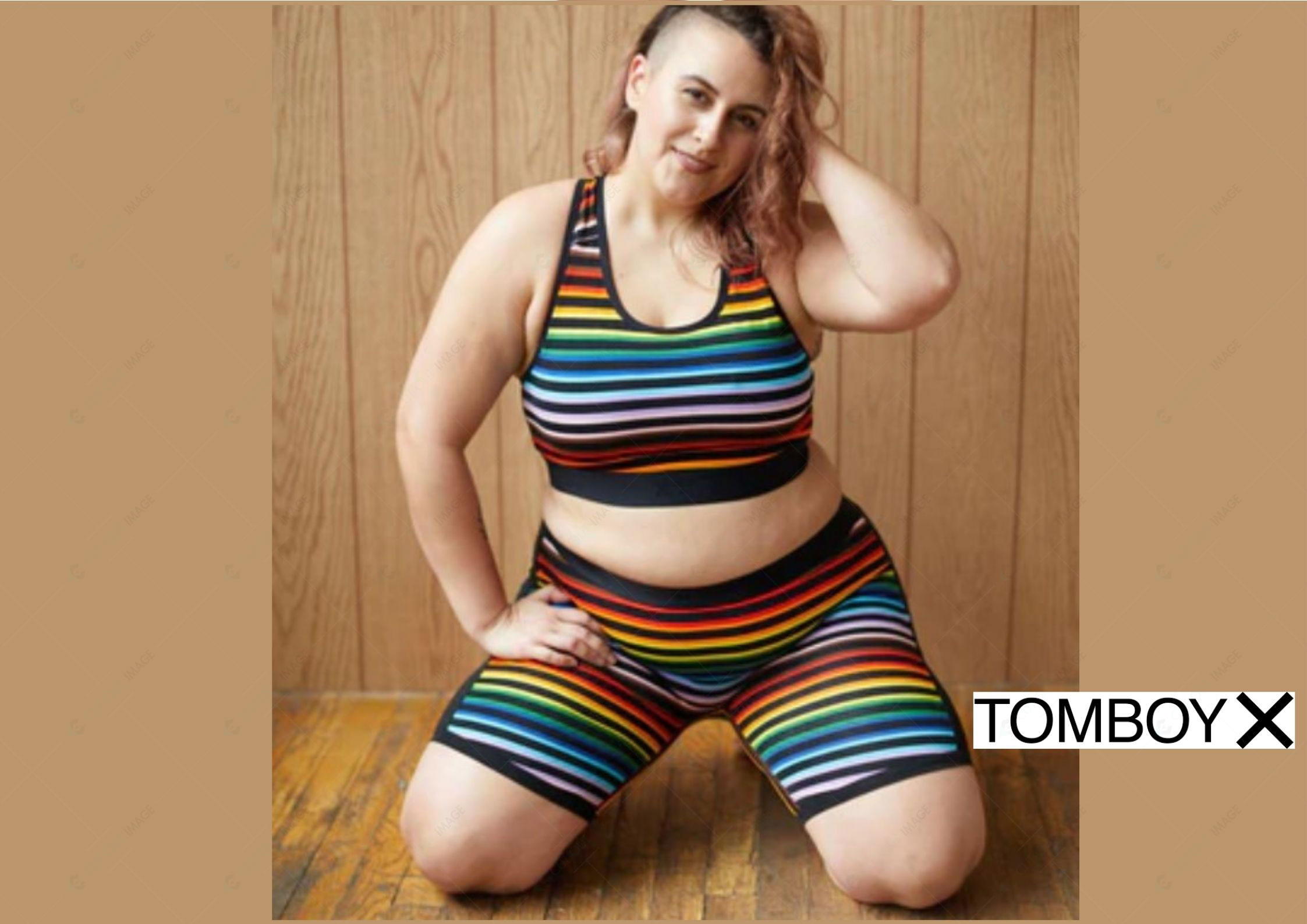 No Sesso: The brand for handmade ethos 'No Sesso' means "no gender," which designs genderless garments that fit all shapes and sizes of bodies. Pierre Davis, alongside Autumn Randolph and Arin Hayes, uses various prints, fabrics, and reconstructions to design uniquely styled outfits since the foundation in 2015.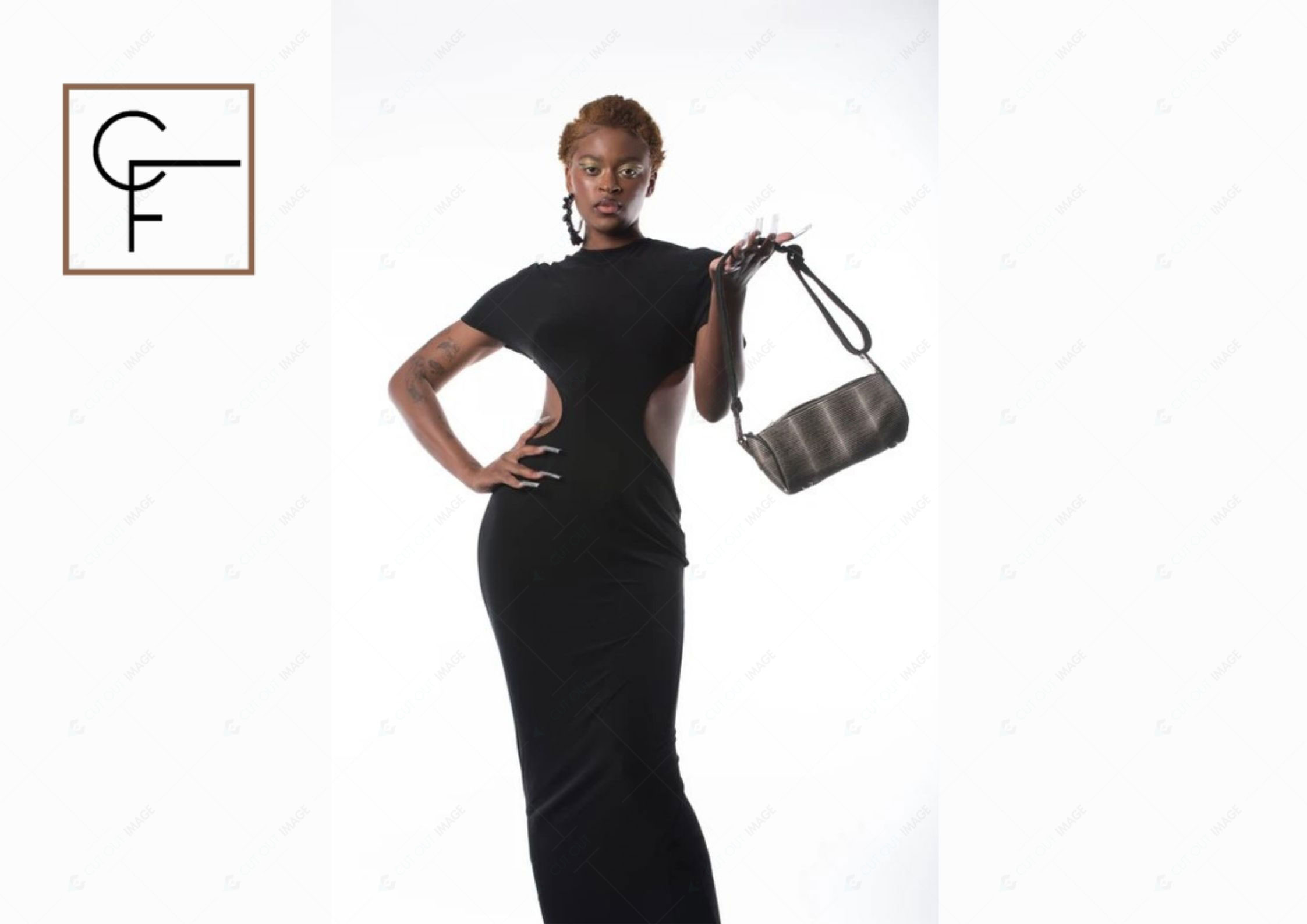 Makoma The Brand: Do you prefer traditional designs? Makoma The Brand designs outfits using African prints and classic silhouettes. It comes with stunning dresses like jumpsuits, capotes, etc. 
The History of Lesbian Fashion
Thinking of current lesbian Fashion, we anticipate celebrities like Ruby Rose, Kristen Stewart, and Ellen Degeneres with masculine Fashion. However, Lesbian Fashion harbored in lesbian culture varies according to the community. 
In the 18th century, Mary Parker pictured a lesbian couple, Eleanor Charlotte Butler and Sarah Ponsonby, wearing all black and men's top hats. Though they eloped from Wales to live together, it is anticipated that they shared a nons*e*xual relationship.

  
Anne Lister was the first modern 'butch' lesbian of the 19th century who broke the barriers of femininity and masculinity with romantical freedom. She kept men's fashion into her attire. Her diaries in a secret code show that she had love affairs all with women and married Ann Walker.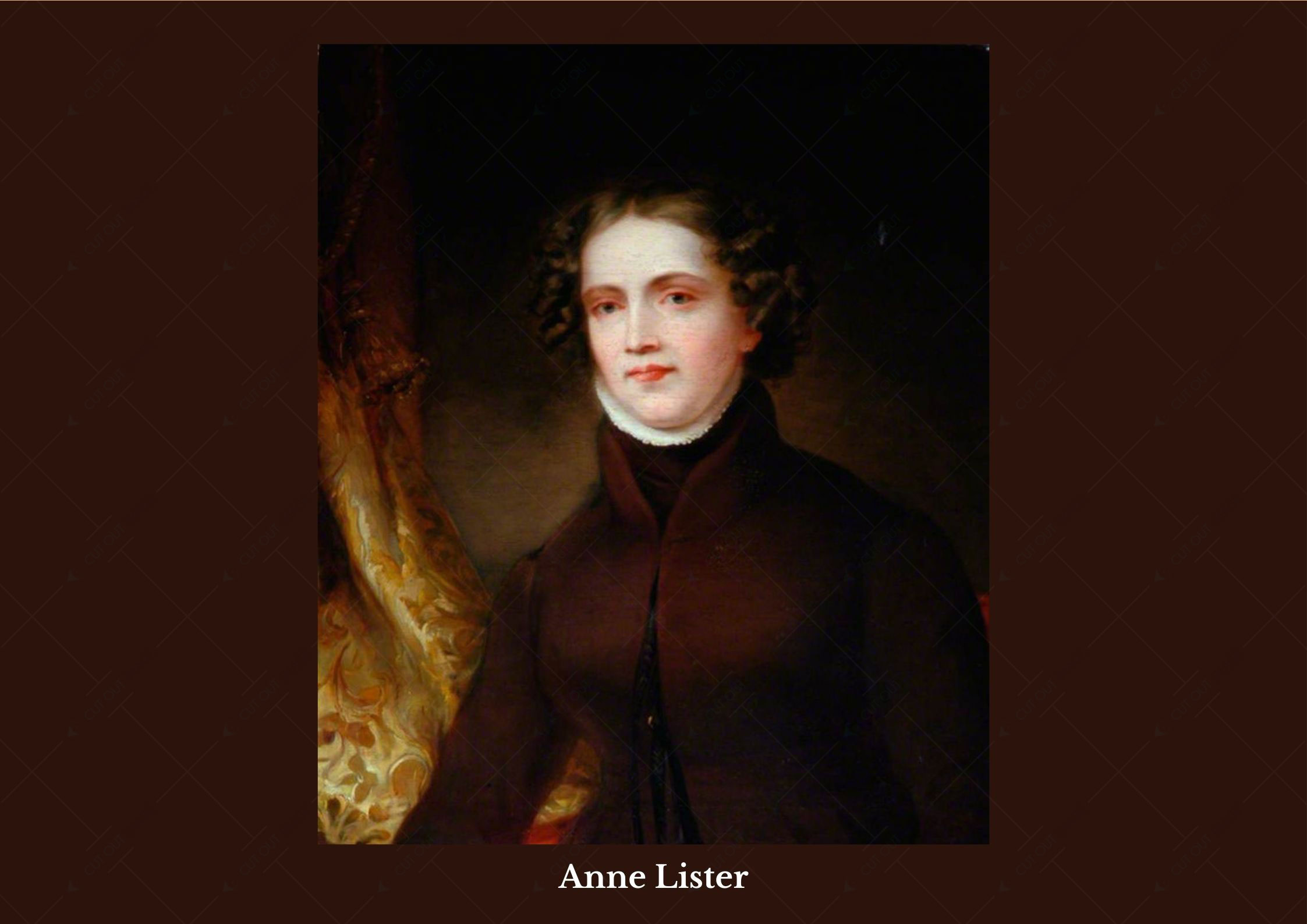 Lady Una Vincenzo, a British sculptor and translator, was a lesbian partner of Marguerite Radclyffe Hall. They both developed a masculine style for their outfit in the early 1920.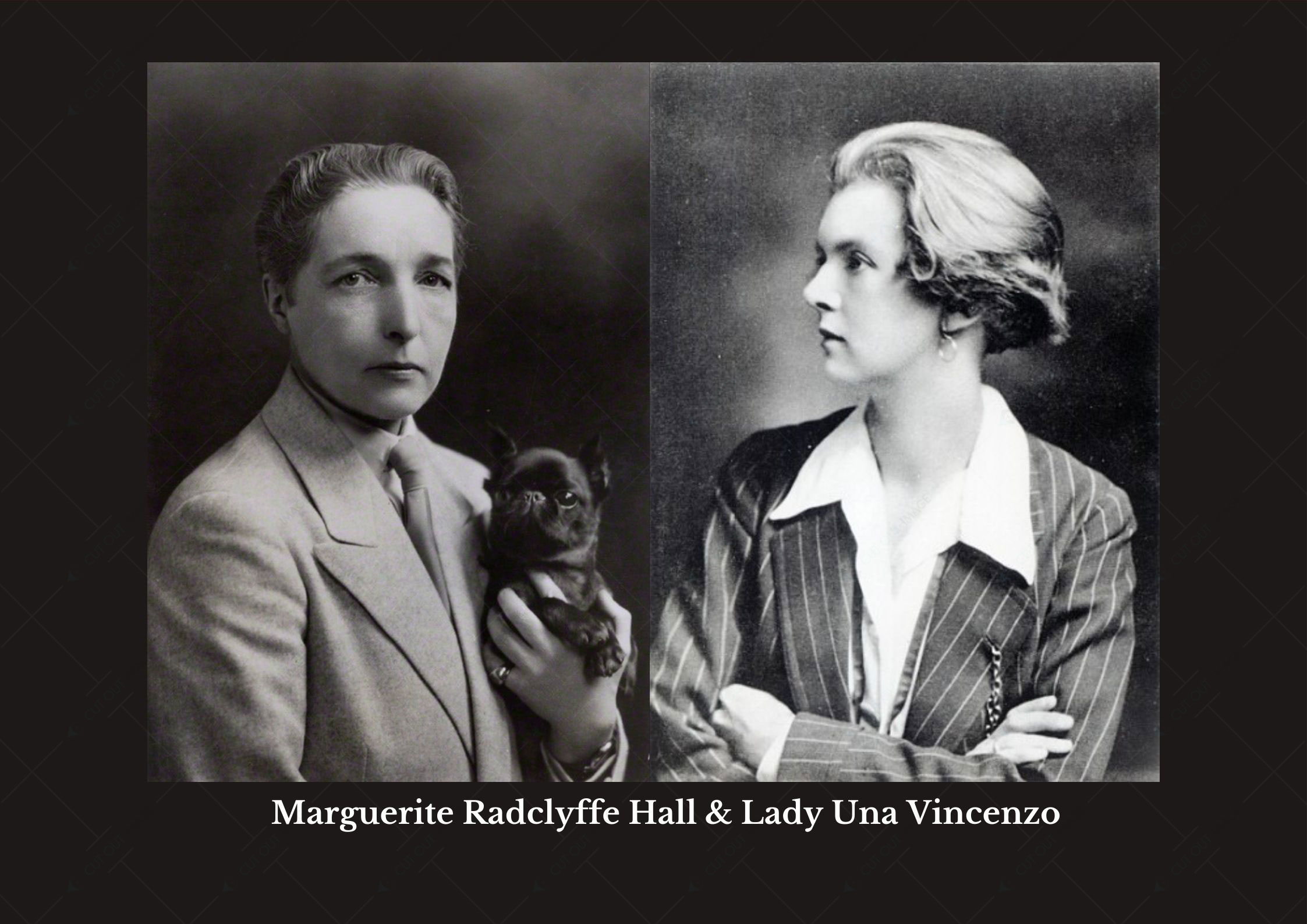 In the 1920s and 30s, style icon Marlene Dietrich brought an androgynous style considering Fashion to be an outward show of a person.
"I dress for the image. Not for myself, not for the public, not for fashion, not for men." – Marlene Dietrich
In 1950 women socially accepted trousers as an outfit; consequently, it became challenging to identify lesbians by outfit. To overcome this challenge, many lesbians added ties and cufflinks with trousers to indicate their s*e*x*uality to other lesbians.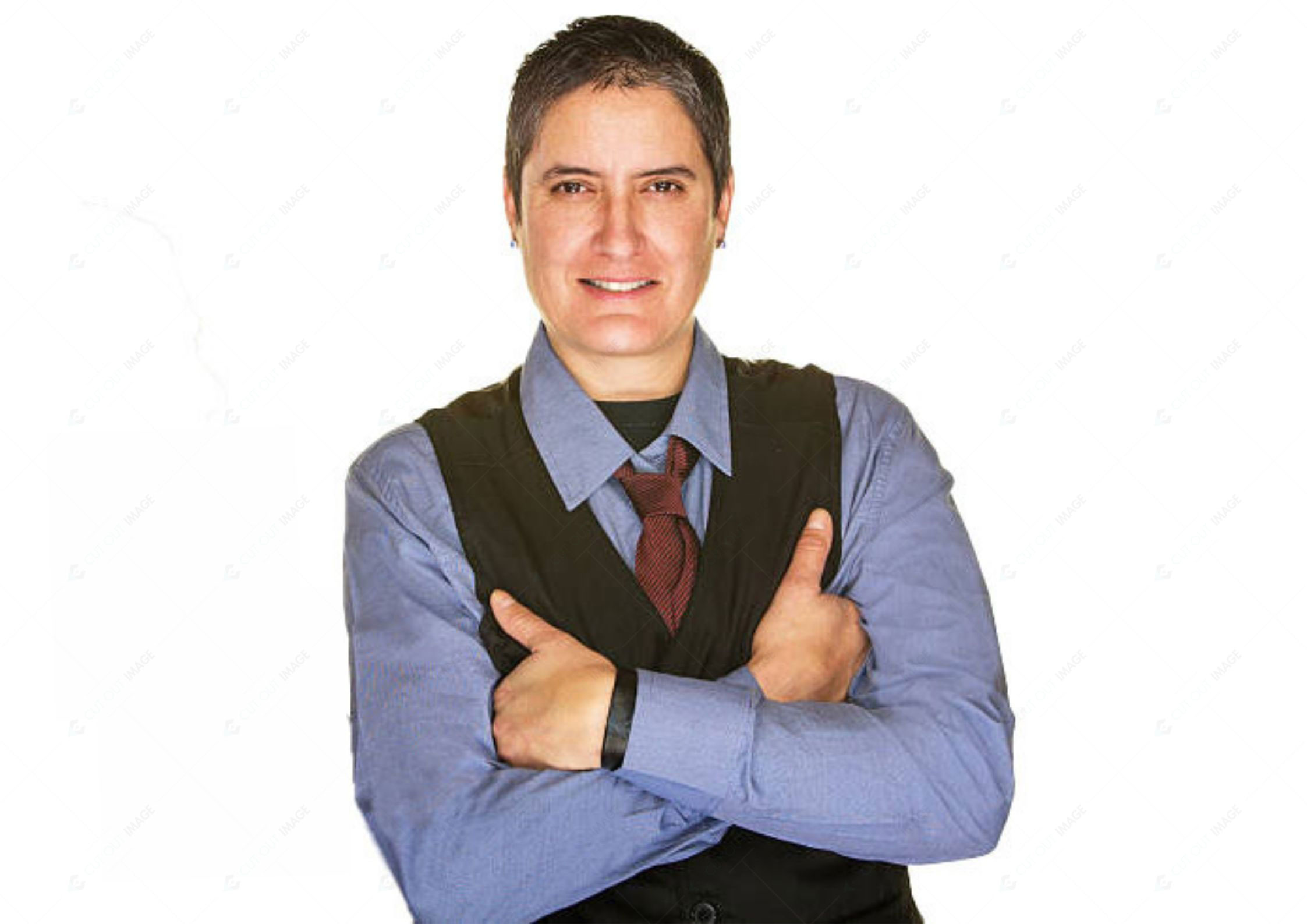 In the 20th century, women in America couldn't wear male dress entirely. They had to wear at least 3 female clothing items. In the past, lesbian meant only butch/femme, but in the late 20th century, it enclosed a wide range of subtypes unique to expressions today, including butch, futch, and lipstick lesbian style.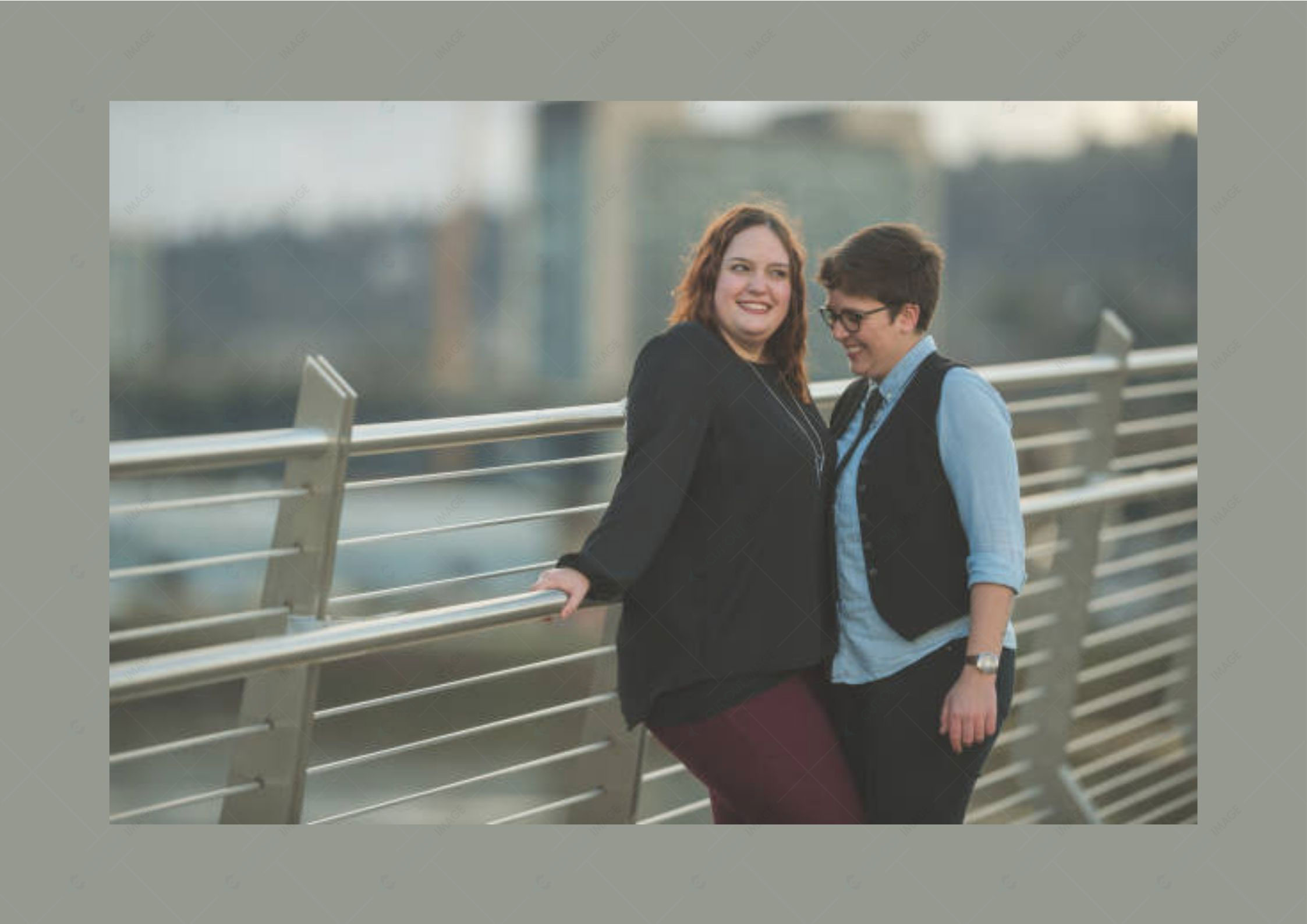 From 2020 the idea of "clothing for feminine or masculine" is starting to disband, developing non-gender fashion that empowered the LGBTQ community. In the LGBTQ community, lesbians don't need to dress like a man to signal to other lesbians and face challenges in fitting into the male dress.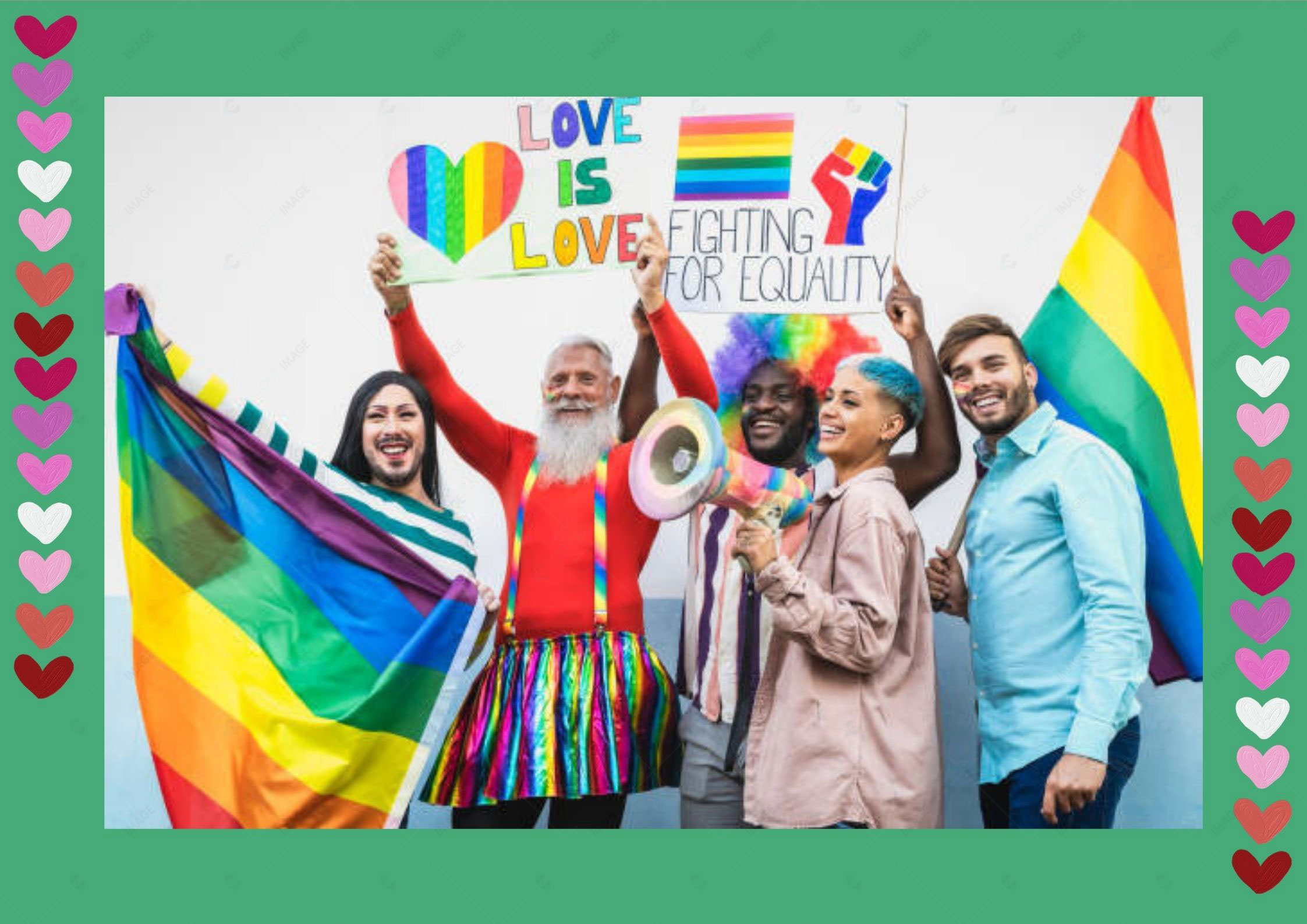 In today's fashion world, lesbians find numerous renowned brands designing non-gender outfits for all shapes and sizes.
The wrap-up
Today's LGBTQ fashion world emerges with numerous lesbian outfits that can enrich your wardrobe. Hopefully, you have enjoyed reading the blog to find the perfect style of Lesbian Outfits Ideas from renowned brands. Let us know in the comment box if you want to share any Lesbian Outfits Ideas or fashion trends we missed.
Well, you can try these outfits to signal other lesbians and frame the remarkable memory of dating moments with photography. You can also mark your new identity with new fashion trends and show yourself on social media with photography. Cut Out Image can help you make your personal and dating photos stunning. Don't hesitate to contact us for Image post-production services. 
  If you enjoyed this blog, hopefully, you would like my other blogs as below: