Maternity is a unique moment in a woman's life. Almost every woman desires to capture her nascent baby bump's beauty with a perfect maternity photoshoot. Alike every photoshoot, an outfit is key to making the Maternity Photoshoot amazing. Therefore, after hiring a photographer, almost every woman wonders, "What to wear in maternity photoshoots? ". If you are also one of those searching for Maternity Photoshoot Outfit Ideas, you landed on the correct page since I will discuss it in this blog. 
  Here are the topics I will cover in this blog:
What is Maternity Photoshoot

Maternity Photoshoot Outfit Ideas

Brands for Maternity Photoshoot Outfit

How to Select Maternity Photoshoot Outfit

Importance Of Selecting a Maternity Photoshoot Outfit
What is Maternity Photoshoot
Maternity Photoshoot is a photography session for capturing a pregnant woman when the belly is round, apprehending the beauty of a growing baby bump that glorifies the mom-baby unity. Usually, this photoshoot occurs during pregnancy's third trimester when the baby bump is prominent. 
It can be taken at home, studio, or outdoors according to the comfort and capability of the expectant mother. Selecting the proper outfit ensures stunning results. It has become popular nowadays. The main aim of such a photoshoot is to create a special memory for a lifetime.
Maternity Photoshoot Outfit Ideas
Maternity is the shortest but most critical period, and to make it memorable, almost every mother wants to do photosession. But most of them wonder what to wear for the best photo. I will share those Maternity Photoshoot Outfit Ideas in this part of the blog. Let's dive into the details:
01. Maxi Dresses:
A transparent and lacey maxi dress can be one of the most trendy Maternity Photoshoot Outfit Ideas to proclaim your baby bump. Instead of a busy print, pick a solid color dress for a fantastic shoot because the simple color will focus on the baby bump, whereas the busy print will divert the attention away from the baby bump. 
Sometimes, less is more. A simple solid-color maxi dress gives a concentrated look to show off the beautiful belly.
02. Jumpsuit:
If you want to wear a maternity outfit informally, you can pick a jumpsuit with side pockets and wide legs. It will make you look confident and cute. Moreover, you can wear it easily and comfortably.
03. Maternity Denim:
Are you looking for classic but cute Maternity Photoshoot Outfit Ideas? Then Maternity Denim is a good choice for bringing a striking look to your Maternity Photos.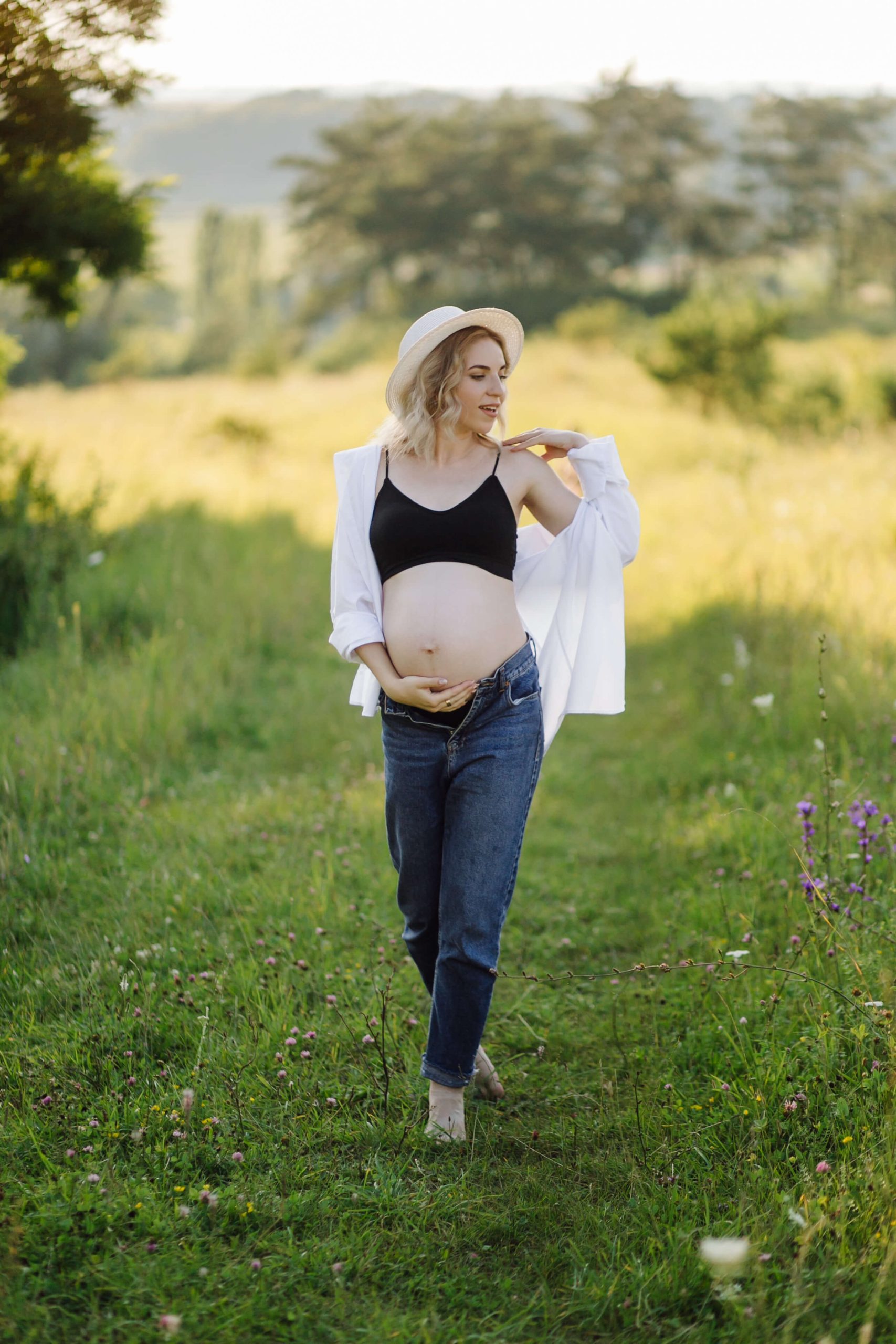 04. Maternity Romper:
If you are going to do the Maternity Photoshoot during spring or summer, the floral romper can be one of the best Maternity Photoshoot Outfit Ideas. This lightweight, adjustable romper will make you feel comfortable, making the photo beautiful.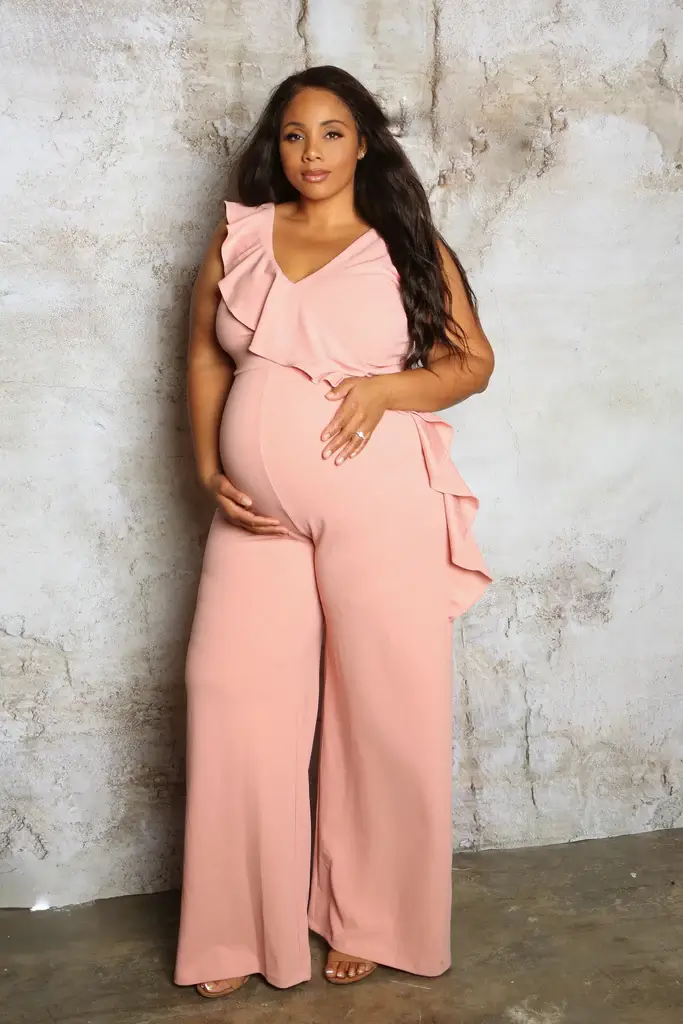 05. Lace Gown:
Do you want to add a bohemian vibe to your Maternity Photoshoot? The lightweight white lace gown can be a great choice to be comfortable and show off the glory bump.
06. Bodycon Gowns:
A bodycon gown is always beautiful and can impress young people. A solid color long-fitted bodycon dress designed to hug you in all and showcase your beautiful curves.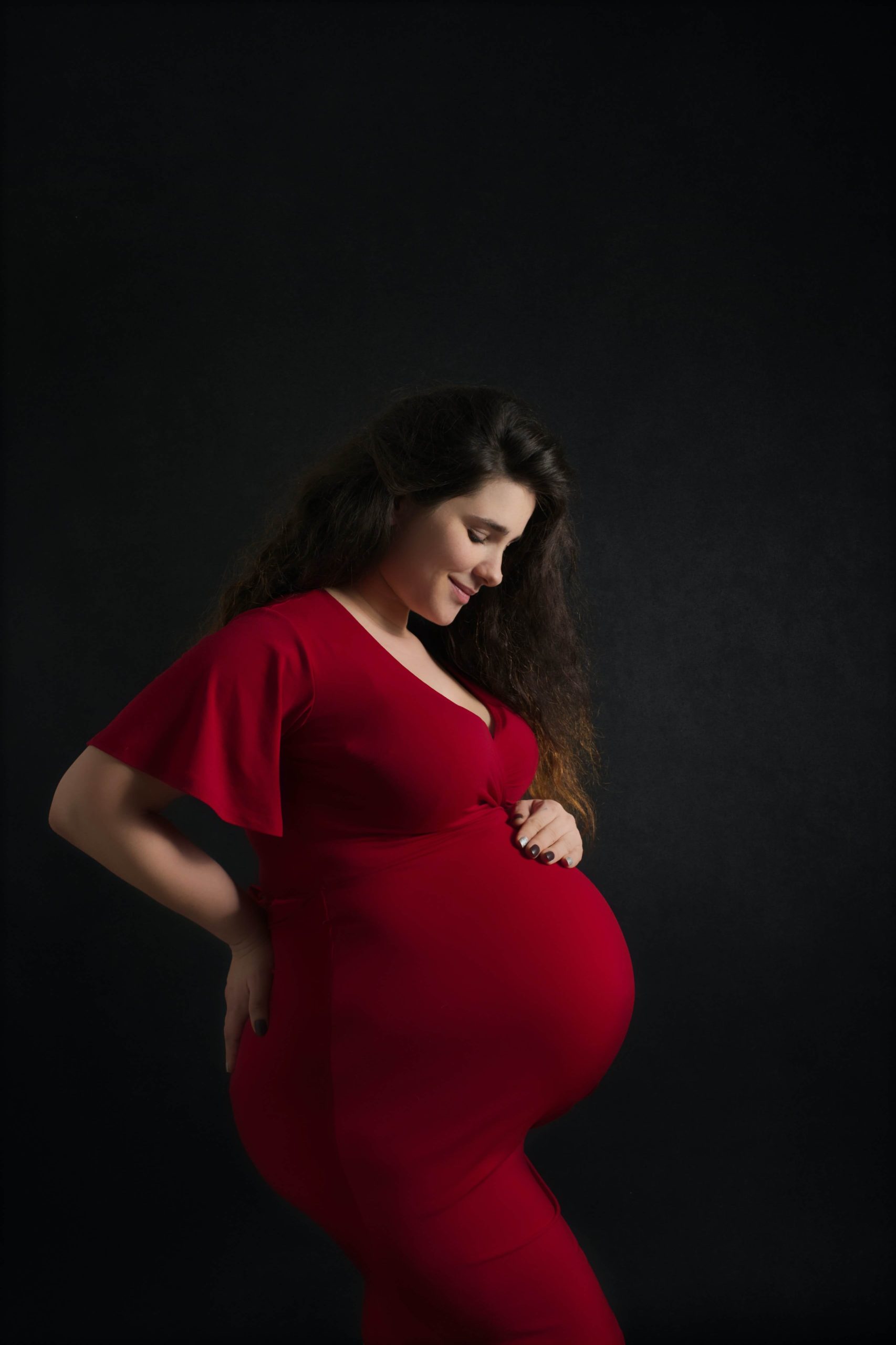 07. Fairy Dress:
Who doesn't want to look like a fairy? You need a dress with poofy and flair bottoms to look like that. You can purchase any solid color fairy dress from anywhere and wear it to look like a fairy showcasing your baby bump. 
08. Trainer Bra and Shorts With Shrugs:
You can wear a trainer bra with shorts and shrugs, showing your curve line with the bump, making the photo attractive. Moreover, it is a manageable idea since you already have this outfit in your closet.
09. Fitted Bodysuit:
A tight-fitted bodysuit is one of the ideal Maternity Photoshoot Outfit Ideas. It will add simplicity and elegance to your photos, highlighting your body curves and baby bump.
10. Oversized Jumper or Shirt:
Oversized Jumper or Shirt is more prominent in size with a relaxed fit. It is super comfortable to wear in Maternity Photoshoot. You can wear a button-up oversized jumper or shirt to highlight your baby bump with style.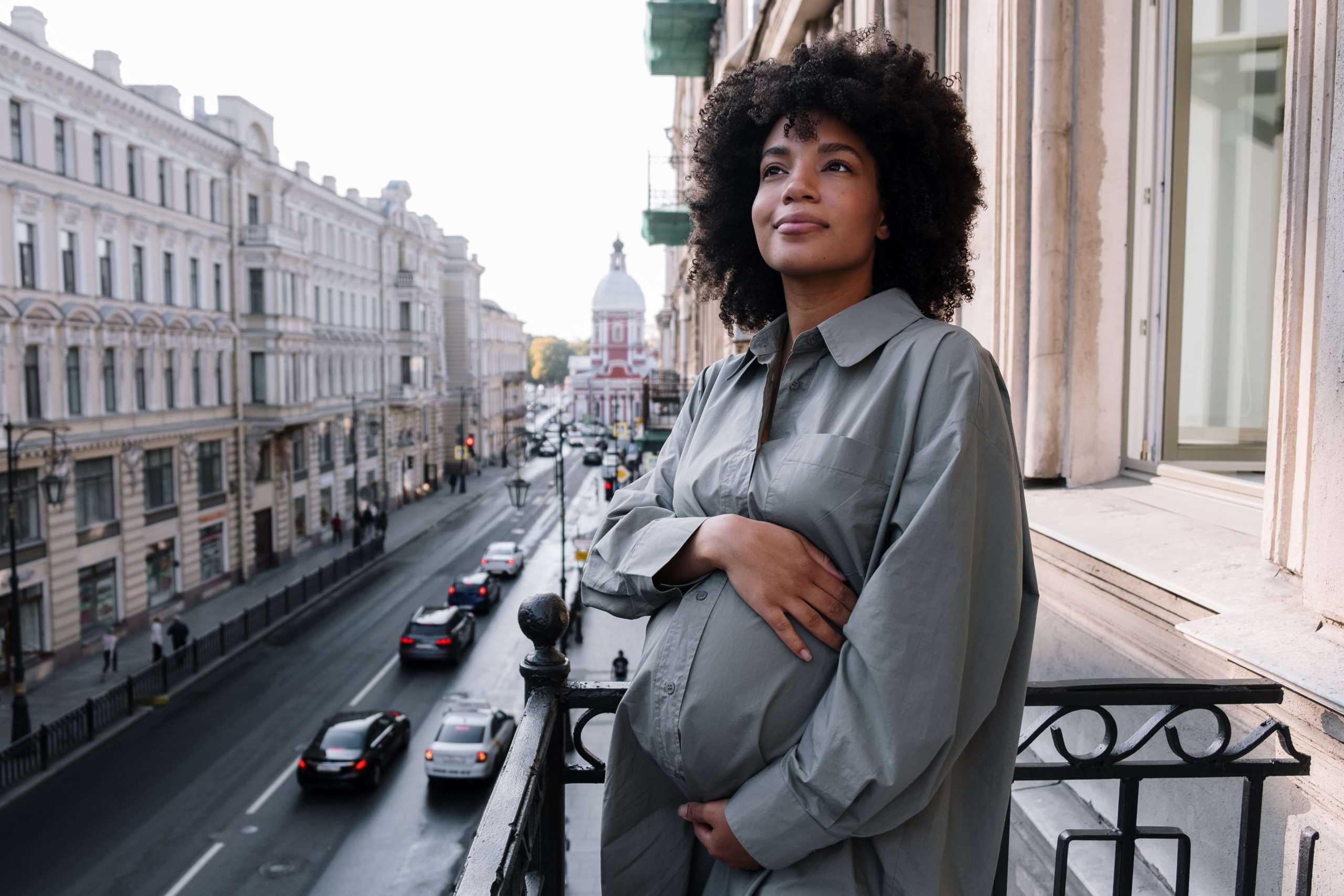 11. Go Sheer in semi-nude:
If you feel cozy, you can capture your Maternity with Curvy Boudoir Photography Ideas! To go sheer in semi-nude is the cookie-cutter for Maternity Photoshoot Outfit Ideas.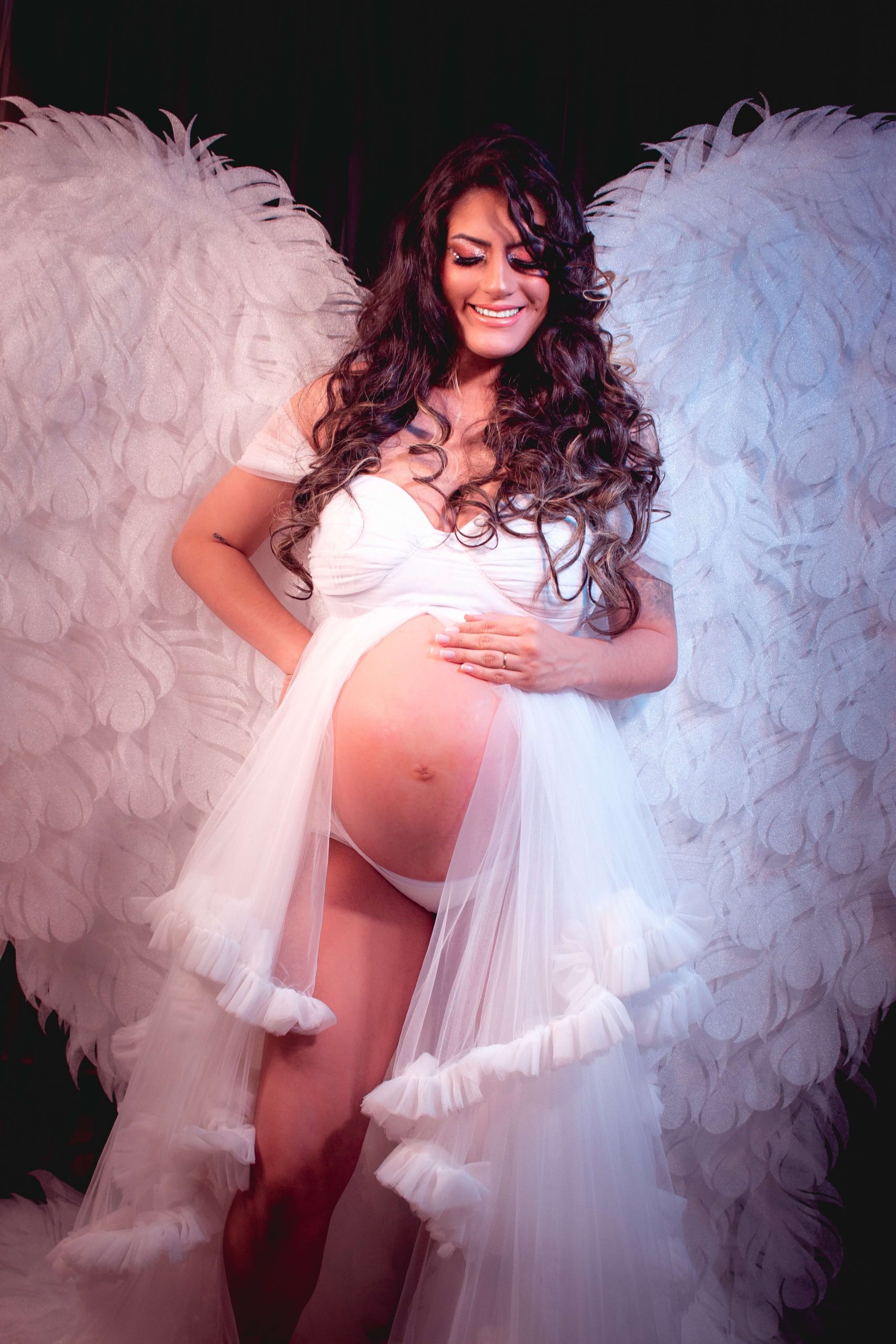 12. Empire Waist Dress:
Do you know about Empire Waist Dress? It is clothing with a fitted bodice finishing just below the bust, giving a high-waisted appearance. Such a dress will make you look pretty in your special maternity photoshoot since it flatters the baby bump. Adding a hat will bring an elegant vibe to the photo.
13. Mermaid Maternity Gown:
Mermaid Maternity Gown is comfy and flattering enough to highlight the bump. This idea is perfect for all sizes, even if you are plus size. 
14. Maternity Photoshoot Outfit Ideas for Him:
If your partner is a part of the Maternity Photoshoot for a few poses, he can coordinate the outfit color. For example, if you wear solid colors, your partner can wear a small printed or patterned outfit. He can pick a solid color from your print if you wear printed.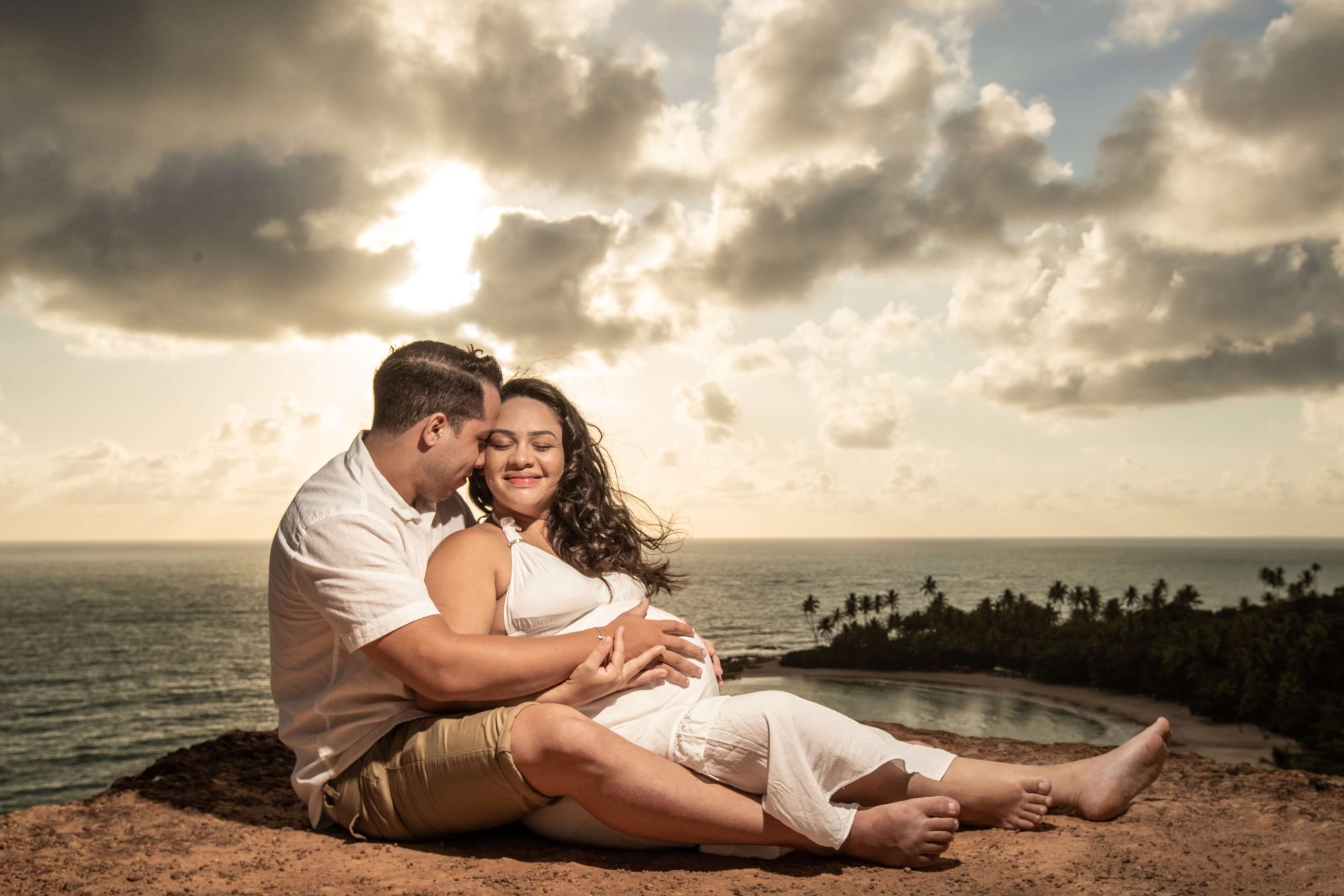 He can wear a collared shirt with tan khakis or denim if you wear a gown or other outfit. In the case of tops and jeans, he can wear a shirt with jeans coordinating his outfit colors. Make sure his outfit doesn't contain any logo. However, if you prefer an outfit with a logo, you can remove it later by image post-production. You can take help from Cut Out Image for image post-production or photo retouching services. 
He can wear a button-down shirt with khaki shorts for a beach photoshoot. He can wear a cardigan sweater over a shirt paired with loafers for wintertime.
Brands for Maternity Photoshoot Outfit
The maternity Photo session is the moment to shine. Therefore, the outfits should be stylish, timeless, comfortable, and favorable. Many brands offer affordable and stylish maternity photoshoot outfits that fit your budget and personal style. Here are a few of them: 
PinkBlush Maternity:

PinkBlush Maternity offers a variety of maternity clothing, from casual to formal styles. These outfits are designed to flatter your baby bump and are perfect for maternity photoshoots.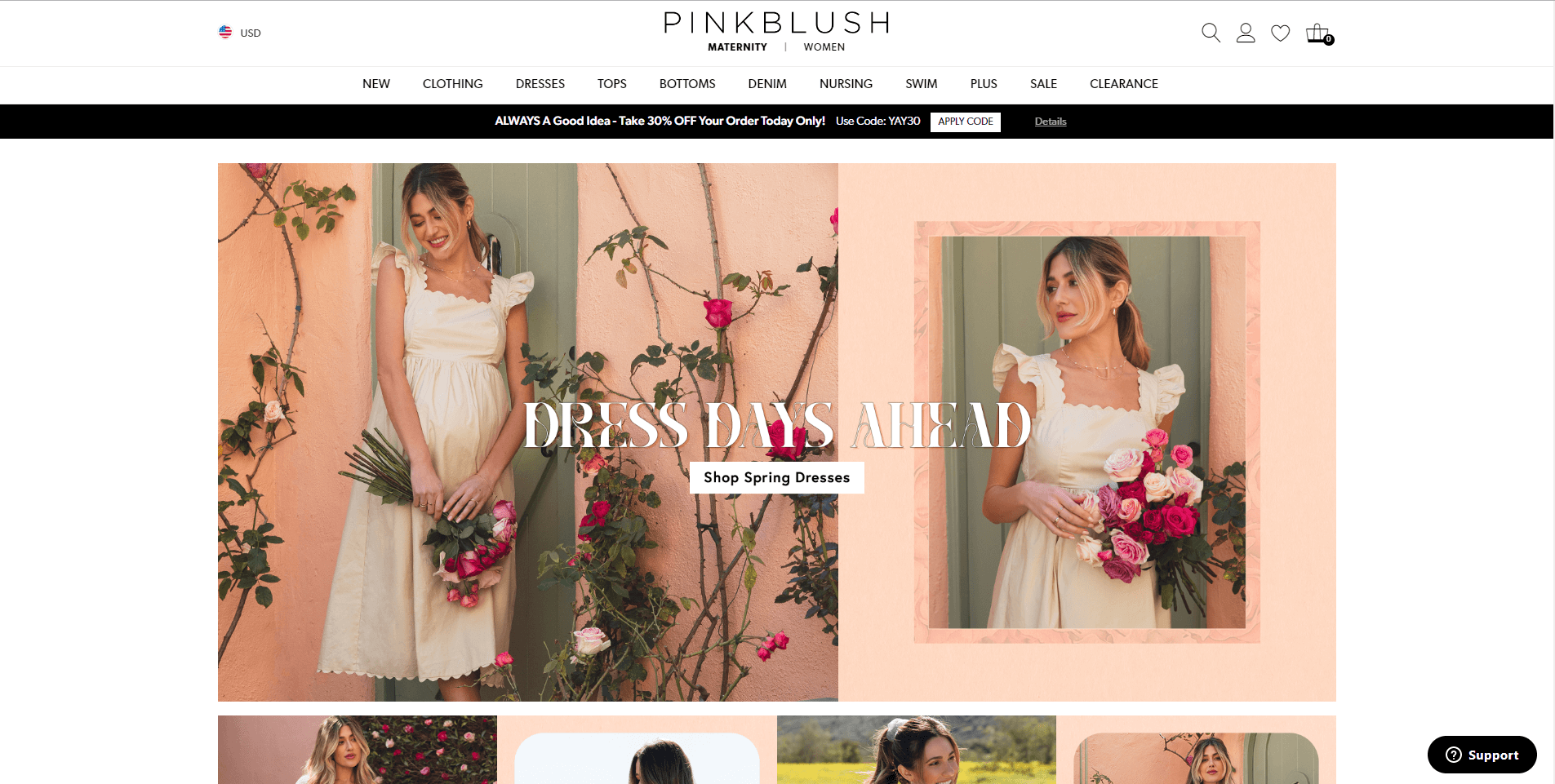 Motherhood Maternity:

Motherhood Maternity is a popular maternity outfit brand offering outfits perfect for a maternity photoshoot. They offer stylish clothing for pregnant women at an affordable price.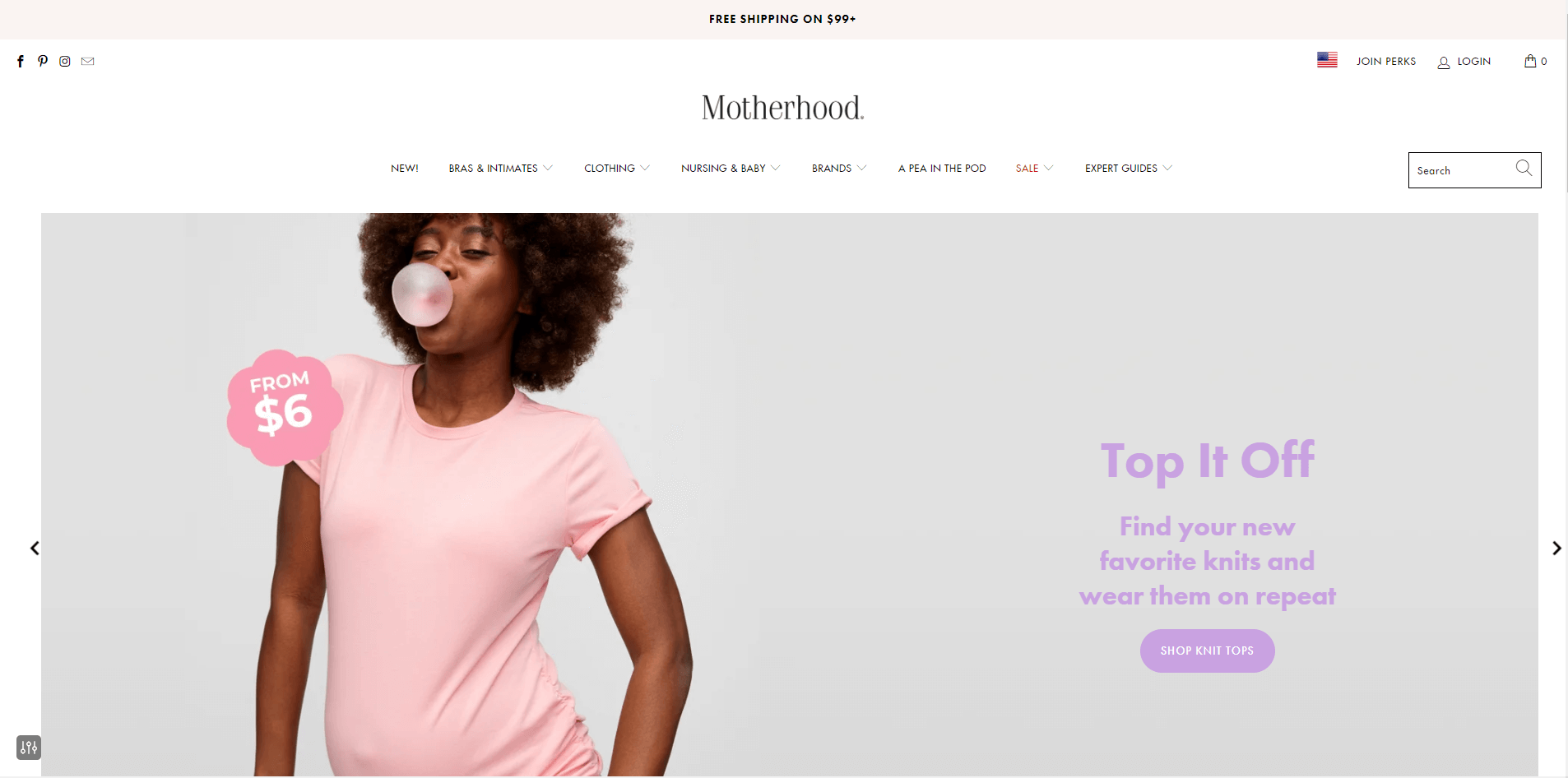 eShaki:

eShaki offers a custom-fit outfit according to pregnant body size. You can customize the outfit length and width as much as you want. Their unique, customized, beautiful outfits will be the perfect Maternity Photoshoot Outfit ensuring comfort.

ASOS Maternity:

ASOS Maternity offers modern maternity clothing, including skirts, tops, and jeans. The price also fits your budget. Their large collection of maternity outfits would be perfect for a maternity photoshoot.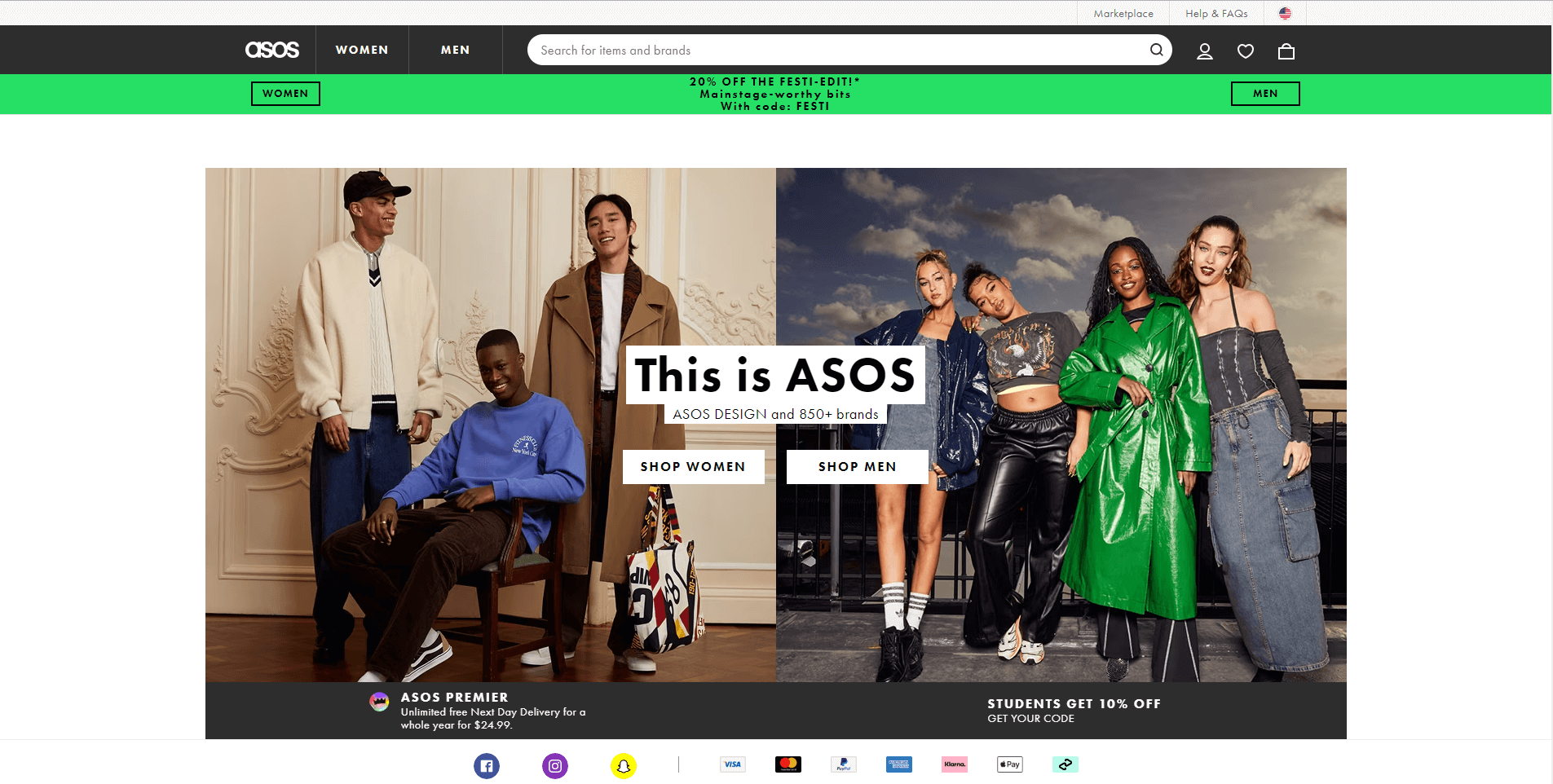 Seraphine:

Seraphine is well known for elegant and stylish clothing for pregnant women. They offer a wide range of outfits perfect for a maternity photoshoot.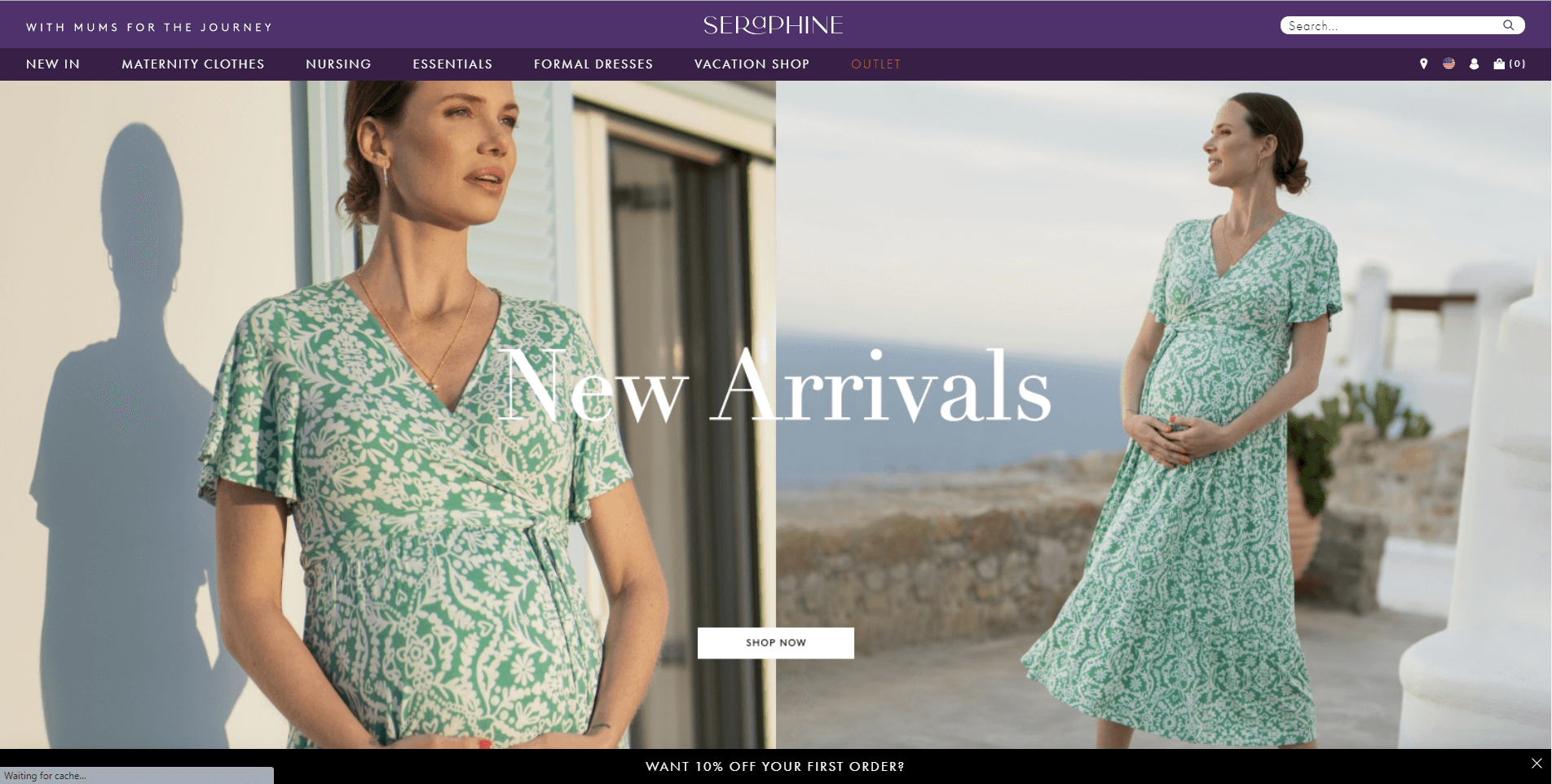 Hatch:

Hatch is an expensive maternity outfit brand. It offers fashionable and refined outfits for expectant mothers, perfect for a maternity photoshoot.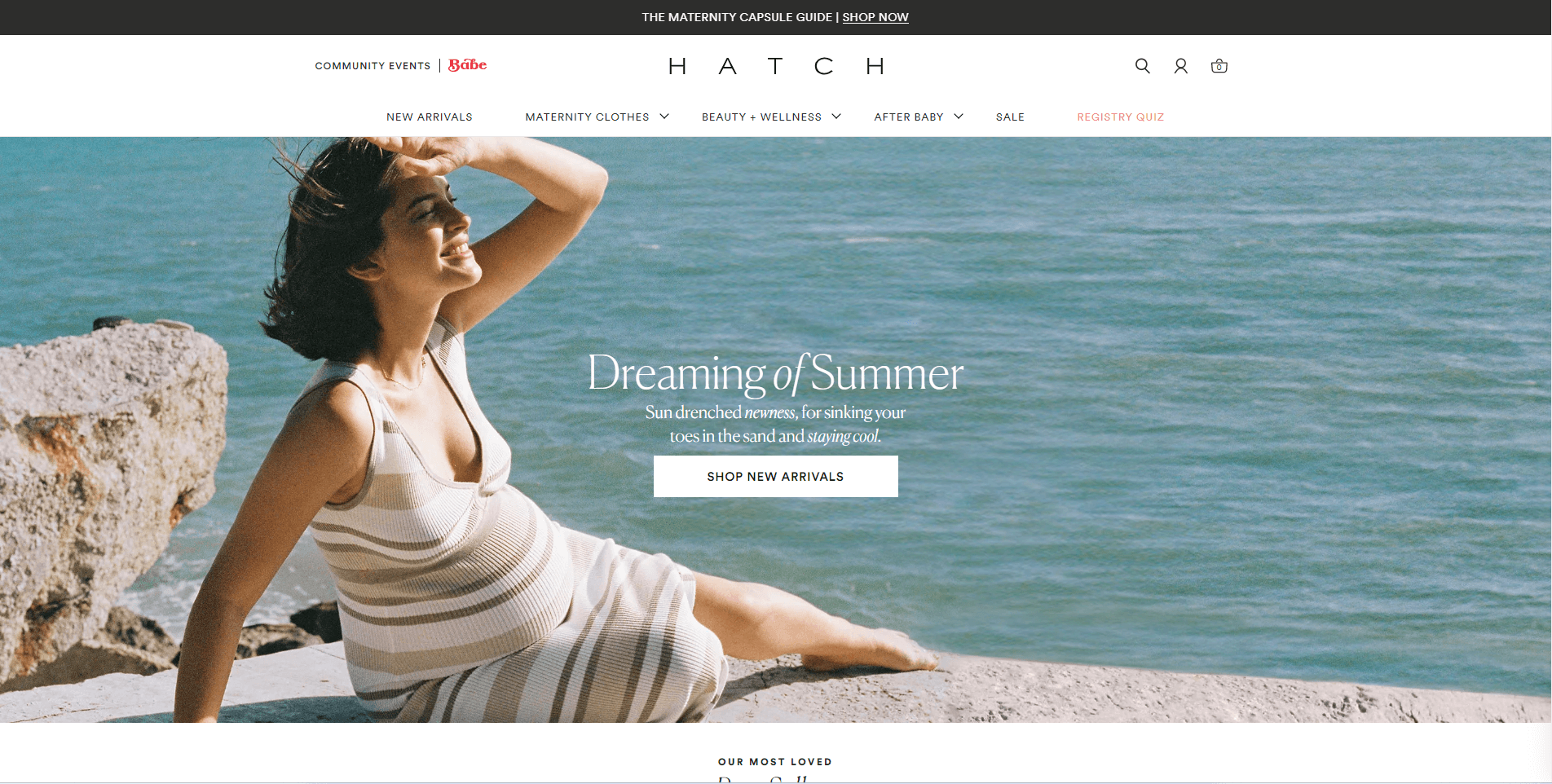 How to Select Maternity Photoshoot Outfit
Maternity outfits for photo sessions should be picked based on several points to ensure a cozy photo session with stunning memory. To implement maternity photoshoot ideas, you should consider several factors while selecting the outfit. Here are a few tips on How to Select Maternity Photoshoot Outfit: 
01. Prioritize Comfort:
The awkward outfit in the photo makes it uncomfortable to pose, which can ruin the photo's ultimate result. Therefore, prioritize your comfort for selecting a maternity Outfit to pose the best freely.  
02. Mind Your Body:
Remember, the maternity photoshoot is about capturing you with your body, especially the developing bump. So, select an outfit that will show off your body parts with the compliment. You can select body-hugging dresses that show off your bump or a more flowy dress highlighting your figure. Regarding the body, you should also consider your height, width, and skin tone. 
03. Less Is Enough:
Maternity photos are an amazing souvenir showing your child later what carrying them was like. Therefore, consider a timeless style with light colors or slightly printed clothes. If you add your partner and other kids, coordinate their outfit colors from your clothing color. 
04. Think About Seasons:
How will you feel if you try to capture wearing a Tulle-made flowy dress in winter? It will happen if you don't consider the season before creating Maternity Photoshoot Outfit Ideas. Let's know what to consider in different seasons- 
05. Spring & Summer-
Spring offers comfy weather, whereas Summer has warmer weather to wear an epochal light maternity outfit showing off the baby bump. The maxi dress, button-up shirt or crop top is perfect for such seasons to stay cool and relaxed during a photo shoot. Moreover, these outfits will help mark curves and give portraits a cozy feel. In the case of color, consider warmer colors like white, cream, Pink etc. 
06. Fall And Winter-
The fall and winter seasons are perfect for freezing special memories through Maternity photoshoots. You can capture yourself in snow, crisp autumn leaves or pumpkin fields for seasonally-themed photoshoots this season. Consider White, Cream, Beige, Light Blue,/Mint colors in this season. 
07. Avoid Heavy Makeup:
In Maternity Photoshoot, you should avoid heavy makeup, especially the dark smokey eye. The same applies to nails! Keep the nails simple with white polishes.
08. Choose Fitting Outfit:
One of the preconditions to look stunning in the Maternity Photoshoot is to select an outfit that fits you most. Therefore, pick a dress that accentuates your bump properly. To highlight the bump, you can add accessories like a waistband.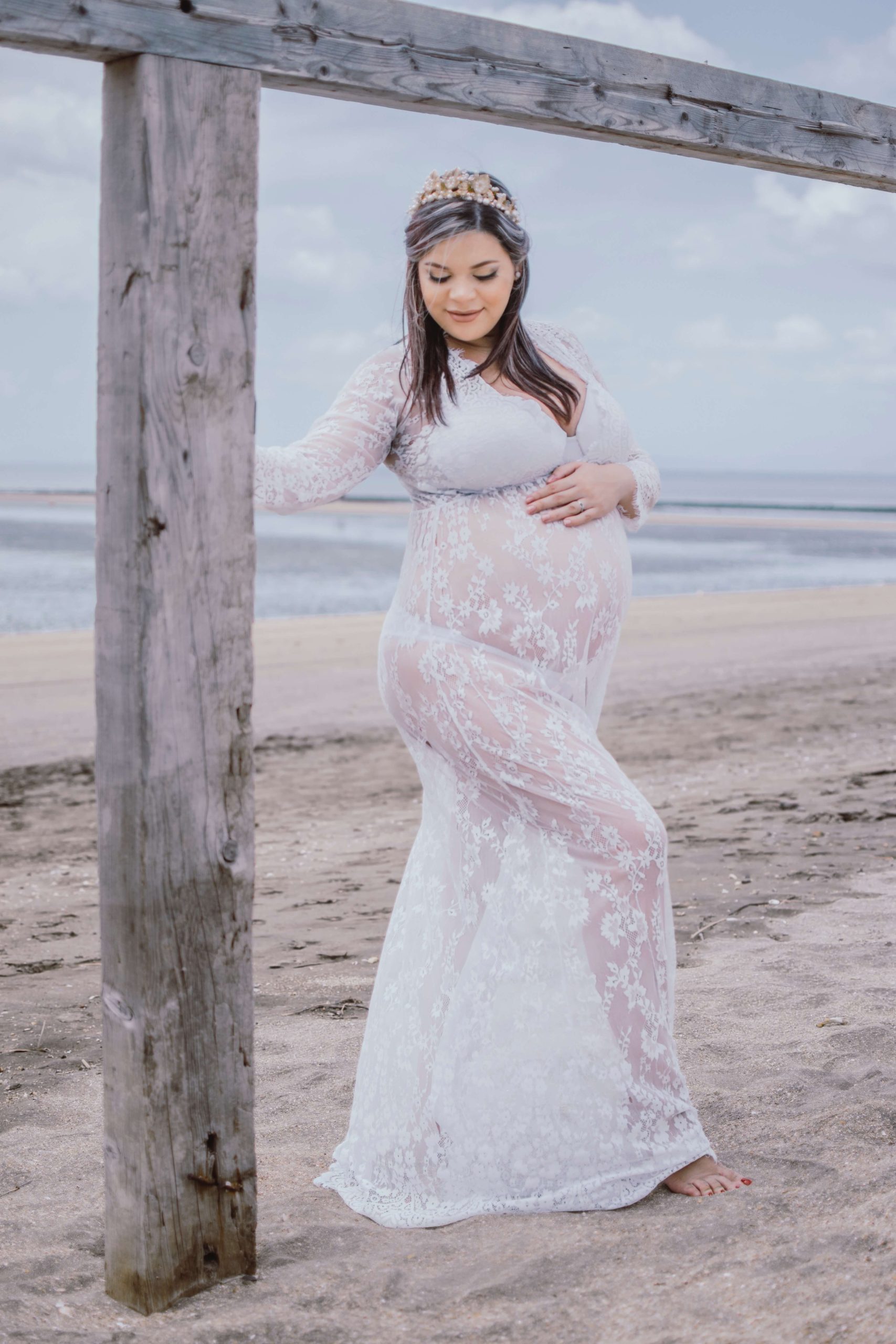 09. Consider Budget:
Without a minimum budget, you can't think of purchasing an outfit. Therefore, consider the budget you can afford while selecting Maternity Photoshoot Outfit. It is indeed a special moment, but that doesn't mean you should take loans to buy outfits; rather, you should buy according to your budget plan. 
10. Be Yourself:
In your Maternity Photoshoot, you will capture yourself in different styles and backgrounds. Pick an outfit according to your style that will make you feel comfortable. Otherwise, your discomfort will be displayed in your photo, which will ruin the photo. For example, if you feel uncomfortable wearing a gown or that doesn't reflect you, you can avoid it. 
Importance Of Selecting a Maternity Photoshoot Outfit
A proper outfit is a precondition for any photoshoot, and a maternity photoshoot is not except for them. Selecting the right Maternity Photoshoot Outfit is important for several reasons: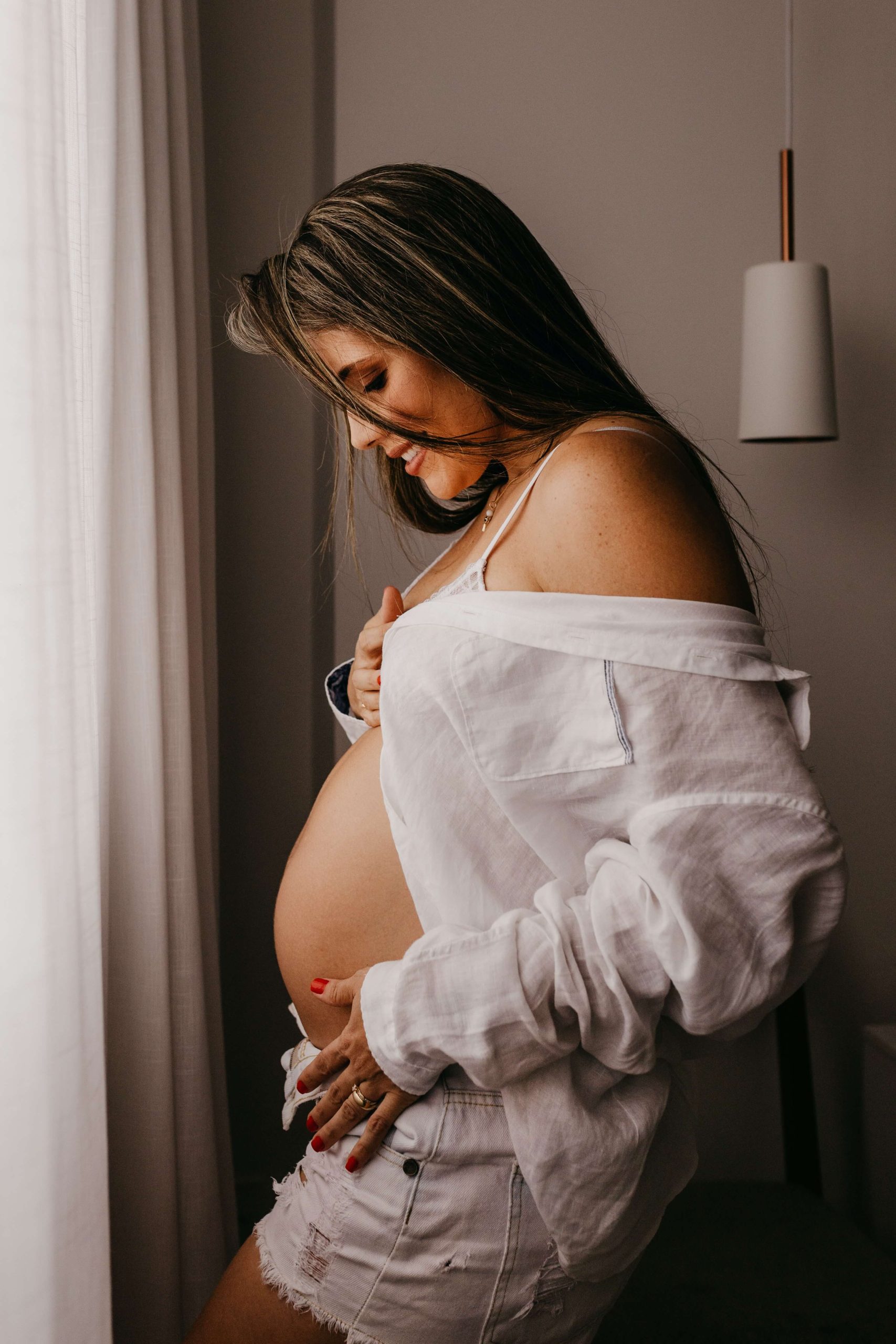 Highlight Baby Bump:

The fitting outfit can highlight your baby bump and compliment your figure, making you look beautiful and feel confident.

Reflect Your Style:

Everyone maintains their style with outfit preference. Maternity photos should reflect your style and taste, which can be reflected by selecting outfits according to your style. Choosing a comfortable styled outfit will make you feel more relaxed and natural during the shoot.

Complement the Location and Theme:

Your outfit should also complement the photoshoot location and theme. For illustration, if you're shooting outdoors, you may choose a flowing dress and a layered one for winter wind.

Create a Cohesive Look:

If you're shooting photos with your partner or kids, it's important to coordinate your outfits to create a cohesive look. It will ensure everyone looks great together and the photos look polished and professional.

Timelessness

: Finally, choosing an outfit that will stand the test of time is important. These photos will be cherished for years to come, so you should choose an outfit that won't look dated or out of style in the future.
Final Word [ Maternity Photoshoot Outfit Ideas ]
What can be more fabulous news than being pregnant for a woman? Pregnancy is a beautiful time in a woman's life. The Maternity Photoshoot freezes the moment; the perfect outfit can make the photos stunning. 
Selecting a nice but trendy maternity photoshoot outfit is a callous decision. The outfit should make you feel cozy and expose your baby bump. In this blog, I have discussed all the Maternity Photoshoot Outfit Ideas. Hopefully, these ideas will help you to create great treasure. 
Let us know which idea you liked most, and also share concepts I have missed. Check out my other blogs here: