Do you anticipate graduating this year? Congratulations on the achievement.
After a long period of action and stress, your senior year will end. But before you begin to conquer the world, what else could be better than a delightful graduation celebration? Unique ideas will make the party memorable.
You anchor on the correct page if you are a graduate or the guardian planning for an amazing Graduation Party. This blog post is earmarked for all the graduates and the graduate's parents to discover unique graduation party ideas to remember for eternity. 
In outline, the blog will contain in-depth inspiration for unique Graduation Party Ideas under specific points like party theme, decoration, outfit, activities, food menu, party favor, and all that jazz. Moreover, it will contain precise and effective planning for throwing a successful graduation party to remember all time. 
  "Graduation is not the end; it's the beginning." —Senator Orrin Hatch.
What is a Graduation Party? 
A graduation party is a carnival event celebrating the accomplishment of a high school or college educational milestone. The party is also called commencement, convocation or congregation. The party takes place indoors or outdoors and includes family members and friends to celebrate with food, fun, and music.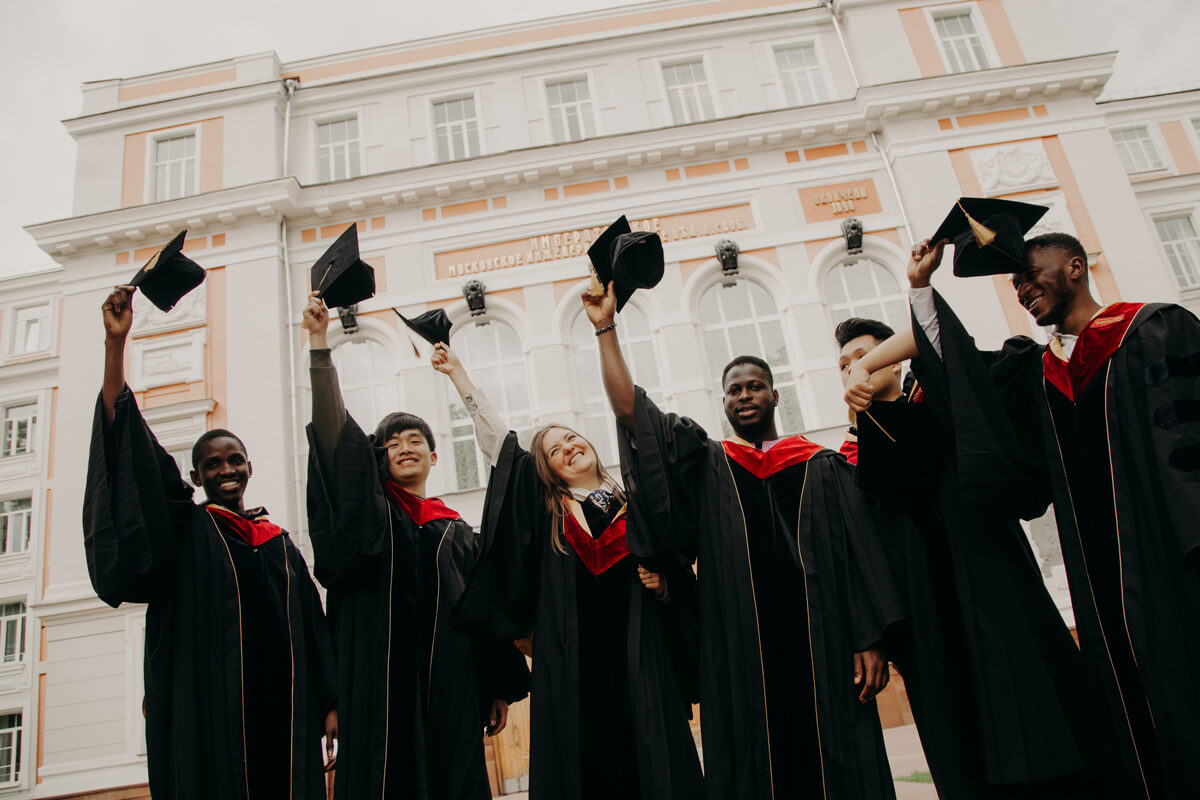 Parents, graduates or organizations arrange the party to celebrate the graduate's achievements. It marks the academic journey's end and the starting of life's new stage. 
 "Graduation day is tough for adults. They go to the ceremony as parents. They come home as contemporaries. After 22 years of child-raising, they are unemployed." —Erma Bombeck.
Based on the graduation stage, the graduation party celebration varies. Let's see the variations- 
Preschool and Middle Elementary School Grad Party:

The preschool and Middle Elementary School graduates harbor much energy with a short attention span. It's foolproof that the kids will be moving and running around the yard. The graduation party for this group contains enough activities, like a treasure hunt, to keep them actively engaged.

High School Grad Party: The teenage group falls under this Grad Party. The party theme can have a traditional Hollywood theme which is fun to set the stage for the party. At this party, the teenagers enjoy Graduation Cap TicTacToe, Pin the Tassel on the Grad Cap, etc.
College Graduation Party: College graduates celebrate a massive investment of time and effort with the graduation party. They prefer hanging out together without worrying about sitting or being loud. Such a party contains different games and activities with enough food and drinks.
Advanced Degree Graduates Party: Masters or Ph.D. students fall under the Advanced degree graduates who deserve a more honoring event than other graduation parties. Implementing an outdoor graduation party idea will be surprising for them. A graduate-symbolized cake with food reflecting the study area will be incredible for such a party. Allowing customized water, wine, or beer bottles will be great for young adults.
Graduation Party Ideas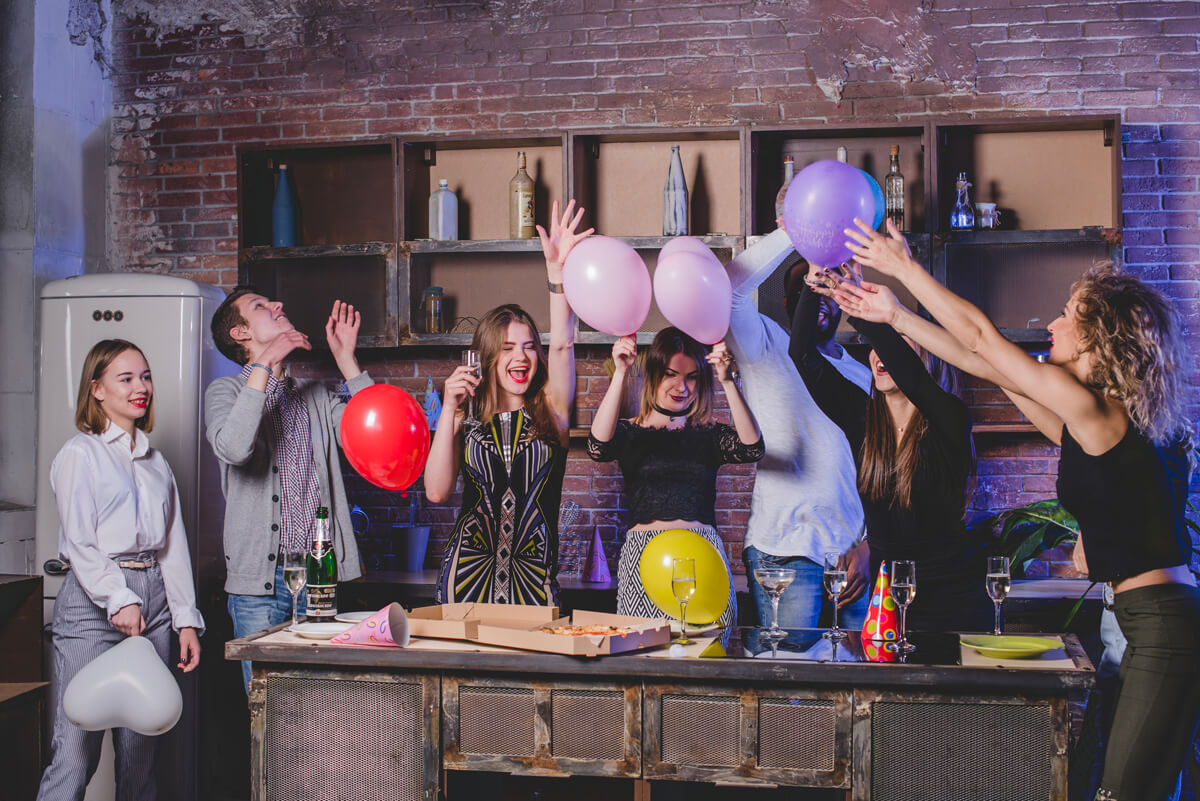 Education is the passport to the future, and a certificate is a ticket to change the world. Muster graduation party ideas and move confidently toward the goal of living the dream life.  
"Life is my college. May I graduate well, and earn some honors!" —Louisa May Alcott.
The world is your oyster when planning for indoor or outdoor graduation parties. This blog section will cover the Graduation party ideas under several criteria. Are you prepared? Let's crack the book on the details!
A) Graduation Party Ideas- Theme:
A graduation party theme makes deciding on decoration color, food type, or party activities easier. Don't fret about ideas for your party theme! Here are a variety of creative graduation party themes to impress your guests: 
01. Classic Graduation Party:
A classic graduation party theme is perfect for an elegant and formal celebration. It integrates graduation through every material, from decoration to food. The black and gold color is an eye-catching palette for this theme. You can create a custom poster portraying senior photos with achievements. You can add a festive touch using the graduation flags on fruits or cupcakes.
02. Tropical Graduation Theme: 
If you are a tropical lover, this graduation party theme idea is for you. Use balloons, palm trees, pineapples, upmarket tablecloths, etc., for decoration and set island-inspired music to fetch an island vibe to the celebration. Inspire guests to dress in tropical clothing and serve tropical food with refreshing cocktails. You can use balloons with natural or artificial tropical leaves in the background to capture graduation party pictures.
03. Color Palette Theme:
Different colors combined theme illustrate different vibes for the graduation party, and you can focus on any of them based on your choice. 
You can add glitz and glamor vibe into your celebration by adding Gold and silver in decoration. Hang banners incorporating stars for the glaze. 

The Black and Gold combination adds an elegant, mature vibe with a classic theme. Many decor items of such color combinations are available in the market. You can put black and gold graduation cap toppers on the cupcake to add a special touch to your party.  

You got hotter by one degree! Add the hot vibe to your party with orange, yellow, and red décor and food. You can place veggie trays containing bright-colored vegetables like carrots and peppers and make sweet treats or cookies of diploma shape. Decorate the backdrop using red, orange, and yellow balloons to create a hot look. 
04. Friend-Themed Graduation Party:
Who doesn't love Friends episodes? There are hundreds of iconic parts of the show to turn into ideas for party decor, food, and more. Use purple and yellow decorations to represent Monica's apartment door or use black, red, yellow, and blue to illustrate the show's logo. Decorate with colorful umbrellas and spread confetti to add life to your party. Serve cheesecake, English trifle, and chocolate brownies. Set out a coffee maker, mugs, cream, and other savors to create the Central Perk coffee shop vibe.
05. Splashing Graduation Party:
If it is summer and you plan for Graduation Party Ideas outdoors, nothing can beat the idea of a Splashing Graduation Party. You can do it either at the beach or the pool- 
The Beach

will bring the sun and the sand together at your party. Apply a blue theme for decoration and keep enough sunscreen with towels for a safe party experience. Use a few candles over glasses of sand as centerpieces and place beautiful seashells surrounding them. Put a few drinks in a box of ice. Put foods according to your choice but remember cookies. 
 Helpful Link: Check out my blog Beach Photoshoot Ideas, for capturing photos.
The Pool-themed

graduation party is a fun and refreshing idea. Set a few floats on the pool and organize games for entertainment. Ask your guest to dress in their preferred swimsuits. Set up poolside cocktails or seasonal fruit juice bar, grill table for barbecue. 
06. Feast-Themed Graduation Party:
Don't like overcrowding? This idea is for you to celebrate the achievement with friends or family. You can throw a little feast party for dinner, BBQ, or Bonfire Party. 
Dinner Party

lets you offer graduates favorite foods and drinks. An elegant backyard dinner party is an excellent idea for a guy or girl. The graduates can celebrate the achievement with family and capture photos with

Creative Large Family Photo Ideas

.   

BBQ Party

is the most effortless Graduation Party Idea you can execute in your house's backyard. All you need for this party are some grill items and graduate-related items for decorations. You can swing old or grad senior pictures and achievements around the party. 
B) Graduation Party Ideas-  Decorations: 
High school, college, or advanced degree graduation are remarkable mileposts of life that spell out celebration. The party requires simple or stunning decorations wherever you celebrate it. You can buy decoration items, but the DIY items will compel personalization at the party with creativity! Here is a list of decoration ideas for the upcoming graduation party: 
#1. Entrance Decoration:
The first impression is the last. Therefore here are a few entrance decoration ideas for you: 
The Entrance Sign

will welcome and guide the guest to the party. You can write the party details using a chalk-board and place it at the entrance attached to a balloon arch. Sticking 2-3 graduate pictures will add a special touch to the entrance sign. Keep a few chalk sticks beside the board to get cute messages from the guest.

Decorate the Entrance

using a string of childhood to current graduation pictures with balloons or fairy lights. Spreading a red carpet on the driveway will create a stylish look that will ensure an ultimate experience for the guest. 

 

The Welcome Table

must be nicely decorated with graduation photos and a signable guest book.
#2 Backdrop Decoration:
The backdrop is essential for any party to capture pictures. For your graduation party, here is a glimpse of backdrop ideas: 
Grad Cap Backdrop

will work fabulously as your graduation party backdrop.

Curtains Backdrop

is easy to make and looks adorable. You can match the curtain with the party theme. 

Balloon Backdrop

makes an immense impact at a meager cost. Attach giant balloons in the backdrop, around the dessert table, stairs, and photo booth. You also can use number balloons defining the graduation year. Setting a gold and black balloon arch will create a glam vibe at the party. 

The Congrats sign

in the backdrop is a great way to speak out for the event. Use paper-printed or crafted letters to write congrats. You can use personalized Congrats Grad neon in the backdrop to create a different atmosphere. 
#3. Photo Booth Decoration:
Can you imagine a party without capturing a picture? Hence the graduation party picture shouts for a photo booth with a table containing fun props to continue the party's excitement. Make the customized photo booth for your graduation party using draped fabric, hardboard, or paper, and attach a balloon arch. To make props, you can print out funny words, goggles, graduation caps, tassels, and diplomas.
#4. Other Decoration Pieces:
Apart from the backdrop, entrance, and photo booth, there are more to decorate the party as below: 
The Centerpiece

is one of the most easy-peasy decoration items you can get inexpensively. Set a flower bouquet or a mason jar with a picture at the center. 

Graduation Wreath

makes your graduation party look extra special. Use the graduate's childhood best photos to make the graduation wreath and hang it on the door.

String Lights

can add icing on the cake for a graduation party in the evening or night. String lights can put spirit into the party's atmosphere and make the environment amiable.  

The Memory Board

is a soul-stirring party decoration that illustrates the best memories of the graduate's life with achievements. It's a tradition nowadays. Print out the photos from the first day of school to till date, milestones or accomplishments, and hang them on the clothesline. 

Wisdom Jar

is a thoughtful

graduation party decoration

idea that contains blank cards and allows guests to leave advice or words of wisdom helpful for the graduate's next chapter of life.

Globe with Quotes

is a sophisticated graduation party decoration idea to add an unusual touch to the decor. Cover a world globe with your favorite quote, and place it on the table.  

Frame Quotes

are a fantastic idea for graduation party decoration. You can find many graduation-related quotes online. Select a few like "The Tassel Was Worth the Hassle" and print to frame. After framing, display them on the table or around the party place.
#5. Decorate Food Station:
Everyone must feel hungry or have a snack appetizer during the celebration. Try to serve notable delicious food items related to the party theme. Instead of serving by yourself, offering a self-service buffet style is better. Share the joy of sweet success by offering food like cupcakes, baked cookies, colorful candy, and a drink. Remember to order a graduation cake. You can order graduation topper bottles for water. Place Graduation-themed plates and napkins to add an elegant touch to the party. 
C) Graduation Party Ideas- Food: 
Once you finish the theme and decoration planning, it's time to think about what to offer the guest and how to serve graduation party food. It would be great to select items you can cook 1-2 days before the party and take the main dish from the caterer to reduce pressure on yourself. Here are a few food station ideas for your upcoming graduation party:
01. Dessert Station:
Graduation is an achievement. Celebrating it with sweetness has become trendy. Delight your guests with different creative fun-making desserts. If you want to add sweetness, the cake is a must-dessert item. You can add dessert kabob to offer mini sweets. 
Place customized graduation-themed dessert items like cakes, cupcakes, no-bake cheesecakes, Chocolate Mousse Cake, Trifles, Chocolate Brownies, and Cream Cheese Brownies for your graduation party dessert station. Placing candy inside cupcakes and sealed with chocolate frosting would be surprising. 
02. Snack Station:
A snack station is a crowd-pleaser at any party. You can place any snacks like graduation-themed cookies, donuts, popcorn, and chips. Candy or snack-filled Graduation Cap Cookies would be fun and surprise the guest. Don't forget to place plain or flavored milk at the snack station while placing cookies since many love cookies with milk. 
03. Chocolate Station:
Chocolate items are very trendy for any party. Candy-Filled or Customized Ferro Roche graduation caps will be adorable graduation treats and undoubtedly wow the guests. You can also set a s'mores bar with a few jars containing marshmallows, chocolate, and graham crackers for crunchy sweetness.   
04. Meal Station:
If you plan a grand party, you can arrange a meal station containing delicious foods that guests will enjoy. Pizza is a staple feast, whereas Nacho and Taco are crowd-favorite meal items for any party. Moreover, you can prepare Cheeseburger casserole in one dish and Hot Dog to feed the crowd promptly. 
Pasta is a universally adored dinner you can customize with different shapes (Penne, Macaroni, Farfalle, Shells), sauces (basil pesto, tomato pasta sauce, garlic butter sauce, alfredo sauce), and toppings (Mushrooms, Meats, Spinach, Tomatoes, Cheeses).
05. Salad:
Few guests might prefer light meals and want a salad. So, you can arrange varieties of salads for them. The avocado deviled eggs are Keto-friendly. The potato salad and corn salad are simple but absolutely delicious. Mexican Street Corn Salad, Mexican Bean Salad, and Chopped Veggie Salad are healthy versions for a perfect summer graduation party!
06. Ice Cream Section:
Setting the ice cream section is a cool idea for a graduation party, especially if you have a party on a warm day. Keep the option to DIY ice cream sundae with different toppings and flavors. 
07. Fruit Station:
Don't offer junk food and chocolate only; place some healthier fruit items too. Next to the candy bar, place a fruit station. Cut out fruits like apples, strawberries, bananas, grapes, pineapple, oranges to prepare a fruit salad and Kabob. These will add color to the party food, making it healthier. You can also place a plate of strawberries and skews beside the chocolate fountain so guests can dip them as they want.
08. Drink Station:
Last but not least, you should set up a drink station for the guest. To make the drink station perfect for the graduation party, place the graduation-labeled drink bottles in galvanized drink buckets and arrange the most common drinks like sangria, water, and lemonade for the guest. Keep glasses and grad cap straws in a crate to add a graduation touch to the party. Some guests prefer tea or coffee. It would be fantastic to arrange different flavors of tea and coffee for them. 
D) Graduation Party Ideas- Outfit: 
The graduation party should be memorable since the day will pass, leaving an unforgettable memory. So, preparing yourself in the best outfit to make you look wonderful would be best. Let's have a glimpse of outfit ideas for the graduation party: 
#1. Formal or semi Formal Outfit:
A graduation party is often considered a formal or semi-formal party that allows everyone to dress accordingly. Women can wear a bodycon, a knee-length skirt shorter than a gown or pants with a blouse or shirt. They should avoid maxi-length skirts. On the other hand, a man can wear a suit-tie or Checked suit. They also can wear pants with a shirt, T-shirts or polo shirts with jeans. A white shirt with trousers and shoes will reveal an elegant gentlemanly style. 
#2. Weather Fit Outfit:
Consider the weather and temperature if the graduation party occurs outdoors. In hot weather, girls can wear a wool or crochet dress with heel sandals for comfort, while boys can wear a T-shirt with jeans. On cold days girls can wear Turtleneck Sweater under a Slip Dress, whereas boys can wear T-shirts and jeans with a jacket. In winter they must take a light jacket and in the rain take an umbrella. 
#3. Theme Matched Outfit:
If the graduation party focuses on any theme, dress matching that. For instance, wear a dress like the old epoch if it is retro style. Similarly, wear a casual summer suit for a beach theme graduation party. 
 Helpful Link: Are you looking for Lesbian Outfits Ideas? Check the blog to explore ideas. 
#4. Comfy Shoes:
The graduation party is all about celebration requiring standing or walking. So, you should pick comfy shoes. Girls can wear flat or low heels, whereas men can wear comfortable shoes.
#5. Jewelry & Accessories:
Jewelry enhances a woman's beauty. Girls should wear jewelry at a graduation party that complements their outfit and look. For a smart gleam touch, they can wear simple jewelry like pearl studs with strands or pendant necklaces. Girls can also wear a diamond tennis bracelet that will shine on the wrist.
E) Graduation Party Ideas- Activities:
After years of lectures, and late-night study, you are a graduate. So you can hook up your graduation party with fun activities. It will make the party spectacular and memorable for the guests. Here are some trendy amazing graduation party activities ideas: 
Pass Wisdom Jar: Ask each guest to write wise words or advice for the graduate so that he can implement those to succeed in life.
Sign Book: The Graduation party is a memorable day for the future. The graduate can provide a book that the guest will sign as a memory of their participation in the event. Set up a Polaroid camera with plenty of film. Ask the guests to take a picture and leave a message for the graduate.
Instagram Hashtag: Use a hashtag like #RainaGradBash on Instagram to reflect on the special day. Ask other guests to use the hashtag on Instagram while uploading party photos. It will help to look back on the day with memories.
Play Games: Funny games make a graduation party more fun and interesting. It also makes the bonding sessions memorable. The graduation party host can arrange different engaging, funny games like the taboo, Pass the Orange, Dip-low-ma, Charades, etc.
Song Association: Can you imagine a party without music? While planning a party, you should make a music playlist to make the party more enjoyable. However, you can also arrange a song association game where the participants will get 10 seconds to sing a song with a random letter or word, and most song-singing winners will receive a gift.
F) Graduation Party Ideas- Favors:
All the guests come and support to complete the Graduation Party celebration. Hence, offering favors at the end of the party will be an appreciative expression to thank the guest for attending the party. Moreover, the party favors will act as souvenirs of the celebration, making the party memorable for a long time. 
While deciding the party favor, consider budget, party theme, and guest preference to select relevant, worthwhile items. Here are a few ideas from countless ingenious party favor:
Personalized keychains

Customized Bar Tools Keychain

Graduation-themed magnets

Personalized mugs

Graduation-themed chocolates

Customized wallet-fit bottle opener

Eco-friendly Favor Bags

Graduation Tagged S'mores treat 

Graduation cap wearing teddy bear

Graduation themed coaster 

Customized Candle
G) Graduation Party Ideas- Picture Pose:
How can you complete the grand celebration without photography? The emotion-filled achievement party must deserve capturing the picture to bridge the present to the future. You can hire a professional photographer or manage by yourself. In this section, I will share a few pose ideas to make your grand day more memorable.  
01. Group Selfie:
Nowadays, who doesn't take selfies? It lets you capture photos with all, including the photo capturer. Take the selfie in a group in front of the photo booth. Others can hold props in hand and pose with a smile. 
02. Capture the Gown and Cap:
You can keep your graduation memory unique and remarkable by capturing the gown and cap. Set the cap above the gown beside the window next to the lamp. Creatively shoot from different angles and also try to capture Dutch angles. Take some close-up pictures of the tassel with the year charm. 
 Helpful Link: How to Shoot Dutch Angle Photography 
03. Hat Toss:
The most famous and must-try pose for Graduation Party Picture is tossing the hat in the sky. It's easy to do but tough to photograph since it touches the ground in the blink of an eye. Even a professional photographer finds it challenging, so you must try it several times to frame it perfectly. While photoing, ask the person to take multiple shots increasing shutter speed and employing continuous burst mode.
04. Spread Confetti Toward Camera:
Party celebration becomes more fun when you use confetti, and capturing the confetti freezes the fun moment. Throwing the confetti at the camera and capturing yourself will add color to photographs. 
05. Capture Real Moment:
A graduation photoshoot is not only capturing photos on stage or using a specific pose. Often capturing candid photos can frame the raw emotion of the graduation party. So, capture funny moments with BFFs. 
How To Plan A Graduation Party
Usually, parents want to cherish their children for their achievements and throw a graduation party to honor the graduate. Often the graduate organizes it having a specific idea for the celebration. Most often, parents or graduate planning for larger parties hire event planners to organize the graduation party. Whoever plans the party, the best parties are the ones planned.  
Plan at least 1 month early to ensure all the guest presence. Here is a plan list to help you prepare for the upcoming graduation party: 
Fix a budget: There is nothing free in the world. The graduation party cost includes an invitation, venue, decoration, food, party favor, outfit, etc., which needs a budget. So, fix the budget you want to spend on the celebration. You can co-host with your other friends for a large party if you have budget limitations. 
Prepare Guest List: Before deciding to fix the venue, you should finalize your guest list. Write down their names and addresses. Start with family and then friends, neighbors, and teachers. Always count extra to back up any mistake or last-minute invitation. Finally, order invitations and ensure everyone is attending.
Select Venue: Once you prepare the guest list, you can move to decide the venue for the party. Primarily you can select your house for the party. But if you need more space or plan to do the party outdoors, select a park, restaurant or community center. In booking a restaurant or community center, remember that May and June are wedding seasons which might make the venue selection challenging. 
Pick a date: Don't pick the date of the graduation ceremony because that day, none will be able to attend your party. Consider a day when the guest can manage time to attend, the venue's available, and you also get enough time for preparation.
Make Party Menu: When preparing the menu for the party, ask yourself what you want to add to your party menu, ranging from snacks to desserts, based on your budget. People love eating and drinking while socializing but do not attend parties only for food. So, follow your budget to pick something fresh and delicious, even with less variation. Prefer items you can prepare the day ahead and order the rest from catering. 
Take Catering: Even if you host the party at home, I suggest you pick items you can prepare the day ahead and order the rest from catering. It will lessen the pressure on you and let you focus more on creative things for the party. 
Plan Decoration: Whether you host a party indoors or outdoors, you must plan for decoration to look attractive and enjoyable to the guest. Explore nearby shops and online stores to buy unique graduation-related balloons, decoration items, utensils (cups, water bottles, trays, napkins, etc.), props, etc., that match your picked party theme.
Plan Activities: Party doesn't mean only eating and drinking. Unless you include a few entertainment activities, the party will end with boring. So, plan some activities that will make the party enjoyable and memorable. Include different games and activities to make the party remarkable and improve bonding.  
Arrange Music: You must set music arrangements and create a playlist. You don't need to hire a DJ or live band if you have a budget shortage or the guest number is below 100. You can buy portable speakers to take them anywhere and make the party alive with music.   
Keep Gifts & Prizes: The last thing you must keep in your planning is the gifts for the guest as a token of thanks to make your party fruitful. You also keep a few prizes for game activities. Remember, prizes should be nicer than party favor since the winners will prevail over them.  
Here are a few more points you should check out before the party-   
Monitor the weather.

House cleanness.

Set your camera with an extra memory card.

Keep reserved restrooms if hosting outdoors.
Final Words
Graduation is worth celebrating to honor graduates because they have spent much time acquiring the knowledge and skills to set for the real world. So, select any of the themes I have discussed in the blog and follow the brainstorming on implementing the Graduation Party Ideas. Enjoy your party and remember it for life! In the comment box, let us know how you enjoyed your graduation party. 
Did you find the blog helpful? Check out my other blogs: