Engagement photography lets new couples mark their new relationship status. The photos will be the first portrait of the future family to remember forever. Therefore, almost everyone wonders what to wear for the best Engagement Photography. Are you engaged recently? Have you booked a photographer for Engagement Photography but don't know about the Best engagement dress for photoshoot? If you are struggling with an Engagement Dress for photoshoots, hopefully, this blog will save you. Keep reading the blog to get ideas for Engagement Photography Outfits. 
 In this blog, I will cover the below topics- 
What Is Engagement Photography?

Ideas for Engagement Dress for Photoshoot

Tips for Selecting Engagement Dress for Photoshoot

Why Choose an Engagement Dress for Photoshoot?

Final thought
What Is Engagement Photography? 
Engagement is a milestone in one's life. On this day, the couple gets engaged in the new relationship status and marks the moment with photography. 
Engagement photography is the photo session capturing the newly tied couple before the wedding. Such photography is getting more popular day by day. Usually, these photos end as large prints for the hall room, collage, or albums.
Ideas for Engagement Dress for Photoshoot
Outfit lets you be confident, feel cozy and express yourself adequately. You are at the point of the blog that will guide you on what to wear for an Engagement Photoshoot. Let's start the trip to know Engagement Dress for Photoshoot: 
01. Puff Sleeve Dress:
During the summer, take advantage of the opportunity to showcase a cozy, relaxing vibe by wearing a puff sleeve dress. Whether you do the Engagement photoshoot at the home, beach, or any place, the stylish puff sleeves with cutting-edge necklines will add a charming hint making others obsessed.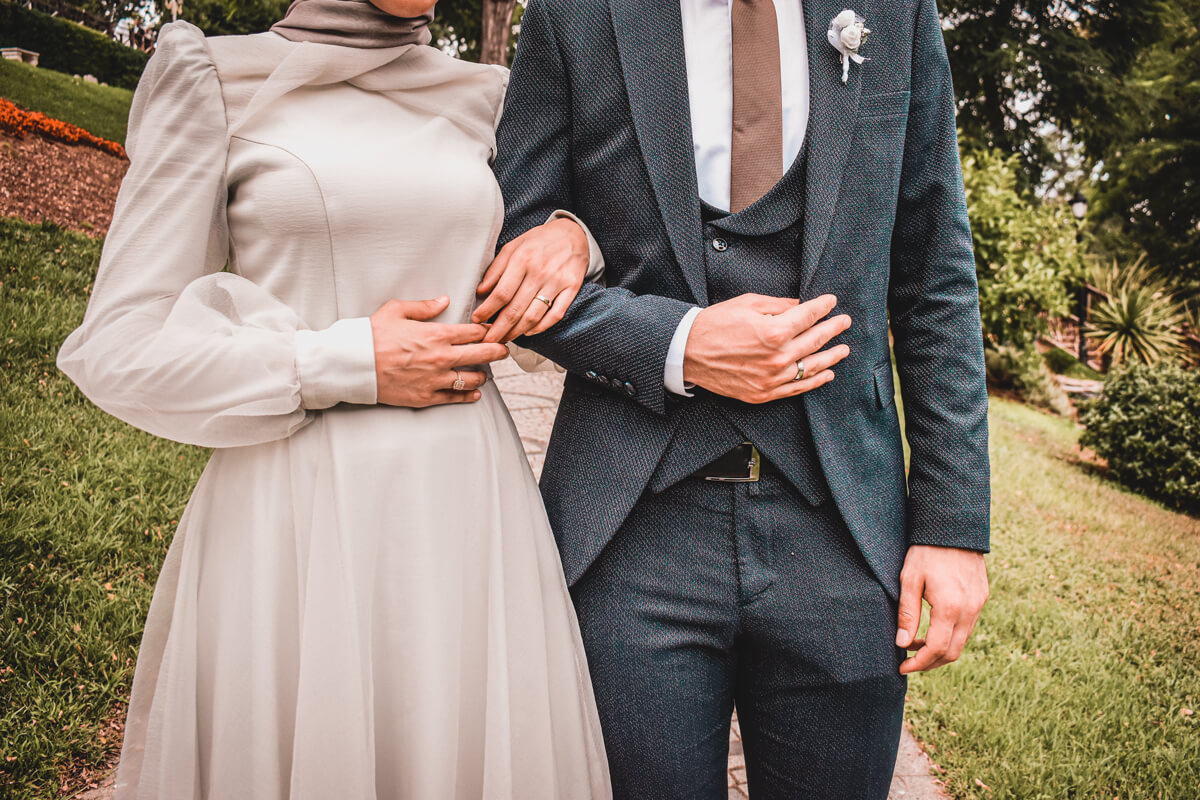 02. Silk Dress:
The silk fabric dress makes you look attractive. You can select any color silk gown. The light fabric with a loose fit will make you feel comfy even in hot weather, and the tucked part in the bust will add a 'va-va-voom' type vibe to your look. To glam up with this attire, keep simple accessories with heels. 
03. Designed Cocktail Dress:
Do you want to look gorgeous with a simple outfit? Then a sophisticatedly designed cocktail dress can be your Photoshoot Dress For Engagement selection. Moreover, it will create an elegant vibe in your outfit. 
04. Maxi Dress:
One of the most worn Engagement dresses for photoshoots is the Maxi dress which comes in various stunning colors. This elegant maxi adds Hollywood vibes, making you comfortable in hot weather. You can wear it for longer photo sessions without feeling uncomfortable.
05. Bodycon:
Do you possess an hourglass body? Wear a bodycon to add trend, modesty, and elegance to your look. Ensure to have fewer accessories with long heels. 
06. Formal Attire:
Are you a boss lady? Or do you possess a butch lesbian category? You want to showcase your bossy vibe by wearing formal attire such as Engagement Dress for Photoshoot. You will find various beautifully designed formal outfits from different brands.  
  Helpful Link: If you prefer LGBTQIA, you can check out my blog on Lesbian Outfits Ideas
07. Lace Maxi Gown:
The lace maxi gowns are classic and trendy for any formal event, including engagement. The light fabric makes it comfy to wear in any hot weather. Moreover, any woman of any figure or height can wear it in great style. A simple ornament with a flower crown can add a chic vibe to your look. 
08. Boho Dress:
Are you planning your Engagement Photoshoot in a rustic barn or farm? You can try a boho styled outfit as Engagement Dress for Photoshoot. Boho is a pet form of 'Bohemian Homeless' representing drifters, mainly of gypsy ethnicity. The style includes floral laced long dresses, printed floaty skirts, cowboy boots, fringes, etc. The outfits can add a vintage impression with a dreamlike sense to your appearance.
09. Tie-Strap Dress:
The- Strap dress contains soft and lovely mid-length straps tied shoulder. It is comfortable to wear and stunning with a pair of shoes. A red or Emerald Tie-Strap Dress can be an ideal Engagement Dress for Photoshoot.
10. Bailey Gown:
Are you looking for an attractive Engagement Dress for a Photoshoot? Bailey Gown will be a perfect outfit for your special occasion at the beach. Add strappy heels and tasteful jewelry for an elegant vibe. You can wear a Wtoo Bailey Gown with an off-shoulder neckline and thigh-high slit to get a drop-dead gorgeous look. 
 Helpful Link: To get Beach Photoshoot Ideas, check out my other blog.
11. Velvet Jumpsuit:
If you dislike traditional outfits, you can pick velvet jumpsuits as your Engagement Dress for Photoshoot. It is a comfy outfit best suited with heels and glittering earrings. 
12. Ruffle Midi Dress:
Which outfit will be good for a plus-size Engagement Dress? A Ruffle midi dress will be an ideal outfit for plus-size curvier women. A simple necklace with matching earrings can add a stunning vibe to the appearance. 
13. Casual Outfits:
Wearing a formal or gorgeous dress for an engagement photoshoot is not mandatory. So, don't fear being casual for choosing Engagement Dress for Photoshoot. You can pick a casual outfit to be yourselves and enjoy the moment. You can wear jeans, trousers, a t-shirt or any other outfit with sandals, boots or heels that make you both feel cozy and yourself. 
14. Seasonal Engagement Dress for Photoshoot:
Remember to consider the season while dressing for the Engagement photoshoot since the weather impacts dress style. Here I am sharing the seasonal outfit ideas for the engagement photo session-
Summer:

Summer is the season of bright colors! To stay comfortable and stylish, you can wear a bold color, flowy, loose outfit in warm summer. Your partner can wear button-up short sleeve shirts. The beach is the perfect place for an engagement photoshoot in summer.  
Fall:

The Fall season arrives between summer and winter with vivid natural colors. Therefore it is the best time for engagement photos. You can pick Red, orange, green, or any vivid-colored long, comfortable outfit suited for warm and cool weather.
Winter:

Winter comes in nature with white beauty. The engagement Dress for the winter photoshoot should be cozy enough to keep you comfortable. Think about the background that should highlight your dress color. Choose cool colors except for yellows and oranges.
Spring: Spring is the beautiful season. Spring creates an excellent backdrop for Engagement Photoshoots with blossoming flowers and a beautiful sky. Therefore, select an Engagement Dress of neutrals – white, black, and brown color Or solid colors – reds, greens, or lavender for the Photoshoot. 
15. Personality-Defined Outfit:
On your special day, you can express yourself through your outfit. Yes, I am talking about LGBTQ. You can find different brands providing outfits for LGBTQ to define themselves to others. 
16. Skirt With Top:
Maxi skirt with a top can be a nice outfit for a sweet Engagement Photoshoot. You can select a midi or maxi skirt of light-colored, free-flowing, flower-patterned. You can choose a white, lavender, blush pink, or baby blue skirt matching with a sleeveless top. Add simple earrings with nude heels. Ask your partner to wear an outfit of solid color from your floral patterned skirt.
17. Button-down Shirt with Slack:
You might think I am sharing all the ideas of Engagement Dress for Photoshoots referring to female fashion. Therefore, this one is for male fashion. Men can wear yellow, green, blue, or pink color short-sleeve classic button-down shirts with gray, black, or cream color slacks. Then they can add matched shoes for a sophisticated look.
18. Collared Shirt and Chinos:
Man can wear rich teal, blue, or spring green color collared shirt paired with cream, khaki, or brown chinos and nice loafers. They can wear white or blush pink shirts to keep them lightweight and airy. They can even choose a striped or floral print shirt. 
19. Polo T-Shirt With Khakis:
Are you looking for something cozy but stylish for summer or spring? You can select a Polo T-shirt paired with Khaki pants to stay relaxed and cool. Add a loafer or sneakers that match the outfit. 
20. Add Accessorize:
Don't stop at selecting outfits only. Remember, appropriate accessories can complete the look. Here are a few ideas for selecting accessories with Engagement Dress for Photoshoot- 
Jewelry:

You can wear a necklace paired with stud earrings as the outfit's focal point. You can also wear only earrings or a bracelet depending on the outfit. 

Shoes:

Matched with an outfit, you can select shoes that can be flats or heels. However, make sure you select the shoes as per your outfit. For example, you can wear cute sneakers and flats with a casual outfit and high heels with a formal outfit. 

Watches

: You can add a watch as an accessory for a formal look. 

Ties and Bowties

: You can wear a tie or bowtie to add color to your attire.  

Hat:

A pretty hat can be a great accessory for a sea beach photo session during summer. 
Tips for Selecting an Engagement Dress for Photoshoot
Engagement is the relationship celebration. There is no hard and fast rule for selecting an outfit for an engagement photoshoot. However, you should select outfits carefully to make the celebration memorable, and add various accessories to create stunning photos. Here are a few tips for you on selecting Engagement Dress for Photoshoot: 
Prioritize Comfort:
Wearing a formal or fancy costume in engagement photography is not mandatory. Comfort with confidence is the key to expressing yourself in the picture. Therefore, if you feel comfortable, you can wear a jumpsuit, mini skirt, etc. Just wear your confidence with comfort. 
Consider Body Type:
Experts suggest wearing clothes based on 5 body types- 
Pear-shaped

bodies look for styles to show off curves and focus on cinching the waist. 

Apple-shaped

bodies wear V-neck and A-line-styled dresses.

Busty Body

wears sweetheart necklines that focus on your face instead of a bust. 

Small Chest

owners look for styles to offset the chest area.

Plus-size

figures should wear empire-waist dresses to create a slim shape effect.
You know your body and what suits it best. Therefore, never pick an outfit design from a magazine, thinking it will do you best since it fits the model nicely. Try out the dress, and if it suits you, take it. 
Consider Complexion:
What are the best colors to wear for engagement photos?Warm-toned outfit best suits a warm under-toned person, whereas the opposite is true for cool undertones. If both partners are from different tones, they can mix the color. How will you know your complexion? I am sharing the trick. Take a piece of white paper close to your neckline and see in the mirror- 
If you

appear

pinkish tone, you are cool undertones

If you

appear yellow tones,

you are

warm undertones
Choose Pattern Intently:
You can wear a patterned outfit, but consider the season and location before selecting. Moreover, make sure both are not wearing patterned outfits. Avoid tiny and large heavy patterns since the camera can't capture them accurately.
Balance Patterns & Solids:
While selecting Engagement Dress for Photoshoot, you should balance the patterns and solid colors. For example, if you wear a patterned dress, let your partner pick a color from the pattern and wear that solid color dress. It won't be fine if you wear patterns, but wearing both solids is okay. However, you can get by both wearing patterns in the case of a subtly patterned dress.
Consider the Season:
Always consider the season or the weather before selecting an outfit because it won't be appropriate to wear a winter outfit in the summer. Besides, it will make you feel uncomfortable. 
Consider Location:
You should select an outfit considering the photo session location, whether it will take place indoors or outdoors. If it takes place outdoors, what is the location? Because you can wear a different outfit in the mountain area than you can wear at the beach. 
Choose 2 Outfits:
Take two outfits for the Engagement Photoshoot instead of one. Take one casual and another formal outfit to create two different looks in the session. 
Select Color Watchfully:
Avoid extremely bright colors and select light or muted color outfits to let others focus on your face. Gray, creams, leather brown and white, etc., colors mixed with soft pink or muted blues can make you look beautiful in almost all natural outdoor environments.
Avoid Logo:
You might purchase your engagement outfits from different brands. So, while photographing, make sure you have removed the logo printed tag, or while posing, make sure the logos are not visible. The visible logo can divert the attention from you to the logo. Remember, you are not marketing their brand.
Do Self-care:
Keep yourself simple and do primary self-care like spa, makeup, etc. Don't forget that your ring will get some attention on this shoot, so permit yourself to get it cleaned, and your nails did, too!
Avoid Heavy Jewelry:
Heavy ornament kills attempts. Refrain from wearing any heavy ornament. Wear simple earrings and other accessories. However, you can select glasses if you are used to using them. 
Shine Your Ring:
Remember to clean and shine the engagement ring before the photoshoot. The ring is the CenterPoint that will be focused on man time. To get a sparkling picture of it, you can take it to the jeweler for polishing. 
Add Props:
To get the personal photo, you can bring props for photography season. You can select flowers, alcohol, pets, etc. and choose something special between you.
You might capture many photos, but with image post-production, they might look stunning. There might be light, color, or other issues where Cut Out Image can help fix those issues and make the photos flawless. 
Why Choose an Engagement Dress for Photoshoot?
Engagement is a glorious moment of life. Take advantage of pre-selecting Engagement Dress for Photoshoot to make the session beautiful and fruitful. Choosing an Engagement Dress for Photoshoot won't need any explanation if you know the benefit of an Engagement photo session. Let's see the benefit of engagement sessions:
Saves Date:

The

engagement photoshoo

t saves the date where the proper outfit and poses make it memorable. The photos used in the album, framed in the drawing room, make all remember the moment of engagement. Such a memory is priceless. 

Personalize wedding invitations:

Do something practical with engagement photographs. You can use them for making wedding invitations. Selecting the proper outfit influences the result.  

Express Yourself:

The main reason to capture an Engagement Photoshoot is to express yourself and your feelings to each other. Selecting a personality-expressing outfit can get excellent output. 
 "What you wear is how you present yourself to the world, especially today, when human contacts are so quick. Fashion is instant language." —Miuccia Prada
Create Memory:

Engagement means a courageous step to a new life journey. Selecting an Engagement Dress for Photoshoot helps build up the memory of reflecting yourself in comfort and style. 
Helpful Link: Couple Photoshoot Outfit Ideas can help you get more ideas.
Final thought [ Engagement Dress for Photoshoot ]
Engagement photoshoots are common nowadays. You can do it casually or formally. However, you can follow my tips and outfit ideas for effective results. After the engagement photos, if you need to do curvy Boudoir Photography, you can follow my blog on this – Curvy Boudoir Photography Ideas. 
Check out my other blogs if you like this one-